At the 2014 Australian Junior Championships, a 17-year-old Georgia Griffith turned heads as she crossed the line in third place. She slashed three seconds off her personal best to clock 2:05.77, a World Junior Championship qualifier. While Griffith labels this performance as a "surprise", on reflection it appears to be a well-fitted stepping stone on her pathway towards the prosperous years that have followed.
Later that year, Georgia stormed home to fourth place at the World Junior Championships, flagging herself as a future star of Australian middle distance running. Since then, she has amassed an impressive resume of international representation. Most notably, her first open-age international debut at the age of 20, running the 800m and 1500m double at last year's World Championships.
For Griffith, it all started when she relocated to Melbourne in 2011, following time in both Sydney and Singapore. After dabbling in school-level athletics and cross country, she was steered towards her local coach Stephen Ellinghaus. His squad dynamic and training environment was a perfect fit for the then 15-year-old, and her event of choice quickly became the two-lapper.
"I love the simplicity of 800m's in the sense that there is often not a lot of time to think in the race or get too caught up in race tactics… you pretty much just have to run it as fast as you can and hope for the best in the last 200m," Griffith said.
It did not take long for Griffith to fall in love with the sport. As she commenced her journey into the world of track and field, she did not believe she had "a particularly special talent". Yet, she quickly surprised herself. Her dedicated and humble nature, alongside Ellinghaus' training regime, saw her swiftly propel up the ranks of Australian junior middle distance running, opening doors to train and race all over the world.
Since then, Griffith, now 21, has transitioned into the senior ranks with ease, slowly slicing portions off her 800m personal best each year. Griffith now boasts an 800m lifetime best of 2.00.90, a Commonwealth Games A Qualifier which she ran in in Portland, USA last year. The performance springboarded her to 13th on the Australian all-time list.
Griffith, who competes for Box Hill Athletics Club, attributes her steady progression to Ellinghaus' gradual, calculated increase in her training load over the past five years.
"I have built up the days I trained a week (started with 3, now at 6), have steadily increased my kilometres (currently averaging about 50km/week) and have also gradually incorporated gym sessions into my training schedule (now doing 2/week)," she said.
"I have also been very lucky to avoid any injuries and so have had a really consistent and uninterrupted period of training too."
But it has also been the social aspect of the sport that has allowed Griffith to flourish as an athlete. Griffith said belonging to Ellinghaus' tight-knit training group, which includes fellow World Junior Championship 800m representatives Sarah Billings and Georgia Hansen, has positively impacted her attitude towards training.
"Not only does it create an enjoyable training environment, but we get to work off each other's strengths as well as help motivate each other to get the most out of ourselves and sessions. Running can sometimes be a tough sport, rife with bad races and sessions, so it's very comforting to be surrounded by supportive and positive people to help pick you up," Griffith said.
Over the past year, Griffith has gained instrumental experience by living and training as a professional athlete. Undertaking a stint of training in the US, and most recently, her first trip to Falls Creek, has been crucial to her development as an internationally competitive athlete.  
"I have really enjoyed my last couple of training camps, as the environment created by them makes it really easy to focus on training. It's sometimes nice to be in a little running bubble and removed from outside distractions. As well as this, it is really enjoyable getting to run in new and beautiful locations and also to be surrounded by friends," she said.
With the 2018 Gold Coast Commonwealth Games on the horizon and an A qualifier under her belt, Griffith is now striving towards this week's Australian Championships and Nomination Trials to ensure selection for the Games. Currently the fastest Australian woman over 800m, Griffith is in prime contention for a Commonwealth Games berth.
"Having already run an A qualifier definitely takes away a little of the pressure. Instead of being worried about hitting a time in the race, I will be able to focus more on executing my race plan and staying relaxed," Griffith said.
"Competing at the Commonwealth Games is a big goal of mine, and if I were to be selected to say I would be excited would be an understatement. Being able to compete at a home games in front of family and friends would also be a particularly special experience."
A seasoned racer, Griffith will draw on past competition experience, particularly last year's World Championships, when she competes at the trials.
"Racing at last year's World Championships has given me invaluable experience of what it's like to race under pressure and amidst such competitive fields. It will further hopefully aid as a reminder of how important it is to go into a race focused and switched on, which I hope can help assist me at trials this week," she said.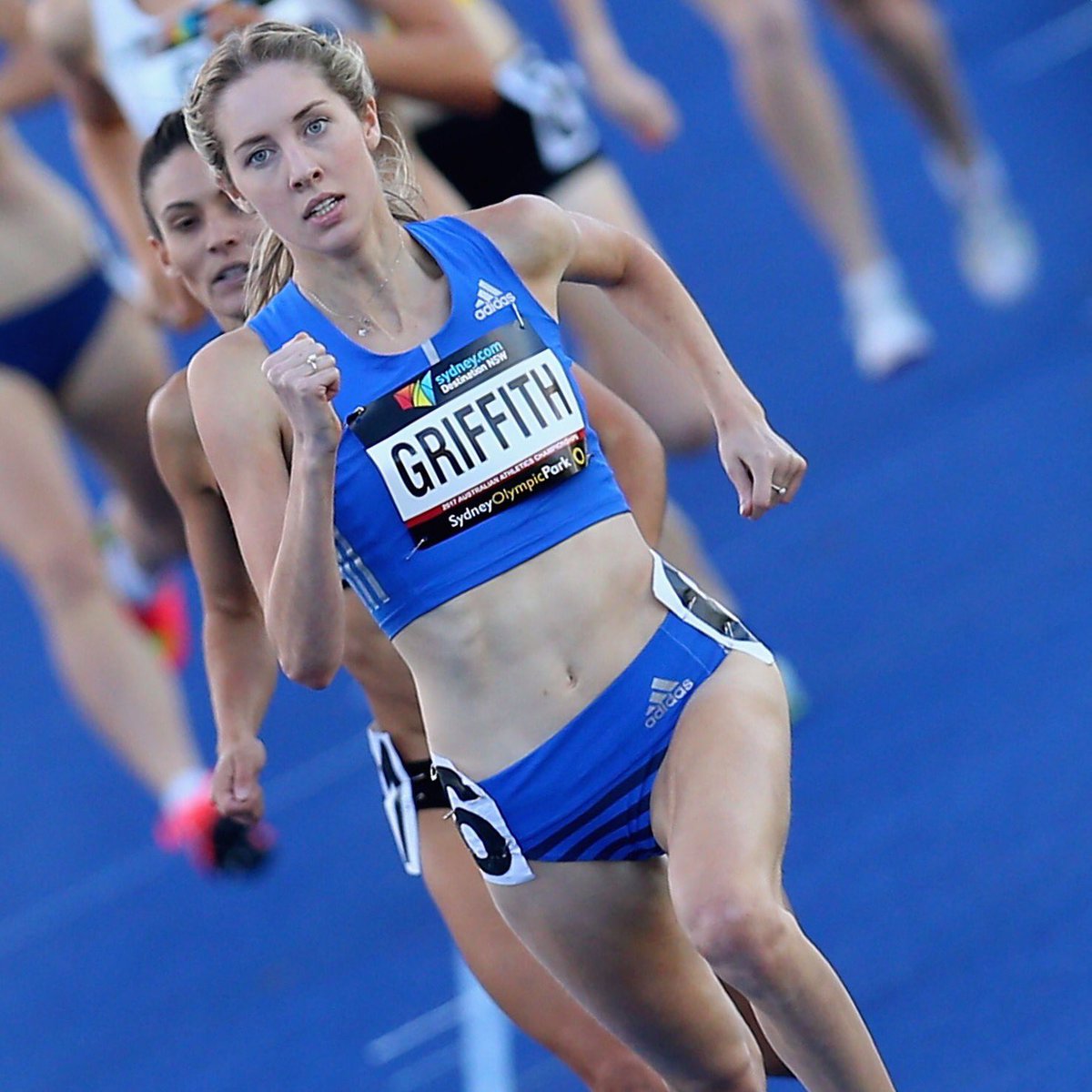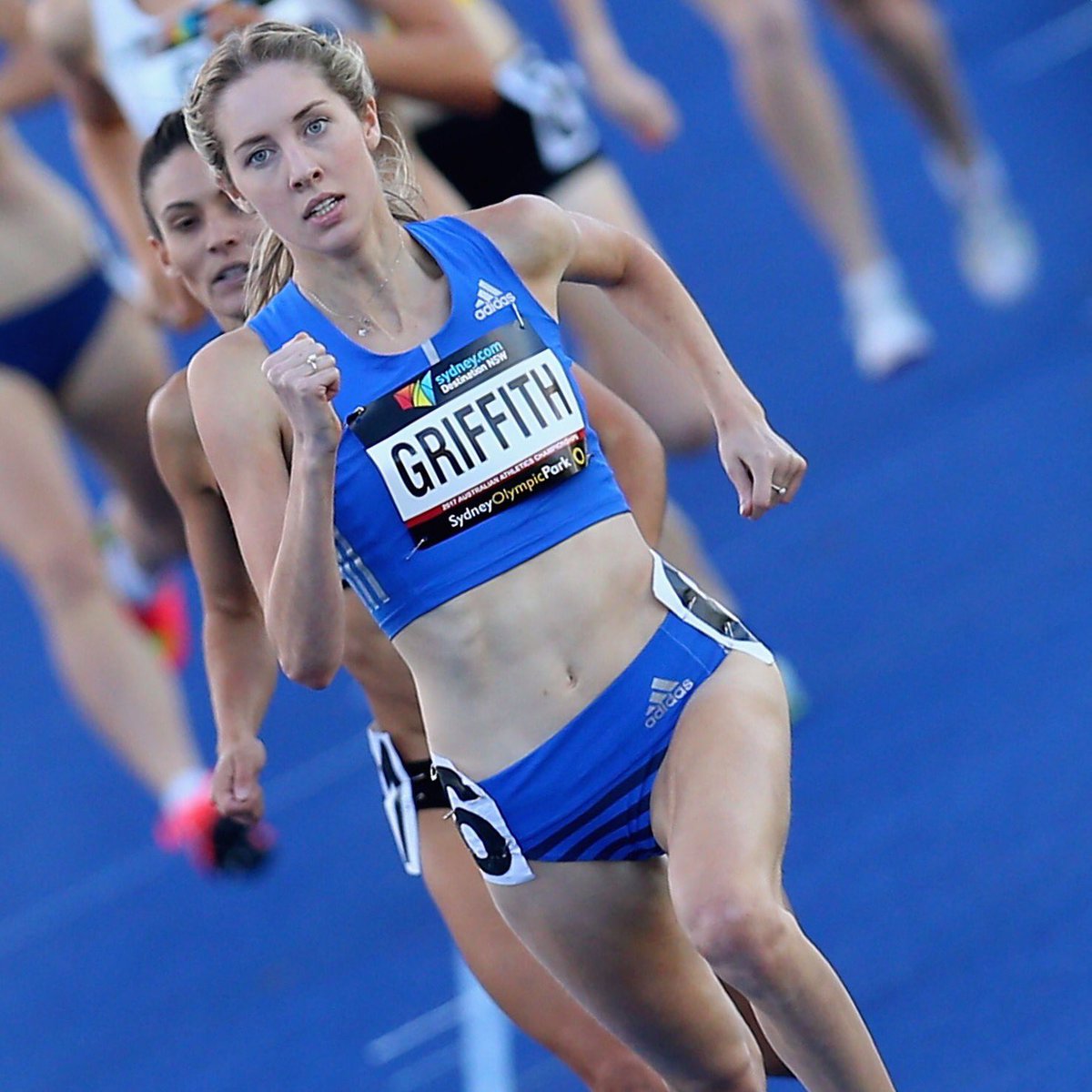 The Monash University student keeps busy by juggling her training with pursuing a Bachelor of Communication Design and Business, hoping to one day break into a conceptually creative field such as advertising. In her spare moments, Griffith passes the time drawing, reading, napping and watching Netflix.
The elusive 2-minute barrier is one that resides in the minds of all elite female 800m athletes. Always inspired by 800m Australian record holder Charlene Rendina, Griffith is no different. Yet, Griffith remains grounded. She stays focused on progressively improving her time as each year passes, without allowing the barrier to put too much pressure on her.
The overarching dream never changes; to become an Olympian. In the interim, Griffith will continue to direct her attention towards enjoying training and competing, constantly motivated by the possibility of bettering her best.
"There are a lot of reasons why I enjoy running so much, but I think some standouts would be the satisfaction that comes with achieving a goal or personal best, the feeling and relief after completing a tough session, the sense of freedom you can get from a run, and the social aspect of it," she said.
GEORGIA GRIFFITH
Typical training week:
Monday: Track session
Tuesday: Longer fartlek type session + gym
Wednesday: Rest day
Thursday: Track session
Friday: Light run + gym
Saturday: Tempo run and hills
Sunday: Long run + circuit
Personal bests:
800m: 2:00.90 (11/6/17 Portland, USA)
1500: 4:07.32 (16/6/17 Portland, USA)
Running idol:
Laura Muir
Current pre-race favourite song:
'Baby Luv' by Nilufer Yanya