"If I am still standing at the end of the race, hit me with a board and knock me down, because that means I didn't run hard enough." -Steve Jones
Training of Famous Runners, Steve Jones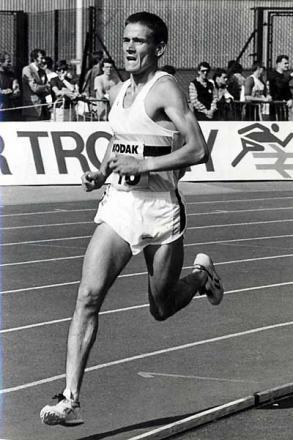 A lot of the below information about the training of Steve Jones was taken from the book 'Running with the legends', by Michael Sandrock, unless otherwise stated. We highly recommend this classic book to anyone who is yet to read it.  Information was also sourced many years ago from runnerslife.co.uk (note this website has since been closed).
The Hard Worker
Steve Jones grew up in 'Ebbw Vale', a tough south Wales working class town. The son of a steelworker, Jones had a tough upbringing and left school at 13 to learn a trade.
Jones was a hard worker.
He recalled to Athletics Weekly:
"Even though I may have been a bit of a layabout and smoked and drank or whatever, I always worked for my money. It's because of that sort of upbringing that I appreciate just what working means".
Jones joined the Air Force as a 15 year old and it was here that he ran his first cross country race. In Jones's words   - "It all went from there".
Profile
DOB: August 4, 1955
Previous world record holder for the marathon (2:08.05)
Winner of numerous major city marathons including Chicago, London and New York.
Nine-time Welsh Cross Country Champion

Career Highlights
'84 Chicago Marathon - 1st – 2.08.05
'85 London Marathon - 1st – 2.08.16
'85 Chicago Marathon - 1st – 2.07.13
'88 New York Marathon - 1st – 2.08.20
'92 Toronto Marathon - 1st – 2.10.06
Personal Bests
800m: 1:53
1500m: 3:42.3
Mile: 4:00.6
3000m: 7:49.80
2 Miles: 8:26.71
5000m: 13:18.6
10,000m: 27:39.14
3000mSC: 8:32.00
5 Miles Road: 22:43
Half Marathon: 1:00:59
Marathon: 2:07:13
"Take off your watch"
Jones's is well known for not wearing a watch during training. As a coach these days, this is a rule he insists his athletes follow.
Jones grew up racing countless British cross country races, a fact he insists is vital to the development of any runner.
The bread and butter philosophy of Jones's training were long repeats run by time, away from the track, hence allowing him to run free and open without any mental limitations that a track or watch may bring - running in its pure, instinctive form.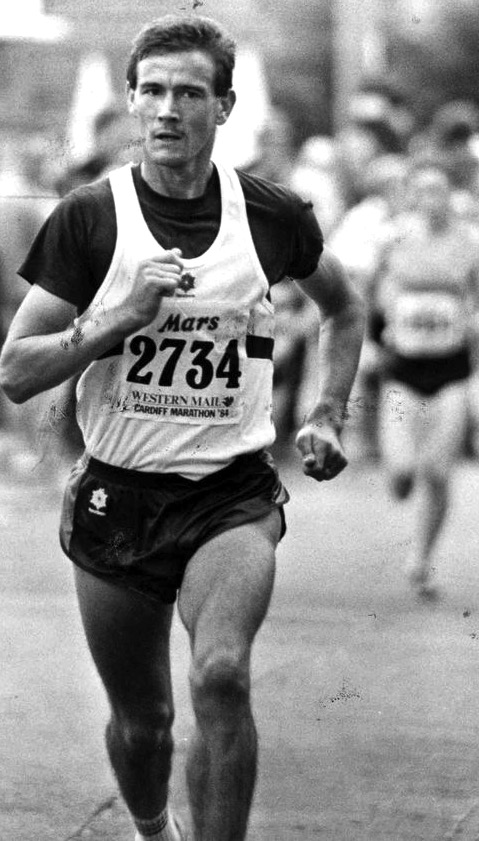 "An animal" - The Training of Steve Jones
"An animal" is how 1993 World Champion marathoner Mark Plaatjes referred to Jones.
Jones had a long career, spanning for approximately 25 years. During his peak he averaged 80-90 miles per week, not huge mileage for a runner of his calibre.
Jones's schedule was very simple and never changed too significantly. The corner stone of his training was high intense, quality sessions. In the words of New Zealand's Dereck Froude - "Steve is intense"
Jones weekly routine consisted of one long run, three very intense sessions, and three easy days to recover.
A typical week of training leading into a major race is outlined below:
"It's the effort that matters on the hard days" - Steve Jones
Tuesday:

M.: 5km at race pace, such as 12 by 90 seconds on dirt trails, as hard as possible.
M.: 6 miles easy

RUNNER'S TRIBE PAYS OUR WRITERS & FILM MAKERS TO CREATE EXCITING & ENTERTAINING CONTENT. HELP SUPPORT THESE PROFESSIONALS AND JOIN RT PREMIUM NOW.

TO VIEW THIS CONTENT PLEASE SIGN-UP TO RUNNER'S TRIBE'S MEMBERS ONLY PREMIUM CONTENT. WE HAVE SOURCED THE WORLD'S TOP WRITERS AND FILM MAKERS TO DELIVER ANY ATHLETE, COACH, PARENT OR FAN THE ULTIMATE PORTAL FOR ATHLETICS EDUCATION, ENJOYMENT AND INSPIRATION.

$9.95 AUD Monthly ($6.59 USD)

Yearly Plan (Worldwide) - BEST VALUE

$89.95 AUD Yearly ($59.56 USD)

$2.95 AUD

 ALREADY A MEMBER? LOGIN BELOW