'A Body Built on Pain'
The Training of Herb Elliott
© 2017 Runner's Tribe, all rights reserved.
"I find that orthodox training is drudgery because it's so unnatural to run for hours on end on a circular track."   – Herb Elliott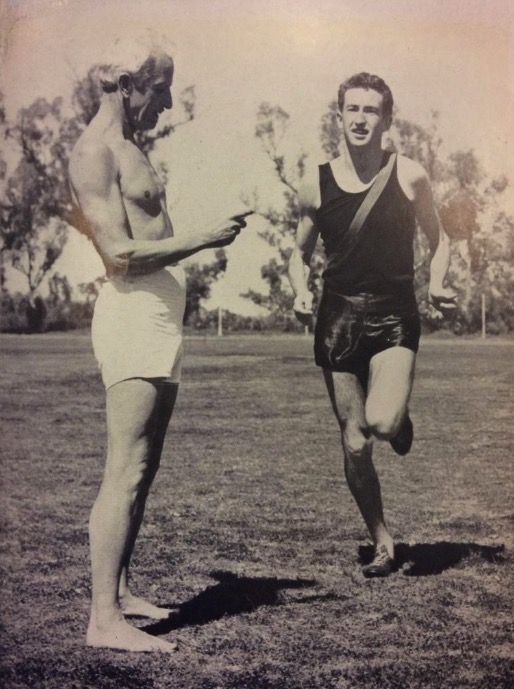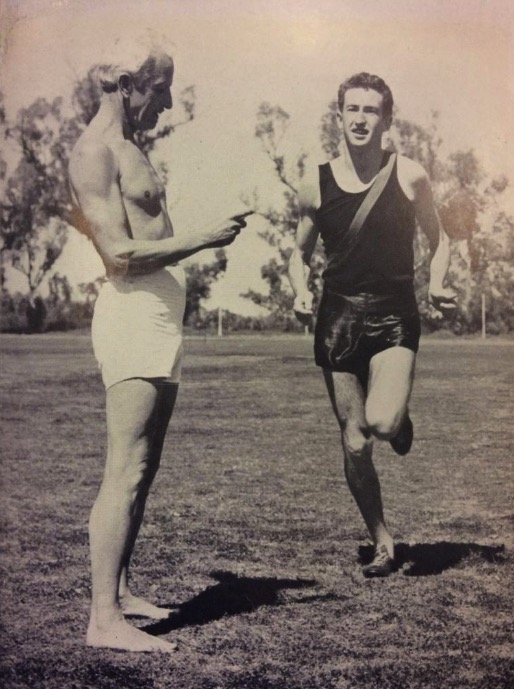 Sources
Personal Bests
800m: 1:46.70

(estimated from 880 yard time of 1.47.30)

1500m:

3:35.60

Mile:  3:54.50



Highlights
Olympic 1500m Gold, Rome 1960.

Commonwealth Games Gold One Mile, Cardiff, 1958.

Commonwealth Games Gold 880 yards, Cardiff, 1958.

Former world record holder over 1500m and Mile. Held the 1500m world record for 9 years and the mile world record for 4 years.
"I like to vary my training venues day by day, running on a golf course one day, the next day in a park, then on a racecourse, up and down the hills flanking the Shrine in Melbourne, along the Yarra River and even over cow paddocks. The change of scenery, the music of the birds and the sight of grazing cattle and sheep is soul-freeing and makes a training session real joy."  – Herb Elliott
Base Training
"I train eleven months of the year, half that period being devoted to strengthening work. Here is one of my typical weeks when I was eighteen years of age. (Younger athletes perhaps should not attempt quite so much and older ones a little bit more. It's really a matter for personal judgment.)"  – Herb Elliott
Monday: A ten-mile run at any pace I felt like setting, always finishing hard over the last two miles or so.
Tuesday: Six or seven miles in the morning. Weight-lifting in the evening.
Wednesday: Ten miles hard against the clock.
Thursday: Six or seven miles in the morning. Weights in the evening.
Friday: Rest.
Saturday: Faster 'fun' work-out at lunch-time on the track. A hard five miles or so in the evening.
Sunday: Eight to ten miles in the morning. Eight to ten miles hard in the afternoon.
As Elliott matured, base training consisted mainly of long hard runs of between 8 to 16 km. The occasional (once a month on average) 32km run was also completed. As were sand hills (more below).
The estimated average mileage during this period was 60 to 80 miles per week.
"In the winter and spring of 1957 I must have run 2500 miles in training and lifted thousands of pounds in weights"  –  Herb Elliott
Sand Hills
"Another severe test is an eighty foot sand hill, grade one in two, close to the ocean. It took Percy five years to build up enough strength to run to the top. My peak effort was forty-two times up the hill and down in succession. Ian Beck has doubled that number".  –  Herb Elliott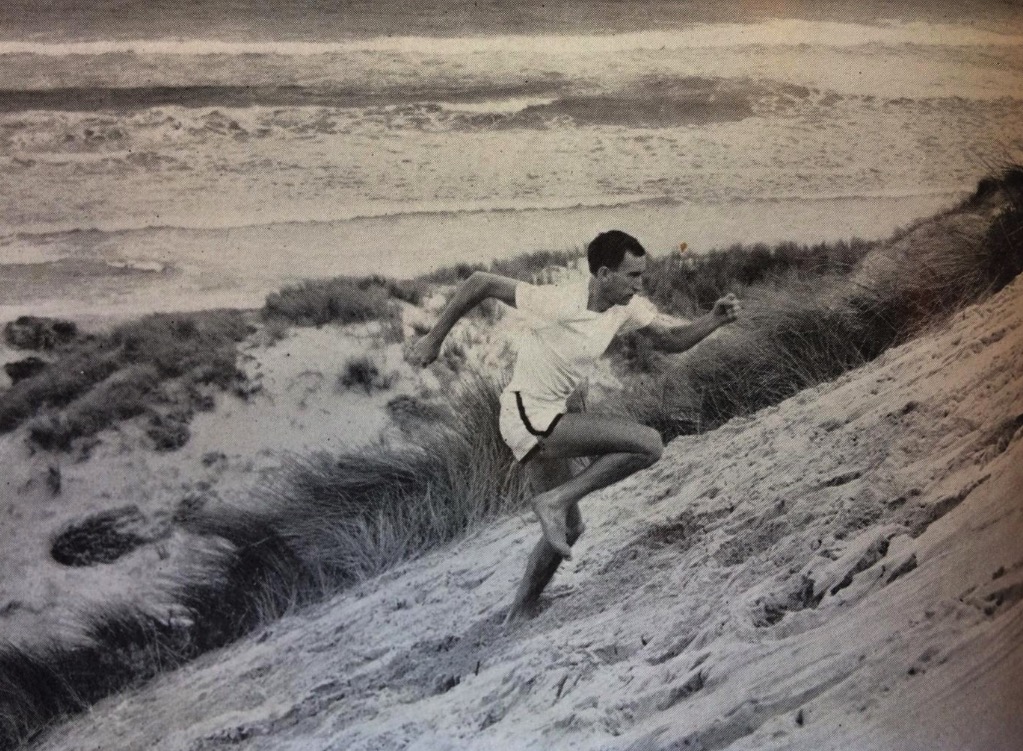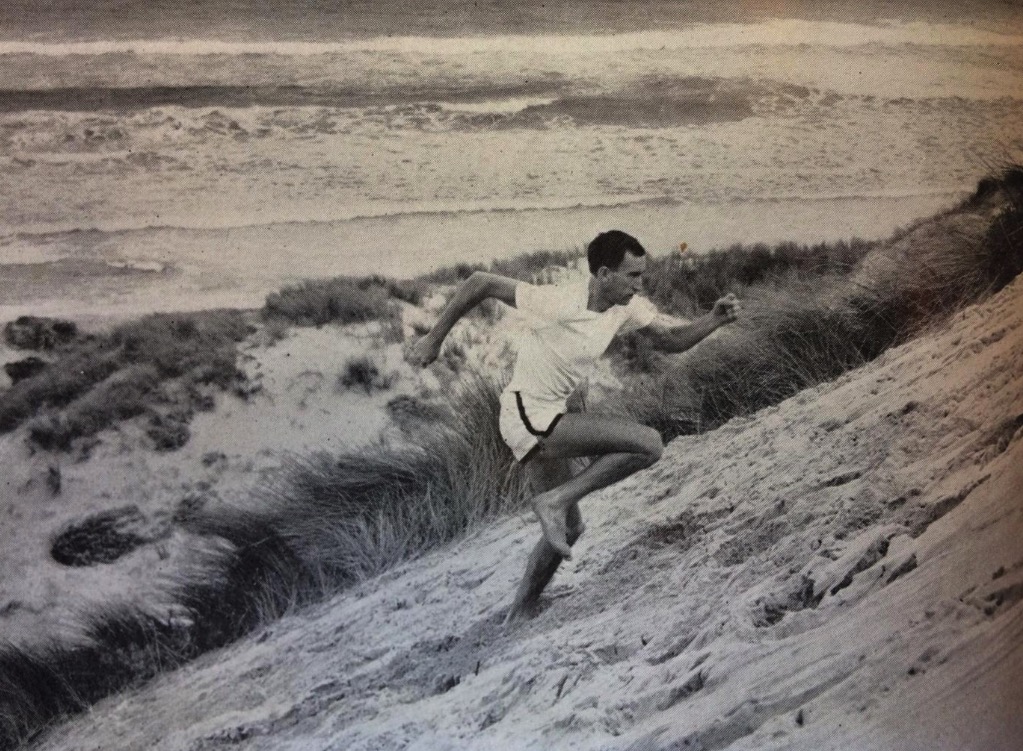 During Elliott's training stints at Portsea, under the close eye of Percy Cerutty, sand hill repetitions played a large role in strength development. These sessions were usually completed during the winter phase, but would sometimes be performed closer to races.
Weights
"The ideal way of strengthening without producing bulk is by lifting heavy weights for a minimum time.
At Portsea and at Frank Sedgman's gym, when I prepared for my comeback to athletics, my practice was to employ one of the heavier weight exercises in three sets, with three to five repetitions. If I couldn't do the exercise three times I knew the weight was too heavy; if I lifted the weight more than five times it obviously was too light. In this way I added further power to the upper part of my body, which already was strong from my rowing days at Aquinas, thus adding to my confidence and aggressiveness for the battles ahead." –  Herb Elliott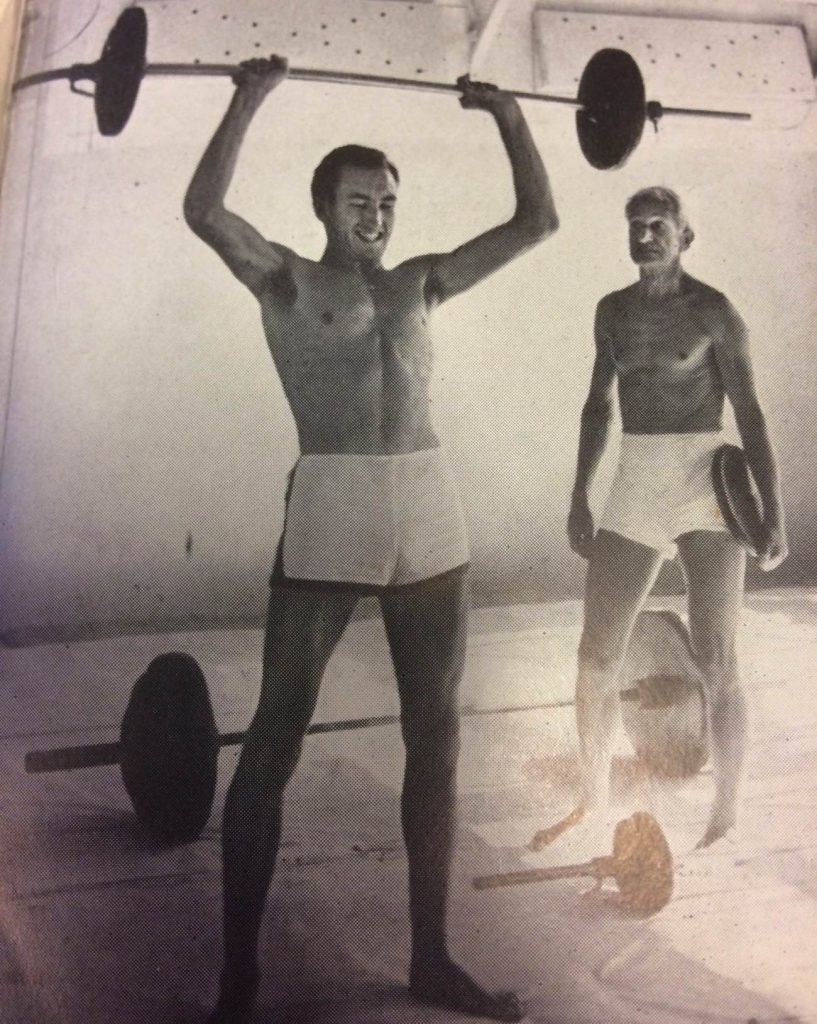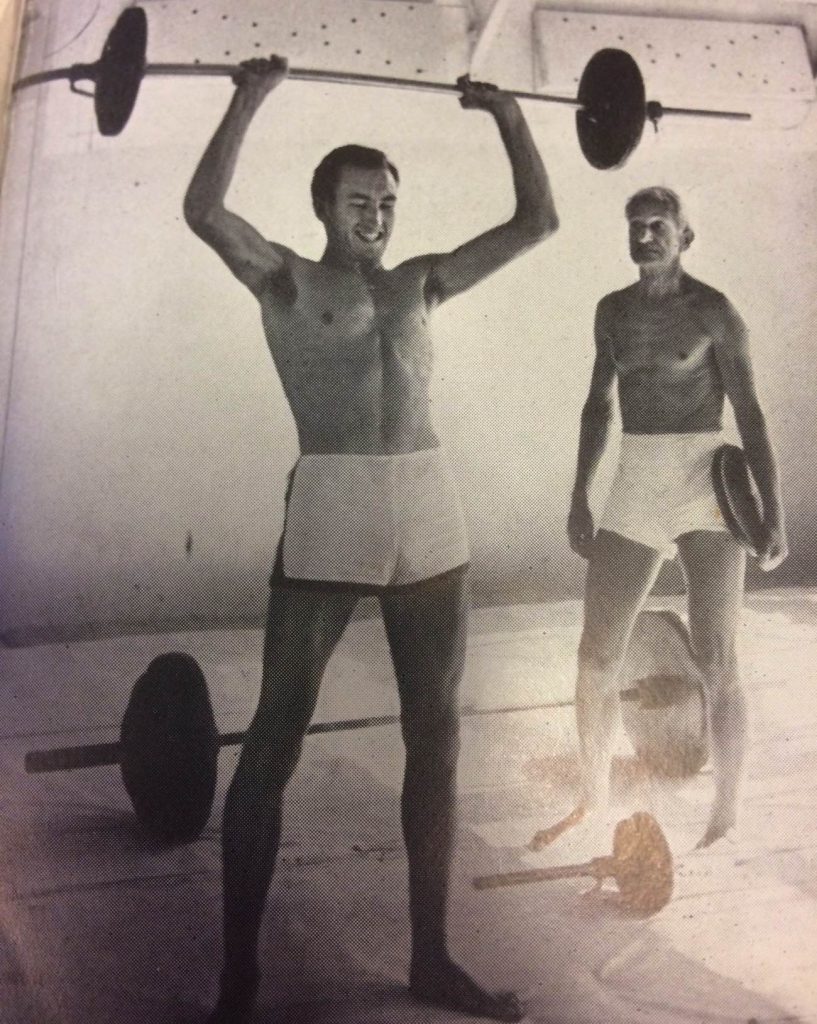 Herb, and his coach Percy Cerutty, were massively into weights. Herb's physique makes most current day runners look rather scrawny.
Training Leading into Races

"My training immediately before the racing season is featured by more intensive pace work" – Herb Elliott
Below is a sample week of Herb's training just before a competition period:
Monday: Between six and ten 440s or 880s followed by two or three miles of free running.
Tuesday: Five miles flat-out on the tan course outside the Melbourne Botanical Gardens.
Wednesday: Train with sprinters – a relaxation.
Thursday: Thirty minutes or so of sprint-jogs. (In a sprint-jog you jog round a track, build-up speed for fifteen yards, then sprint for thirty yards, slow down and jog again, performing this routine twice in every lap.)
Friday: Rest
Saturday: Three to six miles fiat-out on the track.
Sunday: Ten miles hard.