My name is Amy Bunnage, I am 16 years old from Victoria and compete over the 1500m and 3000m distances. 
I've always participated in a range of sports; soccer, swimming, triathlon, gymnastics, but my brother got me into running when I was 8, by persuading me to join Mentone Little Athletics. While I enjoyed participating in all events, the longer distances were always something I enjoyed and seemed to perform well in. Since then, the sport has become a big part of my life, and I've been lucky enough to compete at a high level against an amazing calibre of athletes.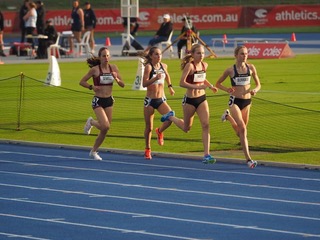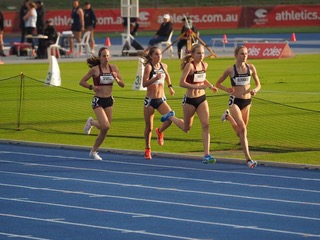 At the end 2020, I joined Tim O'Shaughnessy's squad and under his guidance have had some amazing performances in 2021. I really enjoy the training sessions and love being a part of such a fun, motivated group of runners. My coach has an amazing way of bringing out the best in all his athletes and by focusing on everyone's unique ability, he helps them to reach their full potential.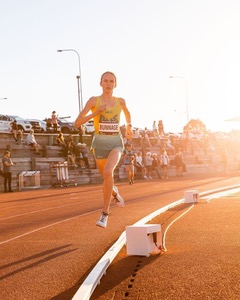 Throughout 2021, I've ran pbs of 4.14 in the 1500m, 9.19 in the 3000m and 2.07 in the 800m. My performances gave me the opportunity to be a part of the Australian Under 20 team, where I was lucky enough to be invited to a two-week camp on the Gold Coast. Although COVID interrupted this trip, I was still able to compete in the Oceania invitational series, where I was elated to wear the green and gold for the first time. 
My four key sessions include:
5 x 1k with 60seconds recovery. 
K reps would have to be one of the simplest, yet most rewarding sessions. The sixty seconds recovery isn't very long, but it's just enough time before you need to get going for the next rep. This is a staple session that I complete on a regular basis, and paces can be easily manipulated depending on the time of year – getting through a good set of Ks is always a great confidence booster!
Long run 
As a runner, I don't think a Sunday is complete without a long run. I generally run for seventy minutes over undulating terrain, in places like ferny Creek or Lysterfield Park. While the hills make these runs super challenging, it is always made more enjoyable when running in a big group as the time just seems to fly by.  
Thresholds 
This may be an unpopular opinion, but a twenty-minute threshold would have to be my favourite session. They are the bread and butter of my training, and are always included in my weekly schedule, without question. The gravel trail around Braeside Park is my personal favourite location for this session. I like to get into a good rhythm and not focus on pace. I've learnt that some days certain paces will feel a lot harder than others. I know it is super important that I listen to my body and keep the effort fast, but always relaxed. Tim often rides his bike next to us and likes having a chat to make sure we're not working above an appropriate threshold pace.   
Pilates 
Over COVID I got into Pilates and have found it has helped me so much with my running. Strength work has always been something I undervalued, but now I truly believe it is just as important as running training. I have been able to build a great rapport with my Pilates instructor, and she helps keep my body in tune. 
I'd just like to finish by thanking Runner's Tribe for this opportunity. I'm really looking forward to the upcoming season and am excited for the future of Australian distance running.