This is my first time writing a blog so not sure how I'll go but RT has kindly asked me to share my latest running experiences with you so I thought I would embrace the opportunity and give it a go.
Before I begin here's a bit about me "Clare Geraghty". I started distance running in 2006. I was an Irish Dancer for 10years prior. I was always an active kid wanting to do everything from horse riding, (wanted to be a famous jockey) to bush walking, climbing mountains, netball, diving, gymnastics… the list goes on and on!! I worked hard in school graduated with an OP4 and went onto University to study a double degree in Creative Industries/ Media and Communication and a Bachelor of Business/ Public Relations. Realising it was not for me I deferred. It was during this time when I fell in "Love with Running". I have recommenced University now studying a Bachelor or Exercise and Movement Science part time and thoroughly enjoying it. My passion for running has lead me to do my Level 1&2 coaching courses and I work part time at Loreto College an All Girls Private School where I coach cross country and athletics. I coach the girls from year 7 up to year 12 who are so delightful to train. I have a very loving and supportive mum and dad who also took up running after getting tired of watching me. They have got the bug and travel overseas doing marathons!! I also have three sisters two older and one younger, who are all very different to me. My favourite colour is PINK in case you haven't guessed it from my running outfit's. I like coordinating my outfits and having fun with fashion. I'm a shopaholic, Love Ben & Jerry's Ice-cream and Cats! I think that's enough about me.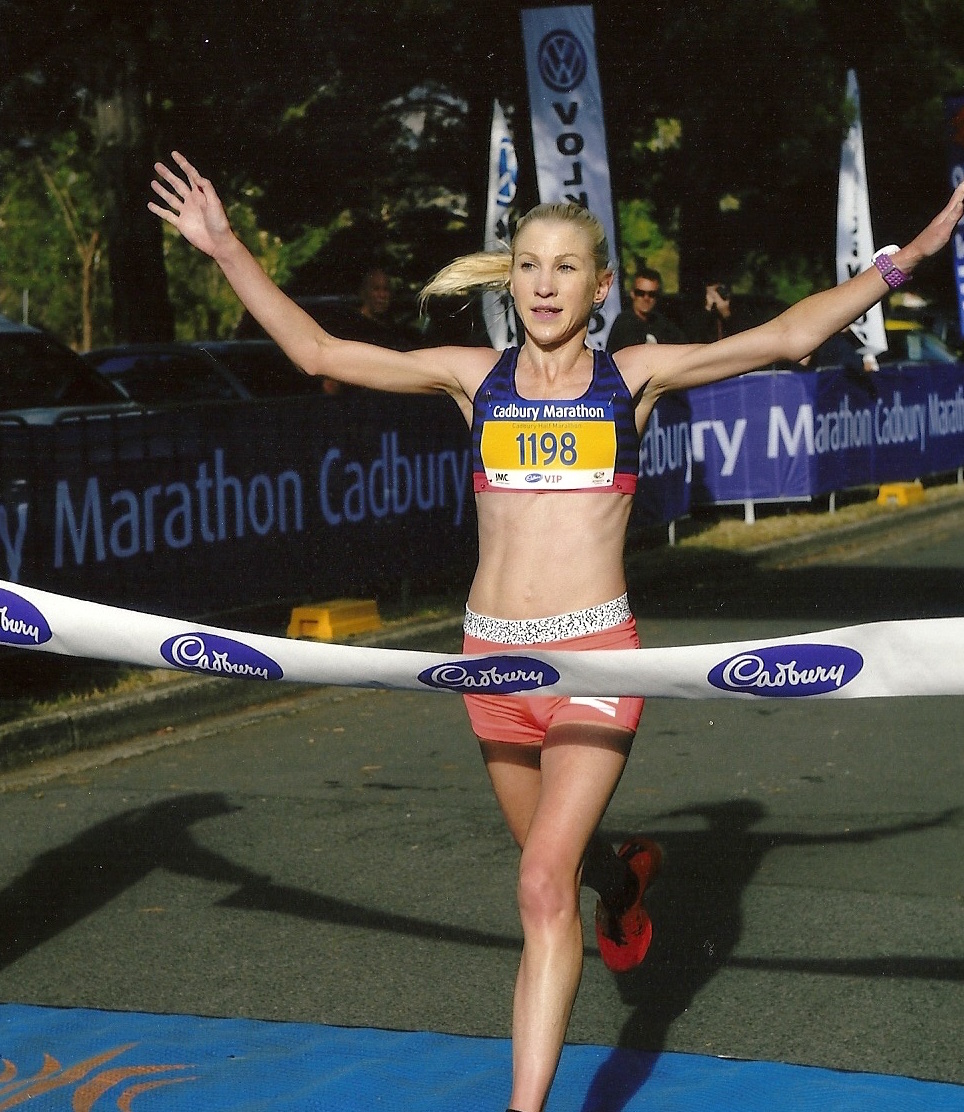 I'll begin with the start of the year 2015. It opened with a win in the Cadbury Hobart Half Marathon to kick start the season. The plan leading into the race was to just go for the win as I was determined to defend my title from last year. I treated it as a good solid training run and it was nice to escape the scorching heat in Brissie and race in cooler conditions. The organizers of this event always look after the elite athletes so well and put on a pasta dinner for us at the hotel. A group of my Galeforce running squad also made the journey to Hobart, some racing the marathon, so I really enjoyed the company and we had a lovely lunch after the race to celebrate our achievements.
I knew I had a good base but I had decided that over the summer I was going to really work hard on trying to get my speed back and use weekly park runs as tests each week to see where I was at. Here in QLD we have had a super-hot summer so training has been challenging with the humidity getting up to 80-90%. There are so many park runs on offer in QLD and all relativity close to get too. I have enjoyed being a Park Run "Tourist" and checking out all the different courses, obviously some more challenging than others. My goal was to break 17mins so that I could be part of the sub 17 club haha. Each week I was getting closer 17:17, 17:06 and finally bang 16:59. This was perfect timing as I was preparing for the World Cross Country Trials in Canberra.
I flew to Canberra late Saturday afternoon with my parents as support. They don't often come to events with me as I'm a big girl now lol. But this one was very important to me. It wasn't a fun run it was a trial for an Australian Team, something I've been dreaming of making. We arrived safely and quickly checked into the hotel where my coach Sean Williams and his other athletes where staying. We meet up with them pretty much straight away at an Italian restaurant for dinner. It was lovely seeing Sean and having a face to face. We talked about the race; the course etc and he made me feel at ease. I was ready to give it a good shot. It's hard being coached my correspondence so I am so happy whenever we get the opportunity to meet. It was nice to chat to the rest of the athletes and also some familiar faces including Harry Summers, Victoria Mitchell, Stephen Dinneen as we relaxed and chilled out before the Big Race tomorrow morning. A special mention to Lauren Hamilton who was forced to withdraw due to an injury she still came along and supported us, along with Sean Muller part of the Sweat Crew. Their cheering on the day was awesome! Thanks guys.
Rise and Shine! It is time to run. We made our way to Stromlo in the hire car. Warmed up with Sean, Vic and my little Audrey. Felt relaxed, calm and focused. I like to warm up in plenty of time before a race to allow for last minute things! BANG the gun and we're off. Sean told me that in order to give myself a chance I needed to be in the front group and hold on. So I did. After the first 2k loop I was sitting just behind Courtney. Gemma and I were in 6th and 7th position. I kept fighting all the way to the end but unfortunately just missed 6th spot and came in 7th.Missing making the AUS World Cross Country Team by 10seconds is rough. But you know what I really enjoyed the race I liked being pushed and challenged by the best girls in Australia. I can honestly say that I was happy with the race. My attitude after this was to stay positive and keep improving. It was so great catching up with the other girls as we chatted and warmed down together exchanging training stories, life etc. A huge Congrats to Vic who won with ease! I wish the AUS crew the best of luck, and I am so thrilled that they are sending over a whole team. I hope to make that last spot next time!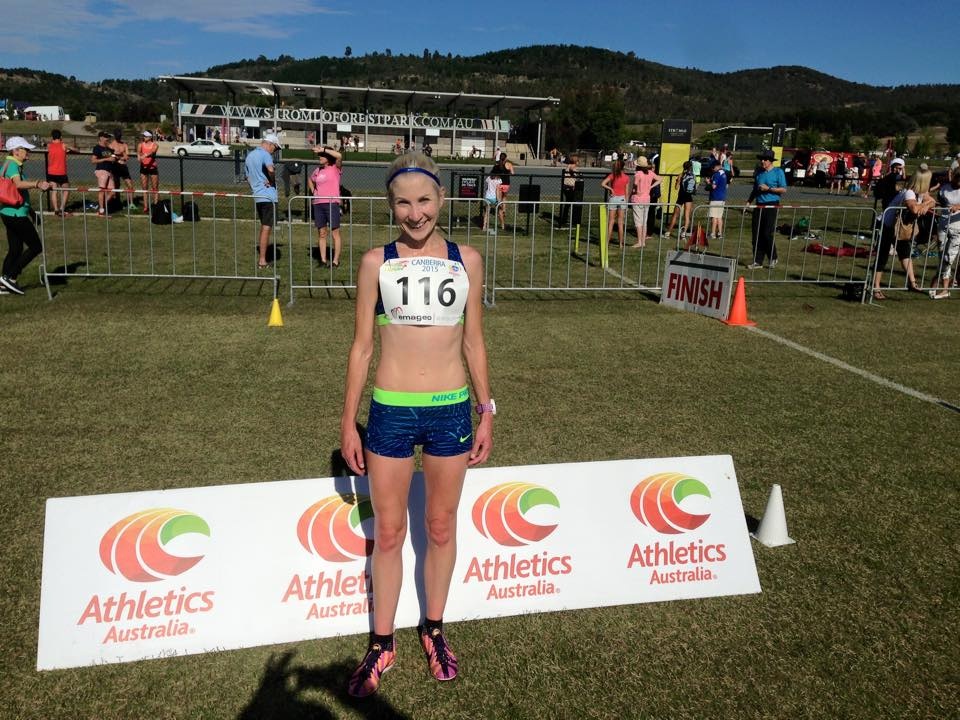 The Trials proved to help lift my motivation as I felt like my drive to succeed was re-invented. Training had been consistent with mixing all the key ingredients into my weekly training, speed work, tempos, hill reps, long runs & park runs. So I was ready to race again and put my training to the test. The next big one on the cards Mooloolaba 5k Elite Sprint. I love this race as I don't live at the beach so travelling to race at the beautiful beach is special to me. I have raced the bolt many times before and have a good record, always placing in the top 3, so I didn't want anything to go wrong this time. It always attracts a strong field so I knew it would be tough. Again my coach emailed me and said, you must go out with them and stay in the race. I had done a solid warm up 5ks easy to get the legs ticking over. It is a twilight race which is different to the early morning runs that I'm used to. After warming up there was a strong head wind coming up Mooloolaba hill so at least I was prepared but still very hot and humid. These factors didn't really bother me as I just love being at the beach the atmosphere is fantastic. I felt pumped and ready to go. My mum and a good running friend were lined along the course so I knew I had to put on a good performance for them lol! Melanie Panayiotou our Commonwealth Games marathoner was the clear favourite. So I was prepared. I just wanted to run well for me. I did some final strides and we were ready to rumble. Nervousness, excitement & adrenaline had taken over and before I knew it we were off and racing. A 4 lap course going up Mooloolaba hill 4 times makes a challenging course. I went out hard from the start Mel stormed to the lead and I held on for 2nd. Each lap I just kept holding on and trying to chase her down. As I pushed and gave it everything on the final lap I crossed in 2nd place with a New 5k PB. 16:24 I couldn't have been happier. That buzz is the best feeling in the world and I was wrapped. Mel ran an awesome race and was too strong. She won in 16. To top the night Mel and Margie (3rd) place took me on a warm down as they are local girls. They took me out to the spit along the water and we saw Dolphins, Just magical.
To be honest my goals are quiet simple I just want to stay running with no major injuries and keep improving. My dream is to represent Australia in the marathon and this is what I plan to work on. In the meantime I will be striving hard to make Australian teams wherever the opportunity arises so I get that experience in travelling and performing against top athletes overseas. My motto is "Everything happens for a reason", which I truly believe in.
Happy Running