As I look back on the last 12 months, it's been a year of amazing highs combined with some challenging lows. The highest point was heading overseas to China for the Youth Olympics and later in the season, a low, having time off to reboot my immune system.
Part 1
From August 12 -29 August, I embarked on my first international trip for athletics. Being a part of the Nanjing Youth Olympics held in China was educational and at the same time tonnes of fun. It helped me grow in confidence and gain life experience that is invaluable.
We started off at a camp at the Menzies hotel, in Sydney where the whole Australian team would be together before we left for the airport the next day. We took part in a number of activities in groups that taught and engaged us about the A.S.P.I.R.E. Values of the games. This was a really good way to get to know the other athletes from different sports. This was also very daunting as there were a lot of unfamiliar faces. I settled into our room with my roommate that I didn't know entirely that well yet, and we got some well needed sleep before a big day of traveling.
After a few delays we eventually made it to China , where the weather promised humidity and some rain. We arrived at the team village early morning after midnight, so it was left until the next day to explore, as we all stumbled into our rooms and beds. If I had one word to describe the village it would be amazing.
There were certainly many things I learnt from China , especially some trivial things. The crowd in the Olympic stadium was nothing like I had experienced before especially being my first international competition. Even though the stadium wasn't filled to maximum capacity the crowd was seated on the lower levels so they were in close proximity to myself and the track. When I was running they certainly exceeded my expectations in noise and atmosphere. They really got into the spirit of it and the local people really appreciated having this major event in their city.
Firstly, there was an abundance of cultural activities to participate in, inspiration from each continent which was rotated. These filled up a lot of our spare time when we weren't training or playing cards! All the volunteers were so kind. Then there was the food hall which was three levels high and filled with an abundance of food (however, nothing beats a nice home cooked meal which was very nice to say the least upon returning home and no rice!). The village also had its own souvenir shop where you could buy lele's (the YOG mascot), its very own McDonald's Mcafe (all free!), gym, 300m track and plenty more which left us in awe.
On the 22nd August (the day after my birthday) I competed in the 1500m at night time. To progress into the final you had to finish within the top 10 fastest times, meaning you could win the first heat but if the heat after was faster than your time you wouldn't make it. I was in the second heat so going into the race I had an understanding of the first heats time. Either way, I would have to give it my all and leave everything on the track, but it still gave me a good idea of the time I would need to produce and reduce the waiting game. I remember running down the home straight of my last lap in the heat and the crowd was roaring for each competitor as they neared the finish line and the sounds produced by the crowd were completely different to the usual sprint home in Sydney Olympic park. A little overwhelming, but incredible at the same time, I was caught up in the atmosphere and for a second forgot about the need for a time rather than place and had to quickly push on the accelerator button. I had the 9th fastest time overall.
In the days leading up to the final, I continued to do the fun cultural activities that were provided in the village. More excited than nervous I was to get back out on the track and soak up the atmosphere again!! The night before the big race was a sleepless night. Me and my roommate (Tay) both had very early starts to the morning. My nerves started to build on the bus to the track, it was the last day of competition and I was also full of excitement.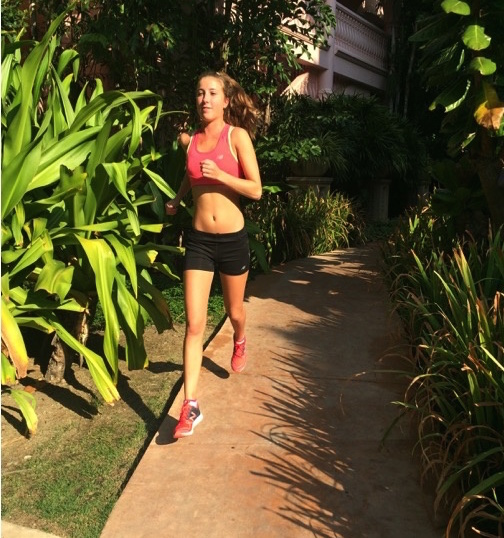 We went through all the procedures again, and sooner than I knew we were back on the track for the big race. I could see Tay was doing great in the Triple, which gave me a little more motvation. The cameras sweeped across our faces on the starting line, making it all a little bit sureal. Nonetheless, the race again was a bit of a blur but the Kenyan , ethipoipans and german set a fast pace which we all followed. The race was very taxing and I gave it my all to the end, trying to drive with my arms down the home straight finishing a close 8th. Many of the girls have an amazing last 300m kick.
All in all, the experience was one I would never forget and encouraged my desire to once again represent Australia in the green and gold as it is the best feeling in the world. I made so many new friends, became more independent and was placed outside my comfort zone providing me with a great deal of confidence
Part 2
One thing I'm learning about in life is balance. It seems simple enough, right? That's what I thought too. I always thought I led a balanced lifestyle, as I guess most of us think.
-Go to school
-social life
-exercise (running)
-good grades
-relatively healthy eating
but a few imbalances in any of these can definitely build up to a trainwreck. In addition, having too much on your plate + not enough sleep/recovery = rough patch.
Many of us lead such busy lifestyles these days, with numerous tasks to be completed in a day, yet there is just never enough time no matter how much time you try to make! Boy do I wish you could add a few hours extra into a night (studying for HSC). I know I have never really stopped to think about how this is affecting my body, how it is dealing with it, am I fueling my body with the right nutrition and recovery it needs? Probably not. I kind of just assumed it would happen as silly as that sounds and no matter how many people tell you how important it is. You can eat mostly the right foods but it is when you eat them.
I found my self unable to keep up in races, I would feel good in warm-up but when it came to turning the pace I was left behind to watch the race unfold. I was also having good and bad weeks in training, either hitting the times or way off from where I needed to be. With HSC there was also increased loads of schoolwork, so getting the right amount of sleep and eating the right foods was crucial. I found that I wasn't getting enough sleep, getting up early everyday of the week and going to bed late-ish. An accumulation of things al lead to a really hard time, I know this is minor in comparison to other problems but at the time in my mental state it was a very confusing and difficult thing to grapple with.
I usually try to be a happy bubbly, positive person, not emotional at al!!!! But at the build up of this, any little thing set my emotions flying, which my best friend can account for. And I am a person that doesn't cope well with expressing feelings so it was bottled up. I was constantly getting sick, my immune system not recovering from the last cold, which was now never ending. I didn't know what was wrong with me, I had no injuries but something was obviously affecting my running. We got bloodtests, sought other medical tests and talked to doctors and came to the realization that I would need a good solid break. Even though this is the worst thing you want to hear in the middle of athletics season leading up to nationals, in the back of my mind I had to come to terms that everything happens for a reason and maybe it is good time. I had half yearlies coming up and a month with no exercise would allow me to focus on other aspects of my life. But don't get me wrong, running is and I hope always special to me. So I'm always itching to start running, especially as I go through stages of having increased amounts of energy with nothing to do with it, maybe a sneaky few star jumps!!
The break has been great and rejuvenating, it has allowed me to focus on my schoolwork, more than ever in my life, which is definitely a stress reliever, spend more time with friends and relax. So, I can now look forward to the next season fully refreshed and hopefully better placed for the final 7 month push through to the end of HSC.
Good luck to everyone for the 2015 season.