Fukuoka International Marathon by Josh Harris
Race Report
Lead up
I had been feeling really good in the days leading up to the race. I went for some easy jogs, including a 5minute (Friday) and 3 minute (Saturday) effort between Half & Marathon pace and these felt really comfortable, which can often not be the case when overseas.
I was in a really positive frame of mind with my belief in my preparation and fitness level coming into the race, but HUGE unknowns were constantly playing through my mind. This is because of the fact that I was seeded #851, right at the back of the 'B' group start point because according to the rules a 2:39:59 marathon is a better run than a 1:05 Half- Marathon and I tried all avenues to get this resolved with no success (Thanks, Adam & Richard).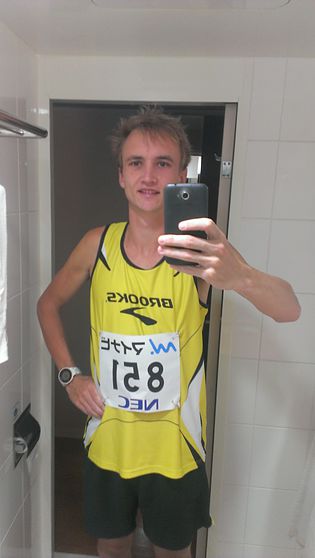 Things I was worried about
a) Difference between gun time and net time & therefore maybe missing the group running my pace
b) How long would it take to get clear space and overtake 800 runners?
c) If i could do a dodgy and sneak up the front of group B
d) We got NO personal drinks, and I wasn't prepared for that!
So based off this I changed a few things up and prepared a plan on race morning. I would wear my straight leg shorts as they had 3 pockets so I could carry 2 Gels and caffeine, and I would take a gel on the start line to try and give me some extra hope!
The start
Anyway, things didn't work out with the sneaking up the front and as the race was about to begin I was still 851st. I saw the 10 second sign flash up and started to make a move to try and gain some spots. The gun eventually sounded and all I remember for that next 90 seconds was forcefully moving 2 runners shoulders at a time and running through the middle. I found the odd 50m stretch of grass to do some mass overtaking and along with all of these bumps I was towards the front of group B in the first 600m. The Japanese took it well and didn't return my pushes which I was thankful for. Once I got settled I glanced down at the Garmin to see 2:56/km pace and 168bpm already which was a bit alarming. I had to settle down and hope that I was close to group A runners when the confluence of groups occurred at the 1mile mark.
I saw fellow Brooks Australia runner Steve Dinneen come out about 50m up the road and this made me happy. I could relax the pace and get into a rhythm after running 2:11 pace for the first 2km!
2km-10km
I got a glance at an official time and compared this to my watch and realised I must have lost almost 20 seconds from my starting position so as the group went through 3km in 9:45, I had only been running for 9:25. From this point I was monitoring HR as I didn't want to be over 170bpm this early on. It was a huge shock when we went past WR holder Dennis Kimetto just before 5km. I hit 5km in 16:02 (16:20 gun) and was on for a good time. The next 5km went off without a hitch and I stayed wide when group A runners veered off to get personal drinks to avoid danger. I started to devise a plan as to when I would take my gels, which was when I realised one had fallen out of my pocket and I only had 1 left! I hit 10km in 32:25 and a small gap opened up between the group and I. I was happy to let them get a bit of room as I realised my 1st km's were quicker than theirs and my hope was to negative split (just like all of my training) if I could.
10km-21.1km
I was now in a great rhythm with no one directly in front of me, just like all of the lonely hours on the uni loop this spring. That was apart from the incredible Japanese support lining the entire course. Phenomenal compared to my debut in 2013. I was thinking how do I want to feel at 32km when we reach the turn around. If i'm feeling good I can drop a 31 min 10km, but I won't if I go too hard now. I decided to take my gel at the 18km mark before i got into any trouble and would just hope for the best in the last part of the race. Between 17km and 21.1km I maintained my rhythm and caught the group again and went straight to the front to hit half way in 69:05 (69:23 official/group)
21.1- 32km
My strong belief in myself meant I honestly didn't mind being at the front of the ~20-30 man group. I wasn't hurting running that pace and I knew others with less conditioning would start to hurt. No one did any work on the front as I continued to tick off km splits of around 3:20 for several km on end. At this point I was still thinking of that 32km point, and doing some calculations ensuring I was staying in the 2:18-2:19 range. If someone was pushing a 3:16 pace here, i'm sure I could've sat in but it just wasn't the case on the day! When we hit the turn around point the group was down to 5 of us and I worked out I had to run something like 33:45 for the last 10km to break 2:20, which was my revised goal.
32km-37km
I lifted my effort but it felt as though we were pushing into a slight wind at times on the long road back to the finish. My km splits were now more like 3:22, but this would get me under sub 2:20 which would be a satisfying result given the circumstances. THEN at 34km I got a painful sensation in the back of both arms which actually caused me to slow and try to shake them out numerous times, with no success. I had less pain when i didnt use my arms much, so I used this technique and between 35km-37km I got back the 5-10sec that i'd lost on the last 3 in the group. That was incredibly strange anyway, and a reminder you never know in the Marathon! I had to run the last 5km in about 17:00 to break 2:20 and I knew that would be touch and go, but now a sub 2:21 should be mine.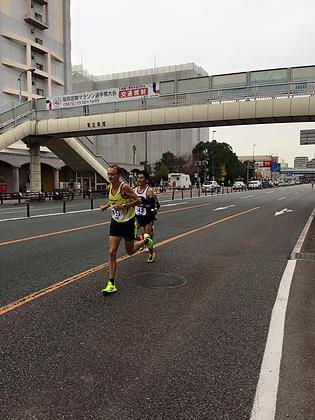 Last 5km
I'm not sure if only having 445kj (110cal) of nutrition would affect me, but there was nothing I could do about that! My hips were starting to go on me, my feet were killing me with blisters on the toes but I kept a decent rythym. My slowest km was the 41st where I dropped a 3:31. Aerobically I was still feeling comfortable it was just the legs. There was an obvious difference in fatigue compared to the up and down of the Uni Loop that gives those muscles half a lap to relax. The flat caused relentless impact on the same muscles! The last 550m of the race was around the stadium and I needed something like a 64sec last 400m to break 2:20. I finished fast but not that fast, and stopped my watch at 2:20:09 which was slightly disappointing to see after a such a great lead up.
Post Race
The Japanese officials rushed over with towels and cups of warm tea. I thought "ooh coke" and chugged one back before i'd realised what it was! I was in a bad way and couldn't produce hip flexion which meant the slowest walk of my life to get my clothes and then on to the hotel where the pace slowly increased! Honestly, it was 200m in 15minutes just to the clothes.
Back at the hotel I saw the official results. I had placed 19th in 2:20:27 (gun time). A top 20 placing was something to be proud of, and what made this better was that of all 18 ahead of me the highest bib # was 68, so I was the first group B runner! I had also managed to finish ahead of every single runner in our big group. Out of all 18 in front the slowest half-way split was 66 minutes, so in terms of placings I couldn't have done much more, and on reflection it wasn't a super quick day by the top runners either, so hopefully with a group of slightly better runners to sit on, a fast day and some in race nutrition I should be able to close hard and take some time off.
It is now 72 hours after the event and my legs are still very sore. Quads are now the worst, but the legs in general aren't good. I'll definitely be listening to my body over the next few weeks while I recover. It's interesting the huge difference between a cruisy tempo @ 2:27 and a 2:20 race on the fatigue!
Rankings
The time puts me pretty high up according to Tasmanian and Australian rankings which I am proud of.
#6 Australian in 2015
#5 Tasmanian all-time
#1 Northern Tasmanian all-time (cool)
Analysis
Ave pace- 3:18/km, Ave HR- 169bpm, Ave Cadence- 180spm.
In terms of heart rate, 169bpm is averaging about 92% max HR for a marathon so that's pretty good, and that is the highest cadence i've averaged for any race over 16km. Average stride length was therefore a bit smaller than usual which is a bit unusual for me. I'm glad I wore the HR monitor for my first quick marathon so I have some baseline data to compare with in future. Data is seen in two images below.
The time is about 4sec/km slower than the Rio Qualifier. That's less than 2%. If the following things go in my favour I hope to pick up the majority of that in Rotterdam.
1. No seeding issues, not having to go out hard
2. Getting a sit on faster runners
3. Optimal nutrition strategy
4. Another training program under the belt
5. Altitude stimulus
6. Faster conditions
Closing
I'd love to thank Brooks Running for all the support and assistance getting me through all the miles with great shoes and apparel. Laurel for being so understanding of the struggles of trying to be an elite marathon runner. I've been thinking of my late coach Andrew as well over the last few days, he would've loved to see whats ahead leading into a genuine chance to make 2017 World Championships. I'll hopefully have a bit more time to focus on those little .1 percenters into 2016 which will be nice.
Special mention to Steve and Klarie for being good travel companions and to the millions of Asian fans that lined the streets in the race, the atmosphere was simply incredible. There were multiple times where I took the time to focus on the crowd rather than the pain.
Thanks also to everyone who wished me well, said well done or gave me Kudos on Strava, it really does keep me going sometimes! I'm off to recover some more, keep an eye out for a 2015 year in review post soon.
Josh