As this is my first Runners' Tribe blog, I want to start by giving you a bit of background information on the journey I have made over the last ten years, from a primary school kid running around my family's farm, to now – as I sit here writing the night before leaving for World University Games in South Korea.
My running story began on King Island, a small island located half-way between Tasmania and Victoria, that has a population less than 1500. This is where my family is based and I still enjoy going home and training there – you would be pressed to find a more scenic and beautiful place to run.
After finding my passion for running, I moved to Ballarat to attend boarding school in year 7 at Ballarat Clarendon College. It was at this point a local coach, Rod Griffin, took me under his wing and added me to impressive his stable of athletes that includes Duer Yoa, Jack Davies and Jesse Fullerton.
Throughout my time in high school, I learned the importance of having a good training regime and also just how important it was to enjoy the sport.
As I grew, so did my appetite for success. Rod was always careful with the training load he gave me and the other junior athletes under his care, reminding us of the importance of us being injury free and healthy. He gradually increased my training year by year throughout high school and this is where I began to make progress, slowly.
As I was late developer and one of the smallest in my age group, Rod was always quick to advise me that I would more than likely not start seeing any of my potential until I was in my early twenties. This was hard for me – but I knew if I stuck with my training and remained passionate about what I was doing, I would eventually see success.
Across my junior career, I was always competitive and one of the top distance runners in my age group across Australia – unfortunately, without winning very often.
It wasn't all hard work and no fun though – a notable highlight of my junior career was making my first Australian team, competing in the 2013 World Junior Cross Country Championships in Bydgoszcz, Poland. This experience was where I realised I had the ability to be able to really make a go of running if I worked hard.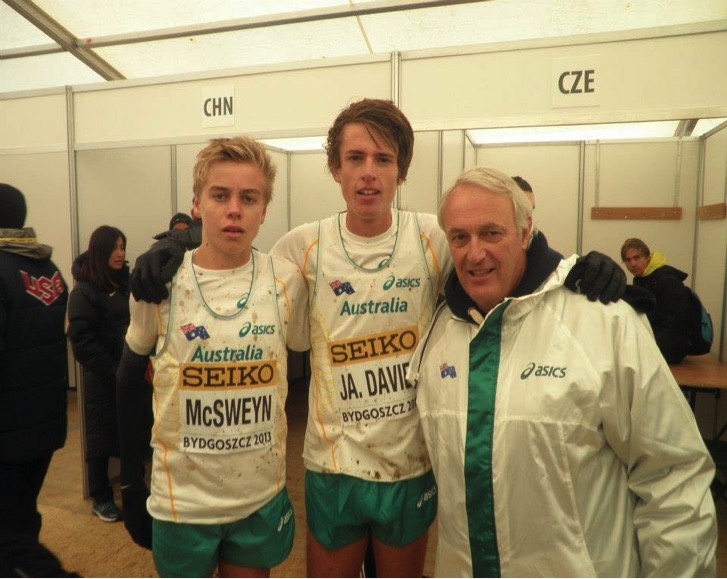 The last six months have been a big break-through for me. They have seen me step out of the junior rank and come up against some of the best runners that Australia, and the world, has to offer. I have been able to post a few positive results, which has enforced me with confidence that being able to challenge the best at senior level is hopefully not too far away.
These results included:
· Finishing 9th at the Melbourne World Challenge 5,000m, with a massive PB of 13.55.
· A 3rd at the National Open 10km road titles in Sydney in 29.42
· And most recently, heading back to my home state of Tasmania and being narrowly out sprinted to finish 2nd in the Launceston 10, which also doubled as the Oceania 10k Championships in 29.28.
These outcomes resulted in me being selected for my first Open Australian team for the upcoming World University Games in Gwangju, South Korea.
I attribute my recent successes mostly to my training environment. As I now live in Melbourne, I have been presented with many different opportunities, including the chance to train with some of the best runners in Australia – opening my eyes to what I need to do if I want to reach success on an international level.
Over summer I did a lot of my workouts with the Melbourne Track Club under the coaching of Nic Bideau, which involved training numerous times a week with a high calibre of athletes including Collis Birmingham, Brett Robinson, Dave McNeil and Ryan Gregson.
I still find it funny that not too many years ago I had Ryan Gregson's autograph hanging up on my bedroom wall, and now he is a main training partner of mine when he is back in Australia, as well as really close mate.
Another one of my closet mates and training partners, Brett Robinson, has been great mentor to me. He has been instrumental in my success, using his progress from a junior athlete to an international athlete to help guide me on my own journey.
While the older boys travel overseas throughout the year, I do most of my day in day out training with some of my closet mates, which helps me to complete my normal 110-120km weekly running schedule on a constant basis.
These guys include: Ryan Geard (ryangeard –Instagram username), Jack Rayner (jackrayner7), Reilly Shaw (Reillyshaw_), Luke Mathews (lukemathews), Sean Guiney (seanguiney94), Mathew Clarke (mattiiclarke), and finally, Tom O'Shaughnessy (tomoshaughnessy).
If you're interested in some tips, and an inside look into our training sessions, give them a follow on Instagram, as they all post some good content regularly.
For now, I have just wrapped up a hectic training schedule, as I head off to the World University Games to compete in the 5,000m.
Following this the focus will shift to preparing for a big tilt at National Cross Country and Zatopek 10 later in the year.
Hopefully you will hear more from me soon, but if you want to know more now, feel free to give me a follow – stewy_mac3.
Cheers,
Stew
An example of my normal training week involves:
Monday: Am – 60 minutes
Pm -rest
Tuesday: Am- long rep e.g. (6-8 by 1k or 3-4 2k reps)
Pm- 30 minute jog
Wednesday: Am – 60-70 minute jog
Pm: – Rest
Thursday: Am- threshold. Approximately 30 minutes
Pm- 30 minutes
Friday: AM/PM -30 minutes or rest
Saturday: Am – Hilly threshold (around 25 minutes with efforts over hills)
Pm -30 minutes
Sunday: Am- long run (90 minutes)
Pm- rest