To be successful in this sport a lot of time and dedication needs to go into training. All athletes sacrifice a lot of things in order to be the best athlete they can be. Running is such an individual sport so when you succeed it's always great to share that success you have with others.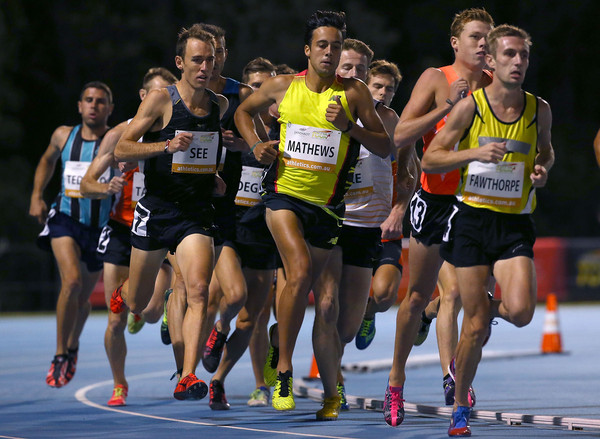 A lot of athletes and myself included struggle to get the right balance between training and other things in life, whether it be uni, work or social life. I myself have found that if you can get into a routine then finding a balance between all these things becomes much easier. My weekly routine is very solid at the moment. I'm up around 6.30-7am most mornings and in bed by 9.30-10 most nights. I do most of my training in the early morning, except for Mondays and Wednesdays which I do at night.
Photo: Leonora Golden Gift 2014
During the day I work fulltime. This just works for me and fits in well with work. It may look like I've got a really good balance between training and work but I still struggle with my social life and catching up with friends or going out with them. This is probably the same for most athletes. It's very important to me to run fast times but also still important to catch up with friends. Let's face it friendships can last a lifetime, whereas a running career doesn't, so it's important to catch up with friends and not be focused on running all the time.
As well as finding a good balance you also need to surround yourself with good people. I guess you could call these people your support crew. My support crew branches out to friends, family, training partners, coach and even my workplace. This year I was lucky enough to compete in all of the AA Tour meets except for Adelaide and Brisbane. Working full time in retail can be sometimes difficult to get days off. My work place Active Feet has been very supportive of me and my running. In previous jobs I have struggled to get time off to compete interstate each weekend. For those who don't know Active Feet is a specialty running shop with podiatry trained staff. Most of the staff are either podiatrists or podiatry students. My work place lives and breathes running and they have been really supportive towards giving me the time off so I can go and race against Australia's best which I am very grateful for.
Your support crew are the people who are always there. They are there when you have a bad race, they are also there when you have a good race. I tend to look at the negatives after a poor performance, however the people I surround myself with always seem to find positives. Even when I run a PB they keep me grounded and don't let me get ahead of myself.
I guess what I'm saying in this blog is to get yourself into a routine.Try and find that ideal balance between training and life. Surround yourself with good people. It will make you a better athlete. I know it's worked for me.
Until next time,
Tom Fawthorpe