Runners can sign up today to take part in the virtual All Out Mile challenge or attend the event at the Sydney Cricket Ground on the 1st June.
From inspiration to perspiration the UA ALL OUT MILE provides the motivation, the coaching, and the training plan to run your fastest mile. Join the UA All Out Mile challenge today and run your fastest mile on Global Running Day.
During the UA All Out Mile Competition Period, participants are encouraged to go ALL OUT and run their fastest mile anytime between June 1st – 5th. In celebration of Global Running Day, UA will kick off live events across the globe at cities across the US as well as in the UK, Thailand, Japan, South Africa and Australia.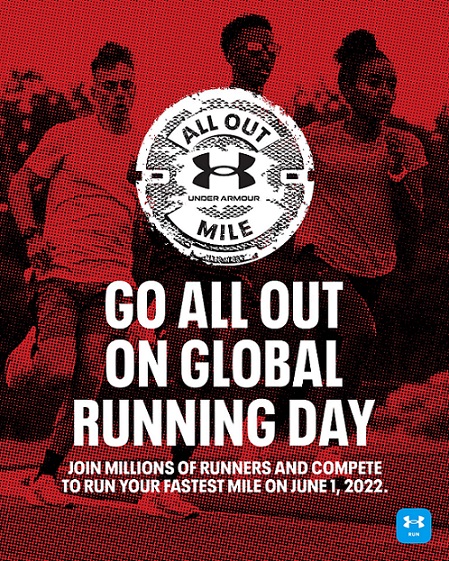 Sydney will play host to the first Australian UA All Out Mile live event, to be held at the iconic Sydney Cricket Ground from 5:00pm-9:00pm. The event will be a celebration of the running community and free and open to the public to attend to lay down their fastest mile, as well as enjoy music and entertainment. Competitors are encouraged to register early on the day (from 4:30pm) to avoid disappointment.
Participants results will automatically be pulled from UA MapMyRun™ and appear on the FitRankings leaderboard, where they can see how they stack up against runners from around the world. Are you ready to see your name on the leaderboard? Prizing will be awarded to the top-3 males and top-3 females in each region. Under Armour have also committed to awarding the top teams in the "Most Milers" competition with a $10,000 monetary donation back to the non-profit organisation of their choice. All designated charities must have a connection to increasing access and opportunity for all young athletes in support of UA's Access to Sport initiative.
View this post on Instagram
When registering for the UA All Out Mile, participants gain access to training routines and workouts from UA's elite coaches, athletes, and Human Performance experts. Starting from the 1st May the UA All Out Mile begins with a month-long Training Period. Whether you're walking or running, connect your shoes or smartwatch to get personalised tips and training plans to help you go farther and faster.
Sign up your local crew, club, or even create a team for your social followers to support youth sports in your community. Make a team. RUN ALL OUT. Make an impact.
Head to UAALLOUTMILE.com for further information and follow @UnderArmourAU @UArunning using #UAAllOutMile for updates.