Introduction by Len Johnson
Lisa Ondieki ran her first marathon in December, 1983 at the Rocket City Marathon in Huntsville, Alabama, and it would be fair to say that her career took off like a rocket.
Within 12 months, Ondieki, then Lisa Martin, was an Olympic seventh placegetter, the Australian record holder with first, a 2:29:03 at the Los Angeles Olympic Games, and then, a 2:27:40 in Chicago and embarked on a career which saw her become Australia's only Olympic marathon medallist, a dual Commonwealth Games champion and, for a long time, holder of the 'world record' for a women's race on an out-and-back or loop course.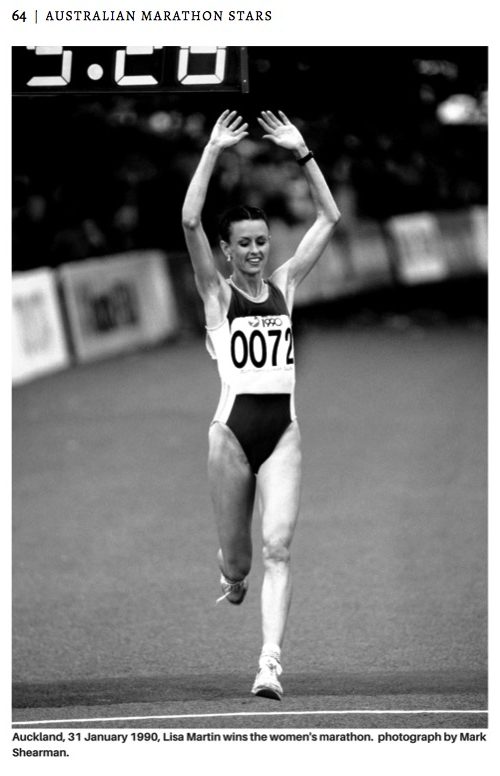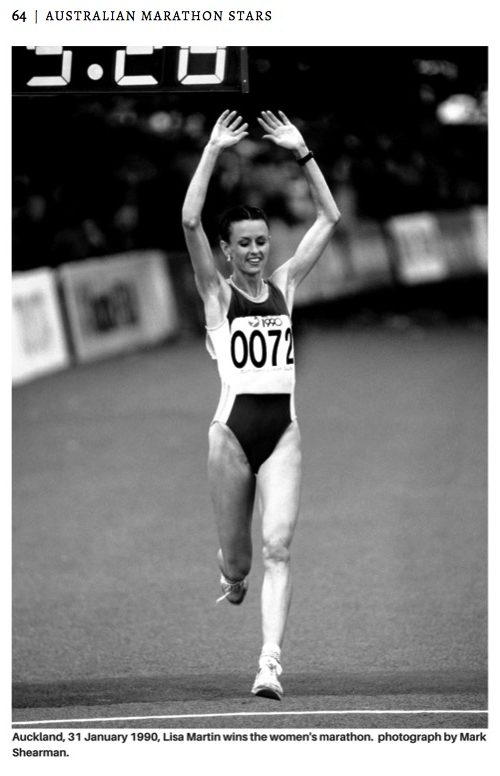 It hadn't seemed likely to turn out that way when promising young 400-meter hurdler Lisa O'Dea from Gawler on the outskirts of Adelaide accepted a scholarship offer from an American university.
Fortunately for the history of Australian marathon running a number of things fell into place around about this time.
First of all, the scholarship offer was from the University of Oregon, based in Eugene, then, as now, Track Town USA. Second of all, O'Dea was coming to the realisation that she would only ever be a moderate hurdler, at best. Third of all, Oregon had two dedicated women's distance coaches in Tom and Janet Heinonen.
And, fourth of all, O'Dea met an equally-promising young US distance runner named Ken Martin.
By the time she met Martin, Lisa O'Dea had already switched to distances. She told Brian Lenton (Brian Lenton Interviews, 1997) that she was already getting the benefit of training with the top US collegiate distance squad when the idea of the marathon came up.
" . . . there wasn't a 10,000 metres event and I wasn't fast enough at 3000. A year before the Olympics, I had no ambitions at all and wasn't even thinking of trying to make an Australian team. I certainly had no desire to run a marathon. However, Ken kept encouraging me all the time saying: 'You could make the Australian team because the quality and quantity of good runners is not that high in the women's marathon."
Ken Martin was right. Lisa Martin decided "to give it a bash", went to Huntsville and won in 2:32:22.
These days, that would have been enough for selection then and there. But Australia had decided on a trial for the women's marathon, which was held in Canberra in April, 1984. Ken and Lisa Martin moved to Australia and Lisa won the trail in 2:35:05.
Even at this stage, Lisa Martin was exhibiting the intense focus she became known for. Lenton tells a story in Interviews of how she brushed past him and Graham Clews while on a training run around Lake Burley Griffin without even recognising either.
I had a similar experience around the same time. When the Martins moved to Canberra, my wife Anne Lord and I were living there. Anne was asked to look after Lisa on one Sunday morning long run.
At one point the course took us across Pipe Flat, a track imaginatively named because it was flat and a large water supply pipe ran alongside it. There were often horses grazing in the unfenced paddocks, as there were this morning.
A group of them took fright as we approached and galloped close as they took off. One kicked backwards with its hind leg and, to my eyes anyway, the hoof went perilously close to Lisa's head. She neither flinched, nor said a word, totally oblivious to what I saw as mortal danger. It wasn't even mentioned for the remainder of the run.
That intense focus was both a strength and weakness for Ondieki throughout her career. It enabled her to train with intensity and at a level few others could match, but also occasionally consumed her.
If we want to continue the rocket analogy, Lisa O'Dea/Martin/Ondieki's career continued on the trajectory of a multi-stage space capsule, with stages falling away in flames regularly – the 1987 world championships, 1992 Olympic Games, her 1995 Tokyo 'comeback' – before the control capsule itself crashed and burned at Atlanta in 1996.
But what a marvellous journey in between. Ondieki's best was pretty much as good as anyone's, especially from 1986 to 1990, a period marked by fast Commonwealth Games victories in 1986 – beating Lisa Moller in Edinburgh in an Australian record 2:26:07, and Auckland in 1990 – a solo 2:25:28, her third-fastest career time, and, of course, that fabulous silver medal in the Seoul Olympic marathon.
In Seoul, Ondieki remained in contention late in the race as others dropped one-by-one. Finally, it was just her and Rosa Mota, with the Portuguese runner proving just that little bit stronger over the closing stages to win, 2:25:40 to 2:25:53. It is the closest any Australian has gone to winning an Olympic marathon, though Robert de Castella, of course, did win a world championships marathon.
During the same period, Ondieki bounced back from a DNF in the Rome world championships (also won by Mota), to win in Osaka in January, 1988, in yet-another Australian record 2:23:51. This was also a world best for a women-only race on an out-and-back or loop course, and remained so for a long time.
From Auckland onwards, however, Ondieki went into relative decline, the burn-outs becoming almost as numerous as the star-turns. Indeed, the great runs often followed the disappointments, as in 1992 when Ondieki failed to finish the Olympic marathon then, a couple of months later, finally won New York, after two seconds and a third, in 2:24:40. This was her second-fastest marathon and remained the course record for nine years.
Ondieki was one of the favourites in Barcelona. Now coached by her husband, Kenyan 5000 metres world champion Yobes Ondieki, she had run a personal best 10,000 of 31:11.72 in Helsinki in the lead-up to the Games.
Lisa arrived in Barcelona early and trained on the course. At a press conference before the Games she said she had trained every day on the Montjuic hill which competitors had to climb in the last few kilometres to the finish. It sounded a little bit too focused and, as it turned out, it was. Indeed, it was on the hill that her race came to an end.
Following a couple of London marathon appearances – much-hyped clashes with Liz McColgan, a 'mortal enemy' with whom Ondieki eventually found she had much in common – Ondieki returned to Osaka in January, 1996 to run 2:30:27 and qualify for a fourth Olympics. Sadly, Atlanta was another DNF, and she retired soon after.
Ondieki certainly rates as Australia's top female marathoner, her Olympic silver medal comfortably over-riding the fact that Benita Willis is almost a minute-and-a-half faster. Though she was never much of a cross-country fan – she did run in a winning Oregon NCAA championships team, however – her record on track and road makes her also one of Australia's most versatile distance runners.
Some seize on the Olympic silver medal to argue a case for Ondieki as our greatest marathoner overall. No Australian male has placed higher than Robert de Castella and Steve Moneghetti's fifth.
While the Olympics still retain a mystique and prestige that the world championships does not quite match, de Castella's world championships gold has to be at least the equal of an Olympic silver. 'Deek', too, set a world record (albeit one belatedly recognised) and had an incontestable claim to being the best in the world for most of 1981-83.
Interestingly, Lisa told Brian Lenton in 1996 that de Castella was Australia's best "no shadow of doubt". There is equally "no shadow of doubt" that Ondieki is our greatest female marathon runner and next best overall

Profile
Coaches: Richard Telford, Yobes Ondieki, Ken Martin, Tom Heinonen (University of Oregon distance coach), Dr. John Daly (South Australian Olympic coach)
Date of birth: 12 May 1960
Hometowns during career: Phoenix and Flagstaff, Arizona, USA; Canberra, Australia
Date of retirement from running: Post Atlanta Olympics, 1996
Personal bests: Marathon, 2hrs. 23mins. 51 secs. 10,000m track: 31 mins. 11 secs.
Career highlight: Winning New York City Marathon in 1992 & Olympic Silver Medal in 1988
Major championships medals: 1988 Seoul Olympic Marathon, Silver; 1986 Edinburgh and 1990 Auckland Commonwealth Games Marathon; golds.
Interview by Sam Burke
Looking back, what was the most memorable moment of your career?
Winning a silver medal in the 1988 Seoul Olympic Marathon because I'd dreamed of winning an Olympic medal (albeit in the 100m hurdles!) from the age of 11. But equally, winning and setting a new course record in the 1992 New York City Marathon because, once I became a marathoner, New York seemed like the crown jewel and it took me four attempts to win it (2nd in 1985 and 1986, 3rd in 1991).
What about the most miserable memory?
Barcelona Olympics, 1992. I was a favourite to win and I truly believed I was in the best shape of my life.  I had run a PB of 31:11 for 10K on the track in Helsinki prior to the Barcelona marathon, so that demonstrated how fit I was. But, on race day, I had nothing and did not finish. It was a crushing blow, but I managed to come back with my greatest run (New York) a few months later.
How important a role did your coach play?
Coaches have been extremely important to me, not only with respect to figuring out and monitoring training and racing schedules and tactics, but also for their sheer moral and emotional support.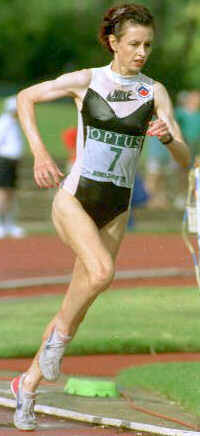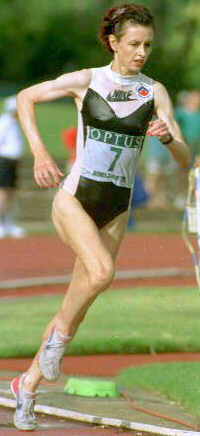 Your favourite big city marathon race?
New York because the atmosphere was electric. Crowds lined that course the entire way; many people deep on both sides and they made a lot of noise cheering runners on. It seemed the whole city got behind that race and the media gave it tons of coverage. I ran New York at a time when marathons were at a peak for media coverage in the United States because an American, Alberto Salazar, was winning Boston and New York. Hence, marathons were big news and it was really exciting to be part of it.
What did a typical week's worth of training consist of on a day-to-day basis during a hard training phase?
Total miles run in a week would be 120 to 140 (190 to 225 kilometres). There would be three track sessions each week, the track sessions included:
1) 20 to 40 times 400meters with a 30 second rest between each.
2) 6 to 8 times a mile with a 2 to 3 minute rest between each.
3) 4 mile tempo run (Editor: A tempo run is best defined as 'comfortably hard') on the track or a longer tempo run off the track.
Sunday was usually a long run at a good clip of 20 to 23 miles (32 to 38 km.)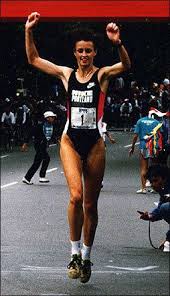 Did you make an attempt to do some of your long runs on the road or were a lot done off road?
I made sure that some of these were on road surfaces since that's what the race surface would be, but most of these long runs were on dirt roads or trails in forests.
Favourite session?
I don't think any one session was key to getting fit since all of the different types of sessions (tempo runs, short intervals, long intervals) complemented each other and were necessary as part of the whole program. My favourite session was repeat 400 meters run on the track in spikes. I'd do 20 to 40 of them with a 30 second rest between each 400. Perhaps these brought back fond memories of my days as a kid doing sprint training on the track and dreaming of being an Olympic sprinter. I loved running in spikes!
Did you ever have rest days?
What I called a 'rest day' followed each hard track session. However, these 'rest days' consisted of a 10 mile (16K) run in the morning followed by a 6-10 mile run again in the evening. The only non-running days I took were the day or two immediately after a marathon and the few days of my career where I had an illness such as the flu and common sense dictated a day or several days off.
How important were altitude training camps?
I didn't attend camps as such. During the years that I was married to Kenyan runner Yobes Ondieki, we were based in Flagstaff, Arizona, which is at 7,000 feet (2,100 meters). The marathons I ran in Osaka, Japan (2hrs. 23 mins. 51 secs.) and Seoul Olympics (silver medal) were preceded by no altitude training at all. I was in Phoenix, Arizona, and Canberra prior to both of those. However, when I won New York in 1992 (2 hrs. 24 mins. 40 secs.) I was living full-time in Flagstaff at high altitude. So, strangely enough, I ran great marathons based entirely at sea level and also at high altitude. It seems to me the most critical thing is to get the training program right for wherever you are at that time. I do think there is a huge psychological aspect to training at high altitude. For athletes who believe strongly in high altitude, the psychological boost that comes from being up in the mountains is an added bonus to whatever the actual physiological benefits may be.
Favourite training location?
There are several. Canberra was wonderful – there were great places to run from forest trails to the bike paths around Lake Burley Griffin (I did my 20 mile runs as loops around the lake). But, the best thing about Canberra was all of the outstanding support from various people. There was family (my brother, Daniel) and coach Richard Telford along with his wife, Sue, who became like family. The Australian Institute of Sport added the support of nutritionists, sports psychologists, masseuses, physiotherapists, bio mechanists…the list goes on. It was always an added bonus when Rob DeCastella was in town. In the midst of the hardest training, he could always provide some laughs and a positive attitude when the going got tough. He was such an inspiration. There were times in my career when I needed all the help I could get and Canberra was the one place in the world where I could get it.
In the United States, I loved Flagstaff, Arizona in the summer (but not in the winter when it was freezing and snowing); Phoenix, Arizona, autumn to spring (but not in the summer when it's 43 degrees Celsius every day!). In Europe I spent several summers in Davos, Switzerland (5,000 feet altitude). Mountain trails in Switzerland are hard to beat as a place to do long runs.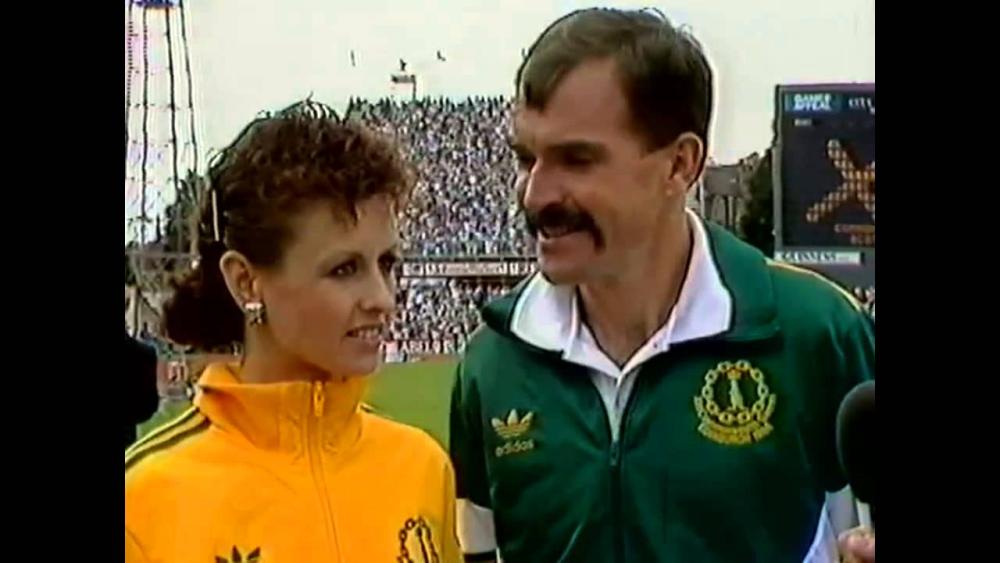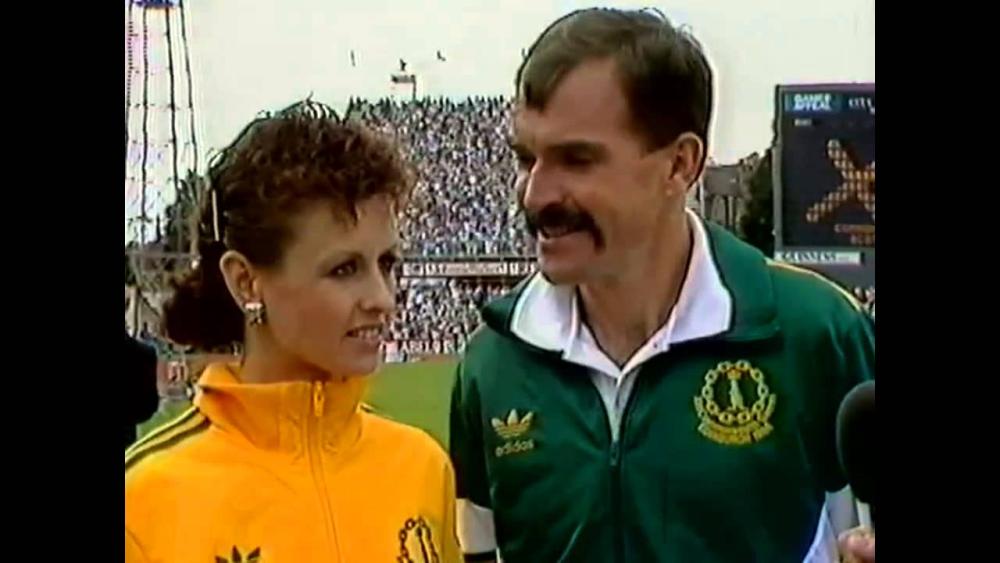 Did you incorporate core stability exercises or weights into your program?
I did a lot of stretching exercises and sit-ups.
Hardest run/session you ever completed?
16km hard tempo run at 7,000 feet (2,100m) altitude during a 140 mile (225km) training week.
How far out from a major marathon did you start to taper your training?
About 3-4 weeks out.
How did you recover post-race? For how many weeks did you relax before returning to a normal workload?
I'd relax for at least a full week during which time I'd get plenty of massage. After that I'd start easing back into a regular routine and would be back into a normal workload sometime in the 3rd week. The break was as much for mental as physical reasons.
What was your nutritional/energy intake regime during the marathon? And in the week leading into each race?
I did the full regime of carbohydrate depletion and loading in the week leading up to each marathon that I ran. During the marathon, I had bottles out at each station that had an electrolyte solution in them.
If you had your time over again, is there anything you would do differently in regards to training?
Looking back, I think I was fortunate to have had very good guidance from coaches along the way and my training was pretty much spot on throughout my career. There were times in Flagstaff during the early 1990s when I felt over-trained. That's when I started getting Achilles tendon problems for the first time in my life. Then again, I was getting older so perhaps that also had something to do with the onset of injuries and fatigue.
Just how taxing was your training. Did it take away from every other aspect of your life?
When running was my profession, training was the focus of my life. As far as taking away from other aspects of life, I'd rephrase that by saying there are sacrifices one makes in order to train and compete at that level. The sacrifices were worth it because of the wealth of experiences I had as a world class marathoner. Perhaps I missed out on some things, but I travelled the world, met some amazing people and stood on an Olympic podium.
Was there a typical point in every marathon where the mental battle really begins?
For me it was different in each race and I always hoped the "rot" wouldn't set in until well after the halfway mark. Usually it was somewhere in the last 10k, but sometimes it was sooner. I dealt with the mental battle by doing lots of visualization in the days or weeks leading up to the event. The sports psychologists at the Australian Institute of Sport really helped me develop these techniques where I would visualize what it was going to feel like at various stages of the race and I developed scripts in my head of what I would say to myself to keep negative thoughts at bay when the going got tough. These pre-programmed thoughts would be simple phrases such as, "No matter how much I'm hurting, they're all hurting worse!" or "No one is as well prepared as me." I would also get a vivid image in my head of crossing the line first (arms raised, cheering crowds, all of that!) and I'd think how all this pain would go away on winning and how it would all have been so worth it. These things kept me going.
What is it about the marathon that appealed to you?
It's such a pure test of human endurance, and the simplicity of it (not much equipment required) means that it's a challenge that's available to many people. You can run just about anywhere you are in the world. I also think of it as a flagship event of the Olympic Games. Back in the 1980s it was a "glamour" event in the respect that there was a lot of television coverage. Icons such as Bill Rodgers, Frank Shorter, Rob DeCastella, Carlos Lopes, Grete Waitz and Allison Roe made the marathon great and paved the way for the rest of us.
If there is indeed a 'secret' to success. What is it?
There are lots of elements to running a successful marathon and I'll bet insights into them are woven throughout all of the interviews in this book!
Favourite training partner?
While at the University of Oregon in the early 1980s there was great camaraderie among our track and cross country teams. There were always runners ahead of me to pull me along. Oregon was the hub of distance running with greats such Alberto Salazar and Mary Decker Slaney training in Eugene. The legend of Steve Prefontaine pervaded the entire running scene. In Canberra I had the pleasure of training with some Australian greats, and the ones I enjoyed the most were those who trained all out but always managed more than a few laughs along the way. Here's a few: Carolyn Schuwalow, Rob DeCastella, Andrew Lloyd and my brother, Daniel O'Dea.
Do you think the 2 hour mark will be broken soon in the marathon?
Perhaps not in my lifetime, but someday…why not?
Favourite marathon runner of all time?
I'm loath to name just one. Rob DeCastella is an absolute, all round, top guy. I got to know him better than I did most other marathoners because we both used Canberra as a training base. In addition to his superlative running accomplishments, Rob was always generous with his time and advice; not just words of wisdom about running, but towards the end of my career he also nudged me to think about what would come next and encouraged me to start preparing for life post-running. His terrific sense of humour lightened up the tough job of training day in day out. Rob is a great ambassador for Australia and will always have my highest admiration.
Then there's Grete Waitz, 9-time winner of the New York City marathon and Olympic Silver Medallist, but I remember her mostly as a kind and lovely person. Grete always had an aura of calm about her that I could only dream of emulating. She was a modest person who let her legs do the talking and, like Rob, generously shared her wisdom of both running and life in general.
Having said all that, I wish I'd had the opportunity to get to know Steve Moneghetti better, but we were never based in the same cities at the same time. I respect his accomplishments on the road and also all of the effort he's going to now to give back to the sport and encouragement of distance running in Australia.
Lisa Ondieki Career Marathons
2:32:22                        1         Rocket City Marathon, Huntsville                      10/12/83
2:35:05                        1         Olympic Trial, Canberra Marathon                    08/04/84
2:29:03                        7        Olympic Games, Los Angeles                           05/08/84
2:27:40                        2        Chicago                                                         21/10/84
2:31:54                        1        Pittsburgh                                                      05/05/85
2:29:48                        2        New York                                                        27/10/85
DNF                        –           Boston                                                          21/04/86
2:26:07                        1       Commonwealth Games, Edinburgh                   01/08/86
2:29:12                        2        New York                                                      02/11/86
2:30:59                        2        Osaka                                                        25/01/87
DNF                        –         World championships, Rome                           29/08/87
2:23:51                        1          Osaka                                                         31/01/88
2:25:53                        2       Olympic Games, Seoul                                    23/09/88
2:25:28                        1       Commonwealth Games, Auckland                    31/01/90
2:29:01                        3        New York                                                      03/11/91
DNF                        –        Olympic Games, Barcelona                               01/08/92
2:24:40                        1        New York                                                       01/11/92
2:27:27                        2          London                                                       18/04/93
DNF                        –           Tokyo                                                          21/11/93
2:33:17                        2        London                                                         17/04/94
2:31:01                        3        Tokyo                                                            20/11/94
DNF                        –           Tokyo                                                           19/11/95
2:30:27                        9        Osaka                                                           28/01/96
DNF                        –    Olympic Games, Atlanta                                        28/07/96