10 YEARS ON THE RUN: The career of marathon journeyman Patrick Rizzo.
Written By Daniel Wallis @danwallis11
With a personal best of 2:13.42, Patrick Rizzo is currently the second fastest marathoner supported by SOS REHYDRATE (Chris Thompson takes the #1 spot). Although Rizzo describes himself as having 'no talent' when it comes to running, a strong case can be made to the contrary. But the point stands; Rizzo is a hard worker, and his success has not been by accident. During the course of over a decade he has worked with some of the most well-know coaches in America, and who have all added something unique and valuable to the way he now approaches training.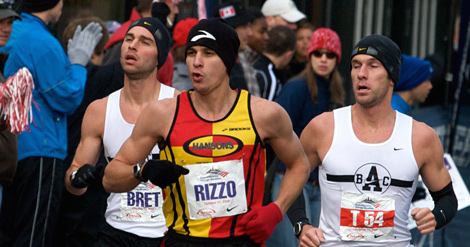 Led by coaches Kevin and Keith Hanson, the Hanson's Distance project is an Olympic Development team that has become famous for its reputation of turning working-class athletes into world-class marathoners.
Date: June 2006 – December 2009
Location: Rochester, Michigan.
Best Marathon: 2:15.48
Average miles per week: 120
Highest Mileage: 150
Most memorable workout(s): The Hanson's Simulator & 2 x 6miles.
Training in the group under Keith and Kevin Hanson was Rizzo's first post-collegiate environment, and where he would be based for over 3 years. The group kick-started his career on the road scene, and the specificity of the training is where he developed the sense of rhythm and consistency that would come to characterise his career.
"Everything at Hanson's was a bi-product of goal marathon pace, it's the sun that we orbited. The workouts weren't massive, but they were based on marathon pace. It was always 'pace plus 5 seconds, pace plus 10 seconds, pace minus 5 seconds', something like that. They weren't always long, but we consistently ran big volume – so we were always running workouts on pretty beat up legs, which is what you need to become good at. The marathon was always the focus, and we trained specifically for 26 miles, week in and week out. "
"No one week was ever more important than the next, it was a yearly, two-yearly, long-term approach. A good week doesn't mean anything if you can't put another 51 of them together – that's true for any training, and even more so for the marathon."
"We were rarely told that we were being too aggressive in workouts, only now and then would Keith or Kevin tell us to pull back, but more often than not the workouts weren't long enough to destroy us. We were also at sea level, where if you're in a hole its not as hard to get out of compared to altitude."
Rizzo emphasises how much he got out of his time with Hanson's, but after three years he knew it was time to move on. Personal differences between himself and the coaches were starting to interfere, and he was also ready to leave the upper Midwest, the area where he was born and raised and had started to resent. He wasn't happy, and wanted to be somewhere that he would love even if he never ran another step in his life. That criterion led him to Colorado.
Originally from Wales, Steve Jones is a former World Record holder, having run 2:08.05 at Chicago in 1984 in what was the first marathon he ever completed. Between 1984 and 1988 Jones won the marathons of New York, Chicago and London, of which now constitute three of the six World Marathon Majors and cement his position as the Andre Agassi of the running world.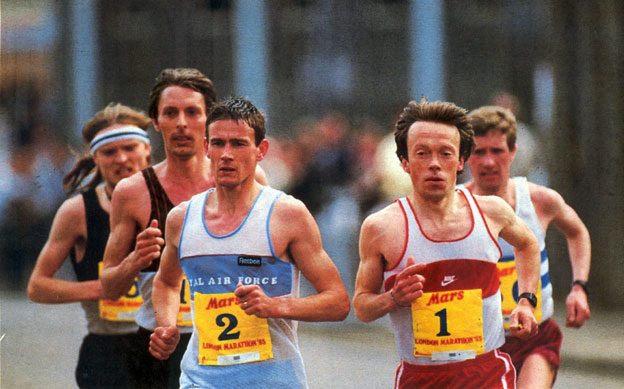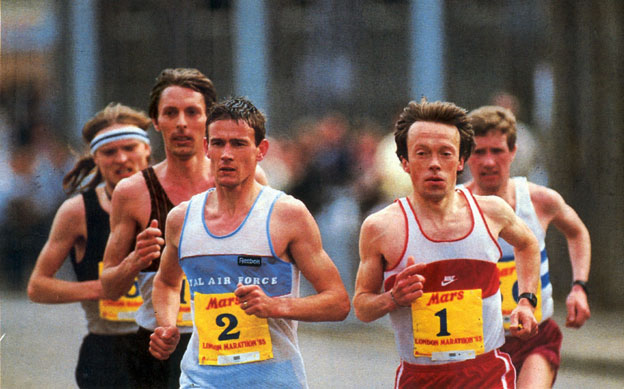 Date: February 2010 – September 2010
Location: Boulder, Colorado
Best Marathon: N/A
Average Miles per week: 80-90
Highest mileage: ~ 90
Most memorable workout(s) 20 x 400m on 100m float. Started at 63 seconds and ended up around 60 seconds at altitude in Boulder.
Arriving in Boulder in 2009 Rizzo made no commitments to a coach or group. Rather, he took his time to get to know those in the community and figure out what might work best. "At the time there were only really a couple of groups in town – either Jay Johnson or Steve Jones. Jay was looking after Brent Vaughan, but I figured out pretty quick that the sort of training Brent was doing was not going to work; he had wheels that I just couldn't match. Jonesy on the other hand had guys like Steve Slattery, Jason Hartmann, Lee Troop and Jorge Torres. It made the decision pretty easy."
Rizzo had long admired Steve Jones, who as an athlete had broken the world marathon record at Rizzo's hometown marathon, Chicago. He had also grown up racing Jorge Torres. Despite admitting that in terms of talent Jorge wasn't necessarily the best to workout with, he enjoyed the group and found that in Jason Hartmann he had an almost ideal training partner.
"Jonsey was more about effort, as opposed to exact pace like in Michigan. We worked in minutes not miles, and it's little changes like that which helped recharge myself mentally and physically."
Rizzo describes that training under Steve Jones was based around three efforts for workouts:
1.Controlled hard
2.Hands on knees
3.About to vomit
"All of a sudden I felt as though I could do a lot more in races, that I could actually race not just run which often happens when you are training specifically for a marathon all year round. I never actually raced a marathon, but ran PB's over 5,000m, 10,000m and the half marathon."
Under Steve Jones, Rizzo found some speed that he didn't realise he was a capable of. He ran 29:06 for the 10,000m and also finished Top 10 at Beach to Beacon 10km, running 29:40.
"The workouts were intense. It was all about hard days very hard, and easy days could never be too easy. We didn't meet on Monday or Fridays and I'm glad, because there were a lot of times where I could barely get to up warm-up pace on those days. "
The running politics that Boulder is infamous for would have it that Steve Jones' group would end up splitting into two, with Lee Troop starting what has since evolved into the highly successful Boulder Track Club. "I respected and admired Jonesy so much, but Jason was going with Lee, and I knew that I was better suited to training with him than Jorge". Jonesy understood, and it hasn't changed our friendship."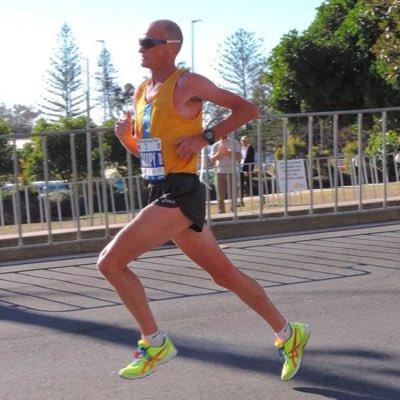 Now based in Boulder, Lee Troop is a 3x Olympian from Australia whose range from the 1500m to the marathon makes him one of his country's greatest ever distance runners. In 1999 he broke Ron Clarke's 5,000m National Record which had stood for 33 years, and is one of only five Australians to ever break 2:10 for the marathon.
Date: September 2010 – July 2011
Location: Boulder, Colorado
Best Marathon: 2:16.12
Average Miles per week: 100-110
Highest mileage: ~ 110
Most memorable workout(s) The 'real' long run: 2:30-3:00 hours.
"In training with Lee and Jason, it was well established and accepted that we were all in this for our own personal goals, but we knew that we had a better chance of succeeding if we worked together. Lee was the coach, but he was still trying to make the Olympics, and it was the first time I had a training partner who was also my coach."
"Life under Lee wasn't too dissimilar to what it had been under Jonesy. Lee was all about the big picture, the long-term goal. A few of the workouts changed and we started doing some of the more classic Australian stuff, the Mona Fartlek and Deek Quarters, but no one week was ever more important than the next. It was a smart, sustainable approach."
One of the lasting and most influential philosophies that Rizzo took away from Lee was the benefit of long, slower running. "Long runs under all my other coaches had always been pretty tough, even under Jonesy we would smack each other around a bit. Lee instilled the benefits of time on the legs, and the importance and benefits of it. It was the first time I ran over 2.5 hours, and I even got up to around 3 hours at one stage. That, along with the shorter faster work we were doing kept me pretty well rounded."
Despite running close to his best for the marathon under Troop, the two disagreed on some of the goals being set. "I wanted to run Pan-Am's; it was my first and still my only USA jersey. But I also wanted to come back 9 weeks later and run the Olympic Trials. Lee didn't think that was a good idea. One day sitting in an airport coming back from Australia I said to him that I didn't think this [working together] was in my best interest or the groups anymore. Lee agreed, and that was that."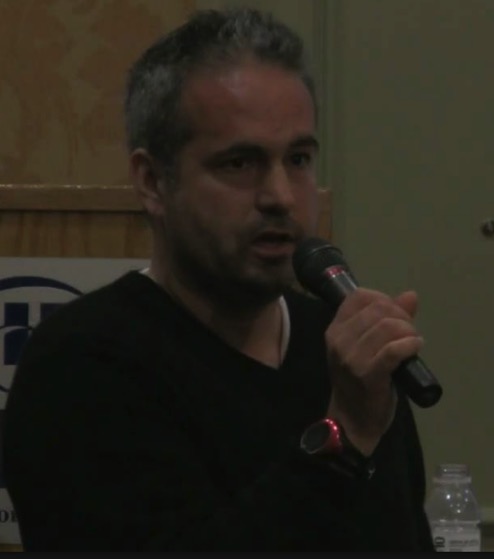 Despite being most well known as a coach, Brad Hudson set a National Indoor Record over 5,000m as a junior, while then going on to run 2:13.24 for the marathon. A graduate of Oregon University, Hudson is now based in Boulder, Colorado.
Date: October 2011 – 2014
Location: Boulder, Colorado
Best Marathon: 2:13.42 (PB)
Average Miles per week: 120
Highest mileage: ~ 145
Most memorable workout(s): 20km alternating 3k @ 5:10-5:20 pace and 1km @ 5:30-5:40 pace
After leaving Boulder Track Club, Rizzo began training with Tyler McCandless, who at the time was being coached remotely by Brad Hudson from Eugene, Oregon. "Tyler and I complimented each other perfectly, and I just genuinely enjoyed running with him, we made great training partners".
Having been told by Hudson that he currently didn't have the time to coach him, Rizzo simply followed along with what McCandless was doing. Eventually, two weeks out from Pan-Am's, Brad reached out gave him suggestions on the taper.
Despite going into the Pan-American Championships with a bad case of strep throat and a dangerously heavy dose of antibiotics, Rizzo ran what he believes to this day was the best marathon he has ever run. In 85 degrees, 90% humidity and at 5000ft above sea level in Guadalajara in Mexico he ran 2:21 to finish in 8th place. At the time, the IAAF still provided an altitude adjustment for the marathon, and Rizzo's effort converted to 2:14.
"A lot of people gave me shit about that given I had never run 2:14, but I knew what kind of shape I was in and what effort I ran that day. 9 weeks later I ran 2:13 at the Olympic Trials. What's funny is that I still have never run 2:14, so the people who said I couldn't do it were right…"
As well as running his PB marathon, Rizzo also ran his fastest ever half marathon, but is quick to attribute a fair share of that to the work done under Steve Jones and Lee Troop, where he learned to be fast and efficient. "I got a lot out of training under Brad because of what I had done in the years leading into it. Learning to run fast helped me to get more out of being strong."
Rizzo also recognises that training under Brad in 2012 is very different than the current system at Hudson Elite. "Back in 2012 it was closer to Hanson's, we did sustainable efforts with short rest to break up the rhythm. We'd work on a gauge of 10 seconds off pace, 5 seconds off pace, and very rarely would we actually touch or go under actual goal marathon pace. Everything we did could be built upon for long periods of time."
It is widely accepted in the running world that it doesn't matter so much as to what training you're doing, rather it is consistency that's king. Rizzo thrived under the ability to put months on months of training. However, as the system began to change, he noticed his body was not able to respond anymore.
"The problems started to occur when Brad would see us run a great workout, and then that level would all of a sudden become the new normal. Sometimes it felt as if Brad was only looking at the stopwatch; we may have been running faster, but we were working too hard to get any benefit from it, at least I certainly was. Add to that Brad's admiration for Renato Canova, and you can see how the philosophy has changed. Brad is applying the methodology of a guy whose athletes often have a pharmaceutical battery pack at home to recharge with. We were trying to recover the old fashion way, which doesn't work as well."
Hindsight is a beautiful thing, but at the time Rizzo was still very much caught up with the fast workouts and big miles. He was convinced it would all lead to something special, but soon realised that eventually something had to give.
"Three weeks out from Chicago in 2013 I did a 27 mile mix workout with Carlos Trujillo. We had both been running between 140-150 miles per week at altitude, and then we ran 27 miles in around 2hrs 30mins. Carlos ended up having to take a bit of time off – he went to sea level for a couple of weeks and was able to bounce back and run 2:14. I managed to run 2:15 or 2:16 but I felt so flat, I had left my race in that workout three weeks earlier. It was like driving a car with your foot on the clutch the whole time."
Rizzo still has the utmost respect for Hudson for the work he is doing back in Boulder. "Brad is an encyclopaedia of running knowledge and is a great guy, but he is now working with athletes who are racing all kinds of different events. In 2012 we had an amazing group who were 100% focused on the marathon, and I think that approach suited me a lot more".

Colorado Springs & Gary Stains@

runnersroostcs
After working with three different coaches in Boulder, Rizzo made the move to Colorado Springs with his now wife, Emily. Mostly self-coached, he takes advice from friend and mentor Gary Stains, the former British Olympian and fastest Tottenham Hotspur fan over the mile to the marathon.
"The Springs has so much up on Boulder. Better trails, less egos, and a hell of a lot cheaper. In terms of coaching, I'm at a time in my career where I don't need someone to give me training every day. I write what I think will fit best with the time I have and give it to Gary who then he gives me feedback. He's the perfect sounding board; he has done it all and can give smart, sensible advice that I trust".
Rizzo considers himself lucky to have been able to work with a lot of smart, dedicated coaches, all of who bring their own style and philosophy to getting the most out of their athletes. Despite not having the kind of set plans he did a few years ago, he still sees plenty of room to improve and time to enjoy the sport he loves.
END
Follow
and
Patrick Rizzo @RunPRizzo