Interview thanks to David Tarbotton
Since arriving in Sydney's inner west five years ago, former Tasmanian Milly Clark, 26, has made tremendous progression in athletics, including a national steeplechase title in 2012. But few could have predicted her stunning 2:29.07 marathon performance last weekend.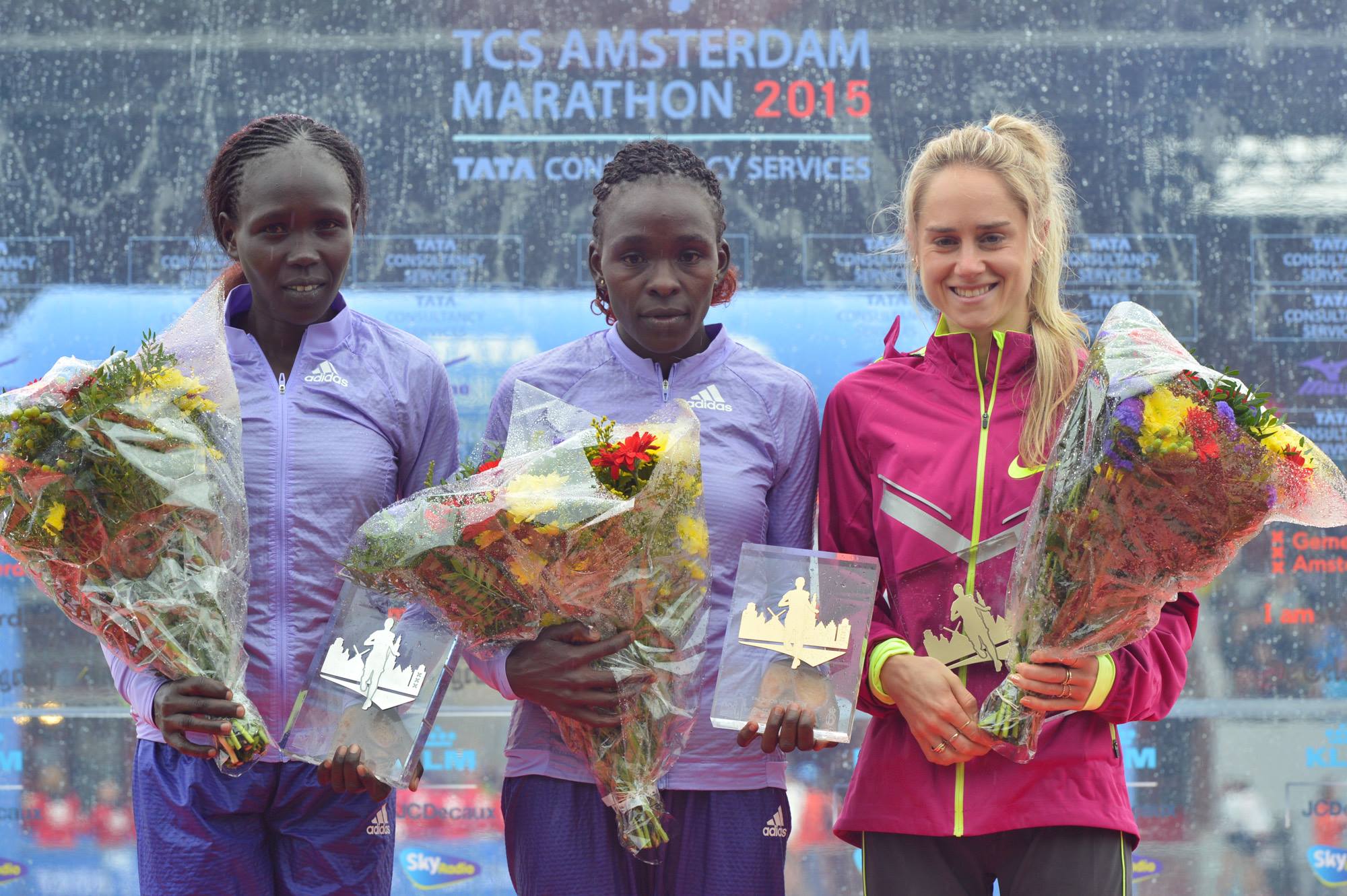 On the same day Adelaide's Commonwealth Games bronze medallist Jess Trengove ran 2:27.45 in the Melbourne Marathon, Milly Clark was also starting in a marathon in Amsterdam, just her second race over the 26 mile distance. Placing third in 2:29.07, she jumped into eighth on the Australian all time list and easily recorded an Olympic qualifying time. By the time selections are made in April 2016, a number of Aussies are expected to have qualified and be vying for a place in the team, but Clark, looks in a good position to earn selection.
Clark, who recently completed her masters in Nutrition, is a very popular and friendly athlete in the Sydney running scene. A trade mark of Milly Clark is her wiliness to support her club, Sydney University, her squad, and team mates, and also race regularly on the track, on the road and over cross country in state and national championships.
A couple of days after her Amsterdam race she kindly answered some questions for us. Her coach, James 'Jimbo' Fitzgerald also gave of his time for this interview compiled by David Tarbotton.
What were your expectations going into the race?
JIMBO: Given that Milly likes to build all her races, the expectation was to finish strong. We put together a schedule that would allow Milly to run her last 10km in under 36mins. The Goal was to break 2:35 but 2:32 was a possibility if everything went well. Milly has prepared well, racing the NSW Half Marathon Championships (23rd August), Australian Cross Country Championships (29th August), Blackmores Half Marathon (20th September) and a 10km Sydney Striders race 5 days before getting on the plane to Paris. Milly has raced a lot this year, competing in a total of five Half Marathons from May to September.
MILLY: I have learned from past experiences to find a balance between expecting TOO much and then not expecting enough. I find myself disappointed if I set the bar too high for myself, but then underwhelmed if I don't set myself some sort of challenge. All my best runs have been when I really think about what would be something realistic to accomplish. As Jimbo said, I thought if I snuck under 2:32 I would be really happy with that. I told most people at home "as close to 2:30 as possible would be AMAZING". Based on my half marathon and 10km PB – I thought this was setting the bar high enough that I would be demanding a lot of focus and hard work to achieve. I did imagine the feeling of running under 2:30 and how awesome that would be – but thought that might be much further down in my career.
Take us through the race pls. On track early? In a group or solo? Thoughts are different stages?
MILLY: Before I left – Jimbo said all I needed to do was run 4x10km in 36 minutes and then just hang on for dear life in the last 2km. This seemed like a good plan and when its put like that, something I could do if I focused enough and was prepared to hurt. I went thru the first 10km in 36:01 – so it was bang on! I felt a bit more confident at this point because I know once I get into a rhythm I can hold that pace for a while. I kept telling myself "slow and steady wins the race" (I loved the Tortoise and the Hare story when I was a kid haha) and even though I was still feeling fresh, if I pushed TOO much too soon it would not be pretty at about 35km mark.
I went through half at 1:15.30 and got a bit excited because I though if I could just hang on at this pace I COULD sneak under 2:32. That thought gave me a bit of a boost for the next 6km – and maybe I was going a bit faster than I thought because I was able to run my second half in a Half marathon PB! I don't wear a watch or look at paces so I had no idea what was going on. Ignorance is bliss I guess! From 26 – 34 km was really really tough. It was such a battle and I had a lot of things going through my mind at that point – mostly all negative to begin with. I thought about stopping, but then knew the feeling after that would be worse than what I felt at that point. I guess I was prepared for a part of the race where self doubt and pain would be the dominant feeling, so I thought back to all the mornings during the winter I had dragged myself out of bed at 4am to do a run or a solo tempo session before work and thought THOSE times taught me to deal with this. It was a section of the race where competitors had really spread out and I had no one around me for a few ks. I also missed my drink bottle at the 25km mark – then at 30km because it was wet and rainy, the bottle slipped out of my hand again so I had a bit of a battle! But I am lucky that I don't sweat much and it was cold so missing a some water/electrolytes wasn't the end of the world. I knew the course took us back into the city around the 35-36km mark where hopefully some spectators and people would be so I could use the crowd support to give a kick towards the end. It was just about getting those tough ks done then bringing it home. I also thought back to a message from Madeline Heiner I had gotten before my race saying to "be brave" – something I had not really thought about until that point. It takes a lot of courage and bravery for anyone to keep forcing the hurt on yourself, even when every part of you in saying STOP. I appreciate now that message so much more.
Over the later stages what was happening? Thoughts?
MILLY: Back in Sydney, I live near the Bay Run and pretty much do that 7km loop everyday at some point! It came in very handy, because once I reached 35km I just thought to myself, all I had left was the Bay Run, which I know I can do easy enough. I pictured that and used it to help get me through. There was also a clock at the 35km mark which I was able to glance at and see the time at 2:03.50 – maths was not my strongest school subject at school, but I did a quick calculation to realise if I kept going like this I could even go really close to 2:31 or 2:30 which gave me a boost. At the 40km mark I had someone from the crowd yelling at me that I was in 4th place – then I looked ahead and could see the third place female about 200m away. I thought back to all my 2km reps at training and the promise I made myself before the gun went off that I would finish with no regrets. If I didn't try my absolute best to catch her, I knew I would be kicking myself later – so it was literally everything I had left in the tank to pass her with 1km to go and hang on until I reached the end.
Now reflecting on your 2:29? Some top athletes you defeated?
JIMBO: Its really fast! Given only 8 Australian women have broken 2:30 (now), the time is simply amazing! The exciting thing now is we can work on speed over 5km, 10km and Half Marathon to further improve efficiency. Goals – 5km (Sub 16:00), 10km (Sub 32:30) and Half marathon (Sub 72min)!
MILLY: Looking at my current PBs – the 2:29 still doesn't make any sense to me haha! I think about all the top names who held a faster marathon PB before I ran – their half and 10km PBs are WAY better and faster than mine! I have more recently believed that I am better as the distance gets longer because it suits the type of person I am. It is still surreal that I accomplished the time I did. Before the gun went off, I though to myself "don't think – just run". At the end of the day, it is JUST running! I was in Amsterdam, surrounded by some amazing Kenyan athletes, doing what I enjoy doing! If that didn't pump me up, I really don't know what would! Back in the 1970s-80s-90s no one had fancy Garmins or HR monitors or lactate testing – they just ran! I generally don't pay much attention to paces, splits or HR because at the end of the day it wont make me enjoy running any more or less, nor will it make me run any faster. I like being in the zone and relying on myself and mind to tell me that I can push harder or I need to relax. I had no watch in the race and even if I was slowing down for some parts – seeing that would have just made things even worse!
You have made tremendous progress over the last couple of years and this year particularly. Thoughts?
JIMBO: Milly has increased her work load by about 35% over 18 months. Doing a number of over distance runs before Amsterdam gave Milly the confidence she would be able to race the entire distance. The other aspect of training that we have worked on is VO2 sessions! Milly did two 'Yasso' sessions in the lead up and the second session which was done 4 weeks before the big race, she completed all ten 800's in under 2:32 with the 2:30 recovery on grass in flats!
MILLY: I guess I have just become so much more efficient and balanced in training and all the important things in between. I remember when I moved to Sydney 5 years ago and made my first Open NSW national cross country team, just scraping in for the 4th spot how excited and happy I was then. Recently I had the opportunity to stand on the same start line, be in the same race, and be surrounded by the 2012 Olympic Games champion and 2014 Commonwealth Games champion – so THAT for me is beyond anything that I ever imagined for myself. I have come a long way when I think about it now, but I would not have done it without people around me giving me the encouragement, calling me a "beast" or "machine", and dedicating their time to help me become a better runner and seeing something in me that I hadn't seen for myself. Sure, I have done the work, but it was the push from everyone else that kept me going and kept me motivated.
I really want to take the chance again to thank everyone who has given me a message of support and encouragement over the past couple of days. I have had so much love from people I did not expect to hear from and it just makes everything that much more enjoyable and special. There is a lot of talk about the "Olympics" and "Rio" at the moment, which of course would be my only ever dream come true. Nonetheless, I know how many more talented distance runners there are out there, who I am sure have worked just as hard as I did to achieve a personal best and are every bit as deserving.  The Olympic Games is something everyone aspires to and dreams about – but at the end of the day, I can proudly say that I have a 2:29.07 marathon to my name. I have stood next to, and contended against some of the best Kenyans distance runners in the world. I have been rewarded for my dedication with an experience that reflects everything I sacrificed and worked for. I had the chance to experience an awesome marathon journey and build up – and all these are now treasured memories and a time in my life no one can take away from me.
MARATHON – Women Australian All Time List
Compiled by Fletcher McEwen, Paul Jenes and David Tarbotton
2:22:36              Benita               WILLIS                          060579  Q          3          Chicago             22.10.06
2:23.51              Lisa                  MARTIN-ONDIEKI          120560  S          1          Osaka               31.01.88
2:24.40                                      Martin-Ondieki                                        1          New York          01.11.92
2:25.28                                      Martin-Ondieki                                        1          Auckland           31.01.90
2:25.51              Nicky                CARROLL                     140172  Q          4          London              18.04.99
2:25.59              Kerryn               McCANN                       020567  N          5          London              16.04.00
2:26.04                                      McCann                                                 3          Chicago             07.10.01
2:26.05              Lisa                  WEIGHTMAN                 160179  V          1          Melbourne          13.10.13
2:26.07                                      Martin-Ondieki                                        1          Edinburgh          01.08.86
2:26.32                                      Willis                                                     6          London              17.04.05
2:26.52                                      Carroll                                                   5          Osaka               31.01.99
2:27.06                                      Carroll                                                   1          Paris                 05.04.98
2:27.45              Jessica             TRENGOVE                   150887  S          1          Melbourne        18.10.15           
2:27.27                                      Ondieki                                                  2          London              18.04.93
2:27.40                                      Martin-Ondieki                                        2          Chicago             21.10.84
2:27.51                                      McCann                                                 7          New York          03.11.02
2:28.27                                      McCann                                                 11         Sydney             24.09.00
2:28.30                                      McCann                                                 4          Osaka               27.01.02
2:28.44                                      McCann                                                 7          London              18.04.99
2:28.48                                      Weightman                                            1          Nanago             18.04.10
2:28.51              Kate                  SMYTH (HARRIS)          220972  V          2          Nagano             20.03.08
2:29.02                                      Martin-Ondieki                                        3          New York          03.11.91
2:29.03                                      Martin-Ondieki                                        7          Los Angeles       06.08.84
2:29.06                                      Weightman                                            5          Osaka               27.01.13
2:29.07              Milly                 CLARK                         010389  N          3          Amsterdam        18.10.15
2:29.12                                      Martin-Ondieki                                        2          New York          02.11.86
2:29.23                                      Weightman                                            12         Frankfurt           30.10.11
2:29.47                                      Willis                                                     7          London              22.04.07
2:29.48                                      Martin-Ondieki                                        2          New York          27.10.85
Sub-2:30 club:
8 athletes
2 each from SA, NSW, Vic and Qld
29 performances
Most by individual athletes: 9-Martin-Ondieki, 6-McCann, 4-Weightman