© 2017 Runner's Tribe, all rights reserved.
"I think the Olympics and World Championships are going to be high-pace races from now on."  –  Sammy Wanjiru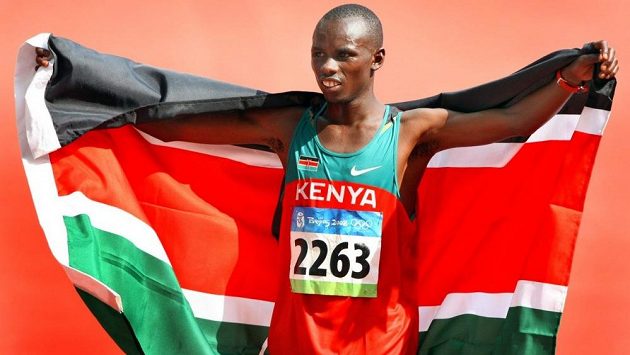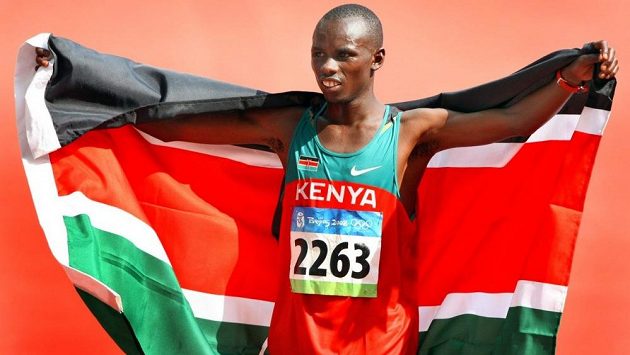 The Olympic marathon, one of the cornerstone blue ribbon events of any Olympic Games. Until 1984, women were sidelined,  whilst men have been battling it out since 1896.  Those years brought with them some amazing moments.  Here, we highlight just 5 of the greatest Olympic marathon moments of all-time.
# 5: Joan Benoit Samuelson's victory in Los Angeles (1984)
"Years ago, women sat in kitchens drinking coffee and discussing life. Today, they cover the same topics while they run." – Joan Benoit Samuelson
The first ever women's marathon at the Olympic Games turned out to be one of the most memorable.  American Joan Benoit Samuelson won the inaugural event in front of a home crowd and made history.  The story behind the race is intriguing; Samuelson was not the favourite having undergone knee surgery just months earlier.  Samuelson was then forced to race a gruelling Olympic trial marathon just 17 days post knee surgery.
Amazingly, Samuelson took it to her favoured rivals early in the Olympic marathon, accelerating just 14 minutes into the race.  She took on the star-studded field which included Rosa Mota, Grete Waitz (previous winner of 5 New York marathons), and Ingrid Kristiansen (5000m world record holder).  
Samuelson literally ran her rivals off their feet; at the 10km mark, her lead was 11 seconds, at the 15km mark her lead had stretched to 51 seconds.  She eventually crossed the tape in 2:24.52, 1 minute and 26 seconds ahead of her closest rival, Grete Waitz.
# 4 Ethiopia's Tiki Gelana wins in 2012 setting a new world record
"I went to collect water and I don't know who came into contact with me, but I fell – I fell very hard" – Tiki Gelana
Although not as historic as Joan Benoit Samuelson's victory, breaking the Olympic record (2:23.07), in testing conditions, is no minor achievement.
Gelena grew up idolising Ethiopian distance runners. She also grew up in a region of Ethiopia called Bekoji, famous for producing global superstars; Gete Wami, Tirunesh Dibaba and Kenenisa Bekele are a few well known examples.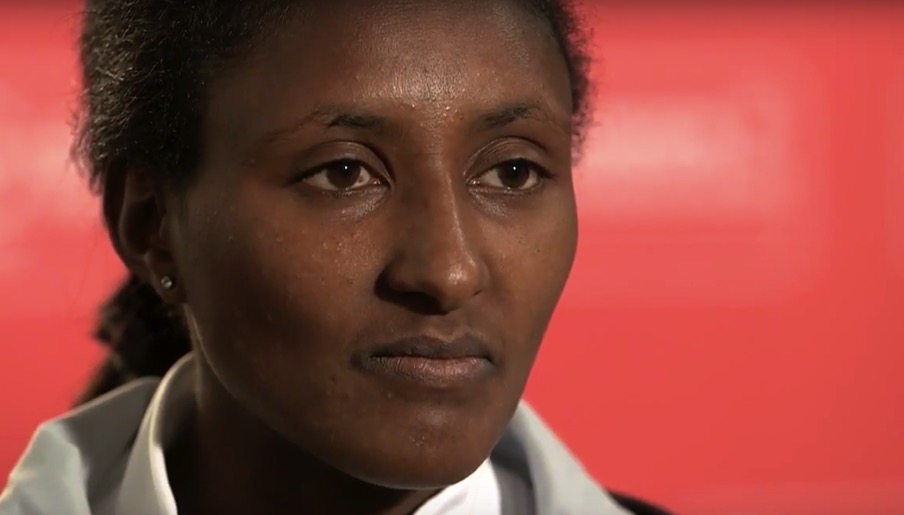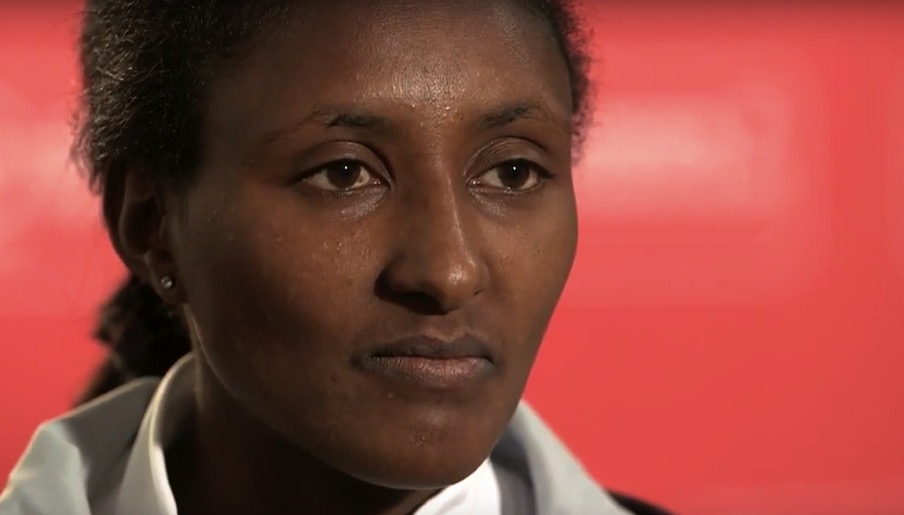 As with all Olympics, Gelena faced a stacked field; including Mary Keitany (two-time London marathon winner), Edna Kiplagat (former world champion marathoner) and Priscah Jeptoo (2nd 2012 London marathon).
Gelena was tested throughout the marathon.  She fell hard at around the 16 mile mark, and then fought her way back. Furthermore, a few downpours made the roads slippery and slowed the field down significantly.  The London course was also full of tight corners, which Gelena prepared for in training;
"For this race, we did a lot of work preparing for the curves. We'd go to a field and he'd put down obstacles – like the ones footballers work with – and make me run very fast around them."   Despite all challenges, breaking the Olympic record makes this run very special.
# 3: Abebe Bikila announces the Arrival of Africa – Rome (1960) and Tokyo (1964)
Rome Olympics, 1960
"I wanted the world to know that my country, Ethiopia, has always won with determination and heroism" – Abebe Bikila after his Rome Olympic marathon victory
Bikila's victory at the Rome Olympics marathon was perhaps one of the most important victories in the history of world athletics. Bikila won the race in a new world record time of 2:15:16.2, becoming the first African to win an Olympic medal. What more, he won it running barefooted because the Adidas team shoes hurt his feet. Bikila ran a tough race neck and neck with Rhadi Ben Abdesselam of Morocco outkicking him over the final 500 meters (in which he put 26 seconds on Rhadi).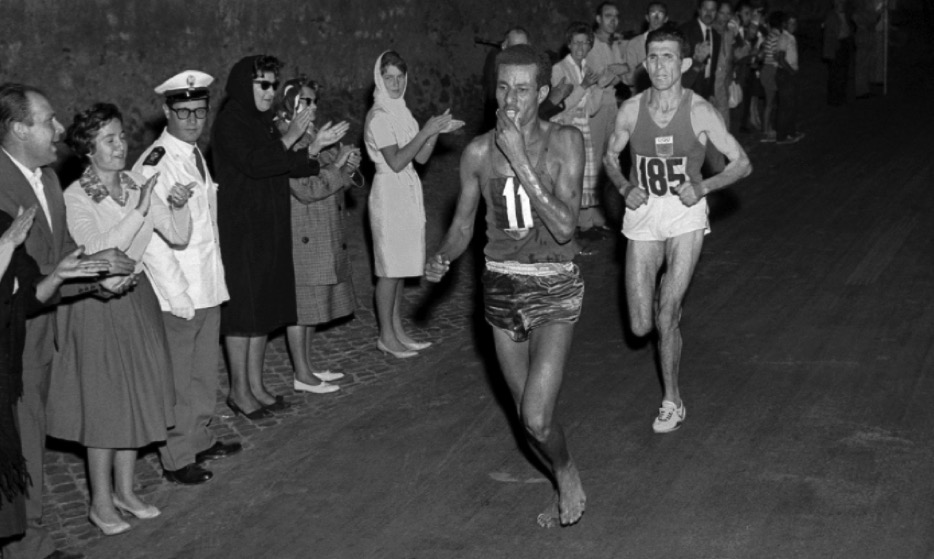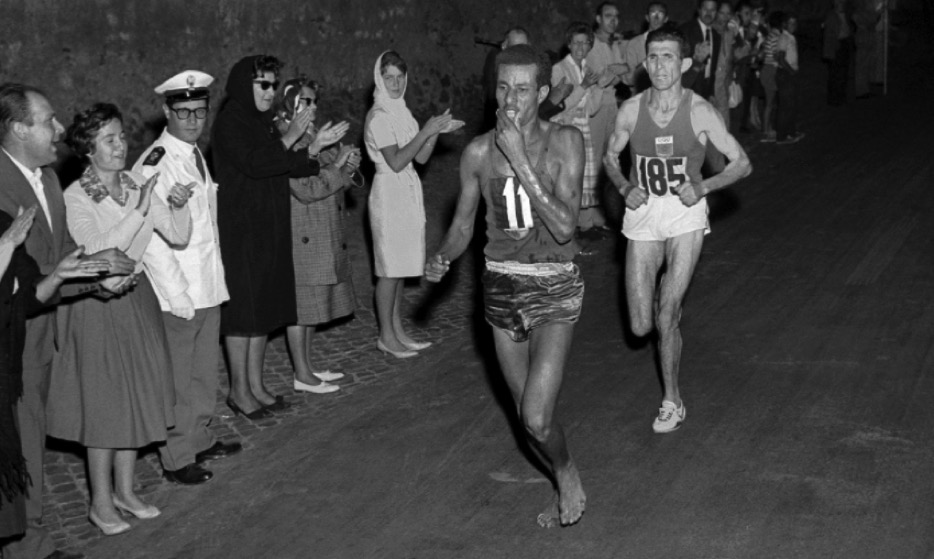 Tokyo Olympics, 1964
In Tokyo 1964 Bikila became the first person to win back to back marathon gold medals. Amazingly, Bikila was diagnosed with an acute Appendicitis six weeks prior to the marathon needing prompt surgery. Bikila's training for the marathon was therefore hindered significantly.
His plan for the race was to sit with the leaders for the first 20 kilometers before increasing the pace. The tactic worked, he ended up winning by four minutes and eight seconds from Basil Heatley of Great Britain. His time of 2:12:11 was another world record. This time round he wore shoes provided by Asics.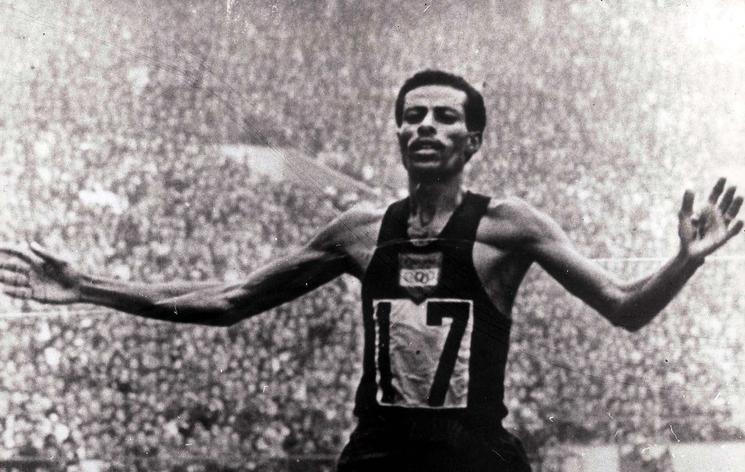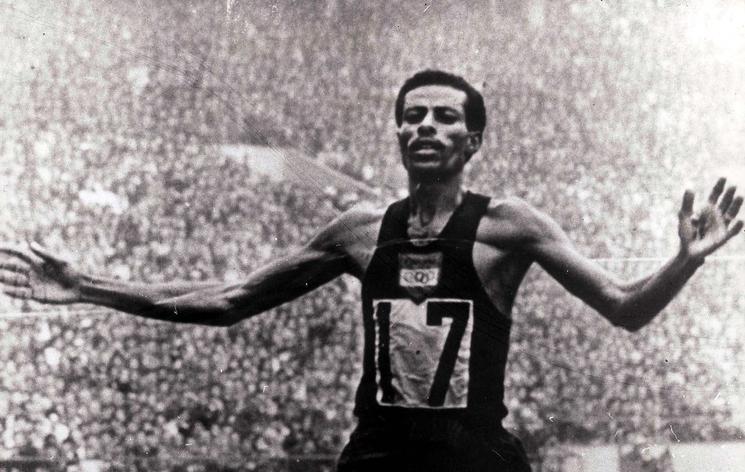 Read more on Bikila: https://www.runnerstribe.com/features/abebe-bikila-remembered-the-first-african-great/
# 2: Emil Zatopek wins 3 Gold Medals at Helsinki (1952)
"If you want to run, run a mile. If you want to experience a different life, run a marathon."  – Emil Zatopek
Emil Zatopek lived and ran in a different world to today's runners. However, Zatopek paved the way in excellence, of not setting limits, of pain.  Zatopek won both the 5,000m and 10,000m at the 1952 Olympics in Helsinki before deciding to enter the marathon at the last minute.  It was Zatopek's first ever marathon, once again something that would not happen today.  
Zatopek had not specifically trained for the marathon, but his training for the 5000 and 10,000m events had no doubt laid the correct foundations for marathon running.  Famous for introducing large numbers of interval reps to the world, Zatopek was known to complete track sessions such as 20 x 400 on a regular basis.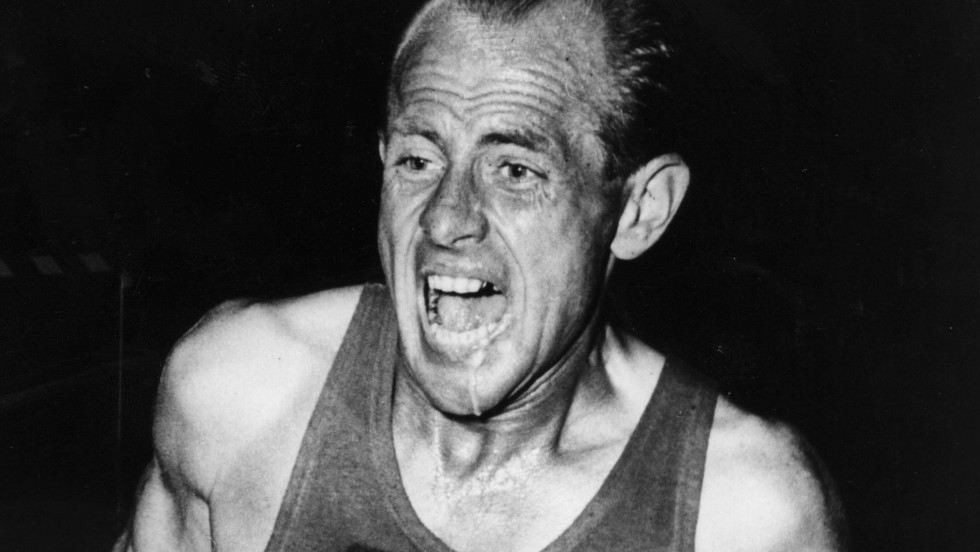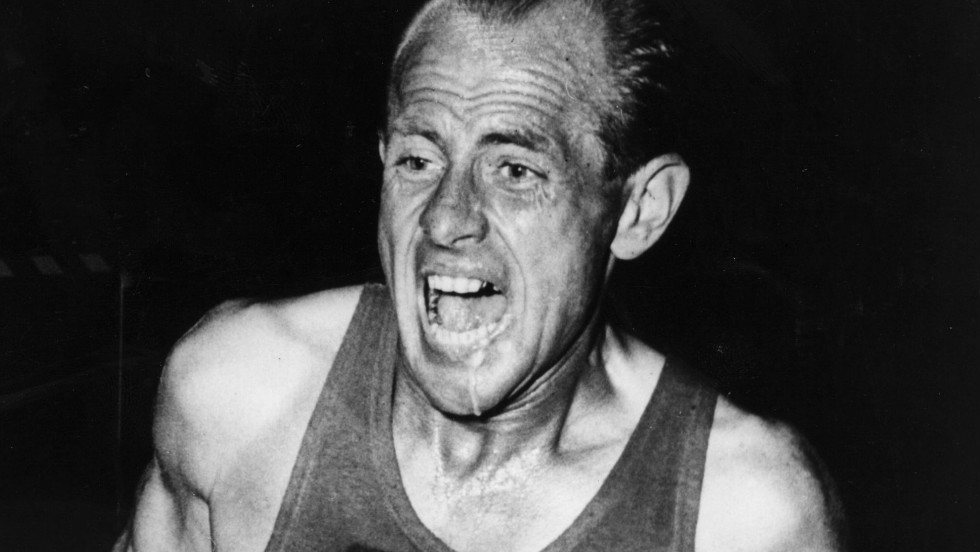 Zatopek's strategy going into the race was to follow the favourite, Jim Peters of Great Britain, who'd set the world record of 2:20:43 six weeks earlier.  Peters went through the first 5km in 15:43, way under world record pace, in an attempt to break Zatopek. Zatopek held on, however, slowly closed a small gap that Peters had developed, and then ran away with the race over the final 10km.  When Zatopek entered the stadium to finish the race the crowd was singing "Za-to-pek! Za-to-pek!".  The win was Zatopek's third Olympic record for the games and he remains the only man to win the 'triple'.
# 1: Sammy Wanjiru blasts away the field in Beijing (2008)
"I thought the best thing to do was to run a pace I'm used to. If the pace is too slow then I can't get into my rhythm and my body doesn't move properly." – Sammy Wanjiru
In scorching heat, the late Sammy Wanjiru became the first Kenyan to ever win the Olympic marathon and in doing so turned Olympic marathon running on its head.  Wanjiru stopped the clock at 2:06.32, smashing the record (2:09:21 from 1984) by almost 3 minutes.  Prior to this race, only three men in the history of Olympic marathon running had broken the 2:10 mark (way back in 1984).
The race was brutal. In temperatures at least 10 degrees higher than average major marathon races, the Kenyans and Ethiopians decided that they were going to run it like time-trial, in a mind-blowing display of front running.
Wanjiru, despite being only 21 and therefore the youngest by far out of the main contenders, had already amassed some impressive results during his young career.  Most notably setting three half-marathon world records. But standing in his way were no slouches.  Kenya's Martin Lel (2:05.15), Morocco's Abderrahim Goumri (2:05:30), Ethiopia's Deriba Merga (2:06:38), America's Ryan Hall (2:06.17) and Ethiopia's Tsegay Kebede (2:06:40) were but some of those that Wanjiru had to conquer.
Traditionally, Olympic marathons are usually slow, tactical affairs run in hot and sometimes humid conditions. Beijing wasn't an exception in terms of climate. But Wanjiru didn't care about any of that, when the gun went, so did Sammy, he took it to everyone. His splits were:
First 15km: 14:52

Second 15km: 14:33
"I've never seen marathon runner's race this hard in these conditions." – TV commentator.
Half marathon split: 1:02:34

25km split:

 1:13:58

35km split:

1:44:37

40K in 1:59:55 with a 5K split of 15:18

Final time:

2:06:32 (sprinting to the line)

72-80 percent humidity. 
Wanjiru's run changed marathon running forever. Every major men's marathon since has been run hard from the start. Of the 20 fastest times in history, only one predates the 2008 Olympics.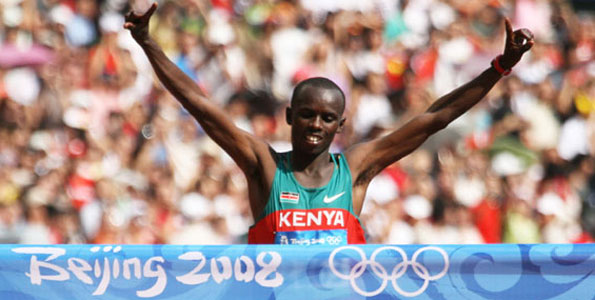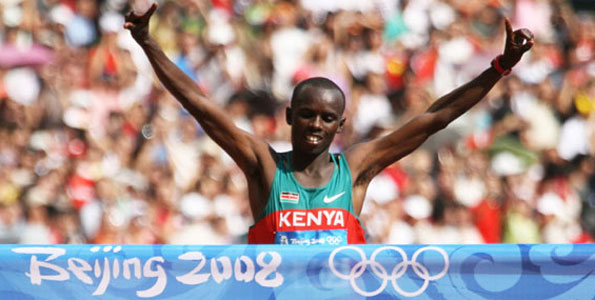 Wanjiru sadly died at 24. His legacy lives on.
"I think the Olympics and World Championships are going to be high-pace races from now on. Athletes before now were probably too worried about heat and high humidity. Kenyans haven't won gold up until now because they've been too worried about just winning, too, and have let races become too slow-paced." –  Sammy Wanjiru