How Was the Uni Games Experience?
The experience of coming to the world universiade has been an incredible experience, although my result was a little disappointing missing out on the final by .2. The opening ceremony was something that I would expect to see at the Olympics with around 50,000 Koreans and 14,000 athletes packing out the world cup stadium. The village is awesome with some of the best features being a 24-hour dining hall and fridges down stairs packed with unlimited Gatorade and water. The Koreans are probably the nicest people I've come across making you feel like a celebrity by constantly wanting photos and wanting to help you out if they can in anyway. The distance group is also full of great guys and some of my best mates, which added to the experience. Also got to meet many amazing people along the way and all this made the world universiade an awesome experience despite the disappointing result. Ive now returned back to cologne, where I will continue to train hard with my training partners Jeff Riseley and Zak Patterson, as I work towards some more races.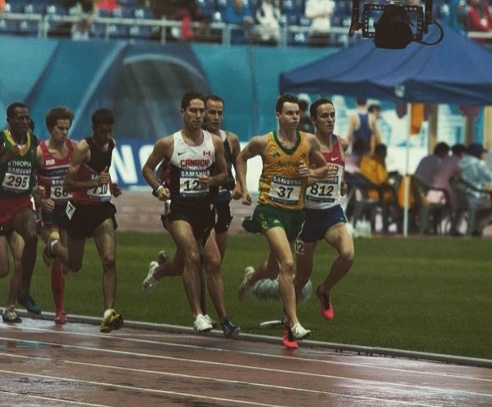 How's training currently going and what does your current weekly schedule look like?
Training went well leading up to the games I've had a good consistent block of training, races and started to improve with each event. I'm quite new to the training under Andrew Russell and Richard Huggins. I'm really looking forward to putting a consistent year under their guidance, after I had quite a few distractions making quite a few moves last year.
My weekly schedule is-
Monday: 60 mins and Gym
Tuesday: Am: Track Session
Pm: Easy 30 Mins
Wednesday: 60 mins and gym
Thursday: Am: Fartlek or threshold
Pm: 30 mins
Friday: 40 mins or day off
Saturday: Am: Aerobic Reps
Pm: 30 mins
Sunday: Long Run (75-90mins)
You currently hold the beer mile world record. Has this changed your life at all? Also are the beer mile world champs on the schedule?
I do hold the beer mile world record. There haven't been any major changes in my life apart from the immediate attention I received after the race from quite a few people in the media.
The beer mile has been a tradition at the end of the track season for quite a few years. I knew I've had the capability to do it for a few years. After it received added attention from Nick Symmonds and the flo track world championships last year I wanted to finally break the record.
I was offered the opportunity to go over to San Francisco to compete in the beer mile world classic. However won't be able to attend due to putting my focus on Europe after world unis. The Beer world classic is a teams competition where Australia, USA and Canada will race against each other with the scores from the three runners of each nation added together to declare who is the number one nation. I won't be attending the beer mile however my best mate Josh Harris will be doing Australia proud and we know he has the capability to lower the record even further.
Do you have any funny running habits?
The Tassie distance running Boys (TRC) which included myself Josh Harris, Pat Smith and Darcy Lahey have a habit of stopping past hungry Jacks during our long runs. The order usually consists of our favourite beverage a large frozen coke however has included a meal deal on a few of occasions. We definitely found it beneficial and would always give us the buzz needed to get out those last few gruelling Kilometres of the long run. This would then usually include a stop by after the run as well. Hungry Jacks are also my sponsor, giving me 50% off for the upcoming season. This makes our mid run refuel very affordable. This is most likely the reason Tassie boys are the Kenyans of being able to run with a beverage involved.
Do you have a sporting idol? And what's your biggest motivating factor with running?
I wouldn't say I have a sporting idol however one athlete I really admire is Nick Symmonds. I've really enjoyed watching Symmonds take it up to the Africans over the past few years and his ability to win big races when people have written him off shows there is something special about his character. Nick has also been a real activist in giving athletes better rights in regards to sponsorship opportunities around the Olympics. One real downfall in track and field is the ability for athletes to generate substantial income unless you are right at the top. However some of the rules in the sport take away the opportunity for athletes to market themselves at the time they are able to receive the most exposure during the Olympics. Nick Symmonds is fighting for this rule to be dropped, which will help athletes all over the world generate income.
My biggest motivating factor with running is to get to the highest level that I possibly can by making sure that I make the sacrifices and put in the hard work to ensure I see my full potential. The disappointment of the world universiade has made me hungrier then ever to get to experience what it's like running for Australia and I will be working very hard over the next coming years to make sure I get another opportunity. Although there have been many disappoints for me over the past few years, the experience I've gained through travelling the world and meeting amazing people makes what I do worth it no matter what the result.