Abebe Bikila Remembered: The First African Great
© 2016 The Runner's Tribe, all rights reserved.
"Before Abebe Bikila, there were no runners in Africa, or at least no runners that the world knew about." – Haile Gebrselassie
If there was just one person who has influenced the running world the most, it would have to be the great Ethiopian, Abebe Bikila. Bikila was the catalyst that showed the whole of Africa that it was possible to be a world beating runner.
Who was Abebe Bikila?
Abebe Bikila was born on August 7, 1932, (the day of the Los Angeles Olympic Marathon). Bikila was born in a small village called Jato in Ethiopia, his Father was a shepherd. Bikila spent a number of years with the Imperial Guard before his breakthrough at age 24 when he raced in the National Armed Forces Championship marathon, beating the then current hero of Ethiopia, Wami Biratu.
Rome Olympics, 1960
"I wanted the world to know that my country, Ethiopia, has always won with determination and heroism" – Abebe Bikila after his Rome Olympic marathon victory
Bikila's victory at the Rome Olympics marathon was perhaps one of the most important victories in the history of world athletics. Bikila won the race in a new world record time of 2:15:16.2, becoming the first African to win an Olympic medal. What more, he won it running barefooted because the Adidas team shoes hurt his feet. Bikila ran a tough race neck and neck with Rhadi Ben Abdesselam of Morocco outkicking him over the final 500 meters (in which he put 26 seconds on Rhadi).
Bikila was, deservedly so, a hero throughout Ethiopia. A famous saying during the times was "it took a million Italians to invade Ethiopia but only one Ethiopian soldier to conquer Rome", a saying with a bit of substance considering the history between the two nations.
Interestingly so, shortly after Rome, a coup against the Emperor Haile Selassie, was organised, and Bikila was pressured into taking part. Bikila was however against the concept of killing dignitaries and was fortunately pardoned when the coup failed and those involved were mainly hung.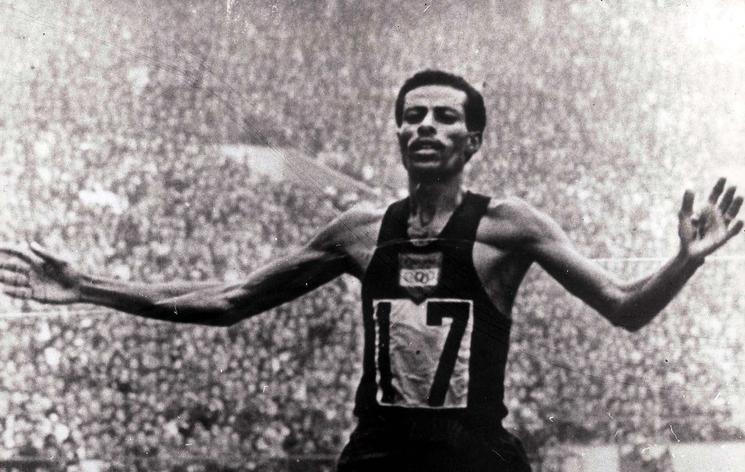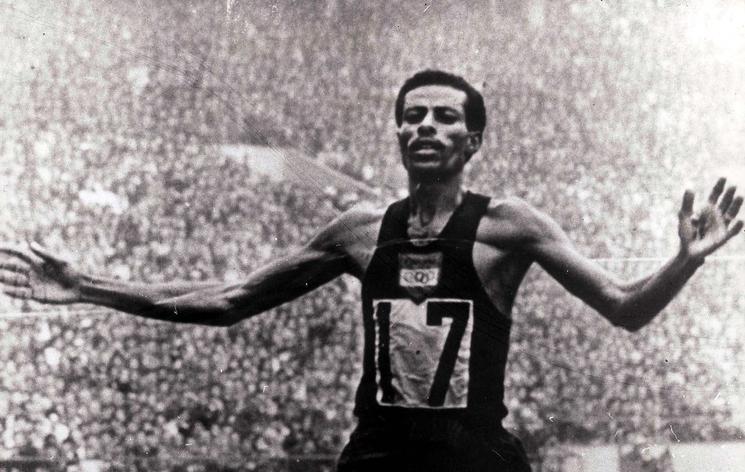 Tokyo Olympics, 1964
In Tokyo in 1964 Bikila became the first person to win back to back marathon gold medals. Amazingly, Bikila was diagnosed with an acute Appendicitis six weeks prior to the marathon needing prompt surgery. Bikila's training for the marathon was therefore hindered significantly.
His plan for the race was to sit with the leaders for the first 20 kilometers before increasing the pace. The tactic worked, he ended up winning by four minutes and eight seconds from Basil Heatley of Great Britain. His time of 2:12:11 was another world record. This time round, he wore shoes provided by Asics.
Two Time World Champ
Bikila also won two world championship marathons, one in 1960, and the other in 1962. He raced a total of 26 major marathons throughout his career. Unfortunately Bikila didn't finish the 1968 Mexico City Olympic marathon, pulling out at the 15 km mark due to a pre-existing medical condition.
Tragedy
"Men of success meet with tragedy. It was the will of God that I won the Olympics, and it was the will of God that I met with my accident. I accepted those victories as I accept this tragedy. I have to accept both circumstances as facts of life and live happily." – Abebe Bikila
Sadly, in 1968, Bikila was involved in a car accident approximately 90 km from Addis Ababa. The accident left him paralysed from the waist down.
Abebe Bikila's full and rich life came to an end in October, 1973, due to a fatal cerebral hemorrhage, a complication related to the car accident in 1968. Bikila was outlived by his wife and four children. The then emperor of Ethiopia, Atse Haile Selassie, attended his funeral in Addis Ababa along with another 75,000 people. Bikila rests in peace at St. Joseph's church, Addis Ababa.
'Abebe Bikilais an icon for the whole of Africa, and a personal hero of mine. If it weren't for him, I would still be a farmer in the hills of Arsi'
Haile Gebrselassie