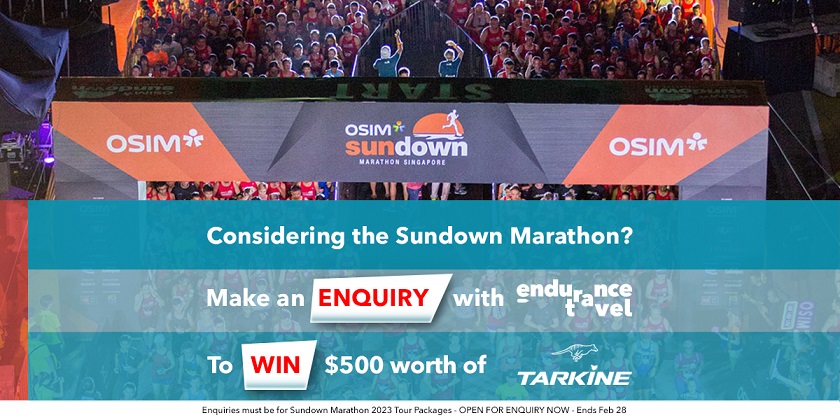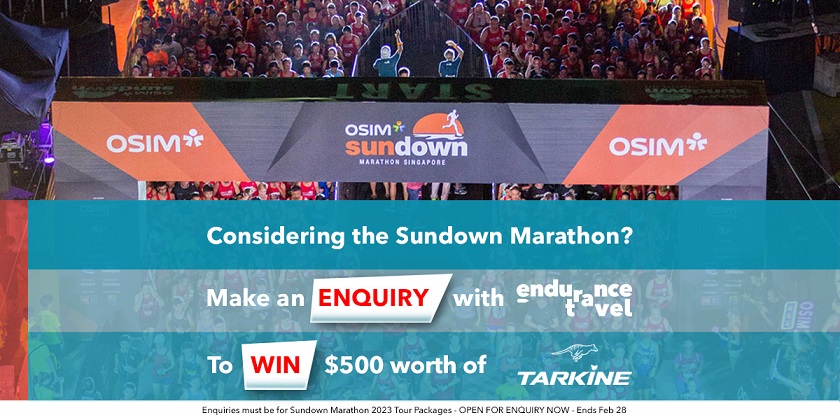 Anyone can win a championship once. Well, almost anyone. History is sprinkled with one-time surprise winners of every event from the Olympic Games to the school sports.
Doing it twice is enough to prove the first win was not just a fluke, but doing it three times, well, that's something else again. If you can meet the best available and beat them three times you're pretty darned good in pretty much everyone's estimation.
Within that fairly elastic definition of all-time greatness, then, who are the unequivocally great world cross-country champions.
First off, let's tighten those criteria ever so slightly. For almost all its 50-year history, the world cross-country championship has been one race over one distance. For nine years – 1998 to 2006, inclusive – there was also a short race (4k for both).
Let's largely ignore the short race except for the three great champions who managed to complete a double and win both in the same year.
Although the world cross-country, just like the track world, was slow to grant full equality to women – the 'long' race distance crept up from around 4km to 8km over 25 years: it took the introduction of the 'short' race to standardise the longer distance at 8km – women got straight into the double and triple victories from the first IAAF world championships in 1973. Italy's Paola Pigni won the first two races, Spain's Carmen Valero the next two and Grete Waitz was the first triple winner from 1978 to 1980 on her way to a total of five victories.
Bekele's (almost) perfect half-dozen
Top of the pile overall is Kenenisa Bekele. His six long-course victories – five on the trot from 2002 to 2006 and another in 2008 – is unmatched in world cross-country history. And should remain so: Bekele's wins all came before the championships went from an annual event to a two-year cycle in 2011.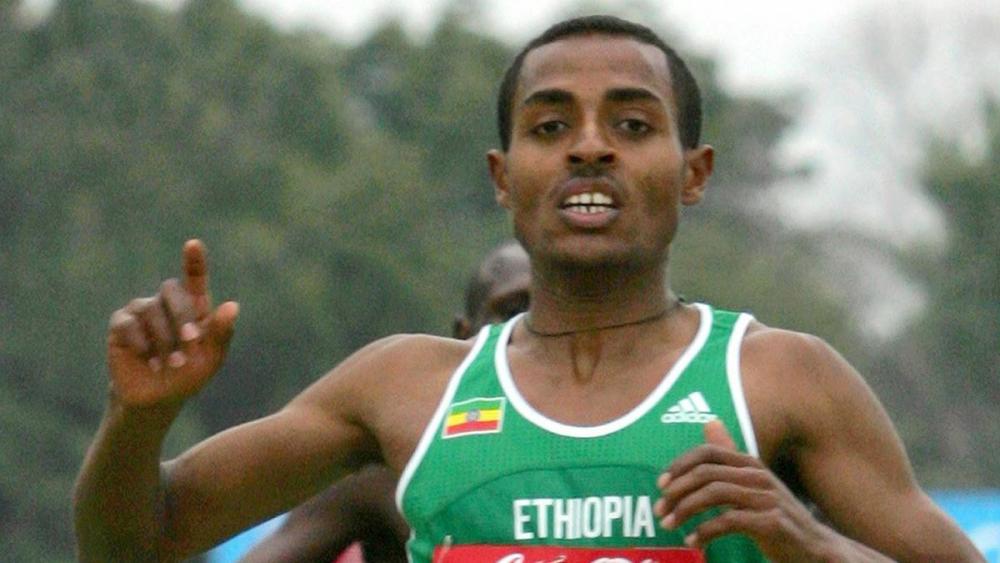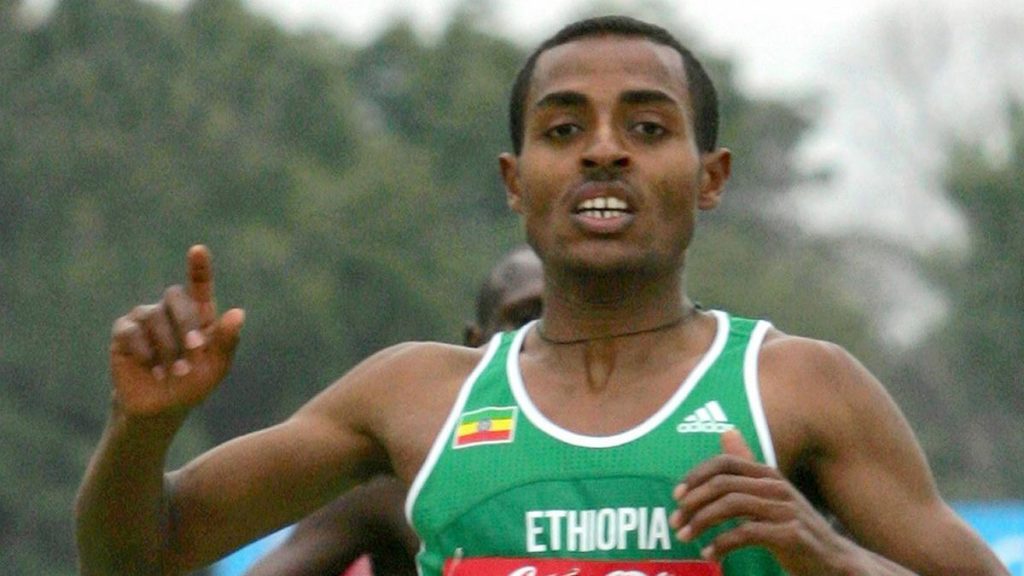 Topping it all off, Bekele did the double five years in a row, from 2002 to 2006. His doubling actually began a year prior to that in Ostend in 2001 when he won the junior race by a massive 33 seconds after finishing second in the senior short-course race the previous day.
Waitz, Tergat and Ngugi's five
As noted already,Waitz was the first to amass three victories in the championships from 1978 to 1980. She made it four on the trot in Madrid the following year and added a fifth title in Gateshead in 1983. In between, in Rome in 1982, she finished third to the Romanian pair, Maricica Puica and Fita Lovin.
Waitz was a true cross-country specialist. Her lack of finishing speed on the track saw her move gradually up the distances to the marathon as women were offered more opportunities to compete. Yet her five cross-country wins were over distances from 4 to 4.8km where, based on track performances, the likes of Puica should have beaten her most times rather than just the once.
Paul Tergat's five straight wins in the long race from 1995 to 1999 matches Bekele for the longest unbroken string of victories. He had the option of the short-course, in theory, in 1998 and 1999, but Kenya always picked its strongest team for the long race only. His string ended when he finished third in 2000.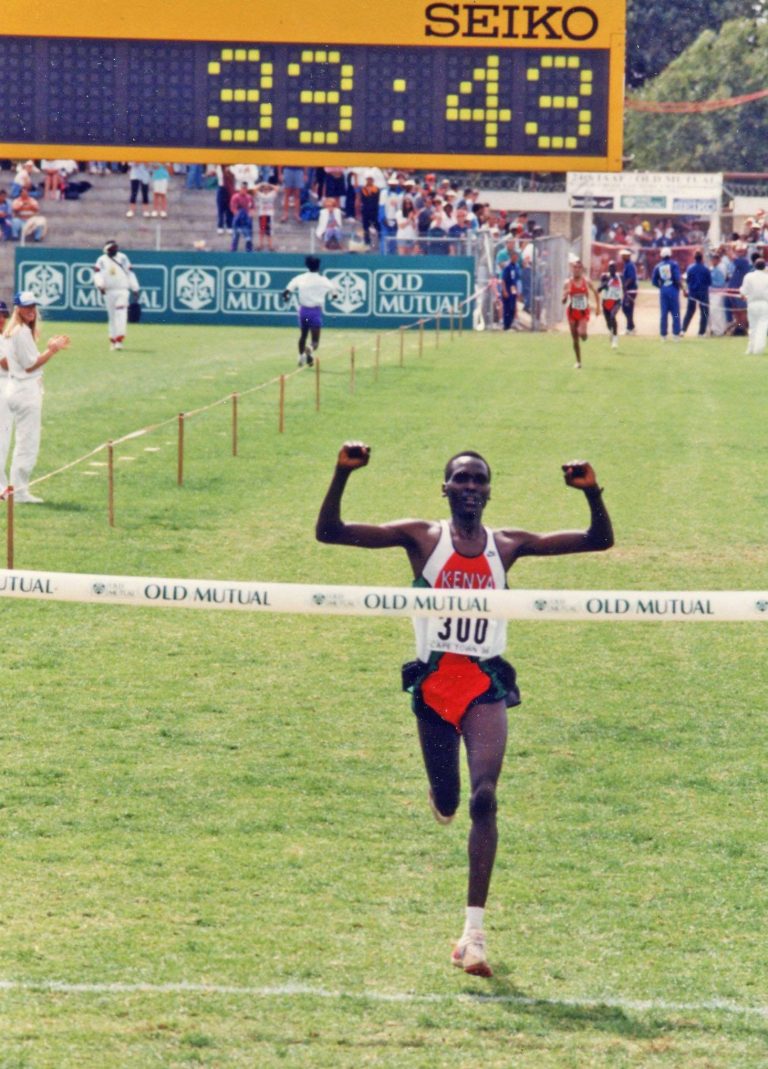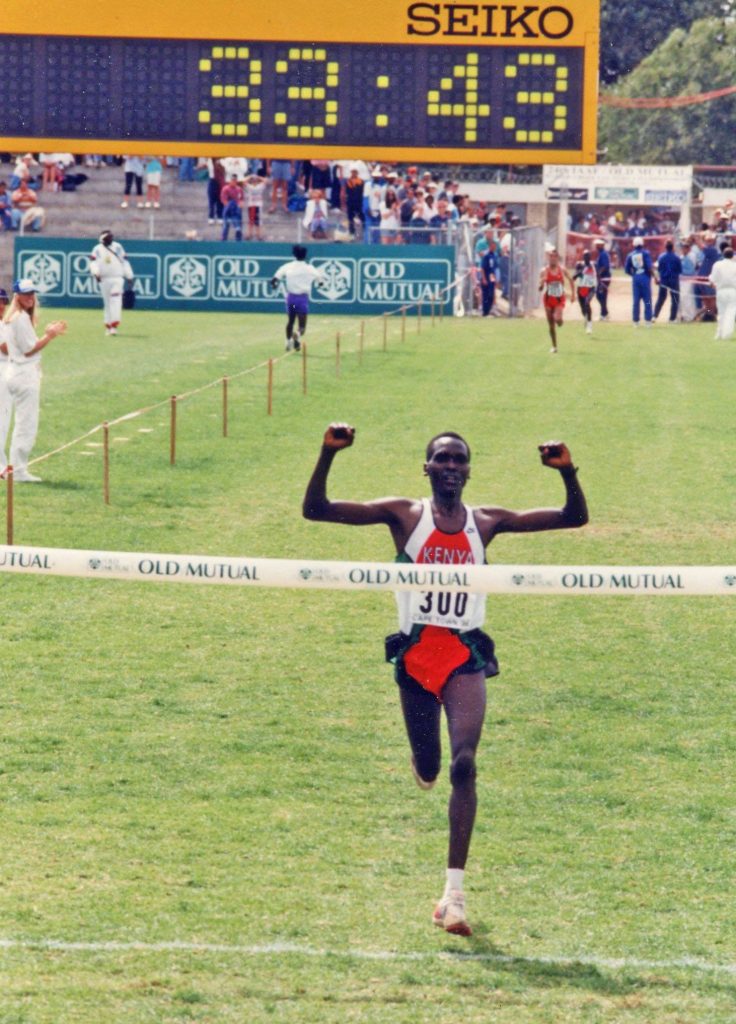 John Ngugi also notched up five wins, four in a row from 1986 to 1989, a fifth in 1992. Ngugi won in all sorts of conditions – fairly standard cross-country in Neuchatel in 1986, muddy in Warsaw in 1987, bright and sunny in southern hemisphere Auckland in 1988, a quagmire in Stavanger in 1989 and snow in Boston in 1992. Despite a gangling, lop-sided running action, Ngugi devoured the ground just as smoothly as the much more efficient-looking Bekele.
Four for three wins
It wasn't until Carlos Lopes won in Lisbon in 1985 that the men's title had its first three-time winner. Lopes first won the title in Chepstow, Wales, in 1976, just a few months before his silver medal behind Lasse Viren in the Montreal Olympic 10,000 metres. Lopes rhythm could not withstand Viren's finish then, but it took him to two more cross-country titles, at the Meadowlands Racetrack complex in New Jersey in 1984 and then at home in Portugal the following year. He famously won the Los Angeles 1984 Olympic marathon in 1984 ahead of such favourites as Alberto Salazar, Toshiheko Seko and our own Robert de Castella.
Lynn Jennings won three women's titles on the trot from 1990 to 1992, completing the hat-trick with a home victory in Boston. Like Lopes, her cross-country victory presaged an Olympic medal: she was third in the 10,000 in Barcelona later the same year.
Ethiopia's Derartu Tulu won that Olympic 10,000 after a memorable duel with Elena Meyer of South Africa. Tulu went on to three cross-country victories – in Durham in 1995, Turin in 1997 and Vilamoura in 2000, the same year she won her second Olympic 10,000 gold medal in Sydney.
Tirunesh Dibaba, perhaps the greatest female Ethiopian distance runner, won three out of four long-course titles from 2005 to 2008. Her first triumph was in St Galmier, her second in Fukuoka in 2006 and her third in Edinburgh in 2008. In between she lost to Kenyan-born Lornah Kiplagat in Mombasa in 2007.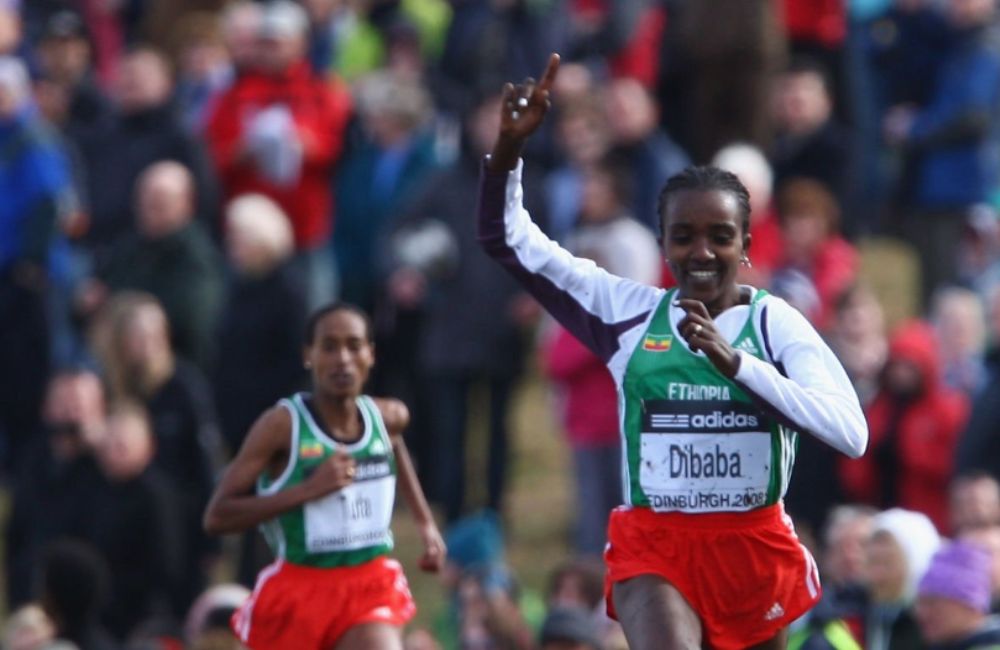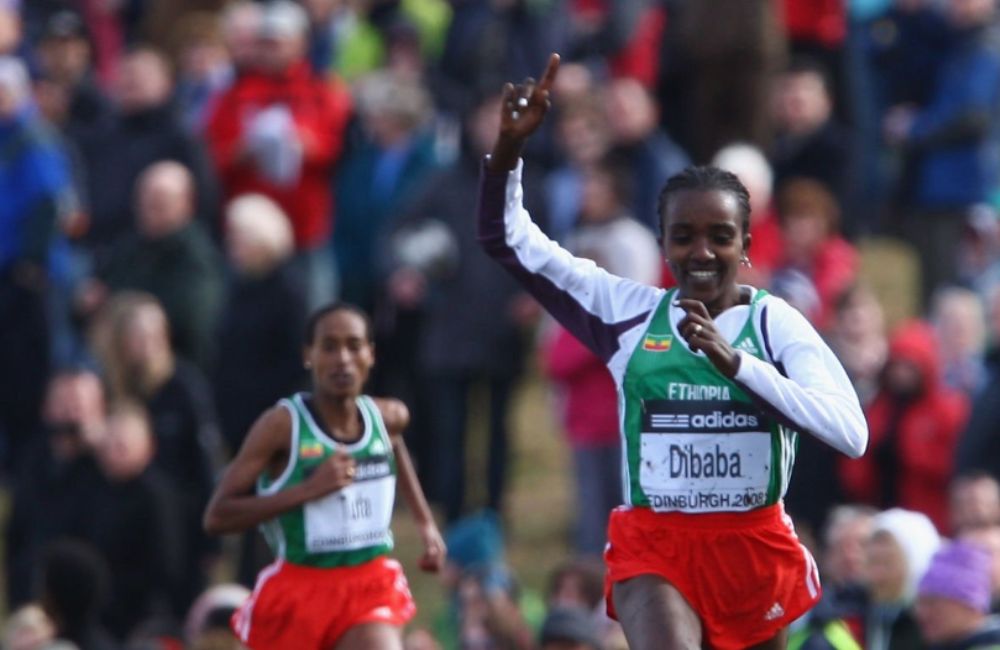 Dibaba also won the short-course race in Fukuoka, the last year the short-course event was contested.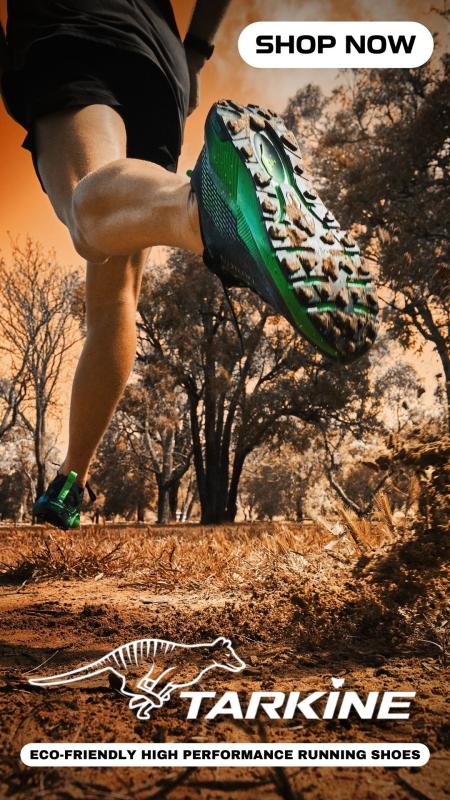 O'Sullivan first to the double
When the short-course race was introduced in Marrakech in 1998 it was widely assumed no-one would attempt the double, much less achieve it.
Sonia O'Sullivan shattered those expectations, taking the long race on the first day ahead of Paula Radcliffe and returning on the second day to race to a comfortable win in the short-course. Her winning margin of 14 seconds over Morocco's Zahra Ouaziz was the biggest winning margin – men or women – in the short history of the short race.
Kenenisa Bekele and Tirunesh Dibaba subsequently joined her in completing the double but it was O'Sullivan who confounded most people's thoughts as to what was and was not possible.
Can Kamworor become a 3-time champion
Geoffrey Kamworor is the only athlete at Bathurst23 with a chance of joining the list of three-time (or more) world cross-country champions.
The Kenyan star won in Guiyang in 2015 and Kampala in 2017. He also won a bronze medal in Aarhus in 2019 when he was defeated by the Ugandan pair Joshua Cheptegei and Jacob Kiplimo. Should he win it would be the equal-longest gap between world cross-country victories since Carlos Lopes whose first win came in 1976 and second in 1984.