By Brett Davies
Australia has had a surprisingly successful history at the World Indoors, especially since there are no standard IAAF 200m indoor facilities anywhere in the country. Also, they are invariably held in the northern hemisphere, generally around the time of our national championships and other big events. Australians are generally unaccustomed to negotiating the tight turns of an indoor track, yet we have consistently had athletes compete well at the World Indoors for decades. Here is a list of our medallists at the event since its inception in the mid '80s.
Tamsyn Manou (nee Lewis) – Gold, 800m, Valencia 2008, Silver, 4x400m Maebashi 1999:
The daughter of two top athletes of the '70s,  Manou showed a talent for running from a very young age, primarily in the sprints. She won a 4x400m bronze at the World Juniors in 1996 and soon specialized in the 800m, while running the occasional 400m and 4x400m relay event. She won a silver (with Sue Andrews, Tania Van Heer and the greatest Aussie 400m runner, Cathy Freeman) at the World Indoors in 1999 and three consecutive golds at Commonwealth Games 4x400m events (1998, 2002 & 2006).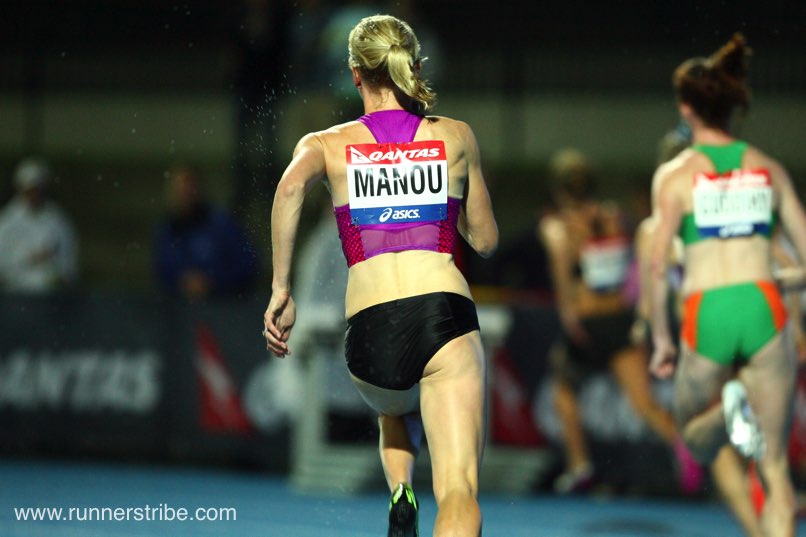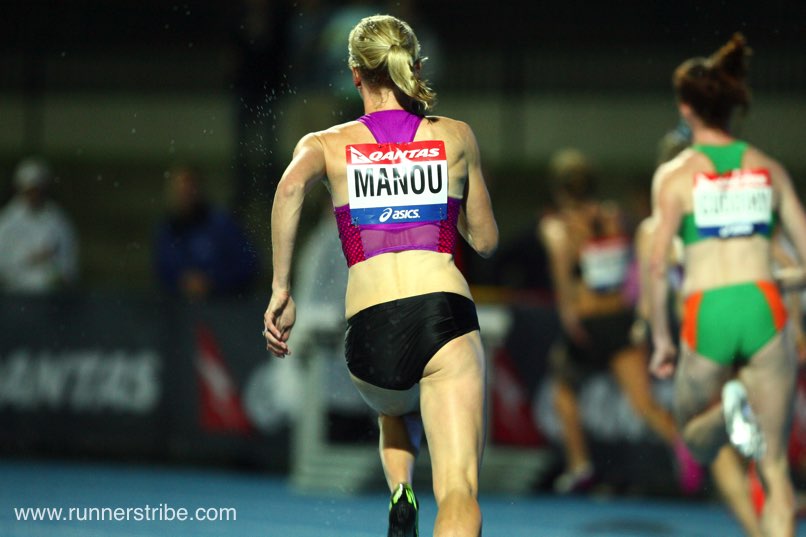 As an 800m runner, Manou was an exciting prospect, though, despite her talent, she often failed to deliver at major titles. She had been guided by Peter Fortune, as well as Seb Coe and Daley Thompson, though she was unable to fire on the big occasions, failing to make finals at a number of championships. She threatened to smash Charlene Rendina's national record of 1.59.0, though she only ever ran within 0.21 of the time.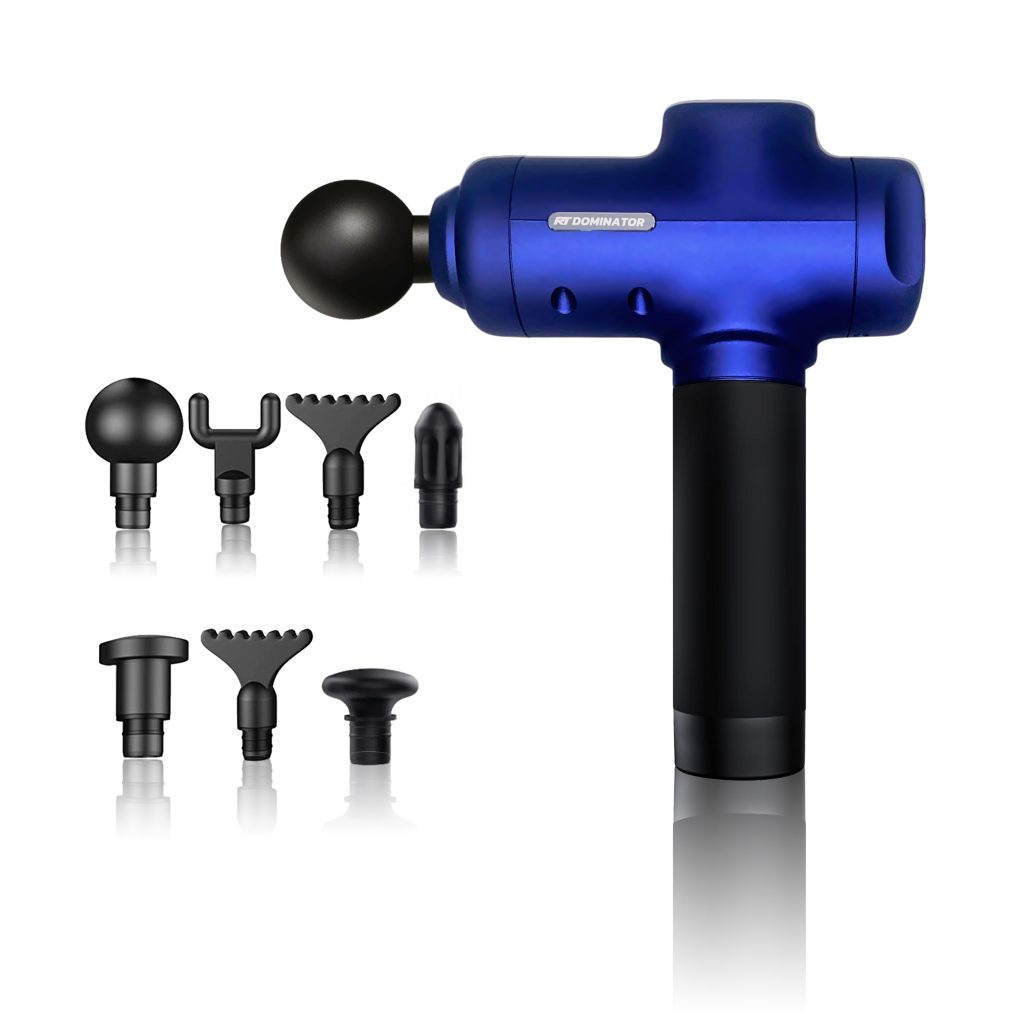 Manou was also subject to some adverse public scrutiny during her career. She coped with the salacious gossip over the nature of her relationship with Coe and she was involved in an unseemly public spat with champion hurdler Jana Pittman.
In 2008, Manou was approaching 30 and it seemed like she was unlikely to improve. However, prior to the World Indoors, she had run a PB of 51.44 over 400m and she had won a 400m/800m double at the Australian Championships. She came to Valencia brimming with confidence and seemed more than a match for the ageing champion, Maria Mutola.
Manou was superb She ran a cagey race, tracking Mutola on the curb early in the first lap. The pace was fairly sedate, until Manou stepped up the pace with 500m to go. Petyluk (UKR) took the lead with 300m to go and Manou sat in, biding her time. She waited until about 50m to go, unleashing a powerful surge to the line. She got home for half a metre, beating Petyluk in 2.02.57 to 2.02.66. The great Mutola finished 3rd in 2.02.97. This was a career highlight for Manou and she had silenced her doubters.
Manou had a great career, and despite her critics' assertions that she had squandered her talent, she managed 18 national titles across three events and she can call herself a world champion. Now married with kids to cricketer Graham Manou, and she has enjoyed a diverse media career since hanging up the spikes. She's been in a few banal, low-rent TV and radio shows, yet she distinguished herself with some great work for Channel Seven alongside Bruce McAvaney at the Olympics last year.
Kerry Saxby – Gold, 3000m walk, Budapest 1989, Silver, 3000m walk, Seville 1991, Silver 3000m walk, Toronto 1993:
Saxby is one of our greatest and largely unheralded athletes. She follows a great tradition of Aussie race walkers. In the '80s, we had the likes of Dave Smith, Sue Cook, Willi Sawall making their mark nationally and internationally, but it was the Young-born, Ballina-raised Saxby who became the most prominent. She won a silver in the '87 World Championships in Rome and went one better in the Hungarian capital in 1989. She beat Beate Anders (GDR) by six seconds in a championship record (12.01.65 to 12.07.73). The gutsy Saxby punched out sub 50 second laps and gradually stretched her lead, ultimately winning by almost 30 metres.
Saxby went on to win silver in the next two World Indoor Championships and the event was then discontinued at the event. She won two Commonwealth titles, plus a silver and she had a superb 3rd place finish in the brutal conditions of the World Championships 20km walk at Seville '99 – at the age of 38. She was 7th in the Sydney Olympics in 2000 and rounded out her career at the Goodwill Games in Brisbane in 2001.
Saxby has been an inspiration to younger athletes, many of whom (Jarryd Tallent and others in the Tallent family, Nathan Deakes, Dane Bird-Smith, Cheryl Webb, the Saville sisters et al) have had success in the sport over the last two decades.
Mike Hillardt – Gold, 1500m, Paris 1985:
This was the World Games and not an official world championship, though it was a great career moment for Hillardt. With a couple of wins over Steve Ovett the previous year, Hillardt promised much, but was disappointing at the Olympics in LA, missing the final. He redeemed himself in spectacular fashion in Paris. Not known as an especially quick finisher, he produced an impressive kick in Paris to beat the 3rd and 4th placegetters from the LA Games. He won brilliantly in 3.40.27 from Jose Abascal (ESP), who ran 3.41.36 and Kenyan Joseph Chesire (3.41.38). He had a great year. He paced Steve Cram to a world mile record in Oslo and he ran another national record in the 1500m (3.33.39) behind Said Aouita's world record of 3.29.46, run in Berlin. Hillardt won several more national titles, though he struggled at major championships. He did, however, run well in the Rome World Champs in '87, finishing 7th, where he beat the gold and silver medallists from the World Champs in '83, Steves Cram and Scott. By 1989, Hillardt began to fade from the spotlight, though he was Australia's greatest middle-distance runner of the '80s.
Melinda Gainsford – Gold, 200m, Barcelona 1995, Silver, 200m, Toronto 1993:
Gainsford (now Gainsford-Taylor) showed great talent from an early age. She was spotted by coach Jackie Byrnes while still in Little Athletics and Byrnes immediately saw green and gold. She knew early on that, given the right guidance, Gainsford – from the small, Central-Western NSW town of Narromine – could achieve greatness. Gainsford was a dominant junior and was a national senior champion by 20. Gainsford never had the long, smooth, flowing stride of her great rival and teammate, the great Cathy Freeman. It was strength and power that was the key to her success. Under Byrnes – with whom she developed an especially close bond – she eventually developed a much more efficient technique, and she was a particularly good bend runner.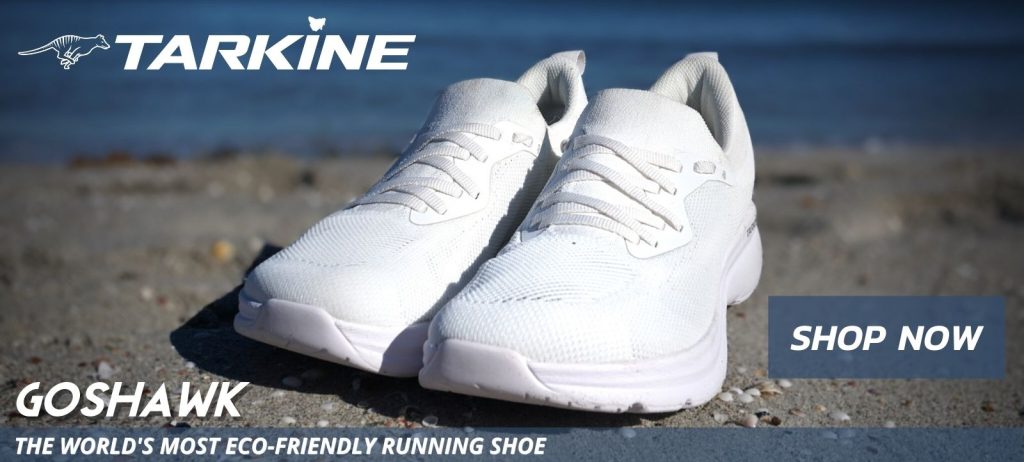 In Barcelona, Gainsford produced perhaps her finest performance. She didn't run on indoor tracks often, but she gained invaluable experience in her previous World Indoor campaign, when she won the silver in Toronto two years previously. Gainsford dominated the semi and started well in the final, got to the front and held on for a great win from Pauline Davis (BAH), in 22.64 to 22.88. The race has been discontinued at the Championships, as the bends are too tight for sprinters travelling at top speed.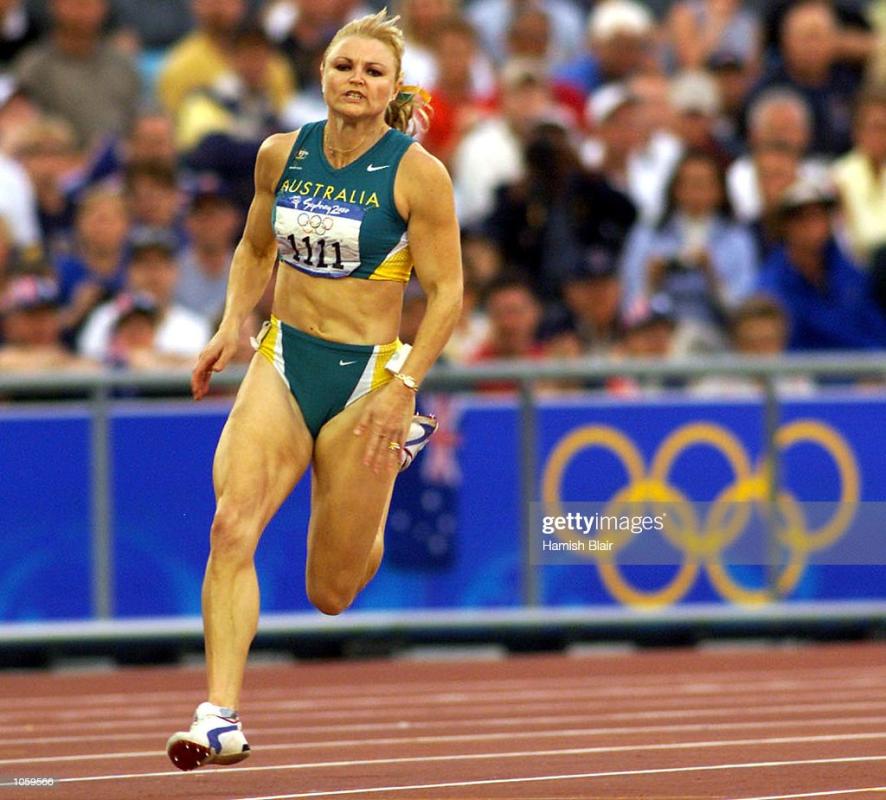 It was a great career, though Gainsford was beset by constant injuries. A great all-round sprinter, she helped the Aussies to a 4x400m relay silver in the World Champs at Goteborg in 1995. She also won a silver and bronze at the Commonwealth Games in 1994. She still holds the national 200m record (22.23) and she held the 100m record for almost 20 years. There was heartbreak for Gainsford in 1998, when she broke down with a knee injury when looking like a winner in the Commonwealth 200m final, though she rounded out her career, running the 200m final at the Sydney Olympics in 2000, finishing 5th. She has settled into family life, doing some commentary work and works tirelessly for Little Athletics, giving back to the sport.
Sally Pearson (nee McLellan) – Gold, 60m hurdles, Istanbul 2012, Silver, 60m hurdles, Sopot  2014:
One of Australia's global athletics superstars, Pearson was dominant at the beginning of the Olympic year 2012. She was a on another level from her rivals, as she exploded from the start, executed the race flawlessly, and finished almost 2 metres in front of Tiff Porter (GBR), 7.71 to 7.94. Pearson completely outclassed her rivals and had a great confidence-booster for the Olympics.
She won the Olympic title that year, to add to her silver from Beiing 2008 and her world title in Daegu 2011. She won a silver at the World Indoors in 2014, plus the Commonwealth title in Glasgow the same year. Perhaps almost as impressive as the Olympic gold was her comeback world title win in London 2017, after a horrific run of injuries that halted her title defence in Rio. She broke down again before the 2018 Commonwealth Games at home on the Gold Coast and eventually decided to retire in 2019.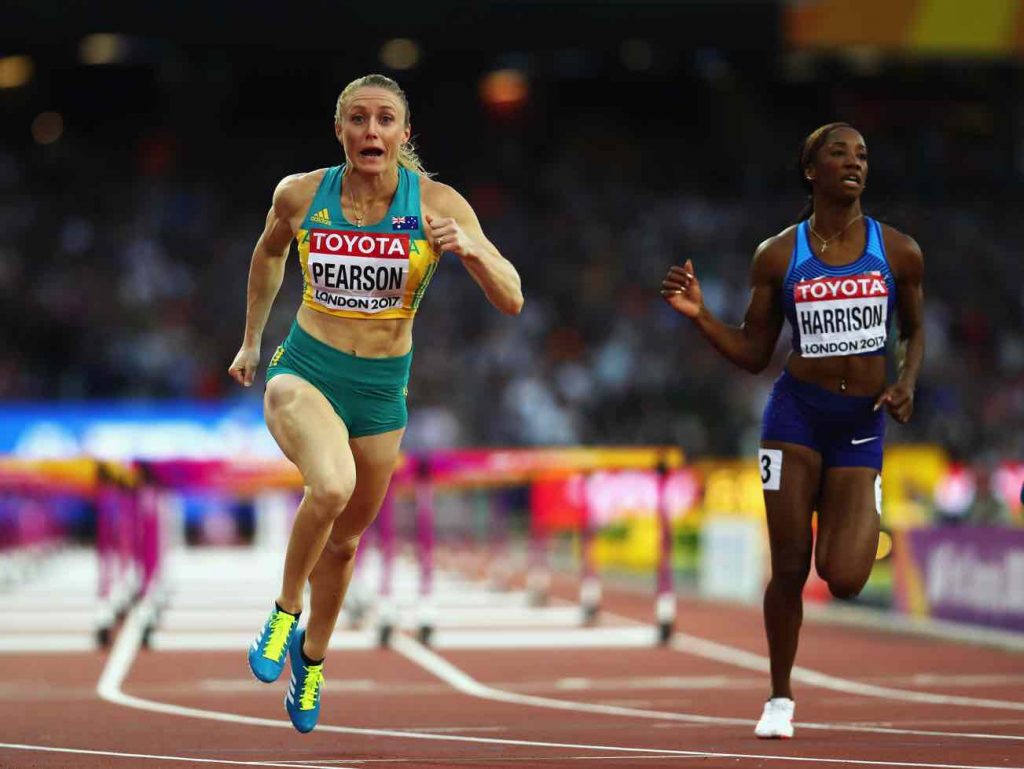 Perhaps the greatest technical hurdler since Colin Jackson or 'Skeets' Nehemiah, she is one of the greatest sprinters/hurdlers of Australian track and field history, with two world titles and Olympic gold and silver medals. She joins the likes of Freeman, Cuthbert, Strickland. Matthews, Boyle, Caird, Jackson Nunn & Fleming as one of our all-time greats.
Fabrice Lapierre – Gold, Long Jump, Doha 2010, Silver, Long Jump, Portland 2016:
Lapierre, if he was running late, would be someone you would back to make it on to the Lavender Bay ferry, should it be pulling away from the dock. Lapierre has jumped the longest by an Aussie, having made an 8.73 wind-assisted jump and in Doha, he was a little below his career-best form, but it was enough to win. He led in qualification and backed it up in the final, jumping 8.17 to beat Khotso from South Africa and fellow Australian, Mitchell Watt. Khotso jumped 8.08 and Watt managed 8.05.
Lapierre won a World Champs silver in 2015 and a silver in the World Indoors in 2016. He also won the Commonwealth title in 2010 in Delhi, to add to his bronze from Melbourne 2006.
He eventually moved to the US, where he has a thriving coaching business.
Steve Hooker – Gold, Pole Vault, Doha 2010, Silver, Valencia 2008:
The son of two accomplished athletes, Hooker exhibited some talent as a youngster, though it was not until his mid-20s that the tall, slender redhead began to make his mark. He made the Olympic team in 2004 and won the Commonwealth title at home in Melbourne in 2006, before winning the World Cup title later that year.
He was supreme in Doha, capturing the World Indoor title to go with his World outdoor and Olympic titles. He won in a championship record of 6.01, winning by over 30cm and he made up for his disappointing showing in Valencia in 2008, where he was third.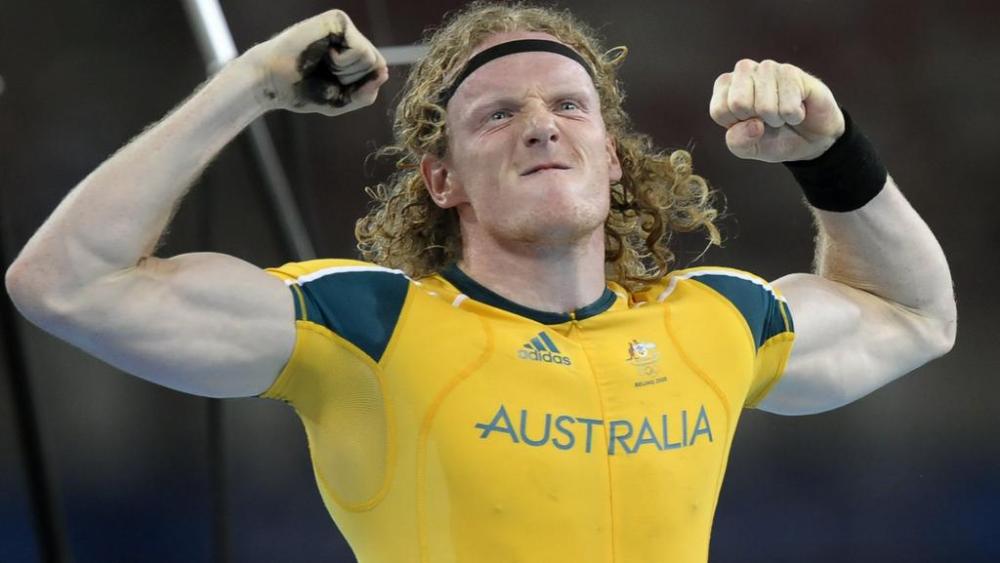 Not possessing the power of Bubka, nor the freakish athleticism of Duplantis, Hooker was an exemplar of the need for dedication and focus – crucial for success in any event. He spent years working on his fitness and honing his technique, until he became one of the most technically proficient vaulters ever. His win in Beijing was awesome, but perhaps more impressive was his gutsy win in Berlin 2009, whilst carrying a hamstring injury. His 6.06 PB makes him the fourth best vaulter of all time.
He has settled into family life with Yekaterina and son Maxim, and he has become a much sought-after public speaker.
Damian Marsh – Silver, 200m, Toronto 1993:
I have a family connection here (our grandfathers were brothers). Damian was spectacular here and this was one of his best seasons. Marsh adjusted well to the track, having not run indoors before, and, after some quality running in the preliminaries, he lined up against a solid field in the final. Though he got a great start, he could not reel in James Trapp, who won in 20.63, with Marsh 2nd in 20.71. It was a national record for Marsh.
He joined fellow Aussie Dean Capobianco (along with Frankie Fredericks, John Regis and Carl Lewis et al) in the final of the World Championships 200m, where he finished 8th. He won a World Champs relay silver in Goteborg 1995 and another huge highlight was his 100m win in Monaco '95 in a national record of 10.13, where he beat World, Olympic, European and Commonwealth gold medallist Linford Christie.
Henry Frayne – Silver, Long Jump, Istanbul 2012:
The nephew of Olympic 400m semi finalist Bruce Frayne, Frayne is one of the 'big three' of top Australian long jumpers of the 2010s and he is coached by one of the great long jump coaches, Gary Bourne.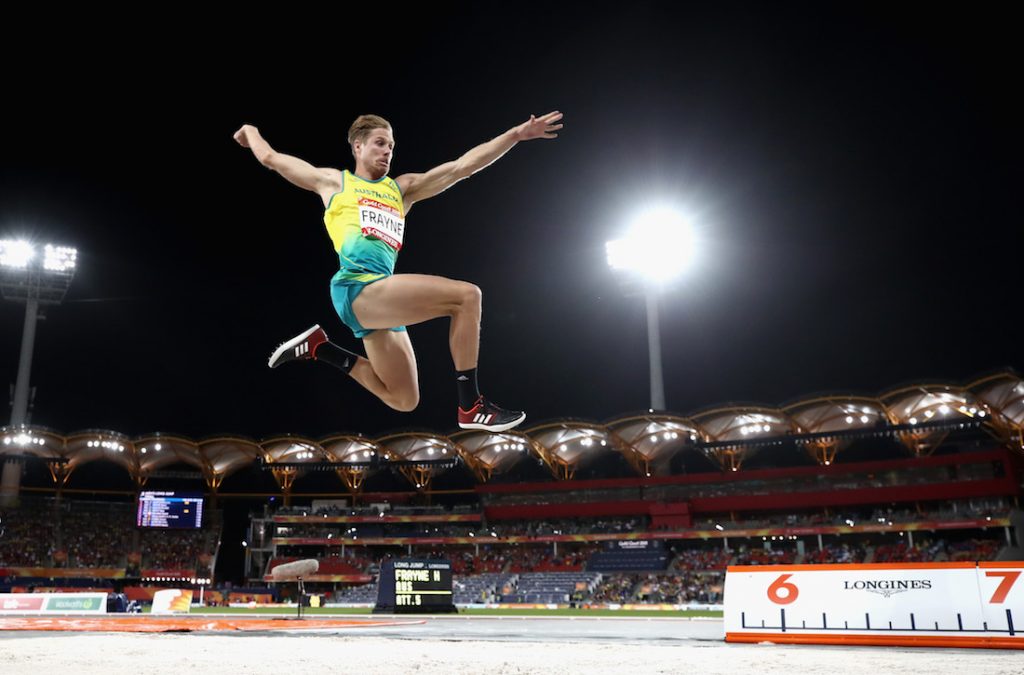 He performed well here but lost on a comeback from Mauro da Silva of Brazil. The two men both jumped 8.23. the multi-talented Frayne has also jumped 17.23 in the triple jump – one of the best jumps from an Australian. He also won a silver at the Gold Coast Commonwealth Games in 2018.
Emma George – Silver, Pole Vault, Paris 1997:
George was somewhat of a pioneer of the women's pole vault in the mid-'90s. With a background as a circus performer, George took to the event like a duck to water. At a time when women didn't even have a national title, George broke record after record, improving the mark from 4.25m to 4.60m in the space of three years. Meanwhile, American Stacy Dragila was tearing it up in the US, and beginning to catch up to George. The two titans of the sport clashed in Paris and staged a great duel. Dragila cleared 4.40m on her second attempt. George missed twice at 4.40 and took a gamble to go for 4.45m, but just fell short and Dragila won gold from the gallant Aussie.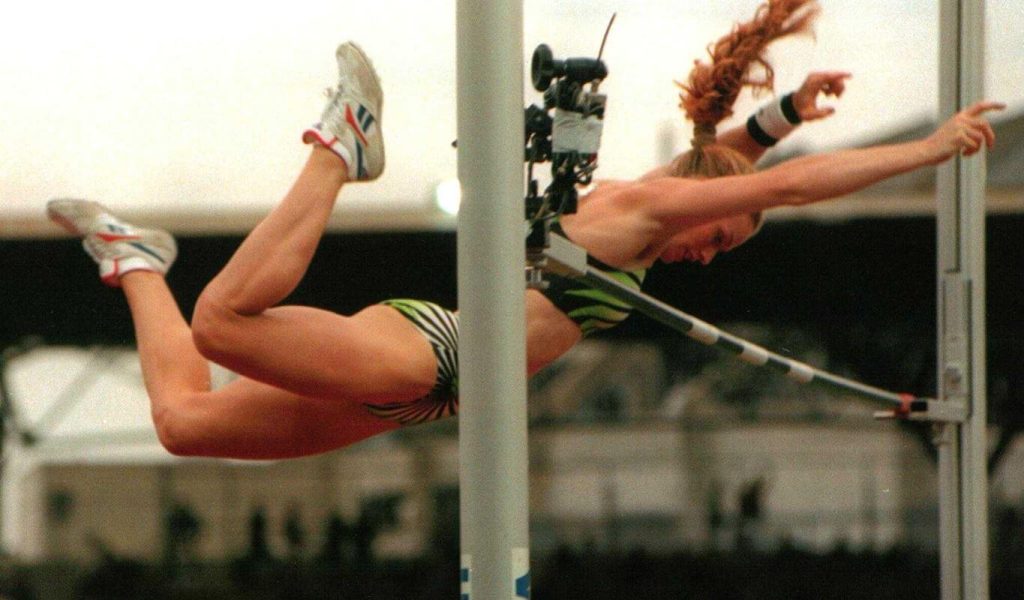 There was a silver for George in the Goodwill Games and she won the Commonwealth title in '98. She failed to fire at the Olympics in Sydney in 2000, where compatriot Tatiana Grigorieva won a memorable silver medal. With injuries a constant problem for George, she retired in 2003. She now is a passionate advocate for 4-wheel drive tours of the outback.
Dave Smith – Bronze, 5000m walk, Paris 1985:
Dave Smith was one of our great walkers of the era. Along with Willi Sawall, Simon Baker, Kerry Saxby and Sue Cook, he was a consistently solid performer, and he was 10th in the 20km in LA '84. Here he chased home Frenchman Gerard Lelievre and the great Italian Maurizio Damilano to win the bronze. Lelievre won in 19.06.20, Damilano was second in 19.11.41 and Smith finished in 19.16.04.
Smith's son, Dane Bird-Smith has followed his father's career path, winning the Commonwealth title in 2018 on the Gold Coast, and gaining the bronze in the 20km in Rio.
Andrew Murphy – Bronze, Triple Jump, Lisbon 2001:
Murphy is now a coach of several athletes (Olympic 100m semi-finalist Rohan Browning amongst them), but was one of our great triple jumpers in his day. At the Pavilhao Atlantico, he mixed it with the world's best. He had some uninspiring jumps early on, but managed to pull out a big jump (17.20) on his final effort to secure the bronze. He was just 0.06cm behind the great Jonathan Edwards. Italian Paolo Camossi produced an upset to finish 0.06cm in front of the British legend and win the gold.
Murphy's career was one of the longest at the top level of an event in which is known for athletes who suffer some debilitating injuries. He did his personal best in the Seville World Championships in '99, where he was 4th in 17.32. He retired after the Commonwealth Games in Melbourne 2006, where he was 4th. Based at Trinity Grammar in Sydney, he continues to inspire young athletes with his passion for the sport.
Mitchell Watt- Bronze, Long Jump, Doha 2010:
Mitchell Watt is the current national record-holder (8.54) and was a great all-round athlete as a schoolboy. He played AFL and was a member of the Queensland schoolboy rugby team. After school, he decided to focus solely on athletics.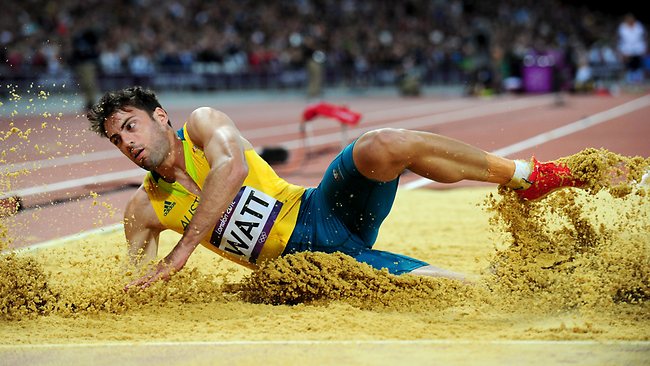 In Doha, he qualified behind Fabrice Lapierre, but he struggled in the final, only pulling out his bronze-winning distance (8.05) on his final attempt. He broke Jai Taurima's national record in Stockholm in 2011 and won a silver at the London Olympics in 2012 to add to his bronze at the Berlin World Championships in 2009. He is the only Australian to win the Diamond League championship, taking home the trophy in 2011. He is currently in the US, working as a management consultant.
Darren Clark – Bronze, 400m, Toronto 1993:
Clark broke through to the big time with his 45.05 world age 17 record in 1983 and he came 4th in both the LA '84 and the Seoul '88 400m finals. His 44.38 from the Seoul semi-final is still the national record. He went on to Commonwealth Games glory, with an outstanding win in 44.60 at the 1990 Games in Auckland. Cool, charismatic and with many female fans, Clark was a rock star in Australian athletics in the '80s and '90s. Guided by the equally cool and charismatic (with almost as many female fans) Mike Hurst, Clark was on the path to the World Championships and the Barcelona Olympics in 1992. However, in 1991, Clark made an ill-advised foray into Rugby League, signing with the Balmain Tigers. Clark's experiment with League was a disaster. He languished in Reserve Grade and began to miss athletics.
He observed former relay teammate Mark Garner in the Tokyo '91 World Championships final, where he noted that the winning time (44.57) of Antonio Pettigrew (USA) was slower than his best time. He left Balmain and began to prepare for Barcelona '92. Injuries cut short his Olympic dream, but he recovered and began to train hard in late '92, looking to come back at the World Indoor and World Outdoor Championships in 1993. 
In early '93 he put together some great performances that gave him confidence for Toronto. He ran 45.53 in Sydney, won the national title with 45.60, but perhaps his best run was his 46.26 to win the NSW state title on February 20th, in gale force winds and oppressive heat and humidity (the 1500m men leading the field into the home straight that day – Brad Marland, Wayne Larden and 3.39 man David Forbes – would certainly attest to the tough conditions).
In Toronto, Clark did a great job in the early rounds, cruising into the final. Clark was facing some classy opposition in the final. Controversial world record-holder, American Butch Reynolds was there, as was Sunday Bada from Nigeria. Clark went out hard and stayed with the pace for as long as he could, before fading slightly at the finish. Reynolds won in 45.26 from Bada, who ran 45.75. Clark ran a national indoor record of 46.45 to win the bronze – a great performance.
The comeback was short-lived. He missed much of the next year, before one last big run at ES Marks field in early 1994, when he was just edged out by Dean Capobianco over 400m (45.48 to 45.49). Post-retirement, Clark dabbled in coaching and some personal training. He eventually settled with his family in Bathurst, where he lives the quiet life. He leaves a legacy of some fantastic athletic achievements over a decade.
Now we look forward to a fabulous championship event in Serbia, where Australia has several talented athletes competing. It certainly promises to be a very successful championship for the Aussies.