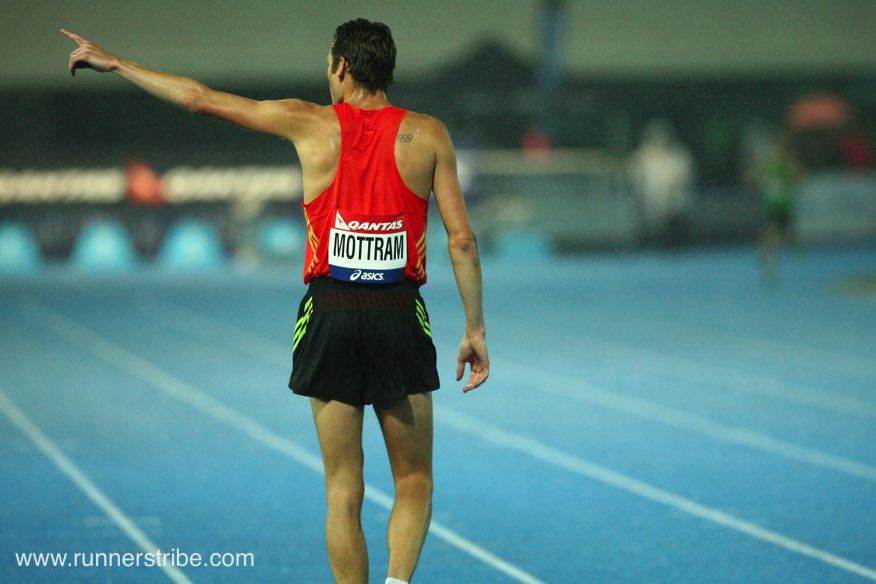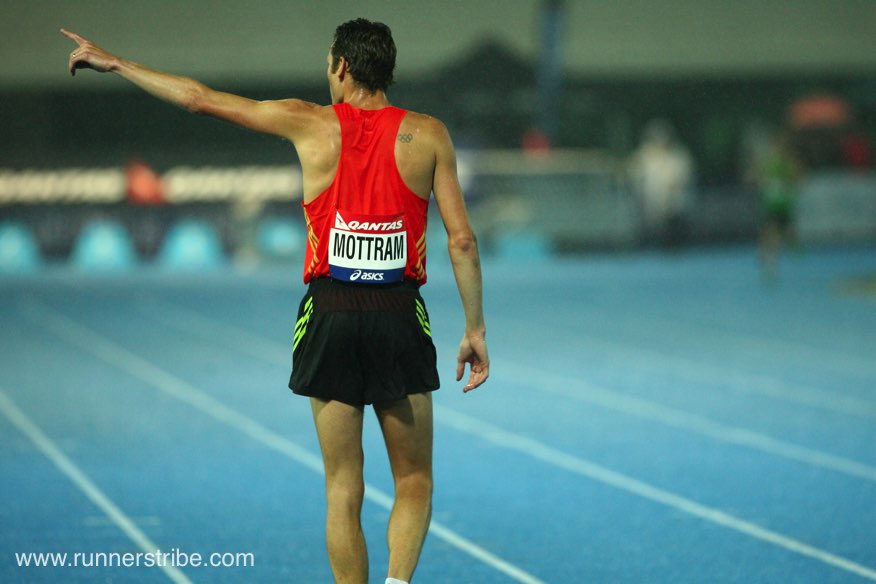 By Daniel Wallis – Runner's Tribe
Heading into the World Championships this year is a new Craig Mottram. He's engaged to be married, has a new coach, and a new passion for both life and running.
---
Getting Back To Europe
This summer marks the first full European track season since 2008 for Craig Mottram as he attempts to qualify for this year's World Athletics Championships in Daegu, South Korea.
Before heading to the Athletics Australia base in Cologne, Germany a few weeks ago the Bronze medallist from 2005 in the 5,000m had been based at altitude in Boulder, Colorado for five weeks. It was the second time Mottram had trained on the famed Front Range of Colorado – the first being after the Commonwealth Games in 2006. "To be honest the first time I trained in Boulder I didn't really like it, going half way across the world for a training camp then having to drive everywhere for training was annoying, but I thought I'd give it another go and this time around I am loving it – I want to find out what works for me, I don't want to still be guessing this time next year".
Like many athletes, Mottram is a creature of habit, so days in Boulder were simple. Five weeks of running twice day, plenty of coffee from the local Starbucks, and three hours of the CBS TV series 'Criminal Minds' to end each evening with a little excitement. Usually, Mottram likes to break up the monotony of training camps with a race. This time around the plan was a 5,000m at the Diamond League in New York, but a couple of days missed on the track forced a slight change of plans. "It wasn't worth going to New York to run 13:25 – it was more important to just get the work done. There will be plenty of opportunities in Europe to run fast". This is part of a strategy to stick to the basics in training, and let the races in Europe bring him along – the biggest of which will be the Diamond League Meets in Birmingham on July 10th and Monaco on twelve days later. "Birmingham will be to just get the time for the World Champs, then Monaco will be about having a stab".
Although Mottram now handles all his own management in regards to sponsorship and his ambassador roles, he has been working with James Templeton (agent to David Rudisha) to finalise his European racing schedule.
---
Too Much Running, Not Enough Rest
After the Beijing Olympics, Mottram needed a break. Since the end of 2006 he had been battling chronic achilles pain, and it finally got the better of him. "The problem with achilles is that they creep up on you. For me, the Olympics were around the corner, I didn't feel like I could afford to take a break, so I kept pushing. The Olympics is a trap in that regard, you don't listen to your body. Eventually, my achilles just couldn't take anymore. It was too much running and not enough rest".
The straw that broke the camels back came one night not long after the Olympics. Mottram's dog Miles (born on the day of his semi-final in Beijing) needed to go outside. However, at this stage Mottram had to sleep in boots to keep his feet at 90degrees and keep strain off of his achilles. "I couldn't get the boots off in time. I couldn't even get out of bed to keep my dog from having to go on the carpet – I had to stop. I wasn't enjoying running anymore".
From there Mottram saw the best tendon specialists on the planet. They all said the same thing – they won't get better unless you stop. Almost eighteen months later Mottram is back at work and getting close to his best. "It's still more than twelve months until London. I'm going alright, I'm not flying – but twelve months is a long time. Maybe in 2007 I was going too well before Beijing and the only place I could go was down. Either way, I've had my rest and I'm ready to go".
[tapview]
---
Arguably the biggest change
Mottram has made is the switch in coaches to Chris Wardlaw; a move that Mottram believes is what will take him to the next stage of his career. "Chris and I speak regularly each week. The program is pretty basic; I don't need someone standing over me at the track. With Chris it is a very different scenario to what I've had in the past. It's refreshing. I decide a lot of the sessions I do. Chris will give me suggestions, I'll give him feedback and then we agree on what is required – more of a sounding board. I'm really enjoying the relationship".
Many have suggested that Mottram wouldn't change much from what he had done in the past – but the reality is quite the opposite. "I'd be lying if I said it was the same. The whole point of changing was to change everything. In saying that, its still running. There is still bread and butter type stuff that I'll always do".
Heading into a full European track season is new territory for Mottram and Wardlaw as they embark on the fine-tuning that comes with racing frequently. "It will be interesting to see how that unfolds. The sessions are not as long as what I was used too. I'm 30 now – I don't think I need to be doing 10km sessions on the track".
Some of the changes were simple and began with running less. "I don't run 180kms a week now, I run 150. I have more rest now – I took two weeks off after World Cross-Country, and I took a week off after National's. As you get older you have to listen to your body and accept that you can't run that much without ramifications".
---
"He's Back" – World Cross Country
The World Cross Country Championships in Spain was the first real test for Mottram back on the world stage. Although things had been going well – his preparation was limited compared to years past. After September's Great North City Games in Newcastle he had a long rest, then endeavoured on two months of base training at Falls Creek over January and February. This was followed by a 6th place finish (2nd Australian) at the Melbourne Track Classic in March in a time of 13:25 that Mottram described as 'not a bad result'. "Leading into World Cross I thought top 40 would be solid, top 30 would be fantastic – If I got around 20th that would be a hell of a run. I worked my way through – was conservative the first 5k and then ran them down that second half. I really enjoyed it. I've been to World Cross before and gone out through the first kilometre in under 2:30 and then come unstuck. This time I knew my fitness wasn't where it has been, but I ran to my level and I ran really well".
---
There's More To Life Than Just Running
During his break from the sport, Mottram undertook new challenges – including finishing his University Degree. "I needed the challenge, I needed to get it done. Balance in life is crucial to performance in anything. You don't realise how single minded you have been until something goes wrong and how much of the other aspects of your life you've let go".
Being away from athletics allowed Mottram to get back to his roots. He spent time catching up with friends, family, and doing the things he says that he should have always been doing. "Running at an international level shouldn't stop you from being a good person, friend, or family member. I may have been lacking it, but now I think I'm in a good spot. Running is going ok – it takes time. This time around I have other things that I enjoy doing that take me away from worrying about how my running is going all the time".
For a while it seemed that all Mottram had was running, which meant when running wasn't going well, nothing was going well. "That's what happened after Beijing. It was disappointing. I didn't perform how I wanted and how other people wanted me too. That's why I was proactive in making changes and trusting in those changes that I have made".
Mottram is now a balanced person as well as an athlete. He is an Education Ambassador for the Australian Olympic Committee, a member of the IAAF athletes commission, and also works for and is the face of the Adidas school's Fun-Run. A school based program in Australia and New Zealand that promotes a healthy lifestyle and outdoor activities instead of selling chocolate and junk food for fundraisers. "That's what I spend my time doing. When I'm in Aussie, I am working until around 4 or 4:30, then back home to run again. Its something I would have never done before. Its good for the sport and its good for the kids – encouraging them to do something healthy instead of sitting in front of the computer all day".
---
The Next Generation
Mottram understands what is needed to get to the highest level in the sport of athletics, but makes no secrets about that fact that his rise was different to most. "If I had the chance I would encourage young aspiring Australian track and field athletes to go to school in America. The system that is in place in America whereby athletes study via their participation in college athletics has a lot going for it and creates opportunities that are often harder to come by on your own. I'm lucky that I was quite good at a young age – but not as many athletes are necessarily going to be at the level I was at that stage. They might get to that point eventually, but may just need a few more years to get there, and the states allows for that. The economy is hard at the moment; some of the best athletes in the world are struggling to get the support required. I think the college system is fantastic".
Athletics is not the most lucrative sport, and many throw in the towel well before their peak, particularly when they leave university – something which Mottram believes needs addressing. "I would encourage people to continue if they enjoy it – that's the most important thing. It's about consistency. If someone can run in the 13:20's for 5k at University, there is no reason they can't run in the 13-low range a couple of years later. It's just figuring out what you do in between. You can get a job – I did it. I worked as a lifeguard, a swim instructor, even in a bar because I wasn't good enough at first to get paid to just run. The thing is though, John Landy, Herb Elliot, John Walker – they all worked and they ran bloody well".
---
What Does The Future Hold For Craig Mottram?
Mottram has run world class times from the mile to the 10,000m, but is adamant what is in store for him come London 2012. "I want to run the 5k in London – I want to improve on my 8th from 2004. I can do better than that".
He does however plan to approach next years Olympics differently than the last. The plan is to make the team, then the final, and then reassess. Simply put, he will be breaking it down into steps that are more achievable. "I want to take it more relaxed and have fun. It won't be all about the Olympics for me next year – it will be about running the best I can every time I step on the line, and see where that places me".
After the London Olympics Mottram will then decide whether to stay on the track or head to the roads. "I want to run a marathon – I've never made a big secret about that. I want to get to 30k and see what all the fuss is about. I watch them all the time and it fascinates me seeing someone looking so good to so bad in ten minutes!"
As for what really matters – Mottram just wants to focus on keeping his life balanced, getting some good performances out of running, and seeing where he ends up.