Len Johnson Reporting from the World Champs, London – Runner's Tribe
Eight years ago the world seemed to be at Dani Stevens (then Dani Samuels) feet. On a rainy night in Berlin, she handled the difficult conditions far better than her more experienced rivals to become, at 21, the youngest winner of the world championships women's discus.
Ninth in that final was an even younger thrower, this one a 19-year-old from Croatia by the name of Sandra Perkovic. For most of the time since, Perkovic's star has waxed while Stevens' has waned.
The Croatian has gone on to become the dominant thrower of the era; Stevens has been good, very good in fact, ranking in the world top 10 every year from her 2009 breakthrough. But results at the highest level seemed to elude her. She skipped the 2010 Commonwealth Games in Delhi, worried about the security and health issues in Delhi. It was a decision which did not go down well (team captain Steve Hooker queried it publicly) and which she subsequently admitted to regretting.
She threw good distances every year and kept on making the major finals. But once there she could not go on to contest for the medals. In Daegu, London and Moscow she made the final but missed the cut for the final eight. In Beijing two years ago, she was sixth.
Rio last year was the best and worst of results. Stevens again handled the wet conditions of qualifying well, while Perkovic fouled twice before qualifying on her third and final throw.
Perkovic was off form in the final, too. She opened with two fouls and was on the brink of bowing out before producing her only valid throw of six in the third round. That proved to be the winner, but the others had missed a chance to take advantage of her patchy performance.
Stevens felt that even more keenly than the rest. She was fourth, so missed an Olympic medal by one place. That was bad enough, but had she been able to produce her best on the day, she could have been Olympic champion. That several others were in the same boat was little consolation.
London Stadium on the last night of the world championships found Perkovic in imperious form. Not the diffident athlete of Rio, she opened with a massive 69.30-meter throw, which pretty well clinched the gold medal then and there. Next round she went even further, the disc landing out at 70.31. that turned out to be her winning distance but she continued with 70.28, 69.81 and two fouls (voluntary this time: she stepped out).
Stevens was not fazed. In her own zone, she opened with a 64.23, putting her in the medals' position from the start. She improved to 65.46 in the second round before a big throw drifted just outside the right-hand sector line. At half-way, a point she had not gone beyond in Daegu, London and Moscow, she was in third behind Perkovic and France's Melina Robert-Michon.
A 66.82 effort in round four took care of Robert-Michon and a 66.59 followed. Now she was in second place. Stevens' sixth and final throw again went down the right-hand line. This time, though, it stayed well in, landing at 69.94. a personal best, a national and area record and a silver medal. She danced around with delight and embraced Perkovic as a peer this time, not as one of the well-beaten brigade.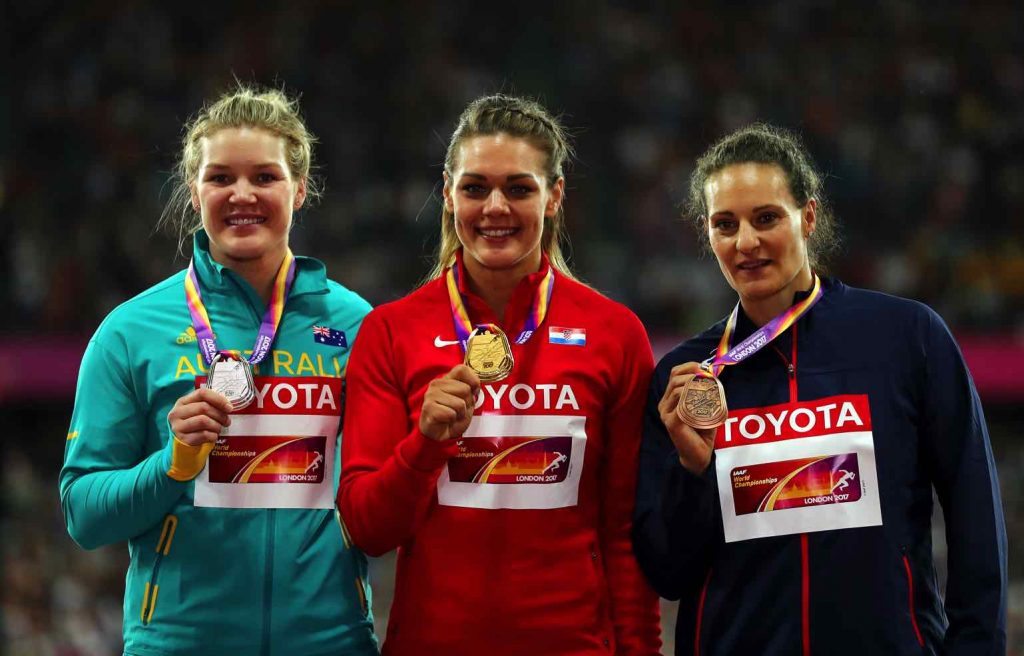 Australia's other stand-out on the final day was Dane Bird-Smith who walked a personal best 1:19:28 in the 20km road walk. Last year he took the bronze medal in Rio; this year a faster time was only good enough for sixth, but Bird-Smith was in the leading group until the very last moves were made.
Eider Arevalo of Colombia won in a national record 1:18:53.
The women's 5000 saw a win to Hellen Obiri after defending champion Almaz Ayana failed to drop her most dangerous rival despite a series of 66-68 second laps from 2km to 4km. Obiri moved to her rival's shoulder 600 out as if to show she was unshaken by the pace injection, then sprinted away from the bell with a 60-second final lap to win in 14:34.86. Ayana held off Sifan Hassan for second, 14:40.35 to 14:42.73.
Kenya always looked likely to take a 1-2 in the men's 1500, but it was training mates Elijah Manangoi and Timoth Cheruiyot who had the speed in a 53-second final lap. Manangoi won in 3:33.61, with Cheruiyot running 3:33.91. Three-time champion Asbel Kiprop made an extravagant move to join his compatriots in a 55.96 second lap – he must have been a second or two faster – then did not have the legs to stay with them in the last lap. He finished ninth.
Norway's Filip Ingebritsen took the bronze in 3:34.53.