Ella Nelson: The Best is Yet to Come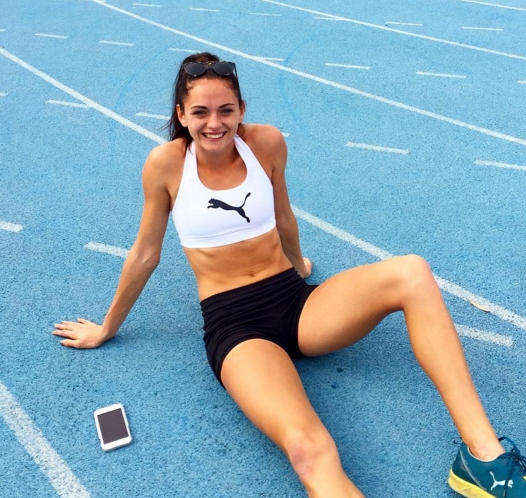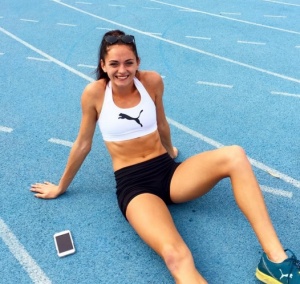 By Grace Kalac for Runner's Tribe
The start of the 2016 season for rising sprint star Ella Nelson could not have been more flawless. By April, twenty-two-year-old Nelson, coached by Sydney's Michael Dooley, had surpassed the Olympic qualifying standard numerous times, and boasted a new a personal best in the 200m of 22.53 seconds. She won the Australian Championships/Olympic Trials, confirming her selection for the 2016 Rio Olympics. Following the Australian Championships, Nelson travelled overseas to chase the summer season and in turn, more personal bests.
However, disaster struck mid-April at the 2016 Mt. SAC Relays, after a hamstring 'cramp' presented itself mid-race, following Nelson's renowned slingshot off the bend. An MRI later revealed Nelson's first major injury, a Grade 2 Hamstring tear. Nelson refused to be deterred by the setback, with her sights firmly set on re-obtaining personal best form come August.
"I tried to remain super positive, every day got a little bit better, and I think my attitude towards it really helped. I had SO much time before Rio so there wasn't too much stress, I'd probably still be able to do meets in Europe, no worries," said Nelson.

Five-weeks post tear, Nelson's rehabilitation appeared to be progressing to plan. She was in the final repetition of her most promising session post-injury, when a second tear occurred. Nelson's five weeks of rehabilitation and strengthening had been undone. At this point in time, Nelson realised that more than just strength rehabilitation was required to get her to the start line in Rio, and she was going to have to sacrifice her entire pre-Olympics racing schedule to ensure her body would be ready.
"I hopped on a plane to Europe, had PRP injections every 3 days for 2 weeks and then spent 2 weeks with Gordon Bosworth, a leading sports physio out of Oxford. He helped clear my system out and spent time working out where the issues came from and how to manage them," Nelson said.
"Although it meant I had missed literally every single race we had planned between April and Rio, I knew that it would all be worth it once I made it to the line at the Olympic Games. That thought definitely had me keeping positive, despite it being a super difficult and stressful time."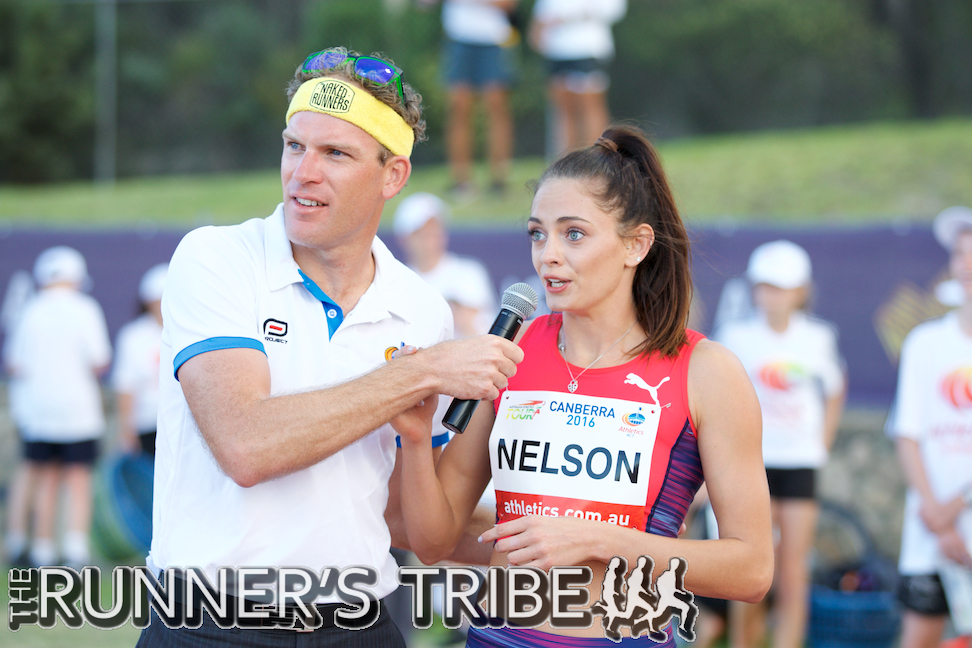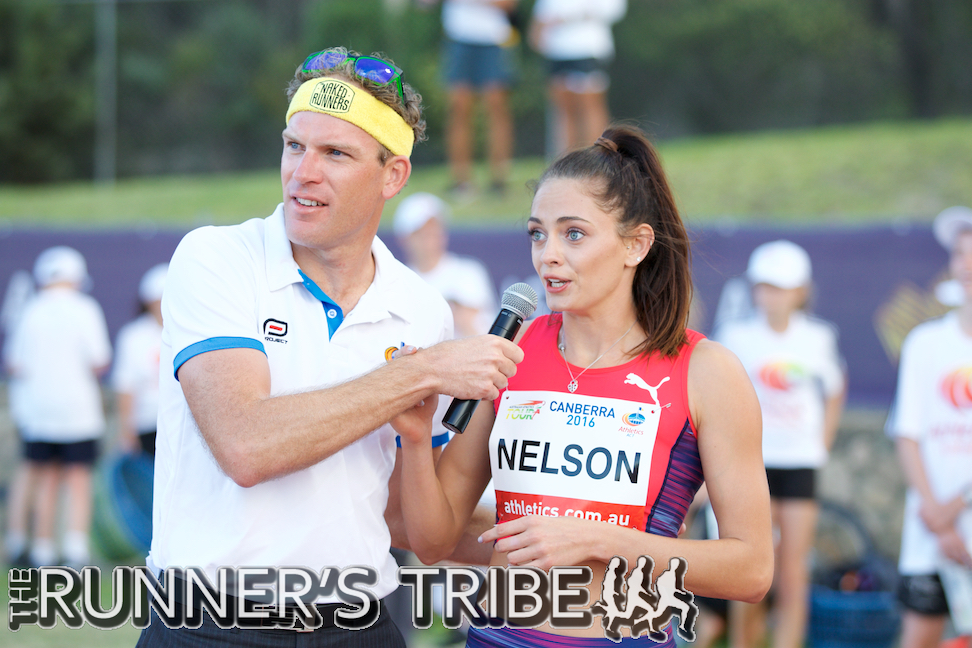 Nelson undertook an extensive rehabilitation program, comprising of bike workouts, strength exercises, progressive gym work and dribble sessions. By 14 July, a mere four weeks out from her Rio 200m heat, Nelson was finally back in spikes and training at one hundred percent.
As Rio approached, an under raced and freshly-fit Nelson was not worried.
"Being more of a rhythm runner I feel I don't need to race myself into fitness. Coming into the Australian season I only had one race before I ran my PB so keeping that in the back of my mind made me worry less," Nelson said.
Nelson certainly delivered at Rio, finishing second in her heat in a time of 22.66 seconds. In a bittersweet performance, Nelson finished third in her semi-final in a personal best time of 22.50 seconds, missing out on a debut Olympic final appearance by 0.01 of a second. Nelson's post-race interview won the hearts of all Australians watching, and her performance has subsequently led her to be dubbed her as Australia's next sprint queen.

"I was super happy with how I raced in both the heat and the semi. The heat brushed all the cobwebs away, and the semi taught me not to be afraid of the competition, even when they are the best in the world," said Nelson.
"As I was in the second semi I wasn't able to see the results from the first race, or know what time was required to be the fastest qualifier. When the channel 7 interviewer told me I was in 9th by 0.01 I was in total shock! I was already happy with running a PB and to be that close to the final was heartbreaking, and awesome all at the same time."
For Nelson, to now be able to call herself an Olympian is a life goal achieved. In the space of sixteen years, she has evolved from an ecstatic six-year-old cheering on her idol Melinda Gainsford-Taylor at the 2000 Sydney Olympics, to an Olympian herself idolised by aspiring athletes. Nelson's personal best time from Rio not only positions her as the 6th fastest all-time Australian, but the fastest Australian 200m female since Melinda Gainsford-Taylor's performance at the Sydney Olympics, that Nelson herself witnessed first-hand.
"As an athlete it is the ultimate dream to make the Olympics and I'm just so happy I've had the opportunity to race on the sport's biggest stage. I think if I could go back and tell little Ella in 2000 that she would one day be on the track and not in the stands, she would be amazed," Nelson said.
Nelson credits her successes over the past year to her training at Altis facility in Phoenix, where she is guided by renowned sprint coach Stuart McMillian. Nelson spent time at the elite athlete training facility at the end of last year, prior to her Rio qualification, and for rehabilitation following her initial hamstring tear.
"I could talk about Altis for days! I have absolutely loved every second there," said Nelson.
"I think the environment is the biggest factor. There are a lot of quality athletes there who are always pushing and encouraging one another, all without any egos. Having trackside therapy is amazing, the therapy team are incredible and it works so well having everyone on the same page and being able to assess you day to day so that if any issues occur they can track progress really effectively. The desert is so calming and the fact that you spend 6 hours a day around the worlds best coaches, athletes and facilities all ties into the perfect training set up."
Before heading back to Altis in November, Nelson will take advantage of her current outstanding form and race the European circuit. She will then travel back to Sydney, where she has not ventured in over five months, for some well-deserved time at home.
After witnessing Nelson's exceptional performances at Rio following interrupted preparation, one can only imagine what this sprint star is capable of achieving after years of consistent training. Nelson puts no boundaries on her goals for the future, which include finals and medals at major championships.
"After the year I've had, I truly believe I can do it."