RT Journal by Aaron Bresland – Runner's Tribe
Who is this guy?
I wouldn't be doing athletics if it wasn't for a classmate who arranged the training details and the meeting with the person who would quickly become my first coach. I was told throughout high school that I should give athletics a go but I never thought much of those comments. I was always the fastest kid in my year group right up until the end of my schooling. I started athletics at what is considered to be a really late starting age at 18 years old. I was fortunate enough to experience my only Australian Junior Championships in 2013 that was held in Perth. During this competition, I was faced with mixed emotions because on one hand, it saw me make the U20 100m Final where I placed 5th and getting a silver in the 4x100m U20 Final. On the other hand, I experienced what it was like to be knocked out in a heat where I failed to make the 200m Final. I had low expectations when I went into the competition, however, having experienced it and getting a taste of competition only raised my expectations and the standard of where I wanted to be at by the time I raced again.

2014
Saw me improve a fair bit and I managed to get my 100m time down to 10.48 seconds. I went to compete at the Australian National Championships where my expectations of my performance were set high and I had a lot of belief in my abilities. I was knocked out in the heats for both the 100m and 200m. I was shattered. Those around me at the time told me to not be concerned with the result because it was my first senior competition and making it there was enough of an achievement. At the time I believed it was a poor attitude to have towards the result and looking back it was the turning point in my athletics career which caused me to change a range of things that I implemented into my preparation. I prepared poorly and the support around me at the time wasn't healthy and so I changed coaches.
2015
I changed coaches and many people questioned it but looking back it was one of the best decisions for me and my athletics career. I figured out the elements of my training and preparation that I wanted to focus on and outlined what I wanted to work on with my coach. The big two things I looked at were the mental aspects of athletics and the physical aspect in improving strength. I was underpowered and relying on a fast turnover while I was experiencing far too many hamstring injuries. I had enough and wanted to look at why and how these were occurring and what to do to get the best out of my body. It's amazing how much power the mind has and I began focusing on utilising self-talk in my preparation and then extended this into visualisation. It changed me as a person and as an athlete. I went on to win the Perth Track Classic, race interstate at the Queensland State Championships, Queensland Track Classic and make the Australian Championships 100m Final. I would finish 6th in the final and improve my time in the 100m to 10.39 seconds by the seasons' end. It was fantastic to make it and achieve more in my third season of athletics as my expectations of myself had grown. I knew I was capable of achieving these things but I finished the season feeling empty inside as I felt that I had more to give and that my best was yet to come.
2016
I began the 2015/16 season full steam ahead and continued making improvements and building on the work I had done the previous year. I was lifting more, looking and feeling stronger, moving faster in training and time trials and believed I was starting to be in my best shape. I was looking great then I got to the Christmas period of 2015 where I began to be slightly off the pace, struggled to find a rhythm in my races and was unable to reach my top speed. I was questioning myself and the factors that impacted on me to reach this point. Where had my best gone and would I find it again?I entered January of 2016 and was faced with
I entered January of 2016 and was faced with injury just as I had a glimpse of entering into my top speed gears. It was my adductor. In the warmup prior to my race, I felt that I was moving well and my form looked good in the first 40metres of the 100m race before it went. I would come back out and race again a few weeks later at Western Australia State Championships despite barely being able to walk on some days and I knew something more serious was going on which was when I found out that I had Tendonitis through my left adductor. I was asked by the people closest to me why I was still going to be competing at the WA State Champs to which I replied that I wanted to win the title and didn't want to give anyone else the chance to take it. I raced the heat and felt that my body coped with it and decided I would give it my all in the final. The beginning of the race seemed to go well and just before the finish line, I felt it pull and it had gone again. I hopped across the line with my final few steps to win by 0.01 seconds and with that my season was over. 2016 never really took off for me and with all the work I had put into it, it fell apart. I took some time off and parted ways with my coach. I weighed up whether I was going to continue with athletics or give it up. I was quite broken, fatigued and hurting a lot, mentally and physically. I have high expectations of myself and hold myself to a high standard and I believe so do those around me. I didn't make it to nationals that year and felt like I was done. I began rehabbing my adductor and in that time I found it extremely difficult to watch sport and athletics, there was a lot of bitterness. I had 15 weeks off and in that time I came to realise that I was making a mistake in giving up the sport and I knew I wouldn't be able to live with myself not knowing what my body is capable of and how fast it can take me. I wanted to see how far I could continue to push my body and asked myself How fast can my I go?
Now – Deciding to return to athletics was the best decision I made and all I needed was a coach that would help me get back to running my best. I approached a friend and asked if he would be interested in being a coach to which he replied it would depend and if it was for you then yes. The objective for me was to get back and complete a 100m race without pulling up sore. I wanted to feel getting up to top speed again and doing so without any injury concerns. He agreed with this and we have a positive working coach and athlete relationship. I believe sprinting is simple at the end of the day it is basic movements which are done extremely well in order to reach the quickest speed and attain the fastest time. I have found that a lot of people overcomplicate the process and this doesn't produce as good results. So when we started out, we looked at what we could improve and these were strength and flexibility. These two areas were heavily targeted because one of the reasons for my adductor getting tendonitis was due to the lack of range that I had and this was down to the fact that I never stretched and avoided it when possible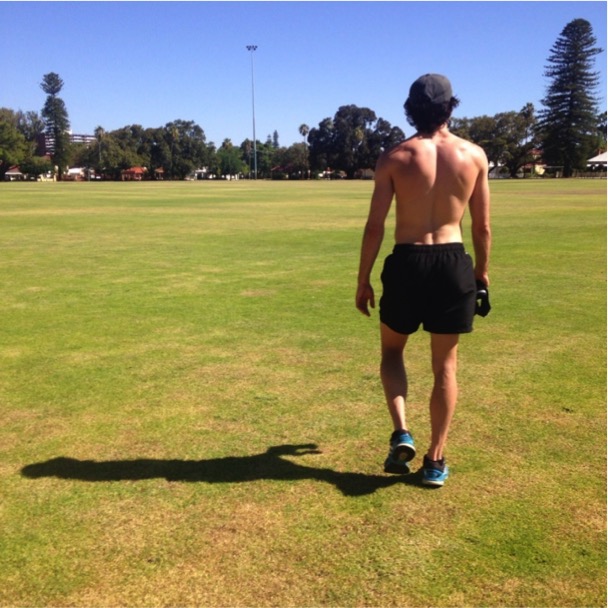 My preseason was really good I was consistent and efficient in all of my sessions I had a few bad days mostly during 300's you learn pretty quickly if you don't go off fast to set you up going into the curve that you will be beaten up even more. My season has gone "Okay" so far I ran 10.36 at the beginning of the year which was a surprise to me I knew I had trained well but coming back from injury my only goal was to run and finish. I won the double at WA States 100m & 200m I then flew across to Canberra for their State championships where I placed 2nd in the 100m Final. Competed in the Canberra Grand Prix 100m where I finished 6thin a strong field. 2017 Nationals saw me finish 3rd in the 100m Final and was the 2ndfastest Australian to cross the line. The race didn't go to plan and like most of the weekend, it saw me have to work harder in the final stages and rely on my top speed. My 200m Heat was dismal and I finished Nationals off with a 4×100 with the WA Team where we placed 3rd. Reflecting so far on my season is a lot of positives it took me 15 weeks to get back from injury and another 3 months on top to get back into shape. The results at nationals were a great reflection of the dedication and time that myself and those around me put into my season as well as leaving me with plenty of areas to improve in the off season so I am able to come back faster and get my phases sorted out in my race plan. Instagram: #SummerofAaron
Training
Monday – Massage / Rest
Tuesday – 8am Weights / 150's (Quarters)
Wednesday – 5pm Track (Short Sprints 60-80's) *
Thursday – 8am Weights / 10am Plyometrics / (Deep / Quarters) **
Friday – Rest
Saturday – 9am Track (Long Sprints 150's – 300's ) *
Sunday – 8am Gym (Deep / Quarters ) **Depending* on stage of season
** Outside Competition / In Competition
Gym consists mainly of the 3 key lifts – Cleans, Squats and Bench with a range of accessory exercises tailored towards strengthening key muscle groups that assist in sprinting.
Diet
Breakfast – 150g Steak + 150g Sweet Potato
Snack / Post Gym – 1 tub Yoghurt + 1 Protein Shake
Lunch – 150g Chicken + 150g Sweet Potato + Light Salad
Snack / Post Track – Protein Shake
Dinner – 220g Chicken + 100g Sweet Potato + Heavy Salad (Spinach, Broccoli, Tomato, Red Onion, Kale + Balsamic Vinegar + Nuts
4-5 Bananas Per Day plus potential options of Strawberries, Grapes, Watermelon