In the Runner's Tribe workout series we ask the world's best athletes to share and explain some of their key training sessions which were integral to their success. The latest awesome edition is from NZ's Matt Baxter.
Matt Baxter – Runner's Tribe – The Workout Series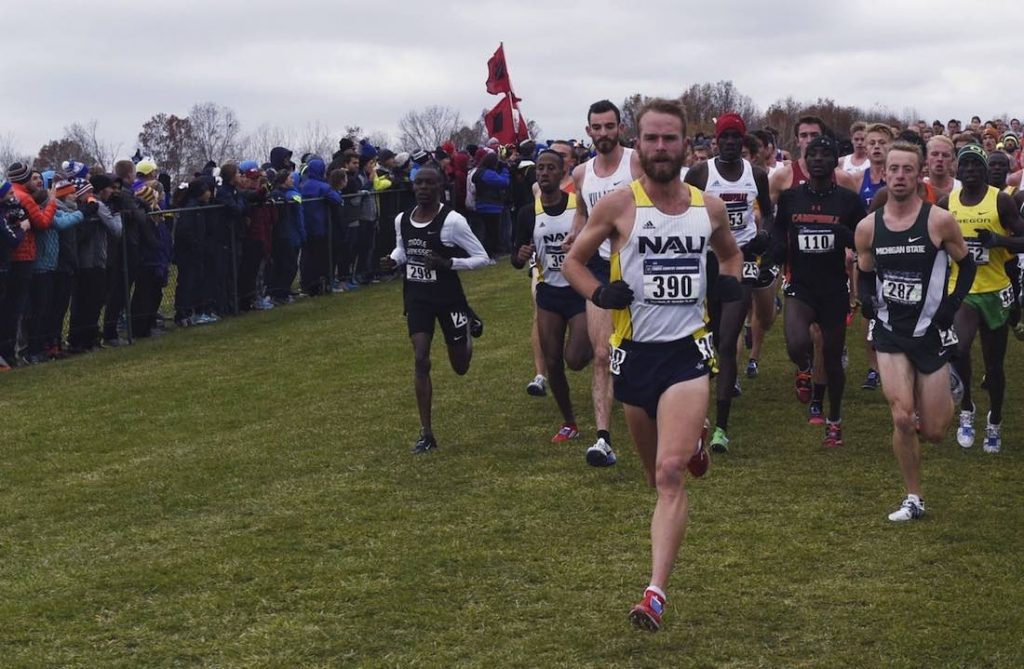 Matt Baxter's PB's
3000m 8:14.73 Melbourne (AUS) 12.12.2013
3000m ind. 8:17.60 Pocatello (USA) 25.02.2017
5000m 13:46.24 Palo Alto (USA) 21.04.2017
5000m ind. 14:08.28 College Station (USA) 10.03.2017
10,000m 28:48.02 Palo Alto (USA) 31.03.2017
Since I started training under my first coach at age 14 I never would have thought that by the time I was 22 I would be onto my fourth. I have heard horror stories about issues between coaches and athletes arising from differences in training philosophies, an inability to get along, or a lack of progress being blamed on the training. Thankfully in my case, none of these scenarios ever arose. Every one of my coaches have contributed to making me the athlete I am today.
To introduce myself, my name is Matthew Baxter and I currently run for Northern Arizona University. I am an All-American in cross country, indoor track, and outdoor track. I made the trip from my homeland of New Zealand to Flagstaff, Arizona in January 2016 and have not looked back since. My time as an athlete has been filled with its highs and lows. Not every training is enjoyable and not every workout goes to plan. Yet sometimes there is that one workout that my body seems to respond to in a way that is difficult to describe. This workout may occur frequently or infrequently in my training, but for some reason it sticks as one I know is working. Among my four coaches, I have four workouts just like that and it all began in my first year of high school.
She calls them Snakes and Ladders
My first official running coach was Karen Gillum-Green; a woman whose levels of excitement exceeded those of her young athletes. I could not have had a better introduction to the more serious side of the sport than through Karen. The big focus with my training during this time was to get better without losing interest in the sport. This is where I was introduced to a workout titled Snakes. The workout was a simple breakdown effort. Start with 800m steady then 800m at training pace; 700m steady then 700m at training pace; carry on down to 100m. The Ladders workout was 2x800m (5km pace) with equal recovery, 2x500m (5km pace), 2x200m (sprint), and finish with 2x50m (sprint). These cutesy names did not mean the workout was easy. I was young and often pushed the first part of the workout too hard. In doing so, I quickly learnt the importance of pacing myself and slowly getting faster as I was progressing through the workout. These efforts were usually done on a grass field so the distances were only ever as accurate as I could make them. This workout was tough and I remember one year it took no sympathy in falling on New Year's Day.
One of my struggles during this time was learning how to trick my mind into focusing on each individual effort and not thinking about what was to come. I came up with a saying that would do intervals around my brain as I did this workout. 'Don't think about the then, think about the now. You can think about the then once it's the new now'.
Karen coached me to an unbelievable final high school year where I won two New Zealand high school titles in the senior boys' cross country and the 3000m on the track (8:15.5 which was a new HS record).
It is all about those Time Trials
Making the decision to switch coaches after high school was not an easy task. I remember being in my dorm at university and having an emotional phone call with Karen who had been such a big part of my life for the past four years. With a mutual understanding of the situation, coach number two came along. In walks Kerry Rodger. I curse the man who decided to name their child so close to Kenny Rodgers. Kerry may not be much to look at, but he knows what is what when it comes to running. A past superstar himself, Kerry adopted the Arthur Lydiard method after being coached by Barry Magee who was one of Lydiard's Boys back in the sixties. During my build-up phase, there were a couple of staple workouts on Wednesday and Saturday during the week. These workouts came in the force of either 5km and 10km time trials or a 5km time trial with a 60min steady state (tempo). When doing 100 plus mile weeks, these time trials were pivotal in getting the body used to working when the legs were tired. Kerry would tell me that the goal of these time trails was to push a good pace but feel like I could do another 1km after I had finished. It took a few times to get the hang of the pace, but once I did these became second nature.
One fateful Wednesday afternoon at the local Takapuna grass track I laced up my shoes to throw my body around this 400m loop twelve and a half times. Unbeknown to myself at the time, I had a dodgy blood vessel up one of my nostrils. After cracking through the 3km mark, knowing I only had five laps to go should have been refreshing. Instead I was refreshed by a heavy flow of blood making its way from my nose, to my mouth, and beyond. Being the only one on the track and not allowing this to deter me, I soldiered on. I finished the effort with blood all over my face, in my mouth, and soaking into my singlet. I learnt in this moment that sometimes your most badass looking moments are the ones that only you can share with yourself. That can either be inspiring or depressing, it is up to you to choose.
Kerry coached me to win the 2013 Under20 New Zealand and Australian cross country titles. In 2015, I was in my second year as a senior man and picked up a 2nd place at the New Zealand cross country and 5th at the Australian cross country.
Leaving my happy place
It was a hard decision to move to the United States as it meant I was ending my time being coached by Kerry. Not only did I enjoy the training that I was given, Kerry was a great person to be around and really felt like more of a friend than a coach. For once there were external forces that were in play deciding on which coach I had next. I figured that I am a high mileage guy and I am not afraid to work hard, so how much more difficult can things get? I was about to find out.
They call it the Lumberjack
After arriving in Flagstaff, Arizona (7000ft elevation) I was introduced to Eric Heins. Coach Heins is a man of few words who can best be described as firm but fair. For some reason when I first met Coach Heins I expected to have a Without Limits moment. "Don't call me coach. The meanest son of a bitch I ever met in my life insisted on being called that". But to no avail. I guess the United States was different to how they portray it in movies, who knew?
The workout that NAU has become known for is the Lumberjack. This workout consists of 4x400m (68-66), 2mile tempo (5min pace), 4x400m (66-64), 2mile tempo (5min pace), 4x400m (under 64 with the goal of finishing sub 60). The recoveries were just long enough to change back and forth from flats to spikes between sets. During cross country season, we would do this work out on the grass making the times even harder to hit. There was something special about doing this workout, either it was the history that surrounded it or the fact it was always used at vital parts of our season. It was always hard and one that got my stomach knotting when I knew it was approaching on our program.
I was with the team under Coach Heins for one year before he moved to Houston with his wife after she landed a dream job out there. I had never pushed myself as hard in training as I did under Coach Heins. He trained me to an 11th place finish as an individual at the 2016 NCAA cross country and pushed our men's team to NAUs first ever NCAA team title.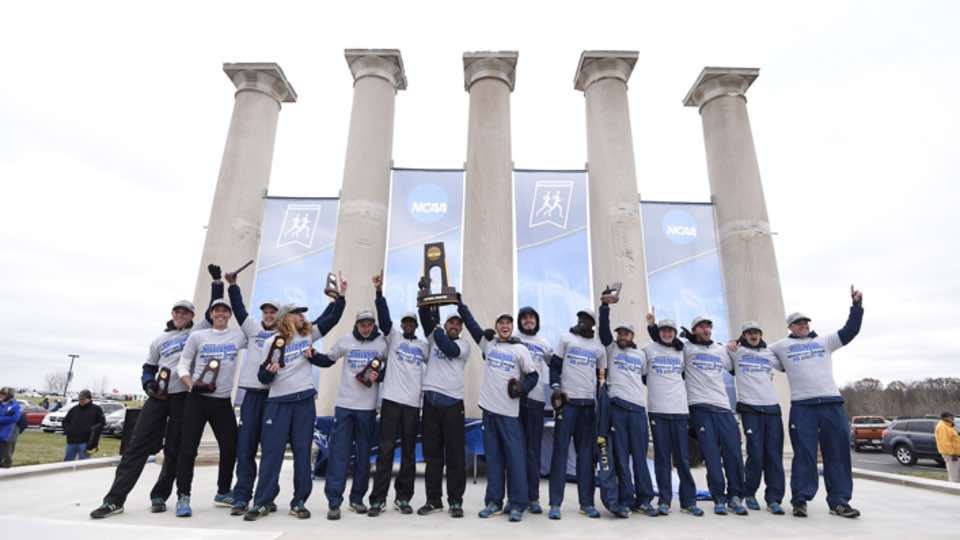 That pre-nationals' workout
To say I was concerned about who this next coach was going to be is an understatement. I did not choose this change and this is potentially my future in this sport at stake. Is this coach going to know what they are doing; will we share similar training philosophies; will we get along? One day the answer to all those questions turned up to practise and his name was Michael Smith. I knew almost immediately that things were going to be different.
Coach Smith brought with him an attention to detail that I never knew I was missing. This is a man whose voice is as deep as some of the conversations I have had with him. I knew he cared about me as an athlete and I trusted him as a coach. I had a feeling that good things were to come.
Prior to the 2017 NCAA Indoor Track and Field Championships where I was to race the 5000m, I was given a workout that I knew was going to test what my body could handle. The beast consisted of 4x400m (60, 61×3), 2miles with a gear shift faster than slower every 400m, and finally 4x400m (61,61,58,59). The recoveries were kept short at less than two minutes. I had never run this fast for this many reps on any workout before, so it was a huge boost of confidence for me. The legs were burning down the home stretch on those last two reps but I have never been so satisfied after a training as I was after this workout. Sometimes the work put in does not get the desired results due to external factors, as I found out here. I got to NCAAs in Texas and after 2km ditched my spike after the heel was stood on. Damn. At least the workout was a memorable one.
Coach Smith has so far trained me to run 13:44 for 5km (indoor), 28:48 for 10km, and get 7th in the 10km at the NCAA Outdoor Track and Field Championships.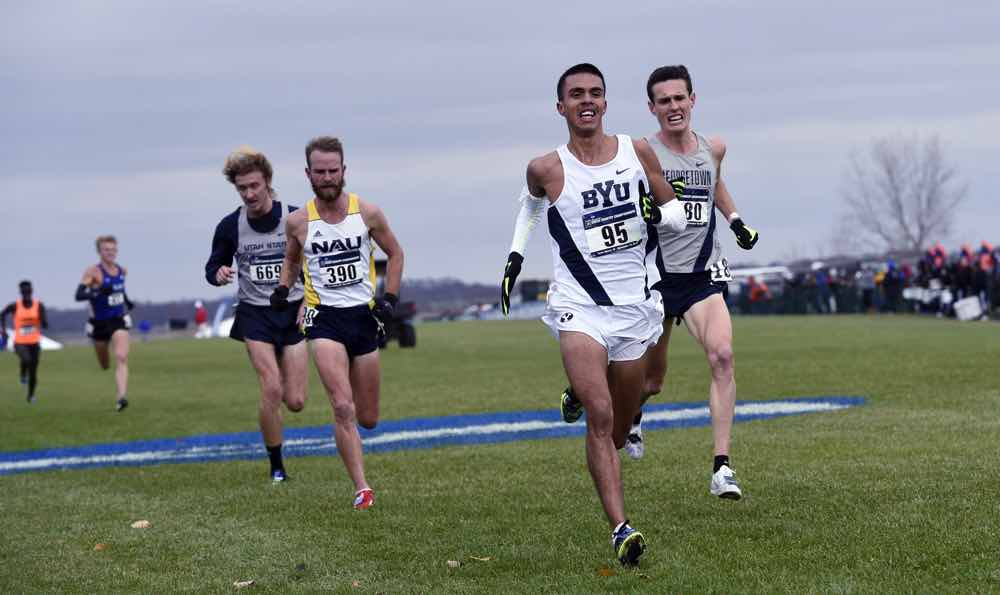 Putting it all in perspective
Every coach I have had has left their mark on me in one way or another. Whether it is my ability to work hard when no one is around learned under Karen, my ability to handle big miles trained into me under Kerry, my knowledge of how hard I can push my body learned under Coach Heins, or the attention to detail I have learned under Coach Smith. Things have gone in such a fluid order, each getting me prepared for the next step in my running career. I have come to learn that coaching is more than giving workouts and shouting at athletes by the track. It is patience through the tough times and an acknowledgement of the good ones. I thank all of these coaches equally and I look forward to this upcoming cross country season as I continue to work under Coach Smith.