From the Clouds:  The Career of Yuriy Borzakovskiy
Written by Sam Burke - © 2017 Runner's Tribe, all rights reserved
"Borzakovskiy is already out of this race
".  
Sebastian Coe commentating during the Sydney Olympic 800m semi-final when Borzakovskiy trailed the field significantly after one lap. Borzakovskiy went on to win the heat and comfortably progress to the final.
Yuriy Borzakovskiy, the introverted Russian 2004 Olympic 800m champion and tenth fastest 800m runner of all time will surely go down in history as being one of the most flamboyant and unpredictable 800m runners to ever grace the track. Well known for his slow starts and awesome finishing kicks, he was a true entertainer. Runner's Tribe took a look back over his career.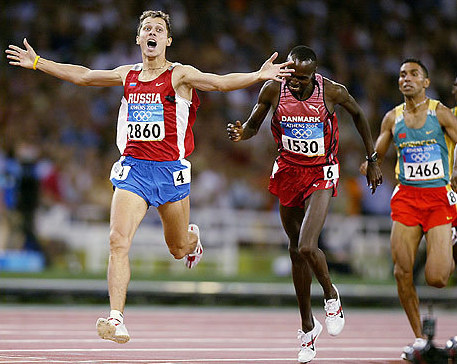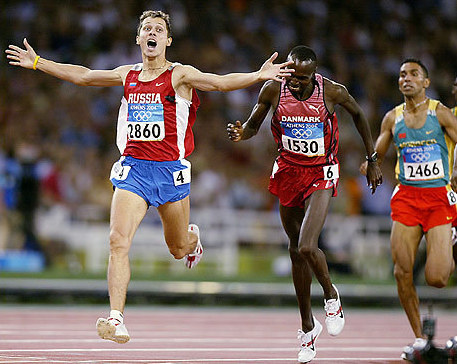 D.O.B: 12/04/1981
Personal Bests
Career Highlights
Olympic 800m champion 2004

2 x World Championships Silver medallist and 2 x Bronze medallist

World indoor 800m Champion 2001
Pre Athens 2004
At just 18 Borzakovskiy stormed into the world's running spotlight by winning the 1998 European indoor 800m championship, quite an achievement for a teenager.  Less than two years later, as a 19 year old, Borzakovskiy made the Sydney Olympic 800m final, one of the youngest finalists of all time, he finished sixth.  
2001 was the year the flying Russian took his first big title, winning the World Indoor 800m championship and finishing the year with the fastest time in the world (1:42.47) setting new Russian and European U23 records.
Brussels Diamond League 1:42.47 World Lead 2001
Borzakovskiy's next major result was a silver medal at the 2003 Paris World championships.  2003 saw him run three sub 1:44 races, the most notable of these being a 1:43.94 to win the Gaz de France.
Athens 2004
Borzakovskiy ensured that his named will be etched into the history books with a stunning come from the clouds victory at the 2004 Athens Olympics.  Borzakovskiy, although not giving the leaders as bigger start as usual, once again left it until the last 20m to snatch victory in 1.44.45 from South African Mbulaeni Mulaudzi (1.44.61) and world-record holder Wilson Kipketer (1.44.65).
Athens Olympic 800m Victory
In the wake of Athens
2005, 2006 and 2007 resulted in Borzakovskiy taking three minor medals; silver in the 2005 Helsinki World Championships, bronze at the 2006 World Indoor championships and bronze at the 2007 Osaka World Championships.  During these years Borzakovskiy also made sporadic appearances at various meets, one of his favorites being the Athens Tsiklitiria Super Grand Prix which he won in both 2006 (1:43.42) and 2007 (1:44.38).
2008 Beijing Olympics
2008 was a relatively quiet year with just the occasional appearance including a 1:45 in Stuttgart in February.  Borzakovskiy is reported as having spent several weeks at a training camp in Cyprus at up to 6,000 feet above sea level as well as an altitude training camp in the Caucasus Mountains leading up to the Russian Championships in July.  On his race agenda leading into Beijing included Stockholm on July 22 and Monte Carlo (Herculis Grand Prix) on July 29 where Borzakovskiy won in 1:42.79, making a clear statement that he was on track to defend his Olympic crown.  
Borzakovskiy then spent a few weeks training in Irkutsk in eastern Russia before heading to Beijing.  Borzakovskiy was unable to deliver in Beijing and was run out in the semi-finals, where he finished 3rd with a time of 1:46.53.
2008 Highlight – 1:42.79 to Win Herculis Monaco GP
Beijing to London
Borzakovskiy never again challenged his 1:42.47 personal best but continued to be a major player at a world level until 2012.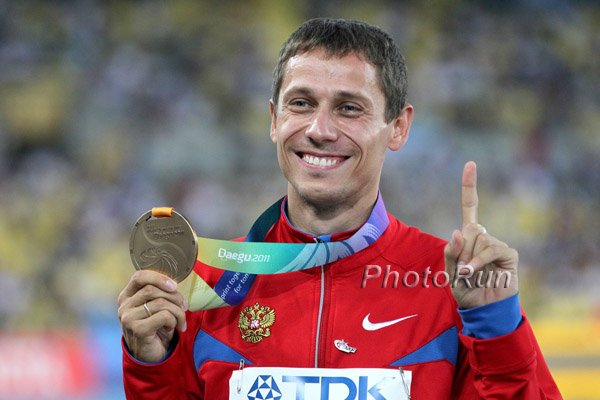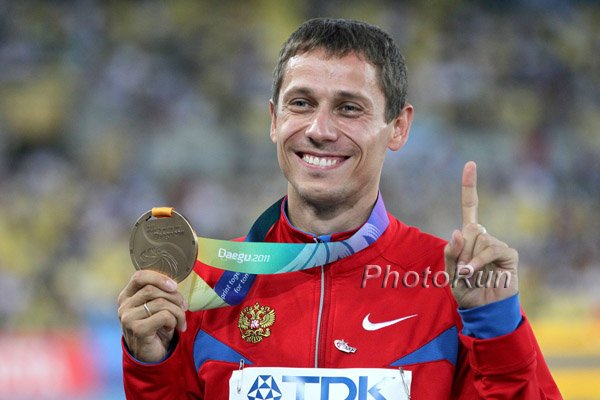 In 2009 he won the European Indoor Championships in 1:48.55. On 23 August he placed fourth at the Berlin World Championships in 1:45.57. Most of 2010 was lost due to injury.
In 2011, he achieved yet another podium finish with a bronze medal in the World Championships 800m.
In 2012, he won his final international championship race in Helsinki, outkicking the field over the final 100m to win his first European Championship 800m.
At the 2012 London Olympics, he failed to make the final, being eliminated in the semi-final round.
Borzakovskiy's tactical style was a rarity, enjoying the spectacle will be missed.
Yuriy Borzakovskiy 1:48.61 – 800m European Athletics Championships Helsinki 2012