Is it just me, or is the pace of indoor record breaking picking up.
Jakob Ingebrigtsen took almost half-a-second off the men's world indoor record in Lievin, France on Thursday night, reducing it to 3:30.60, a time which is still extremely handy outdoors. But we're not talking world records here, we're talking Australian records.
View this post on Instagram
One of those was also taken down this week, when Eleanor Patterson cleared 1.99 metres in Banska Bystrica, Slovakia to add two centimetres to the record previously held by Alison Inverarity since 1993.
Patterson's was a pretty neat triumph in several ways: it was her first-ever indoor meeting, she matched her outright best (she did 1.99 in Wellington, NZ, in 2020) and she beat both the Olympic gold (Mariya Lasitskene) and bronze medallists (Yaroslava Mahuchikh). A nice evening's work indeed.
By my count, Patterson's was the fourth Australian indoor record of 2022 and fifth since the start of last December) when Oliver Hoare set the ball rolling with a 13:09.96 in the 5000. Jessica Hull ran an 8:39.79 for 3000 on 15 January and two weeks later she and Hoare broke the mile records at the Millrose Games, Hoare defeating Olympic 1500 bronze medallist Josh Kerr in 3:50.83, Hull running 4:24.06 in the women's mile.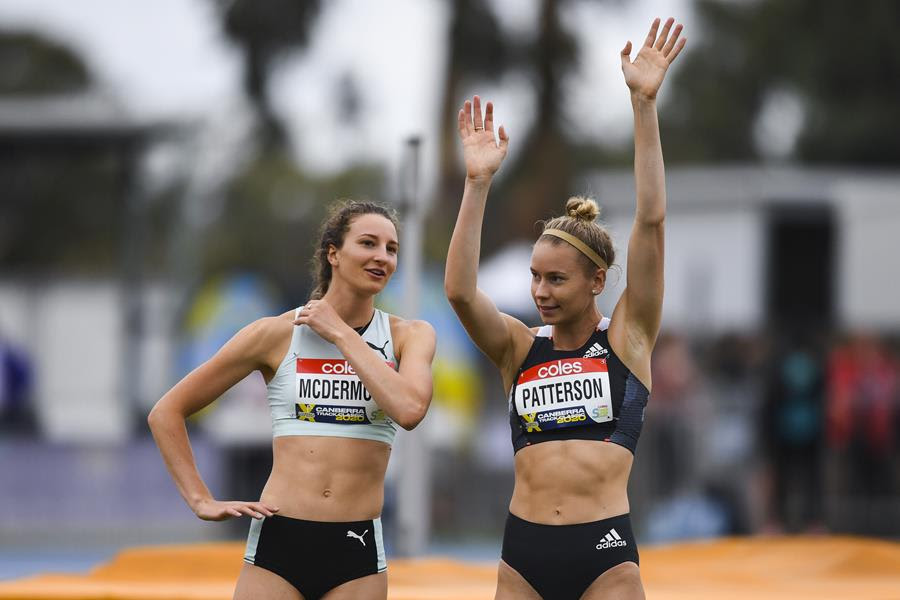 Now Patterson, who surely must have a great chance of joining our Olympic silver medallist, Nicola McDermott, as a 2-meter jumper in the very near future. The careers of this pair of 25-year-olds have been running in parallel since junior days with Patterson enjoying a 23-10 record in their head-to-head clashes.
But the competition between the two has really blossomed in the past two years. In the Covid-blighted 2020 season, Patterson won all three of their competitions in Australia – two on countback as both cleared 1.96 in Canberra and 1.94 in Sydney, and the national record meeting in New Zealand when McDermott again cleared 1.96 only to be beaten by Patterson's 1.99.
The delayed Olympic year was the first time in their long rivalry that McDermott had the upper hand, winning all six of their meetings, including the Olympics and the Diamond League final. We are indeed fortunate to have these two competing against each other and for Australia at the same time.
Having chased that rabbit to the bottom of the burrow, let's get back to the main point. A quick, and hopefully accurate, comparison of progress in Australian indoor records over the past 20 years, showed that 17 of the 28 events had seen progress in the best-by-an-Australian. There is a multitude of indoor events – the short sprint, for example, offers distances from 50 yards to 60 metres, depending on track configuration. Europe is pretty well standardised at 200m banked tracks, but there remains a proliferation of track sizes in the US.
Taking the standard sprint-sprint hurdles distance at 60 metres, my 14 events were 60, 200, 400, 800, 1500, 5000, 60 hurdles, high jump, pole vault, long and triple jumps and shot put. Because they are so frequently contested, I added the mile and the 3000 into the set.
Another quick conclusion is that the pace of record-breaking across the same (or equivalent) events outdoors has been about the same. That ignores, however that we currently have no indoor facilities in Australia (the pole vault set-up in Perth aside), and no indoor competition. Most of the national indoor record-breaking of the past 20 years has been done either in targeted overseas forays – coinciding often with the world indoor championships – or by Australians in the US college system.
Some of the records are rarely attempted at all. As we entered the 21st Century, the men's 5000 metres record was still held by the late Al Lawrence. The University of Houston-based Lawrence ran 14:39.3 in New Orleans on New Year's Day, 1961. We shall not speculate as to whether or not he might have run faster had he raced on 2 January. Even now, the 5000 is infrequently run indoors, though the record has moved through several iterations to Hoare's 13:09.96. Mexico City Olympic 800 gold medallist Ralph Doubell held the men's 800 record at 1:47.9. Charlie Hunter is the current holder at 1:45.59, run last year.
Similarly, Lisa Ondieki held the women's mile record at 4:46.0, run in Portland, Oregon in 1983. The record now resides with Jessica Hull at 4:24.06. Mike Hillardt's name has also been removed from the indoor record lists. Back then, Mike held the 1500 (3:39.77) and mile (3:56.6) records. The 1500 now stands to Hoare at 3:32.35, having been 'owned' by Ryan Gregson and Stewart McSweyn along the way. The mile standard passed through Mark Fountain and Charlie Hunter to now also reside with Hoare at 3:50.83. Benita Willis's 8:42.75 3000 record fell to Hull (8:39.79) earlier this year just a couple of months short of its 21st birthday!
Among the venerable marks still defying younger generations are Mark Shirvington's 6.52 for 60 metres set at the 1999 world indoors in Maebashi, Japan. The 'Shirv' also holds the next five fastest times on our all-time list. Seventh place? That would be the 6.62 run by famous uncle Paul (Narracott) in defeating Carl Lewis in Osaka in 1984. There's two for Rohan Browning to chase.
For the futures investors who might like to back one record to stand a while, what about the men's pole vault, which now belongs to Steve Hooker at 6.06. That's got staying power, I would reckon.
we still have significant European meetings and a world championships – in Belgrade – to come.