Jess Trengove – Genuinely Inspiring – Australian Marathon Stars
© 2018 Runner's Tribe, all rights reserved.
"The key is staying true to your own values and surrounding yourself with people who inspire you to be the best person you can be on all levels." – Jess Trengove

Profile
Coach:

Adam Didyk

Date of birth:

15

th

August 1987

Hometown during career

: Naracoorte / Adelaide

Personal best:

Current Marathon PB is 2:25.59

Career highlights:

Bronze medals at the 2014 and 2018 Commonwealth Games marathons.
Personal Bests
5000m: 15:54.81

10,000m: 32:17.67

Half marathon: 70:59

Marathon: 2:25.59
Trengove is leading a bunch of amazing female Australian marathoners. Together with Lisa Weightman, Sinead Diver, Milly Clark and Celia Sullohern, Australian women marathon running has never looked stronger.
Trengove sits equal 5th on the all-time Australian list, tied with the great Kerryn McCann.
The trajectory of Trengove's junior and track career seemed to be leading to outstanding performances at the marathon, an expectation Trengove fulfilled with a 2:31:02 debut in Nagoya a few months before the London 2012 Olympic Games. It remains the fastest-ever debut marathon by an Australian woman. Since that debut, Trengove has fought and won two bronze Commonwealth Games medals, and her career is far from over.
Trengove is also one of our most consistent performers.  In the words of Len Johnson
"She just never seems to run a bad marathon".
Jess Trengove's career to date has been detailed in the book "Australian Marathon Stars", below are some excerpts: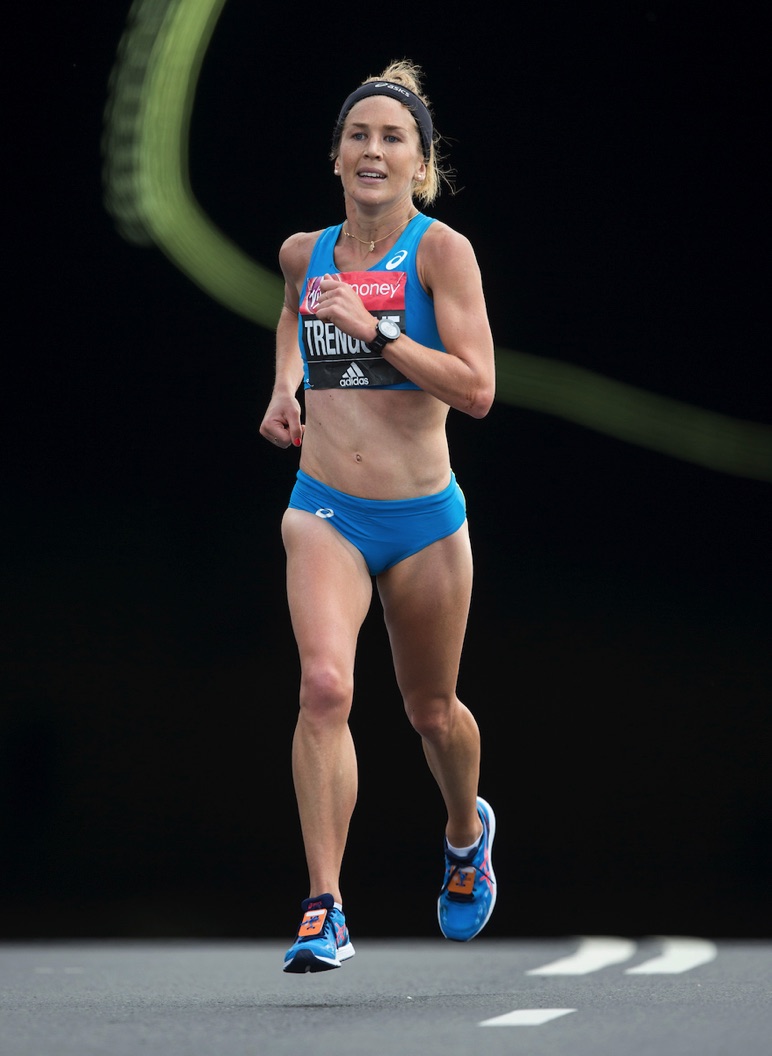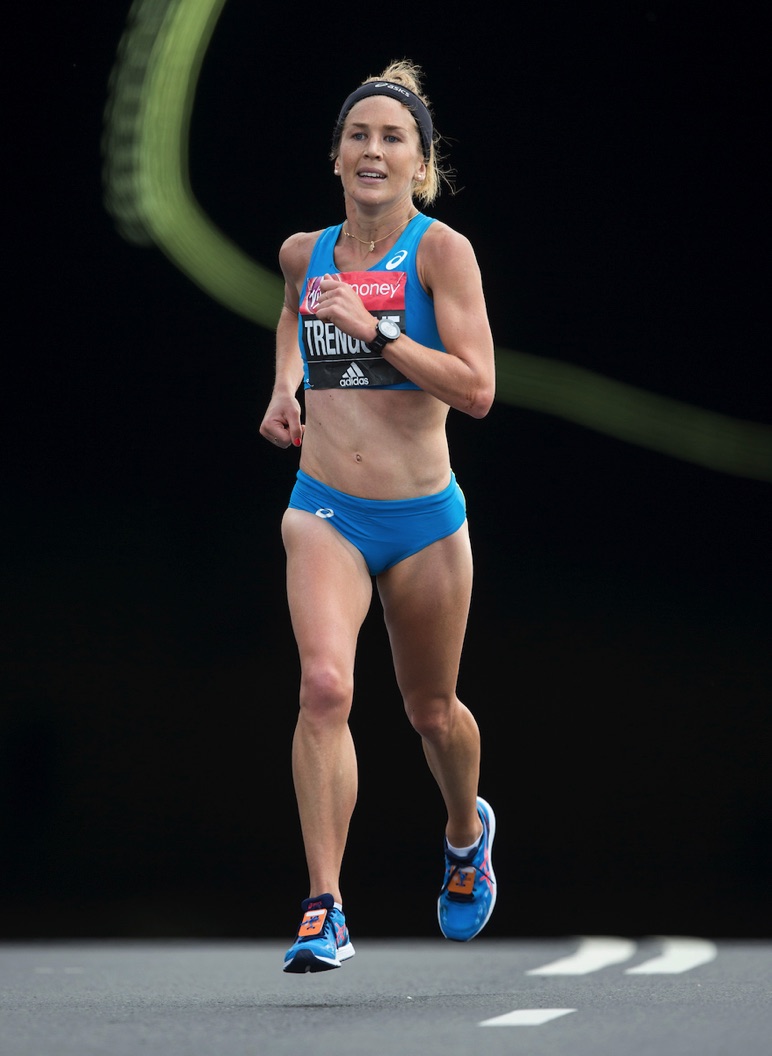 Working through injuries
"My frustration at being unable to train properly at this early stage in my running career showed me how much I valued running." – Jess Trengove
Trengove provides some valuable advice for those suffering from injury. In 2011 she suffered from a tendon injury that caused much grief. Below is Tengove's advice for working through any serious injury:
Identify the aggravating factors/triggers.

Know what type of discomfort is okay to push through in training versus what requires rest.

Keep up the communication with and between coach and the team of health professionals.

Firmly commit to a strength and conditioning program that is specific to your needs.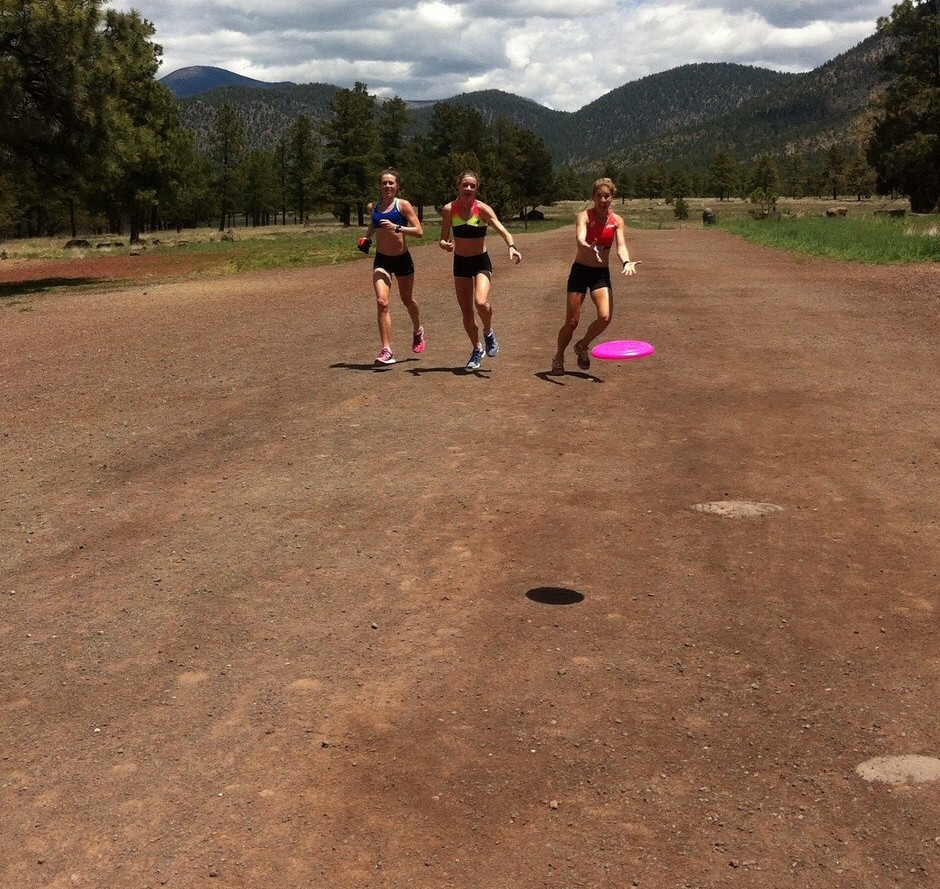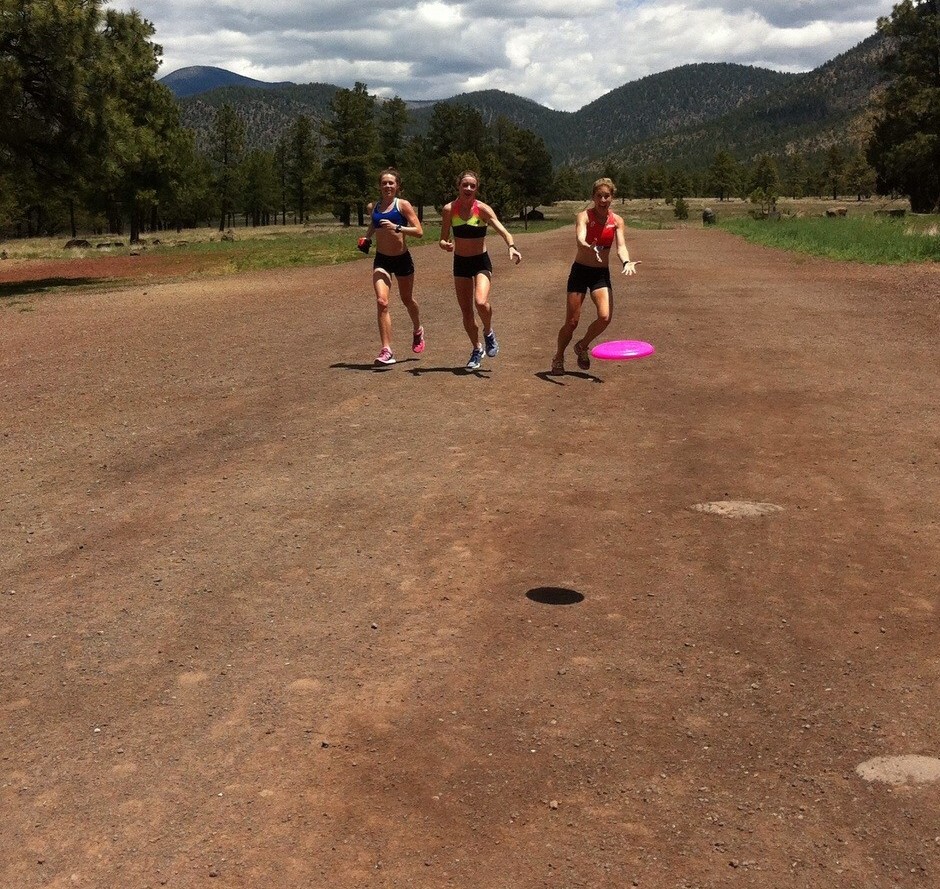 Favourite sessions
"A session that I can draw a lot of confidence from in the lead up to a marathon is 3x5km with a few minutes of recovery between each repetition." – Jess Trengove
Under the close tutelage of coach, Adam Didyk, Trengove is a very consistent trainer, ticking off ample amounts of tempo work.  An example of one week of training during a building phase is outlined below:
Monday:
AM: 50-60 minutes with a gradual pick up towards end if feeling okay.  GYM

PM: 30 mins easy
Tuesday:
AM: 30-40 minutes easy

PM: A session involving repetitions or intervals with short recoveries.  
Wednesday:
AM: 90+ minutes

PM: Pilates or Yoga
Thursday:
AM: 30-40 minutes easy

PM: A threshold effort run or fartlek
Friday: 30-60 minutes easy and GYM
Saturday:
AM: A session involving hills, threshold or longer repetitions

PM: 30-40 minutes easy
Sunday: 2h 30 with a pick up in the final 15-30 minutes.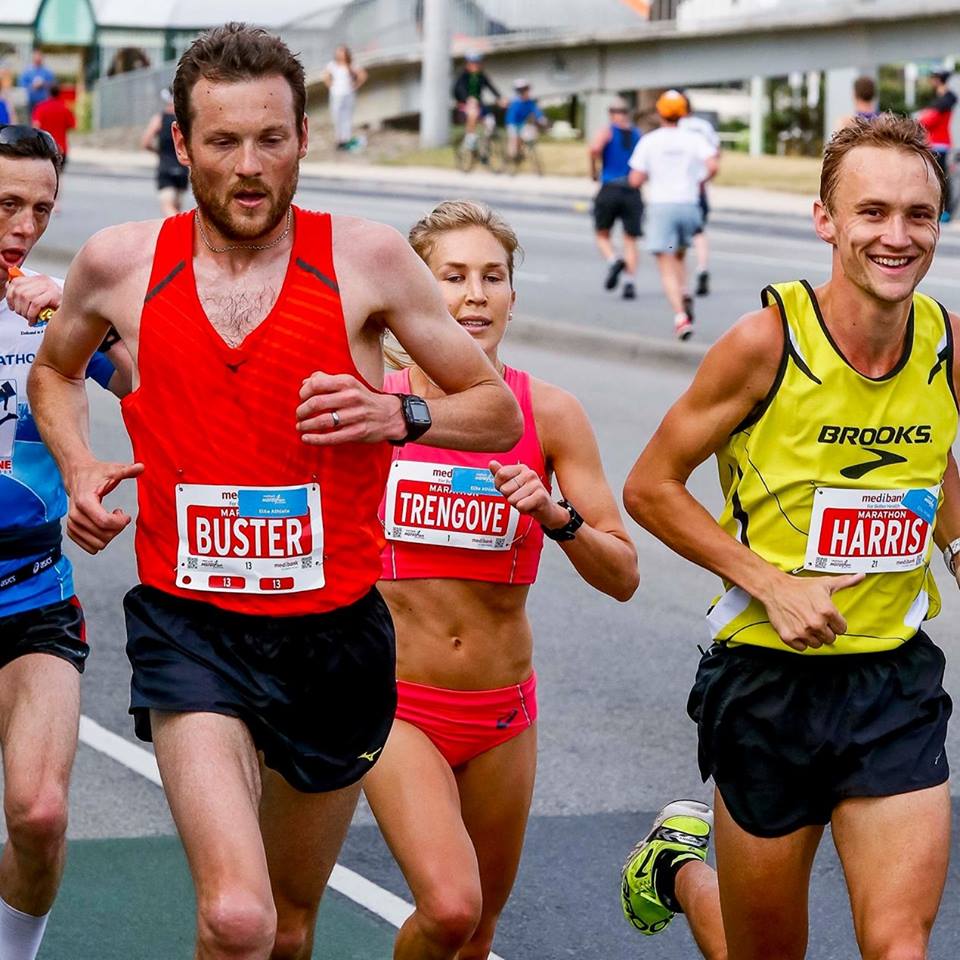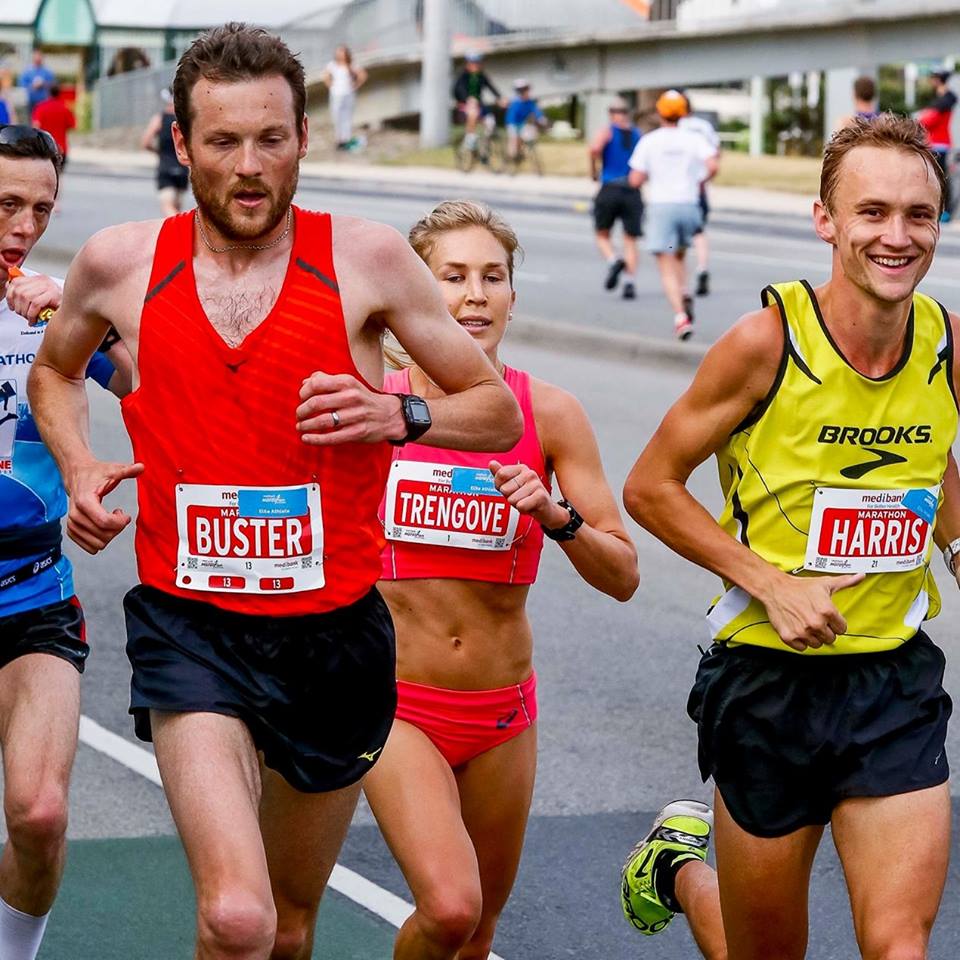 Recovery and diet
"On a day-to-day basis, I follow a balanced diet that predominantly includes a variety of vegetables, fruit, meats, grains, rice and fish. I try to minimise processed foods but adopt the principle of 'everything in moderation'." – Jess Trengove
Trengove is the total professional. From post-race recovery, to general as well as race diets; under instruction from coach Didyk, every box is ticked.
"During this 'carbohydrate-loading' phase I naturally decrease my intake of foods from the other groups. Throughout the race I consume an electrolyte-water blend and vanilla bean Gu gels, which also contain some caffeine." – Jess Trengove
For the full Jess Trengove story and much more check out Australian Marathon Stars (paperback book) available now at: https://www.runnerstribeshop.com/products/back-in-stock-limited-edition-australian-marathon-stars-paperback-book.html