Making a test become a testimony – RT Journal by James Hansen
As I completed my second run yesterday after over two months off, I remembered a lesson I learned from a young age as to what were the basic principles of writing a story. Firstly, there must be an introduction where the reader learns who the characters in the story are and what the basic context of the story is. Secondly, there must be drama or an event which creates excitement for the reader, and finally, there must be a conclusion where the characters either live happily ever after or suffer disaster.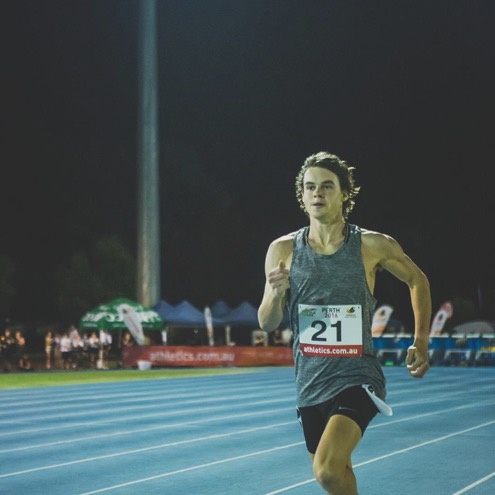 The 2016 Athletics season for me was one with many ups and downs. I went through the majority of the season running well and truly far from my best. It was the first year in three years that I wasn't accepted into any of the major meets and my season best was 3 minutes 50 seconds compared to the 3 minutes 41 seconds which was my personal best from the 2014 season. This came on top of a massive change in my own personal life which the majority of people who are close to me know about. I was always one of the wildest people at the athletics parties; the world beer mile record holder and featured in Facebook videos with thousands of likes of me falling out of shopping trollies whilst trying to order chicken nuggets at Macca's. I was known as the "Launnie loose cannon." Due to the lifestyle I was living I found myself in a desperate situation which lead to me walking myself to a church in Sydney. Something profound happened to me in that church service leading to me walking out with a newfound faith and personal relationship with Jesus. I can't honestly say that this change in my lifestyle and mindset has been an easy road and mixed with the failure in personal ambitions and passions it can be quite easy to get discouraged in the path you're choosing. Despite these circumstances, there was a fulfillment inside me that wasn't there before.
My final opportunity to race before the Olympic trials came with self-funding myself to run the Perth mile with money I didn't have. I went into the race with low confidence and really questioned whether I still had what it took to compete with the best athletes in Australia, let alone my ambitions of being one of the best.
I ran the race surprising myself, taking it up to 2014 commonwealth games gold medallist in the 1500m, Kenyan James Magut, running a new mile pb of 4.02.07, and only finishing 2 and a bit seconds off the win. He was far from the form he was in when he won the Commonwealth Games gold medal. However, through this improved performance hope came alive from within me. This made me believe that I could still take on the best athletes in Australia.
Two weeks later were the Australian Olympic trials and all of a sudden I had a completely different mindset believing that I was good enough to compete with these guys again. I ran the heat and it wasn't what exactly what I was expecting. I finished fifth just being pipped on the line in the first heat. This was one place out of auto qualifying meaning that if four people from the other three heats ran faster, I would miss out on the national final which I'd competed in the three consecutive years before.
One positive was that I ran a 3.45.6 which was 5 seconds faster than my previous best for the 2016 season, so I wasn't completely disappointed. I have been in many situations where I narrowly missed out on finals including the world Universiade games in 2015 and the feeling of relying on the results of other heats was sickening. I was praying a lot, just hanging onto the hope that I might get one more chance at running in the 2016 season. I remembered a week earlier where one of the girls from a small church group I went to prophesied over me that I had been asking questions and that God would answer them in the next month. I'd never met this girl before and I was shocked as to how she thought she knew that I was questioning whether I should still continue to run after the 2016 season. After the heat, I thought maybe that was it. Maybe that's my answer. Maybe this just isn't for me and I should focus on other ambitions which may actually contribute to people's lives in some way. In the end, it wasn't meant to be, I survived the three heats and qualified for the final in second last position. Rather than demotivate me this motivated me and I told myself I had nothing to lose. I went into the final with this mentality and had a confidence I hadn't had since I was at my best two years previously.
The final was filled up with some of Australia's best middle distance runners including national 1500m record holder Ryan Gregson, rising star Jordan Gusman, Olympic Games finalist Brett Robinson and many others. The gun went off and my current training partner Tom Fawthorpe immediately went to the lead with a swift pace, running the first lap in around 56 seconds. Anyone who follows athletics would understand that this is rare in a national final and must have been tactically slow as each runner just wants to finish the race in first position. However, this pace meant the entire field got moving and this gave us a chance of running a good time. Because of the belief I had, I put myself in the top half of the field and remained there for the majority of the race. With 400 metres to go, I found myself in around 10th position with the majority of the field moving up. I still had nothing to lose and with 300 to go, I found myself passing other athletes which were considered to be some of our countries best. My belief just grew and by 200 I started to believe a medal could be a possibility. My last 200 felt like no ever run before, however, I couldn't quite get there for the medal position finishing in 5th place.
I can honestly say that was one of the most amazing feelings that I'd ever had and I'd just competed at a high level with some of the nation's best distance runners. An opportunity I didn't know if I'd ever get again. I looked up at the scoreboard and saw the time I had run was 3.41.4. A new personal best and 9 seconds faster than my previous seasons best over the 1500m. My questions had been answered. I knew I had to keep going as there was still a purpose behind why I was in this sport and I had hope that I could still become one of Australia's best.
A memorable moment for me after the race was when national record holder and winner Ryan Gregson came up to me and told me that he was proud of me. Anyone who follows the Australian distance running scene would understand that there is an unspoken rivalry between many of the groups including my own and Ryan's group, however when Ryan said that to me I realised the pettiness of this rivalry as well as what I want to be if I'm a leader. That is a person who brings others up as they climb the ladder of success. I didn't know what my next year would bring and that I would be faced with my greatest challenge yet, but I now had purpose and hope.
After nationals I was starting to hit my stripes and hit some really good sessions, however, I started to feel a pain in my right hamstring which wasn't a pain that would stop me, but would get extremely aggravated after sitting down or doing a sprints session. I started to believe that maybe Rio was a possibility and decided I wanted to head to Europe with my training squad to at least have a crack. However, as I started to push more and more, my hamstring worsened to the point that I went and saw the sports doctor to get an MRI. The MRI revealed that I had a chronic hamstring tendonopathy and that I needed to rest. All of a sudden I went from wanting to leave the sport to being devastated by the idea of rest. I knew that Rio was over and that my hope of becoming an Olympian had actually become impossible. This started a serious rehab routine as I had committed to the sport, so now I was going to do everything I could to get better as soon as possible. I would spend countless hours in the gym doing hamstring rehab and anything I could do to ensure that I would come back stronger. I had around 6 weeks off and substituted swimming for my running sessions.
After my extensive period off I could slowly load the hamstring up. I was deliberate in doing the right things and slowly building up, however, hamstring loading is a slow process and by November I was still only up to around 80kms a week which was only around 70% of my training load when I'm at my fittest. I decided to have a race anyway and see what kind of form I was in running in a 3km. I surprised myself running my third fastest time ever, 8.16, in a 3km, but something was also different. I enjoyed it because there was no pressure just excitement to be out there with a healthy body and the ability to run. I was starting to get excited that I could actually make the 2017 season my best yet. I continued to build and during my first long run of 90 minutes since coming back from my hamstring tendonopathy, disaster hit at around the 80-minute mark. I felt this pain radiate down my back and right leg. I was almost brought to my knees with the severity of the pain and limped the 2km journey back to my car. I got home and I felt like an old man, however, I was thinking that I just had back spasms and within a few days I would be right to run again.
After a few days rest I started to feel a little bit better and decided to join my training partners for a jog before their session. I was thinking I might be okay and within the next week possibly start sessions. Yet, after 30 seconds of running and severe pain going down my right side I stopped and spoke to my coach who told me to go straight to the Sports Doctor. The Sports Doctor sent me in for an MRI however due to me not having the luxury of getting my medical expenses paid for I had to wait on the public system which took a few weeks to get the results. I went home to Tassie to spend time with the family expecting that I had severe sciatica or a pinched disc. However, a few days before Christmas I got a call from the doctor that I had a large stress fracture in my sacrum and that I would not be competing in the 2017 season. I didn't really know how to feel as my world usually would be over, but something had changed inside me. For some reason, I felt a hunger and desire inside which had me excited at the thought of overcoming this challenge. There was a tiny bit of disappointment as I had just committed to a race series in New Zealand in January but I was ready and I was going to come back stronger than before, no matter what it took. I needed to have complete rest and I got the opportunity to do things I hadn't done before such as properly rest and relax over Christmas, going on adventures, read and pursue other ambitions, such as music, that I'd completely blocked out because I didn't want to disrupt my focus from running.
I picked up a guitar and started to teach myself. Two weeks passed really quickly and before I knew it I was back in the routine of cross training. In the beginning, I just swam and through joining a squad in Tassie I started to improve rapidly. This progress started to give me a real buzz and happiness similar to when I was doing my training. 4 weeks passed and I could now get on the bike and start in the gym. I started to structure my training similar to what I would do when I was running so that I could bring that routine into my life, and after 6 weeks of training my program was as follows: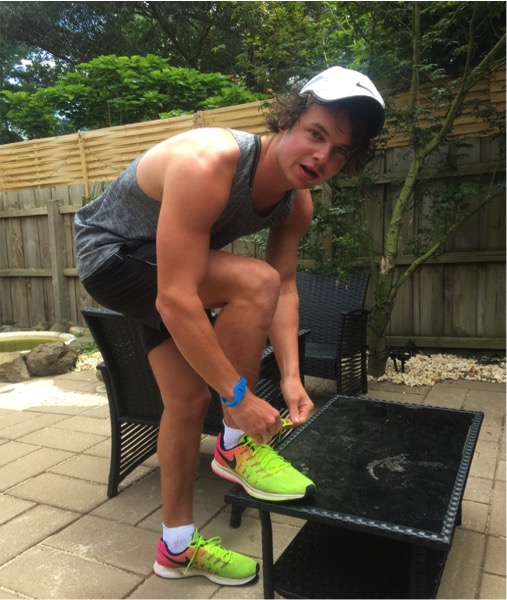 Monday: Swim 1.6km, gym, Bike 30 minutes easy
Tuesday: Bike 5x3mins, 1-minute float, Total 25km, 20 minutes' water run
Wednesday: Swim 1.6km, gym, Bike 30 minutes easy
Thursday: Bike 3,2,1 fartlek (26 mins), 25 minutes' water run
Friday: Swim 1.6km, gym, Bike 30 minutes easy
Saturday: Bike 10x1minutes on/off total 30km
Sunday: Off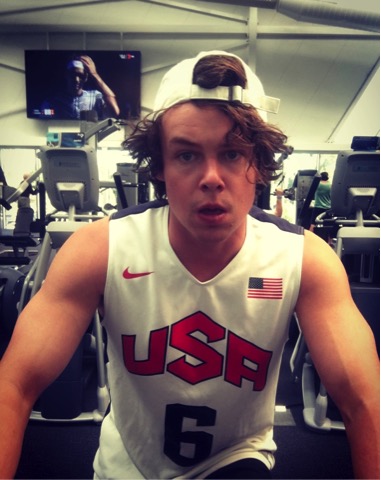 I found that bringing back this routine just brought more balance in my life and started to help me get back into the routine of a normal training week. Through this week I was told that I could run again as I had no pain on a hopping test. My first run back was good since I felt pain-free and it was a great feeling. My second run I started to feel that tightness again and I was a little bit worried that I'd tried to come back too quickly and possibly put myself back in the same position as when I first got the stress fracture. However, my coach Andrew Russell gave me confidence that I had just put my toes in the water and that this wouldn't affect my progress.
We decided to take another two weeks off and sure enough I tried again on the last Monday of January and ran pain-free for a massive 3 and a half minutes increasing to 5 minutes on the Wednesday. It might seem miniscule, and it is, compared to running around 25km on a long run when I'm in full training, however completing that first and second run has given me more fulfillment than any of the long runs I've done in the past. You ask whys that? It's because I've turned my test into my testimony and progress equals happiness.
I wanted to give you three principles that have helped me throughout this process and I hope will also benefit you in your own setbacks and tribulations which we are all likely to face. These are finding purpose, finding hope, remaining consistent and focused and finally understanding that progress equals happiness.
Finding purpose
The idea of purpose is the idea that what we do matters to people other than ourselves. The idea of purpose has puzzled people for thousands of years. One of the reasons I believe this is because when we look for purpose, we always ask self-centered questions such as, what do I want to be? What should I do with my life? I believe this focus on ourselves will not bring about the purpose of our life or fulfill us.
When I was younger my greatest dream was to stand on top of the podium with millions of people watching me. This dream was actually for swimming as I wanted to be like my idol "the black shark" Ian Thorpe. However, I soon found out that practicing laps in the bathtub wouldn't make it in the big bad world and my first freestyle race ended up becoming a lane rope race as I literally couldn't swim. Pretty ironic considering I'm a lifeguard now and the most important thing we do is protect the lane ropes from people like little me. Back to the point, I don't believe this is a bad dream to have but I think if that moment was to be just for me and I'm the only one that benefits, I really don't think that moment will fulfill me for the rest of my life. However, if by me standing on that podium I have young kids who are inspired and I hear about people whose lives were changed by that moment, that's the type of dream that fulfills me and becomes purpose.
My belief is that each human has been designed with purpose within us and this purpose is what keep us alive. Without this vision and purpose, we are actually walking dead without realising it. I recently read a book called Grit, which analysed the importance of passion and perseverance in successful people. Grit is understood as ferocious determination that causes people to become more resilient and hardworking and knowing in a very deep way what it is they want in life. These people with the grit quality not only had determination, they also had direction. It is grittier people who tend to become more successful and are at the top of their field. A study by the author of the book found that grittier people tended to have a greater sense of purpose in their approach to life. Meaning not that they all wanted to be saints but that they see what they do as important for others.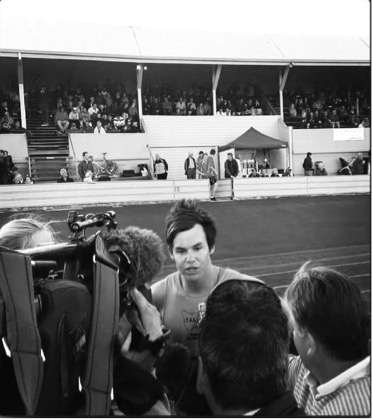 Earlier in my story at nationals, I mentioned about when I was waiting to find out whether I made the final, I was asking myself whether I should do something where I could help others. This was an excuse, I wanted a reason to get out of what I was doing. I can tell you one thing by me walking away at that moment I wouldn't have helped one person, however by continuing and trusting the road that you've been put on, you can find purpose in anything. I think the Parable of the Brick Layers sums purpose up well. Three bricklayers are asked, "what are you doing?" The first says, "I'm laying bricks" The second says, "I am building a church." And the third says "I'm building the house of God." The first bricklayer has a job. The second has a career. The third has a calling. This just displays that purpose is a mindset no matter what we do in life, we can make the decision whether we have a job, a career, or a calling. For me, my purpose does come from God, but you have to find what your purpose comes from whether that's helping sick people, bringing up others around you or even just setting yourself up so that you leave a legacy which affects the generations of your family. Find what makes what you do about others and it will help you find fulfillment in anything.
Finding Hope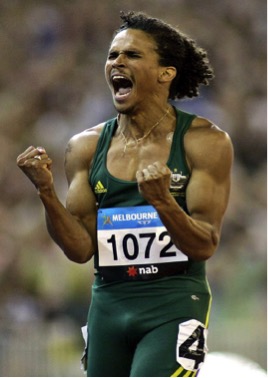 I love the Japanese proverb 'fall seven, rise eight'. Hope is described as the expectation that tomorrow will be better than today, that next year will be better than this year. I don't know about you but this is a mindset that I want for the rest of my life – always believing that tomorrow will be better than today and that the best is yet to come. This frame of mind has really helped me throughout my injuries over the past year. Each day I know that I'm one day closer to when I next run a PB. I've also held onto the hope of running for Australia on home soil in the Commonwealth games in 2018. I still have visions of being a 12-year-oldd standing and shouting with what seemed like 100,000 others, watching the great John Steffensen win gold in the 400m. That vision has replayed in my mind from a young age and its that hope of doing something with that sort of impact on somebody like myself which drives me and makes me push myself 10% more. No matter how impossible this dream is I understand that dreams cost nothing but not having a dream can cost us everything. Dream big. There are not many things we get for free in this world but usually they are the things that are the most fulfilling.
Remaining consistent and focused
I'm lucky enough to be in an environment where If you lapse in any of these two areas you will suffer dramatically. Distance running is an individual sport and if you don't do the work each and every day you'll be soon shown up on the track. I was listening to an audio the recently which spoke about consistency. In the Audio, the speaker was talking about consistency and used an analogy of a tree. He spoke about how if a person goes to the tree each day and hits it five times no matter what, if they continue to do it each and everyday they'll eventually knock the tree down. Hitting that tree each and everyday is more effective than hitting that tree 1500 times in one day. He also mentioned about mastering something as he was told when he was younger. If he spent 1 hour a day every day for 5 years on one topic he would become an expert on it. He applied this to his life and he spent 1 hour a day everyday on the topic of leadership for five years. Sure enough he became a world famous speaker in his field and later found out that he had wrote more articles on this topic than anyone else in the world. For me this consistency and focus was getting up everyday with my cross training and just doing what I could do to make myself better. It was no harder than what my normal training was but each day I came out and hit that. I now have confidence that I will come back better and stronger in 2018. Always remember we usually overestimate what we can do in one year but underestimate what we can do in 5 years. Start looking at the greater picture and knocking down that tree will seem easy.
Progress equals happiness
Throughout my injury I've realised that through the hours of training I'm doing I can use this time to listen to people so that I can not only grow physically but mentally. Recently I was listening a multi millionaire author and philanthropist, Tony Robbins. Tony earns around 30 million a year however one of his biggest goals is helping his readers find fulfilment in what they do and how that fulfilment can help them become more successful. Tony spoke about how progress equals happiness. How can you do this when your world falls like it's falling apart? That's simple. you have to find the small things and see where you're actually moving forward. For me that was finding the small gains in the pool, gym, bike and even through my newfound ambition of playing the guitar which I'm pretty damn good at just ask my house mates who I haven't seen in the past two months. We all know that change is automatic and its going to happen no matter what. Our bodies will get older; the world we live in will change. That's going to happen regardless, however we choose to make progress in whatever we do. I believe that life is a gift, different people are given different circumstances but what we do with our life is our gift back to the God. If you really want to make progress you need to look at your life in a way where you say I want to take control in this progress rather then just hoping it will work out.
Thanks for reading my journey and story over the past year, I'm in no way qualified to tell people how to become successful as I'm far from achieving anything notable myself. However, through applying these principles that I've learnt through successful people and throughout my own journey, I've been able to find fulfilment in this tough season and actually find joy in it. I really hope that by me opening up this story encourages someone to keep going and find joy and purpose in your test. Always remember two things – you never know how close you are to the diamond and use your test to create a testimony.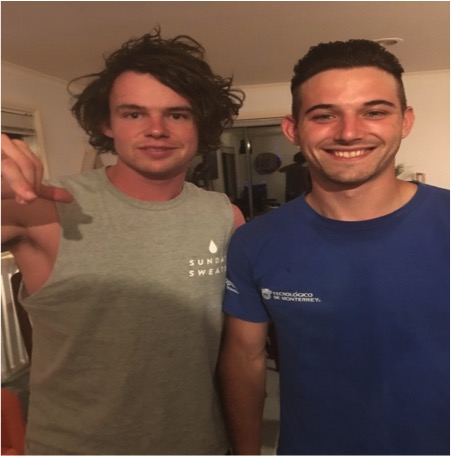 One final thing, If I'm able to raise three thousand dollars with my house mate Jordan Mackenzie and fellow runner Josh Harris for the world's greatest shave, the locks are going so please donate and let's help contribute together to help beat blood cancer. As a group we have also pledged that we will give 10% on top of every donation we receive.
https://secure.leukaemiafoundation.org.au/registrant/TeamFundraisingPage.aspx?teamID=100394&langPref=en-CA