Another day in Doha and it started off like the rest.
Quick bicep session in the gym in preparation for the media 800m, some freeze dried coffee and its off down Jawaan street for bus.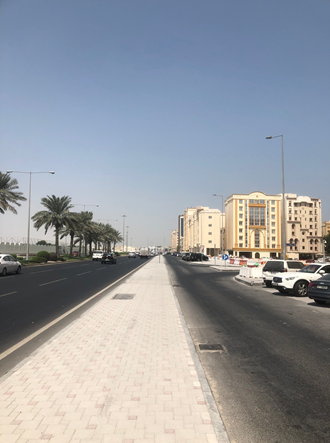 Fast forward to the athletics and it was another epic night on the Mondo.
The event presentation for the men's 100m was next level! Do yourself a favour and check it out. The laser light show was jaw-dropping and I look forward to the next final. I hope they roll it out for all the finals, but for those who've seen it, I'm wondering what happens when some has a really long name. What are their plans for announcing Shelly-Anna Fraser-Pryce? Christina Coleman barely fit down the front straight. Good luck to them!
Anyway…
Tajay Gayle exploded in the first round with a 16cm pb and led the comp from start to finish. With everyone fighting for the minor medals, Gayle threw together two successive fouls before dropping a beastly 8.69m in round four. He added 7cm to the Jamaican record from previously held by James Beckford, bumped Echevarria out of the all-time top 10 to sit in 10th place and grabbed Jamaica's first ever Long Jump gold medal.
All this from and athlete who, despite having an awesome season leading to Doha (improved his pb to 8.32m, was the last placed of athletes from qualifying, jumped 7.89m.
The women's 10,000 was the rowdiest event tonight on the program, with a huge contingent of East African fans loving the Kenyan/Ethiopian (& Dutch) break-away pack. Hassan was way too good on the night, chasing down Letesenbet Gidey for the gold. I guess the air-conditioning worked well as the race produced 11 personal bests of the athletes including seven of the top eight re-writing their best times.
The aussies killed as Ellie Pashley and Sinead Diver ground out superb new bests, knocking off almost 25s a piece to finished 13th and 14th and move into the 4th and 5th Australian all-time spots.
Those were the events of the night for mine, although we did see a world record in the mixed 4×400. Hard to see this event lasting too much longer with it sitting in the timetable before the individual 400s, teams are never going to run their A team, and apart from Japan who ran a female first, every team went male-female-female-male. Boring. The best bit about this event is the ebb and flow of lead, but that all goes out the window when everyone just does the same thing.
A quiet day for the aussies tonight but I'm going to venture out to the Corniche for the first time for my midnight debut to check out the Women's 20km walk.
With two aussies doing battled, Katie Hayward and Jemima Montag, I'd hate to get ahead of myself, but….medals?
Fingers crossed!