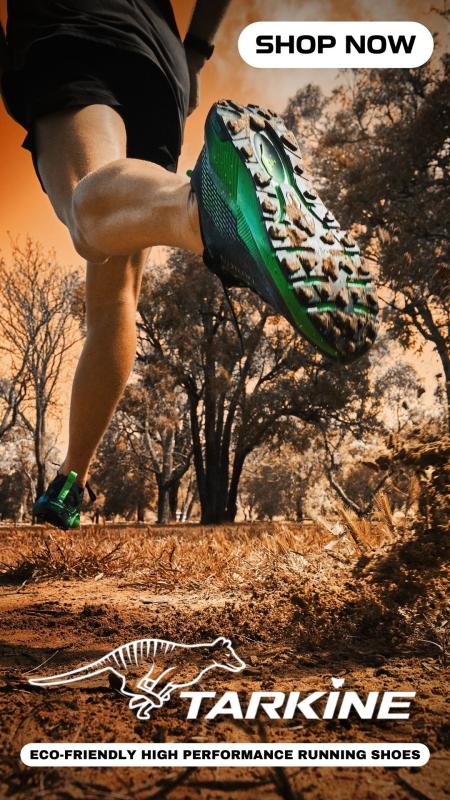 Written by Michael Beisty
Distance running can be a sorrowful sport. While some of us maintain a durability in competitive performance over many years, others aren't so fortunate. For the few who have extraordinary ability, there is only a small window of opportunity to scale the heights of athletic endeavour, to reach your potential. And if that talent is wasted, regret can overwhelm.
Stan Barwick's story is eventful to say the least. A young runner who dabbled in the 400 and 1500 and whose pet event was the 800 metres, his aspiration of achieving selection for the 1976 Montreal Olympics was dashed by a combination of poor support, bad luck and missed opportunity. 
Stan really only had one distance – the 800 metres. Though never comfortable with the 1500 metres, he concedes it should have been his best event as his 400 metres personal best was a moderate 48.6 run on Newcastle's old cinder track. While middle distance running proved to be Stan's absolute strength, similar to many Australian runners, he had a lifetime dance with different football codes. 
I was privileged to spend some time with Stan, in putting the pieces together, to better understand his career and what made him tick. 
Early Days
Born on 6th February 1949, Stan hailed from Tasmania, residing in West Moonah, a suburb of Hobart. Stan has some distance running pedigree. A distant relative, Ernest William 'Bill' Barwick, held the Australian mile record (4:16.8) in 1932. 'Bill' represented Australia in the Los Angeles Olympics of that year, knocked out in his heat of the 1500 metres, finishing seventh and affected by an achilles tendon injury. Though his real love was Australian Rules football, Stan excelled in schoolboy athletics, winning state titles at 400 and 800 metres as well as the Southern Tasmanian Cross Country Championship. At age 15 he joined the Northern Suburbs Athletics Club as a way to stay fit during summer for Australian Rules in winter. 
Stan was first coached by Neil 'Tiny' Davis. 'Tiny' was a tag derived from his early childhood, but by 15 years of age he was a strapping six feet. Only 15 years Stan's senior, Davis was an ex-pro middle distance runner and Australian Rules footballer. He was to become a wartime photographer and cameramen, well known for taking on dangerous assignments in South East Asia. Davis was killed in September 1985 while covering an attempted coup in Bangkok. It has been variously reported that 'Tiny' actually filmed his own death as his camera kept rolling after he had been shot and hit by shrapnel. Stan's formal association with 'Tiny' ended during 1965, when Davis based himself in Singapore. Stan recalls with fondness that he was mentioned in Tim Bowden's book about Davis titled One Crowded Hour: Neil Davis Combat Cameraman (1987). Davis was impressed when he received a letter from a young athlete he had been coaching "from the other side of the tracks" advising 'Tiny' he had been selected in the Tasmanian team and thanking him for his coaching and advice. The young athlete was Stan. While no longer coached by Davis, Stan had maintained a level of casual correspondence with him for a short period.
This was typical of Stan and his attitude towards others, gracious in his acceptance of assistance. Gregarious in nature and a bit of a larrikin, Stan encouraged those around him and was self-effacing about his own ability when compliments were thrown his way. When I asked Stan whether he had any particular role models who inspired him during his early years he replied that, apart from Herb Elliott, they were all footballers. He particularly admired the runners he mixed with who lacked the gift of the elite athlete, but loved the sport and gave their all. "Work hard and race hard" was his philosophy, simple as that.
After 'Tiny', Stan was coached by Peter Eustace, the founder of the Northern Suburbs Club. Peter had a squad of athletes competing in a variety of events. While he sought excellence in performance, Eustace encouraged a strong club culture with an emphasis on the social side of the sport. Amongst his charges was Tony Ellerton, also previously coached by 'Tiny' and a record-breaking junior distance runner. (1) During this period Stan made lasting friendships, built on the same ethos he later found at the Myers Park Club in Newcastle.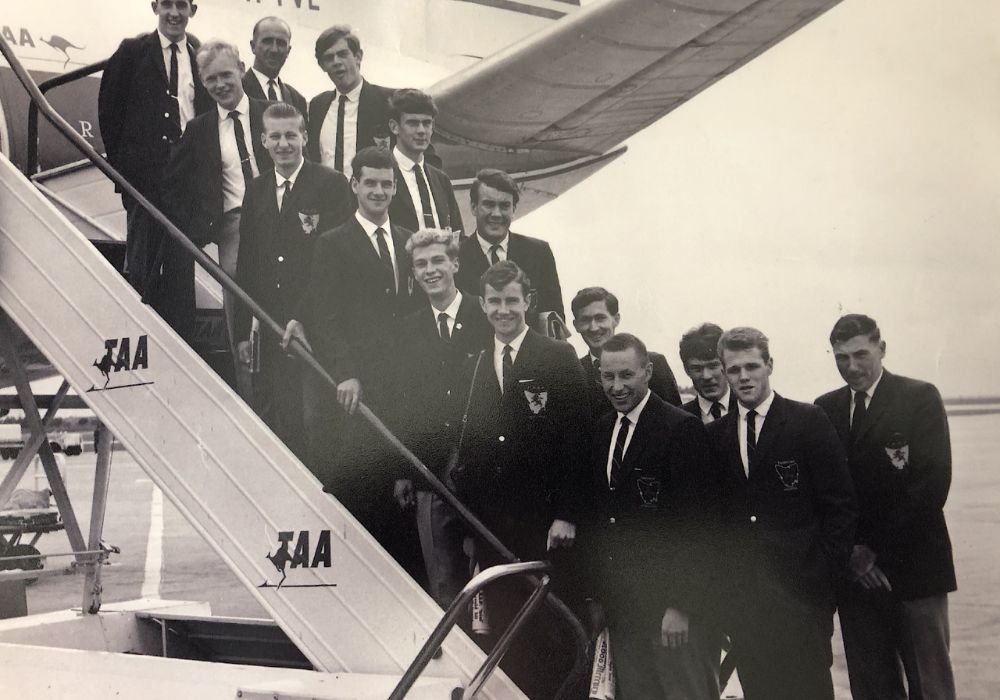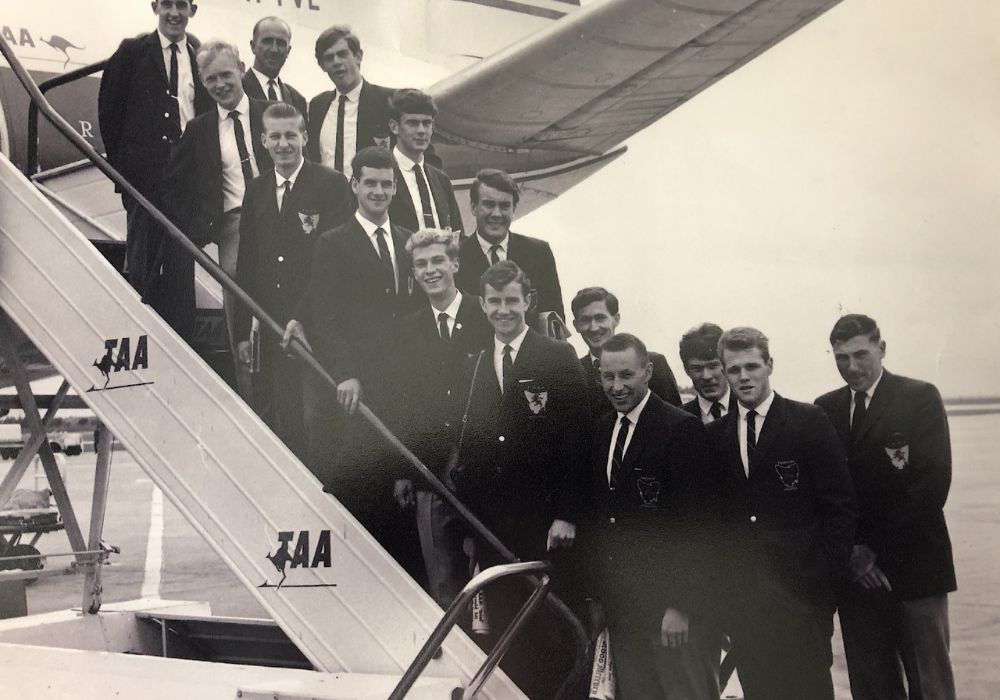 In 1966 Stan won the Tasmanian Sub-Junior (Under 17) 400 and 800 metres titles and ran third in the Junior (U19) 400 Championship behind Bob Annells (who won the 400/800 double) and Stephen Green. During the same season, Stan set a State Sub-Junior record of 50.4 for 400 metres. In March 1966, Stan was selected to run in the Junior 400 metres and co-opted into the Senior 4 x 400 metres relay at the Australian Championships in Perth. After running the relay, Stan injured his knee during some horse-play with Ellerton in the hotel room that night (the exuberance of youth) and was unable to take his place next day in the heats of the Junior 400 metres. This episode ended his junior running career. 
Royal Australian Air Force (RAAF)
On a whim and a "desire to see Australia", Stan enlisted in the RAAF as an Aircraft Plotter and in August 1966 was posted to RAAF Edinburgh, near Adelaide, for a three-month recruit training course. This was the start of an eight years tenure in the RAAF. During this posting Stan trained under Alastair 'Scotchy' Gordon who was coaching Graham Haskell. Graham went on win two consecutive National Senior 100 metres titles and represent Australia at the 1974 Commonwealth Games in Christchurch (including a gold in the 4×100 relay). Of note, 'Scotchy' placed fourth in the 100 yards and 220 yards at the 1950 British Empire Games in Auckland, New Zealand.
Following completion of recruit training, Stan was stationed at Darwin for two and a half years, splitting his efforts between Rugby League, and first grade Australian Rules with Nightcliffe during the "wet season." Running competition was restricted to the annual base athletics carnival where he easily won the 400 and 800 metres. After heckling Rugby League players training on a field near his accommodation, Stan was invited to "come and have a go" and ended up playing on the wing for RAAF in the local first-grade competition. In 1968 he was selected in a combined Northern Territory team to play a Papua New Guinea team in Port Moresby. In the game, he was opposite Mark Harris who was the current Heavyweight Boxing Champion of Papua New Guinea and later played first-grade for Eastern Suburbs and North Sydney in the NSW Rugby League Competition (Harris went on to represent NSW and Australia). Stan learnt a harsh lesson in toughness that day. While he enjoyed the social aspects of life in the Top End, his running career stagnated.
During 1969 Stan was posted to Sydney (Brookvale) and played Rugby League with Valleys United in the Manly Junior Competition. He also played Australian Rules with the Western Suburbs Club, but travelling to training and games took its toll so he limited himself to playing Rugby League on Saturday and as goalie for the local soccer team on Sunday. During this time Stan applied to the Army for admission to its Officer Cadet School (OCS) course at Portsea Victoria and the RAAF agreed to his release on a secondment basis. This was part of an extremely tough training program designed to prepare officers for service in Vietnam. He commenced this training July 1970, graduating as an Officer in July 1971. 
At Portsea Stan formed a lifelong friendship with Boris Stcherbina, who was doing his national service as a Physical Training Instructor. While "fraternisation" was frowned upon, this didn't curb the development of a close friendship that endures today. Boris won the Junior 200 metres at the Australian Championships in Perth in 1966 and Stan was well aware of him from related press reports. He was dubbed "The Ugly Duckling" because of his unique 'chicken wing' running style. Boris also won the Australian Junior 200 metre Championship in 1967 and became an accomplished senior sprinter in NSW over all distances from 100 to 400 metres, winning NSW Championships in the 200 and 400 (twice). 
Stan competed in Portsea athletic carnivals run by the OCS. Apart from the running, Stan played centre in the OCS First 15 Rugby Union team in the Melbourne competition and represented RAAF in the Victorian Inter-Service Rugby Union competition. His engagement with athletics was tenuous. However, through local athletic carnivals he met Trevor Vincent and Percy Cerutty. Occasionally he would travel to the Dandenongs from Trevor's home for a Sunday morning pack run. Percy invited Stan to "come and have a look at my set-up and memorabilia", but he never got there. The second time he met Percy he apologised and said he would visit soon, but leave wasn't easily approved. The third time they met, Percy turned his back and walked away. It was only later when he became dedicated to the sport that Stan realised the opportunity missed which he regrets to this day. Despite these interludes with such Australian distance running icons, another two years would pass before Stan returned to running with a vengeance.    
After graduating from Portsea, Stan was again attached to the Recruit Training Unit in Edinburgh, South Australia, as a Flight Commander in charge of training recruits. Thereafter he was moved to the Officer Training School (OTS) at RAAF Point Cook in Victoria to participate in a three-months basic induction course for new officers. 
Newcastle and New South Wales 
In 1972, having graduated from OTS, Stan was transferred to RAAF Williamtown, near Newcastle, NSW as a Ground Defence Officer. It was during this time that he married Sue (nee McCosker). Stan was playing first-grade Rugby Union with Mayfield East and Australian Rules with Newcastle City when he was hospitalised with a bleed from a duodenal ulcer. The stay in hospital enabled time for reflection and in 1973 Stan decided to give football away and return to running. 
Decision made, Stan recalls turning up at Newcastle Athletics Field cinders track (now known as the Fearnley Dawes Athletics Track) one day and asking for Greg Tyler, a club sprinter and local contact facilitated by Stcherbina. Through this contact he joined the Myers Park Club, the strongest club in the region. Over time Stan formed enduring lifetime friendships with club members and respected coaches Hans Tiller, Max Debnam, and Trevor Height. All three were major contributors to the club's success, with its emphasis on excellence in athletic performance, the development of athletes and social cohesion: their aim was, and is, to have fun and work hard.   
As a young kid training at Newcastle Athletic Field, I can remember when I first set eyes on Stan, sauntering around the track with Tyler. Even then he had an imposing presence. You could just tell he was a class athlete, muscular, bristling with power, compact. In full stride he literally floated over the ground. Locally, Stan was an unknown quantity and remained uncoached, not able to race until February 1974. He was raw in outlook, having no idea about training or even what shoes to buy. Though good results came early, Stans' comeback was slow progress, plagued with injuries due to overzealous training.  
Stans' arrival on the Sydney scene generated media interest in what was generally an apathetic state of affairs, racing regularly at Hensley Athletic Field, a track that was notoriously open to the elements. To minimise any complications with officialdom, and allow freedom of racing in Sydney interclub, he signed up to Northern Suburbs as a second club. 
Post injury, with some reasonable late season performances, Stan pushed his way into the NSW Team. Graeme Rootham, six times NSW 800 metres champion, had represented Australia at the Munich Olympics and Christchurch Commonwealth Games, but was unavailable for the Nationals. Stan finished fourth in the 1974 Australian 800 metres Championships in a solid 1:49.3 (after winning the fastest heat in 1:49.2), behind sandgroper Peter Watson (1:48), and Victorians Bill Hooker (father of Steve) and Graham Crouch, all well performed internationals. 
This race result announced Stan on the national scene, and in his own mind, was the start of his campaign for Olympic selection. If Stan could finish fourth with virtually no conditioning background, lack lustre Sydney competition, and having trained on a poor cinders track, why couldn't he race much better into the future? However, what actually happened was a complicated mix of circumstances that generated many highs and lows over the next two years. In the immediate future, the RAAF were planning to send him to Malaysia. Stan's request not to go was denied. So, he made the decision to resign his commission in March 1974. Now aged 25, this was a major life decision and his first concrete commitment to his athletic goals. 
Stan was immediately hired by The University of Newcastle as their first paid Activities Organiser, which had a sports and recreation focus. Though conditions weren't ideal, being housed in a demountable, this role provided flexibility in balancing employment, home life and athletics. Stan made full use of the university facilities – grass track, gym, and nearby Steelworks golf course (for running of course). Many a time during the 1970s Stan would hit out over the final kilometre of the golf course from a designated clump of gum trees along the fairway, "the bell tree", and back towards the university, training mate and longstanding friend, Alan Mumford, in tow. It became a ritual, with future training partners challenging him to the finish but never beating him. Mumford would later become a successful professional cyclist and still races at elite level in Veterans' events. It was at the conclusion of one of his regular lunch time golf course runs, in 1974, that Stan was carted off to hospital for an emergency appendectomy. In great pain, his appendix was on the verge of bursting.
It seems that despite the regular intrusion of injuries in his career, Stan could never sit still. Young and full of energy, during the winter of 1974 Stan was instrumental in gaining support for the very first Newcastle Fun Run, selling the concept to the owners (the Wansey Family) and Board members of the Newcastle Morning Herald, who became major sponsors for many years. Stan was charged with organising the running of this 10 kilometres event, a mammoth task requiring considerable logistical planning. To this end he elicited the help of athletes from Myers Park Athletics Club, at times operating from his living room. The Newcastle Morning Herald promotions manager, Lionel Hurst, was also of great assistance. Stan recalls hours of arduous negotiation with the local police, who had to be convinced of the merits of road closures for a fun run. Held on 13th October 1974 on a hot and breezy day, the fun run was a success. While viewed as a novelty by the local community, it attracted a good class of club runners. There were 1400 entrants, the inaugural winner being Sydney stalwart Keith Mayhew of Randwick Botany Club.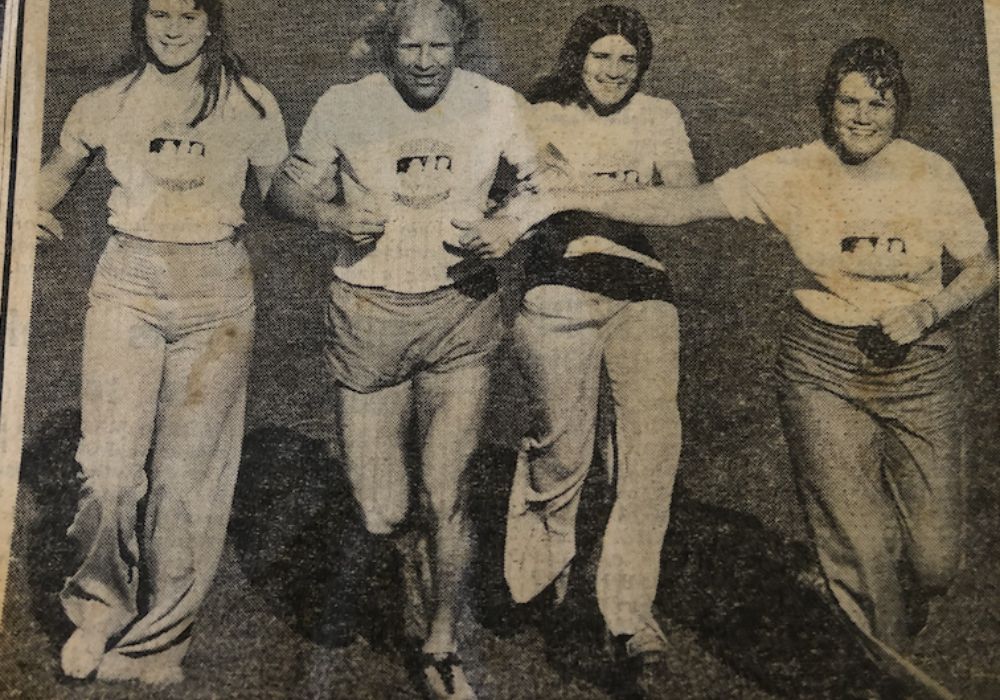 During this period Stans' training was all over the shop. It would range from sessions like 20×400 to superfast reps with short breaks, sand hill running and distance training on the beach. He tended to focus on high intensity, and in his interval training he "would always knock the shit out of myself in that last one." Stan had a great sense of pace and was able to run his reps to within 1/10 of a second of his target times, like a metronome. He also did significant aerobic training, once reaching 100 miles per week. He only started weight training in the off-season of 1974. Ultimately, there was no real organisation of his training efforts. In hindsight, he was not getting enough rest, trying to cram heavy training loads into a short period to make up for those eight years lost to the RAAF. The result was a repetitive cycle of [overtraining – solid racing performances – injury – coming back]. He was his own worst enemy. 
Australian Track Season 1974-75 
Stan prepared well in the winter of 1974 for a much anticipated 1974-75 summer track season, competing regularly in Newcastle's cross country and road races. This was his first full winter season ever. There was nobody in Newcastle that was anywhere near Stan's level and he knew he needed to be challenged in his training.  
Appreciating his own lack of training know-how, Stan approached Jack Pross and Ken Steward to coach him. Pross was a Cerutty devotee and Steward a respected technical coach. Both had squads in Sydney and both declined. Stan couldn't attend their sessions and they appeared reluctant to coach remotely (it was a three hour drive from Newcastle to Sydney). However, during the summer season Stan was sometimes able to train with Pross's squad on Sundays, after racing in Sydney interclub on the Saturday. The squad included Rootham and Gary Knoke, a three-time Olympic 400 metre hurdler (1964 to 1972) with handy 800 metre ability. 
4.1 Walker
Stan spent the first two weeks of January 1975 on a club organised racing trip to New Zealand, that included a race against the great John Walker. While just another race for Walker, this episode has become part of Newcastle distance running folklore. The meet was held at Christchurch's QEII stadium, a low-key affair, preliminary to the inaugural New Zealand Games later in the month. Stan recalls observing Walker relaxed in the company of his coach Arch Jelley, and to mark the occasion he took a photo of coach and protege in the stands together before the race. 
I asked Stan if he was overawed by Walker. In a manner of self-assurance natural to Stan he stated that he appreciated Walker's reputation but "I had a job to do and you can only do your best. I had nothing to lose because I wasn't expected to win." Stan describes the race thus: "I led all the way. Walker was on my shoulder. He attacked at regular intervals, with 300 and 200 to go, then again coming into the straight, and he came again with 50 to go and got past me in the last 20 going away." I could sense Stan's pride in this performance and the excitement of reliving that moment as an absolute career highlight. Stan was a random entry, a relative nobody. Walker was obviously surprised and had expected an easy race but had to work hard to run Stan down, 1:49.9 to 1:50.3. In a close finish Bruce Hunter, New Zealand All Black winger 1970-71, finished third behind Stan. Hunter had just missed Munich Olympic selection, but was to win the New Zealand 800 metre Championship in 1975, having previously won in 1970 and 1971.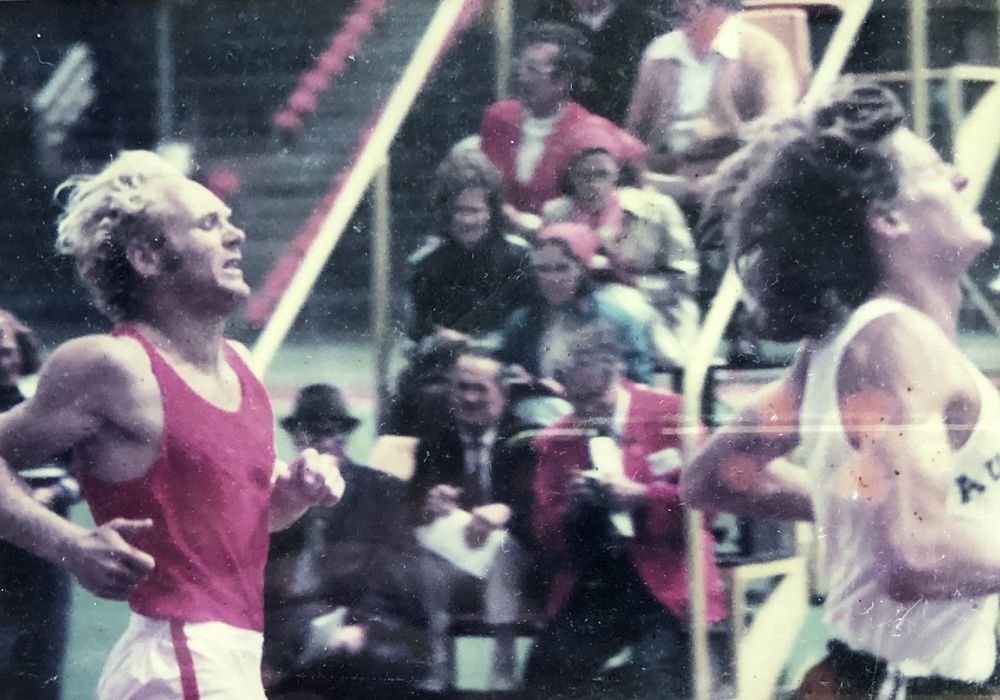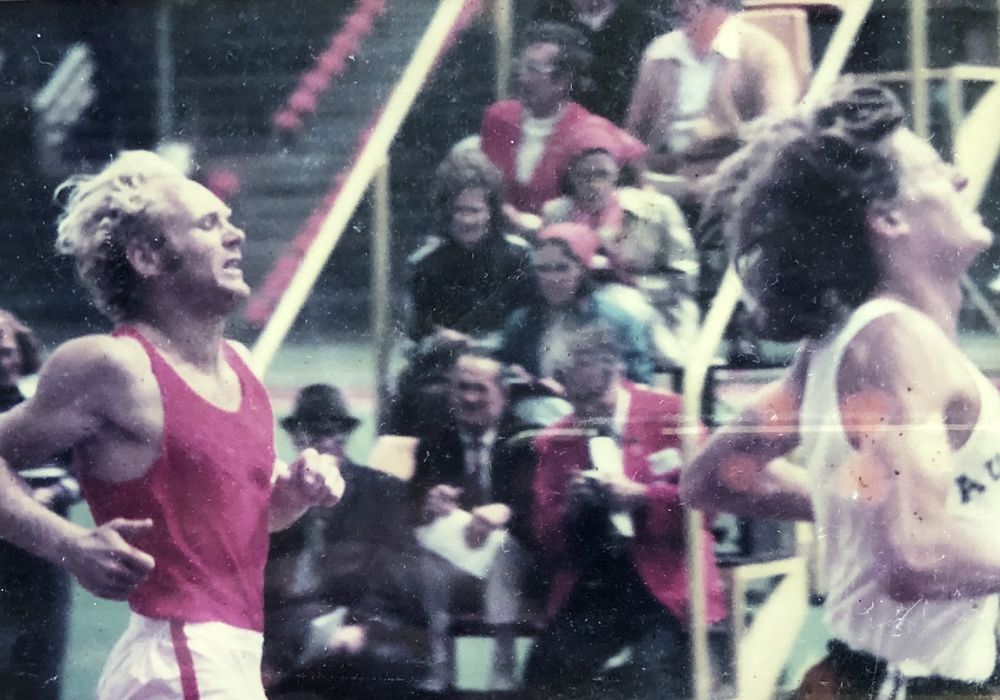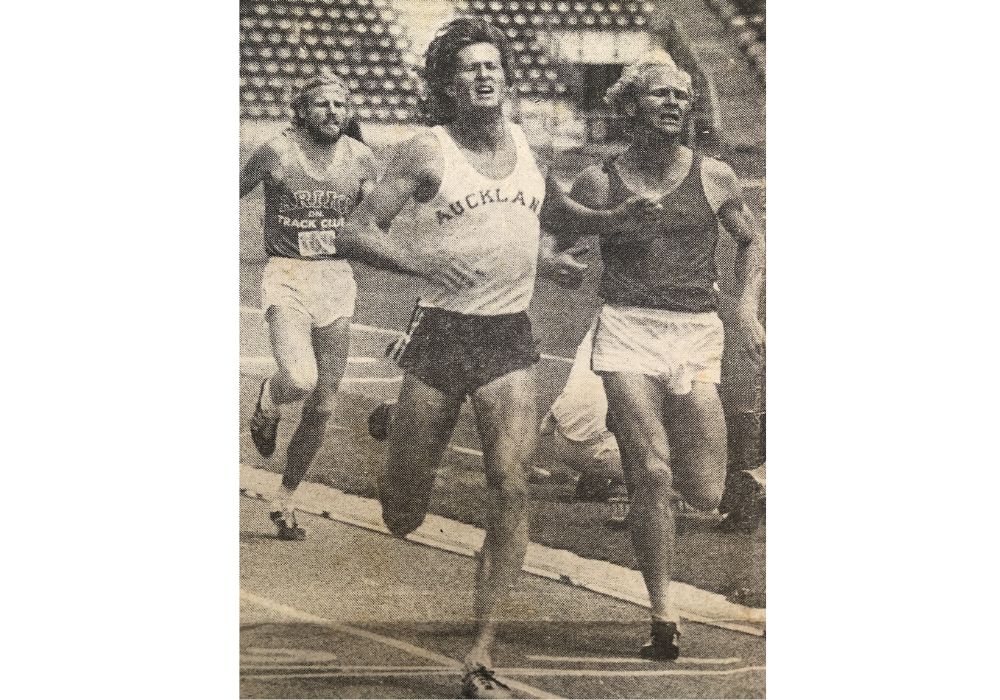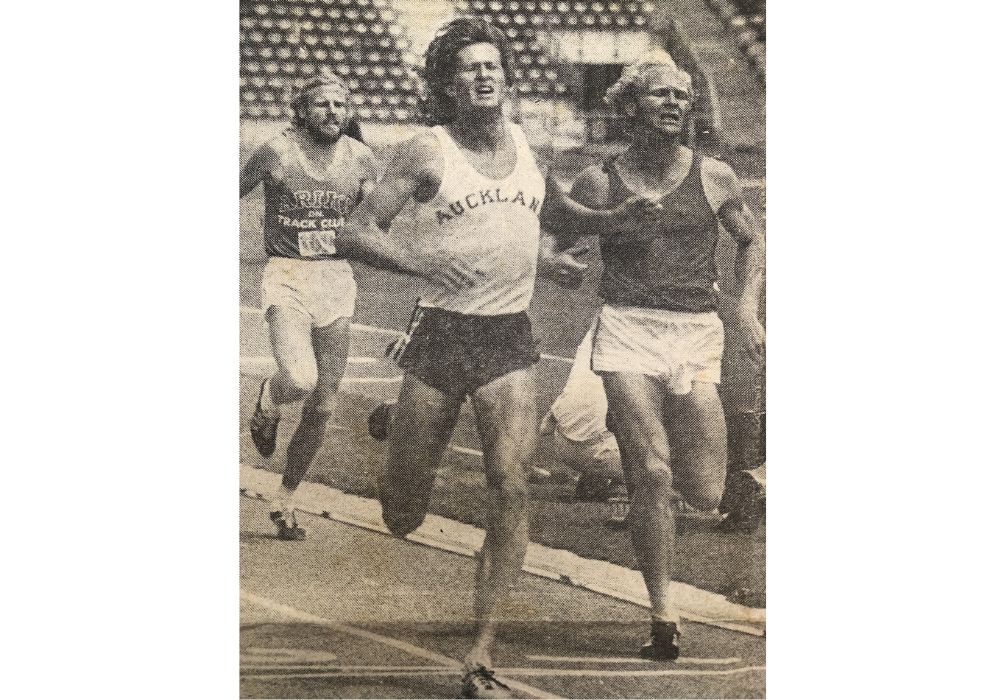 The race was broadcast live by New Zealand radio. As a result of his performance and the attendant publicity Stan was invited to extend his stay in The Land of the Long White Cloud to race in the New Zealand Games. He regrets that he declined the invitation, because he had been away for two weeks, had a young family at home and had to get back to work. As Stan said "you just can't pass up those sorts of opportunities in your career. They don't come around that often." A week later Walker ran 1:45.9 behind Bayi at the Games, and won the 1500 ahead of Crouch. 
4.2 Season Dashed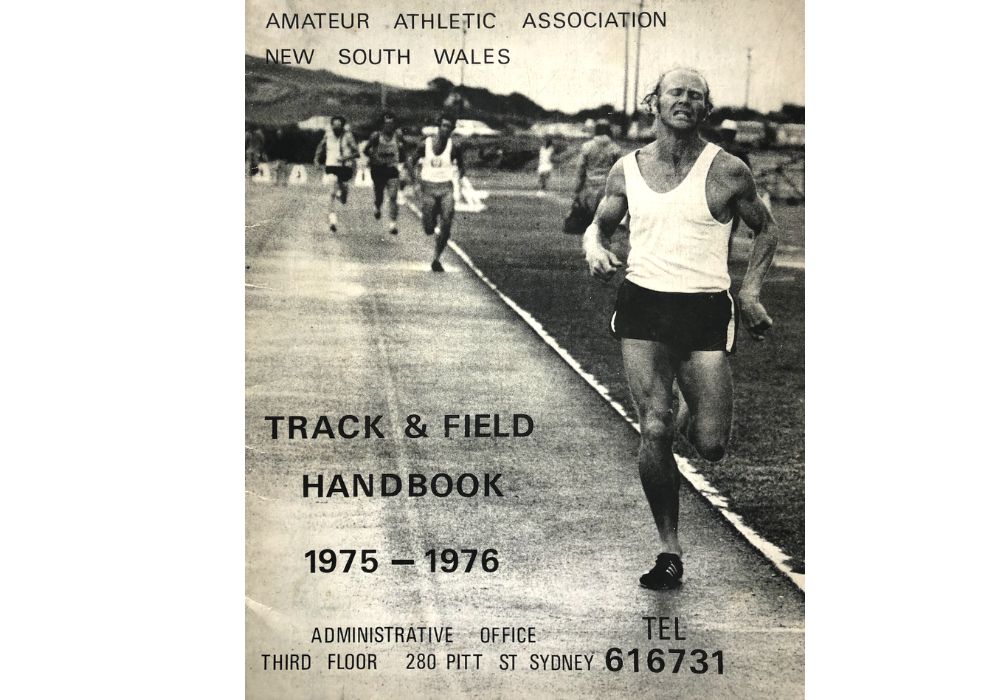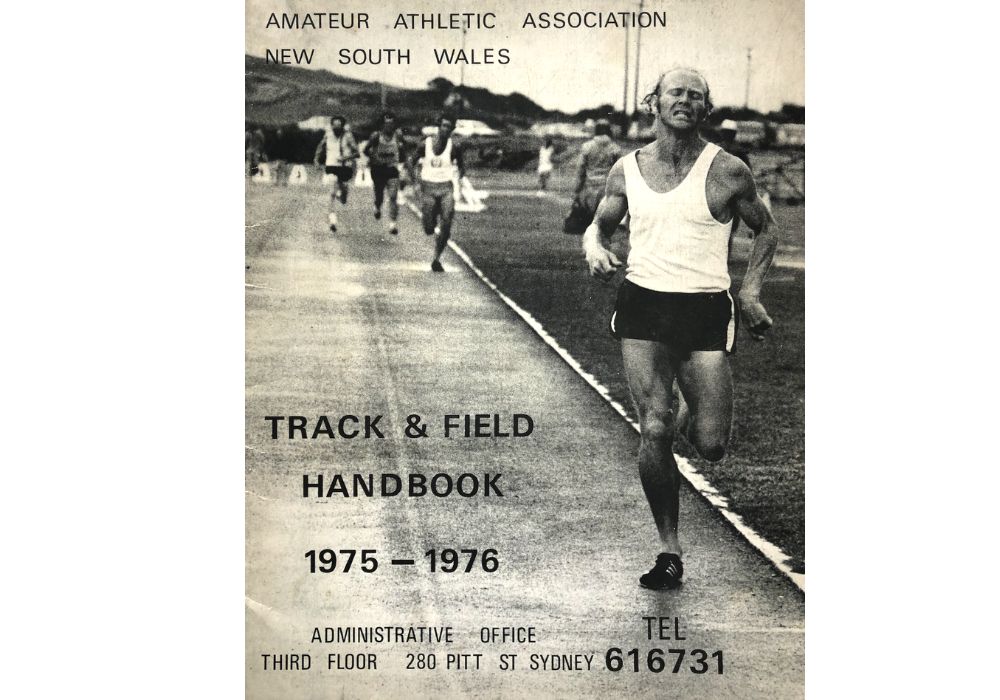 After the Walker experience, and knowing how much work he had done in 1974, Stan set a goal of 1:46.5 for the season. Upon his return to Australia, Stan thudded back to earth winning the NSW Country Championship in a virtual time trial of 1:51 and the NSW Championship in 1:49.6. 
Plans were going well for a tilt at the Australian Championships in Adelaide and possible selection for the World University Championships in Rome until disaster struck. Stan suffered a serious stress fracture to the tibia of his left leg, which meant he missed the Nationals and any chance of overseas representation at Rome. He also suffered a conjoint tendon injury that required a trip to Adelaide for surgery, and had a bursa surgically removed from his left calf. As a portent of things to come Victorian Col McCurry won the Australian Championship in 1:48.4, and John Higham was run out in his heat. 
Source: Newcastle Sun, 1975

Olympic Track Season 1975-76 
After a long haul back to fitness during the winter of 1975, the 1975-76 season was a period of frenetic racing for Stan. The National Championships and Olympic Selection Trials were to be held at Melbourne's Olympic Park March 18-21. The Olympic qualifying standard was 1:47.4 and proving difficult for Australian middle distance runners to attain. From a NSW perspective Stan's best performing years fell during 1974 to 1976, between the eras of Rootham and Chum Darvall. While Stan had shown promise many felt he had not achieved his full potential. But he was convinced this was to be his season.
From an Australian perspective, after Ralph Doubell's Olympic win in 1968, and some positive signs from the likes of Peter Watson (1:46.3 in 1974 pre-Commonwealth Games meet, and twice Australian 1500 metre champion), Graeme Rootham (1:46.5 winning 1972 Nationals) and Bill Hooker (1:45.4 in 1973 British AAA Champs, 1:46.4 and 1:46.8 in heat and final of 1974 Commonwealth Games) the national 800 scene had fallen short of the high expectations of many athletics followers. Chris Fisher (South Australia) had turned professional after Munich. Peter Fuller (Victoria), who always seemed to fall foul of the vagaries of national selection processes, was vying for the 1500 this time around. The best 800 metre performances in the Australian domestic track seasons since Munich were Rootham 1:48.5 (1972/73), Fuller 1:47.5 (1973/74), and Higham 1:47.6 (1974/75). The Australian ranking lists were thin in quality compared to international competition, largely sitting in the range of 1:48-1:50. 
5.1 Melbourne Cricket Ground 
Early in the 1975-76 summer season, Stan had seven wins from eight starts in Sydney, only being beaten by young NSW up-and-comer, Gary Eaton, before reversing the loss. He also won the interstate match between NSW, Queensland and Victoria, beating John Hassett (Victoria) in 1:49.3.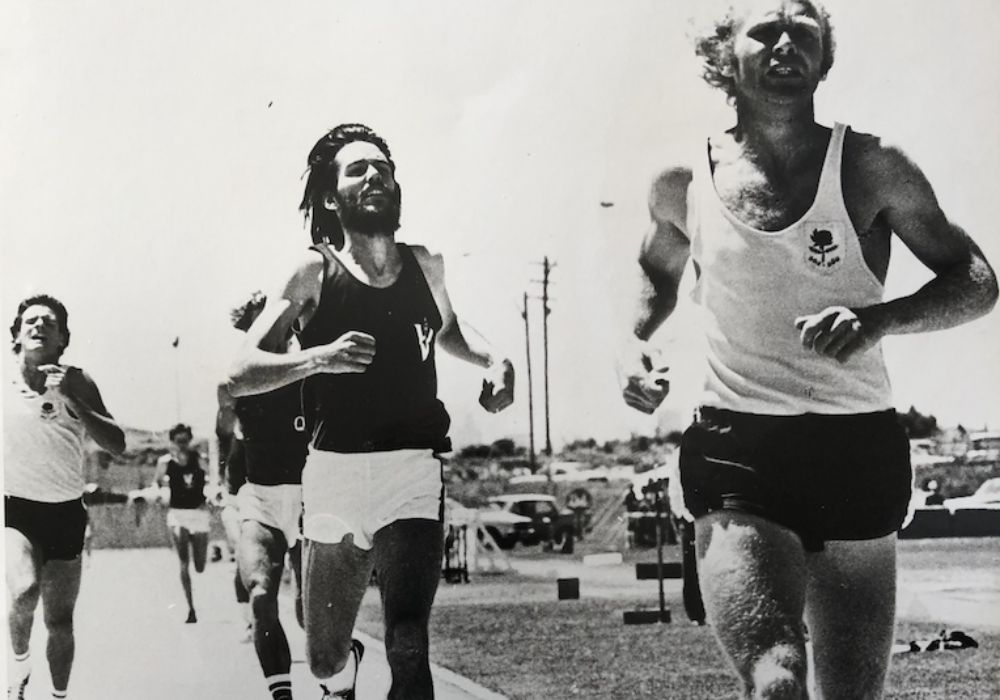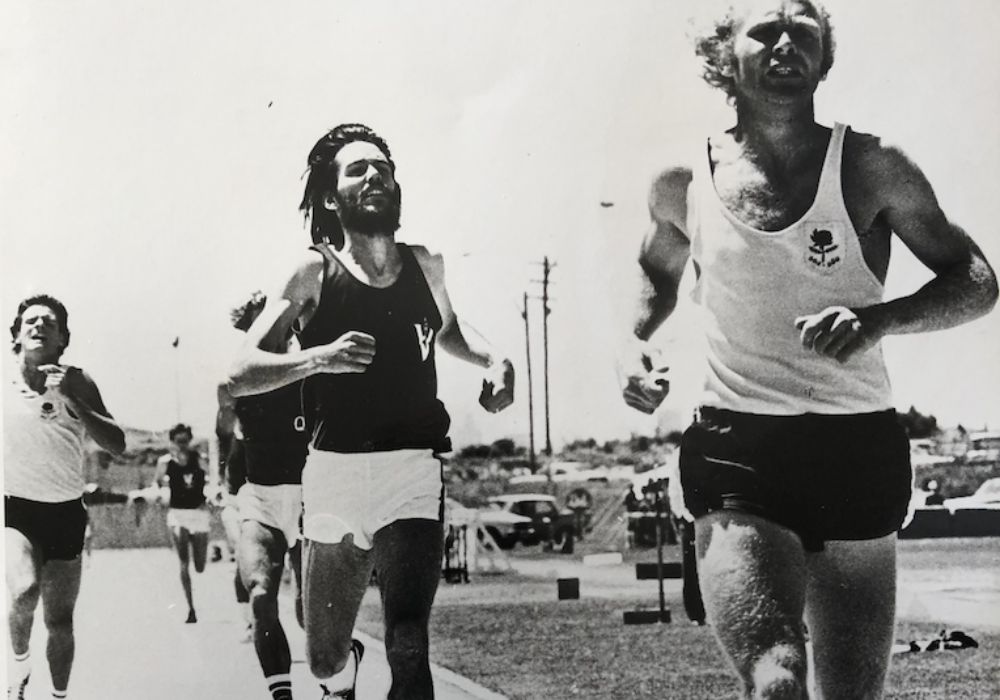 He finished this series of races with another easy win in the NSW Country Championships and was invited at short notice to compete against Higham on the 1 February at the MCG. Higham was the fastest in Australia so far this season, having run 1:47.8. Stan was primed for a breakthrough.
The race was held in the luncheon adjournment of the sixth cricket test between Australia and the West Indies – the first time athletics had been held on the MCG since the 1956 Olympics. Stan recalls the wet grass caused lunch to be brought forward. After being warmed up by Raelene Boyle 's win over Denise Robertson in the 100 metres, and Graham Crouch beating David Fitzsimmons in the 3000 metres, the crowd of 35000 witnessed an enthralling 800 metre race between Stan and Higham. Stan went to the front and led through 400 metres in 54 dead. Higham tracked Stan and came alongside him 300 metres
out, whereupon they ran side by side the rest of the way. Higham inched ahead in the finishing straight, but Stan fought back and showing great strength under pressure snatched victory in the last few metres. Higham collapsed onto the grass and was reported as saying "where the f… did you come from?" Both were given 1:48.2, a PB for Stan, ranking him 2nd and 17th on the NSW and Australian all-time lists, respectively. With this race result Stan's Olympic dream was starting to become a reality.
A great experience got even better. Stan had asked the Victorian officials to take care of his watch and wallet while he raced but they refused. Seeing Stan's predicament, Pat Clohessy introduced himself and offered to look after his valuables. After the race, he kindly offered to take Stan to the airport. Walking to the exit, Stan told Pat that he wanted to speak with his brother-in law, Rick MCosker, before he left. 
Rick, later of Centenary Test broken jaw fame, and an Australian opener, scored 109 not out in this test match (Rick was twice named on the MCG Honour Board for scoring test centuries in this match and against Pakistan in January 1977). Stan knocked on the door of the players' rooms and instead of a grey-coated attendant, Ian Chappell opened the door and said, "Hey come in, we've been on the balcony cheering for you." Ian, known as something of a maverick, and recently superseded by his brother Greg as Australian Captain, introduced them to the West Indies players, the umpires and the Australian players. The Australian rooms are sacrosanct and Stan says no-one but Ian Chappell would have invited them in. To say that Rick was shocked to see them is an understatement. 
On the way to the airport, Pat told Stan it was the best sporting experience of his life, a poignant reminder that there is more to life than just athletics.
5.2 Australian Championships Melbourne March 1976
After the MCG clash Stan took out the NSW Championship in 1:49.2, and Higham won the Victorian title in a near Olympic qualifying time of 1:47.5, ahead of Tasmanian Stan Bailey, 1:48.4. The weekend before the Nationals Stan competed in the Tasmanian Championships, and was beaten by the in-form Bailey 1:49.3 to 1:49.6 on a temporary grass track at Hobart's Domain Soccer Ground. This was Bailey's third of five Tasmanian 800 metre Championship wins. Before leaving for Melbourne Stan contracted influenza. Though concerning, Stan was prepared for a tough race. 
The Australian 800 metre Championship was wide-open. It was to be a highly contentious affair, charged with drama and emotion. While some NSW pundits were tipping Stan for an upset win, many felt that Higham would be the victor. Apart from Higham there were a range of other contenders who were running in the 1:48-1:49s with some potential for improvement. The field included last year's winner, McCurry. Everything was on the line. Ideally, for whoever won, an Olympic qualifying time should follow.  
So, what happened? The running of the heats on 19 March 1976 is where the controversy raged. Stan won the first heat in a solid 1:49.3, despite suffering from influenza. Behind him there had been some interference, and three athletes fell – Jamie Botten (South Australia) and Mark Hogarth (Victoria), both 19 years of age, and McCurry. One report indicates
Botten only stumbled. In any event he was adversely affected. McCurry was supposedly in the middle of the incident, but even today it's not clear exactly what happened. Queenslander Peter Hawes ran second to Stan in 1:51.2, ahead of Bottens' 1:53.2. Sensationally, doubtful protests from Botten and McCurry (who had finished sixth) were upheld, and a rerun scheduled for 9:00am the next morning. Stan was advised there was no avenue to appeal this decision. For the record, Higham won his heat in 1:48.7.
The emotional upheaval associated with these events and a perceived lack of support from NSW Team Management meant that Stan did not get much sleep and was walking the streets of Melbourne overnight. Still affected by influenza, and mulling over the protest decision, Stan finished third in the rerun and did not qualify for the final. Botten won in a PB ahead of McCurry, both running 1:49.5, Stan 1:50.5. McCurry was reportedly elated and quoted as saying "It proved that I was right and they were wrong yesterday." Botten ran a mature tactical race, tracking Stan through a bold 53 second first lap, staying close, and getting past Stan in the final straight, McCurry following just behind.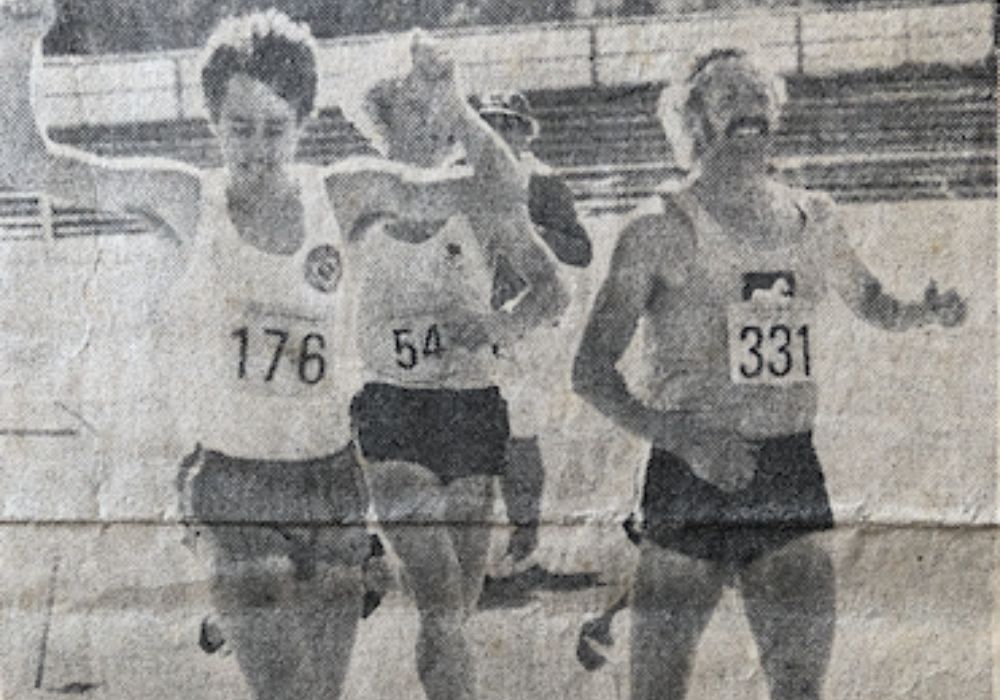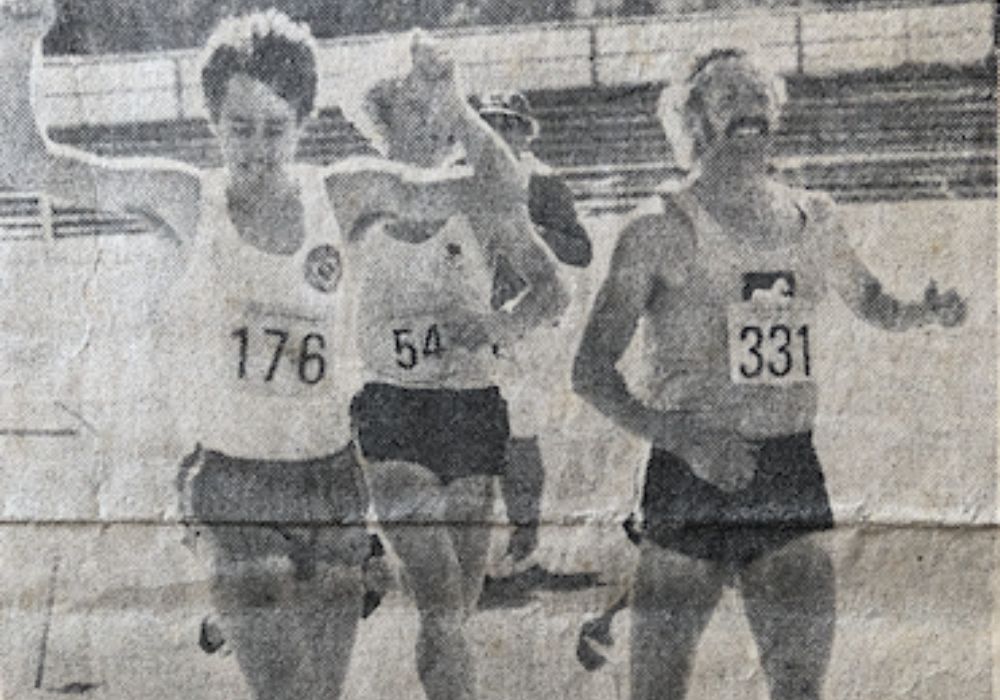 Stan felt his opponents were fresher because he ran flat out in the original heat, and they had "easier" comparative races behind him. As Stan recounts "I let it get to me. I felt it was an injustice. I needed that rest day before the final. Under the rules existing at that time the Race Committee could not order a rerun unless someone was disqualified, yet they did. And I knew I didn't run well in the morning." After the rerun, NSW Team Manager Jack Pross described it as the greatest miscarriage of justice he had seen in thirty years of athletics, and had little success in his attempts to comfort an inconsolable Stan Barwick, distraught in the dressing sheds. Mike Agostini wrote in his race report for Australasian Athletics that the first heat "will be remembered as the race that should never have been rerun." 
Despite having to run an extra race with no rest day between heat and final, Jamie Botten had a convincing win in the final, running a huge PB of 1:47.7, beating Higham and McCurry, both 1:48.4. All three missed the Olympic qualifying standard and nobody was selected for Montreal. Stan watched the final from the hill. As the field was being announced, a spontaneous chant of "we want Barwick" went up. Nearly fifty years later he reflects on this as a nice gesture by fellow athletes acknowledging his unfair treatment at the hands of the Race Committee. He points to likely State parochialism concerning four affected runners from four different States, that he was dudded through the race review process. And there was the stench of political gamesmanship by officials vying for managerial positions at the upcoming Olympics.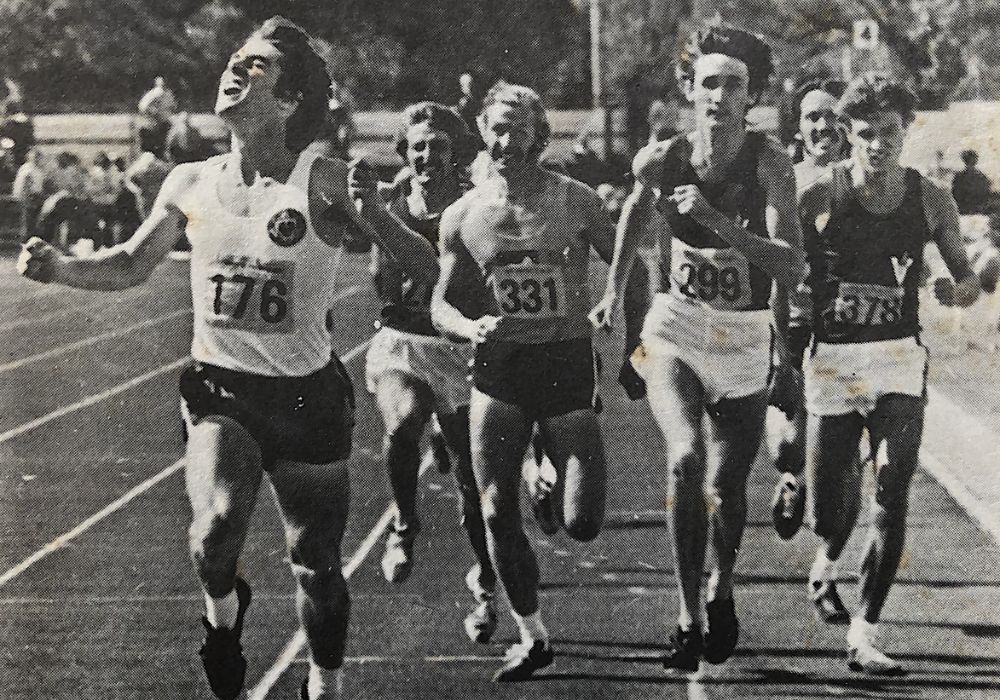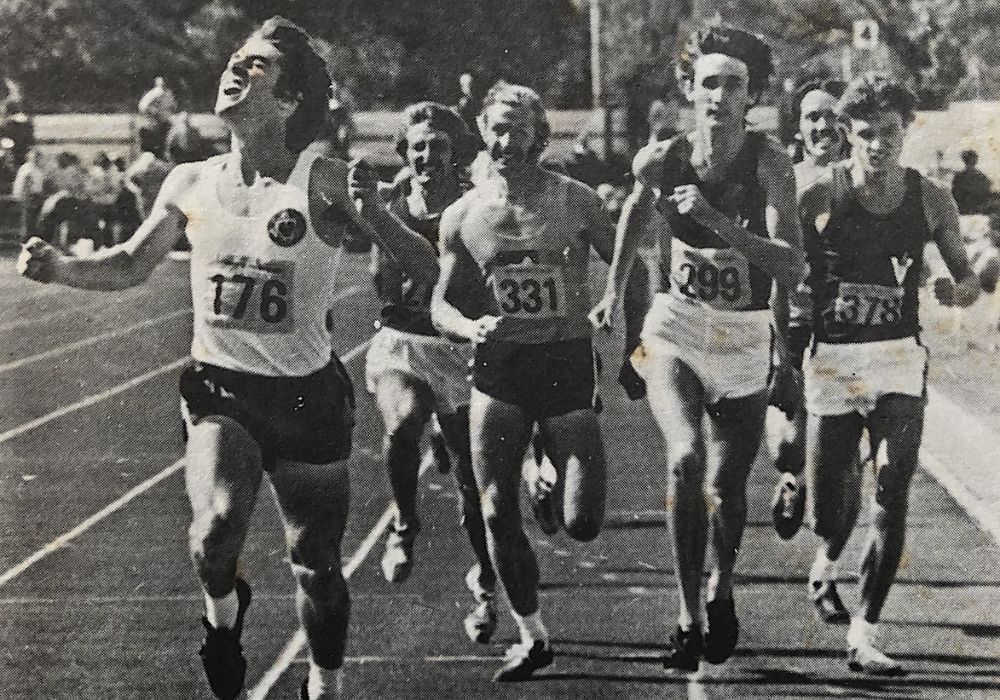 Understandably, Jamie Botten and Col McCurry may have different takes on what occurred, but I write this article not from a vantage point of total objectivity, rather to underline the visceral feelings of a man's Olympic dreams shattered. A few years later Stan had a conversation with Raelene Boyle at a Newcastle telethon about what went down in Melbourne and the feelings it evoked. Boyle equated his feelings of demoralisation to her feelings of dread and disbelief through the events of the Montreal 200 metres semi-final when she was disqualified despite knowing she didn't break in the first instance. Simply put, and similar to Stan's experience Boyle told him "I let it get to me." I guess that says it all.
Aftermaths
Post the Nationals John Higham was the only 800 metres exponent to significantly advance his racing career. Though Botten was touted for bigger things to come, this did not eventuate. He competed one more year finishing second in the 1976-77 Australian Championships, 1:48.5, and had a poor campaign in the World University Games of 1977. Higham won the next three Australian 800 metre Championships, and the 400 metres Championship of 1978. In 1977 he was ranked 10th in the world by Track & Field News for the 800 metres. He represented Australia in two World Cups (1977 and 1979) and the 1978 Commonwealth Games. Higham achieved all time personal bests of 1:45.6 (1977) and 45.7 (1978), and was selected for the 1980 Moscow Olympics but chose not to compete. 
Stan was torn between disenchantment and wanting to prove himself of international class. Eventually, in late 1976 he asked my father, Jim Beisty, to coach him and a close life and running partnership ensued. Having suffered yet another serious injury, tearing an abdominal muscle away from the pelvic bone, and unable to train with any intensity, Stan agreed to a late career transition to the 1500 metres. With my father's astute guidance, he set himself for the 1977 NSW Championships and off three months' targeted training he won easily in 3:44.9, running away from Peter Hutton and Graeme Cook in the last lap.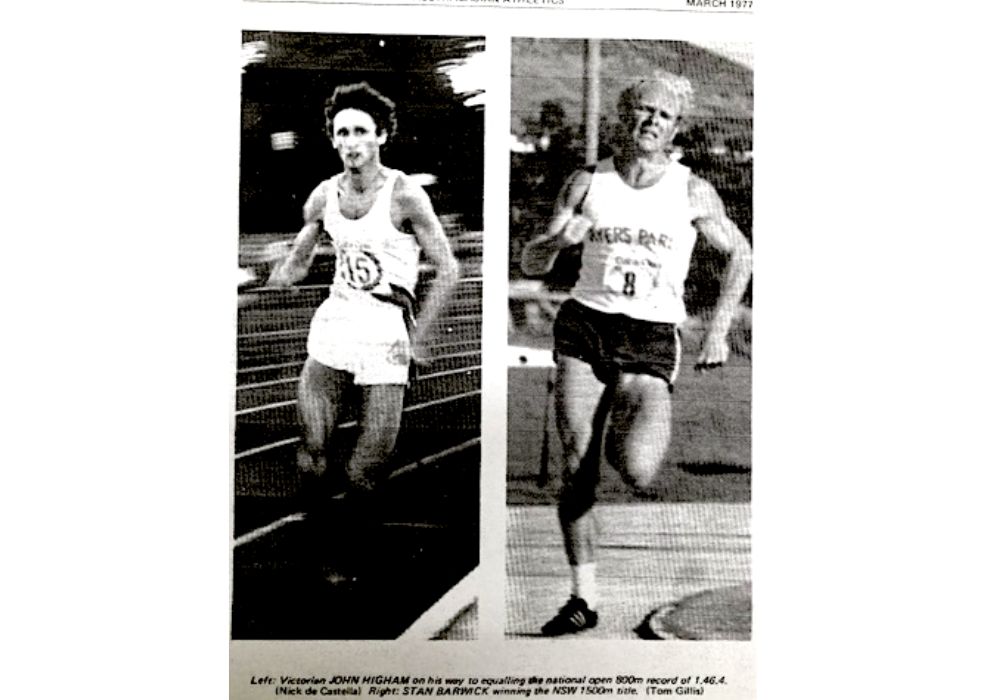 6.1 Open Athletics
1976 to 1978 Stan trained under my father's Lydiard adapted system, and I can attest that there was still fire in the old warhorse. He ran some very high-quality track sessions, along with plentiful aerobic runs and long races – 400 reps in the low 50s, a 2:59 1200 metre time trial in hot and windy conditions, and a win in the Cessnock King of the Mountains 15 miles classic, all come to mind. During these two short years his core group of training partners were Mumford, Bon Gray (later a PhD student sports scientist under Dick Telford at the Australian Institute of Sport), Phil Jenkins, all 1:53-1:55 performers, and myself. Sometimes we were joined by Brian Morgan, a developing elite. It was a motley crew of athletes, being pulled along and inspired by Stan, and the first makeshift iteration of the Newcastle Beisty squads. Track training was largely spread between the university grass track and Newcastle Athletic Field (now rubberised all weather). 
Despite his obvious potential, and a more structured training program, Stan was unable to successfully adapt to the rigours of 1500 metre racing. Although he continued to participate in state and national events, his top flight career ground to a halt in 1978 when he retired from competitive athletics. However, Stan remained engaged in the Newcastle and Sydney sports communities. During 1977 Stan instituted the Campus Scamper at Newcastle University, a 6km fun run for students through the bushland grounds of the campus. Later that year he became Secretary Manager of the University of Newcastle Union. In the late 1970s, for two years Stan was a 'regular' on the NBN TVs Sunday Sports Show that drew panel members directly from a range of Newcastle sporting organisations.  
6.2 Rugby League
Stan was heavily involved in rugby league circles, the range of his involvement impressive. 
He renewed his association with rugby league in 1981 when Newcastle's local Western Suburbs Club (the Rosellas) asked him to be their Conditioner and they won the Newcastle Rugby League premiership in all three grades. He was also Conditioner for the Newcastle representative team and Newcastle referees. In addition to requisite weights training, Stan promoted what he called "a system of scientific training for footballers", based on middle distance training principles, with a focus on developing endurance, strength, speed and acceleration. This was a first in rugby league conditioning spheres. 
Stan's view was the players needed to train with an emphasis on strength and speed endurance so they could produce explosive bursts under fatigue. Stan comments the majority of players disliked the endurance work and intervals (they were comfortable with weight training and short sprints) and always looked for short cuts. Those who embraced Stan's system became very successful footballers. He notes with pride that in 1982, five of the players from the Western Suburbs team of 1981 went on to play first-grade in the Sydney competition. 
Stan also managed the Newtown Leagues Club in 1982, a surreal personal experience during a troubled period for the Leagues club. The Newtown Jets played in their last NSW Rugby League premiership Grand Final in 1981, financial pressures forcing them out of the competition in 1983. Through this experience he met super-coach Warren Ryan and future Newcastle Knights inaugural coach, Allan McMahon, who was playing on the wing in first-grade. On one occasion, he was asked by Ryan to take a conditioning session with the first-grade team at Henson Park. Stan recollects with a wry smile that the players were unable to handle a moderate session that was a staple of the Rosellas and the players asked Ryan not to invite him back.
After spending some time in the South Coast of NSW, Stan returned to Newcastle in 1984 as Executive Manager of Lingard Private Hospital, and resumed his relationship with Rugby League as the Conditioner of the South Newcastle Rugby League Club. Following a turbulent 12 months at Lingard, dominated by the National doctors' strike, he was contracted by the Newcastle Rugby League to research and write a submission to the NSW Rugby League (NSWRL) for Newcastle's admission into the NSW Competition. The submission was accepted by the NSWRL and after a lot of planning by the Knights organisation a team was fielded in 1988. This was a major coup for the club and the Newcastle and Hunter Valley communities. 
During 1987, Allan McMahon was appointed as the Knights First Grade Coach for the 1988 season and Stan was appointed Conditioner. Realising he needed assistance in the area of strength and weight training he formed a partnership with Joe Dunnage, a former physical education teacher and fitness consultant. Of interest to locals, the Knights early fitness training included many continuous runs through a tortuous 9.5km course in the hills of Blackbutt Reserve and the Gun Club area (atop Glenrock Reserve), and sand workouts on Newcastle's beaches, followed by a phase of interval work and sprints. Stan transitioned out of this role at the conclusion of the Knights first season.
He made his final return to Rugby League in 1997, again with the Rosellas, and worked with the Captain/Coach Tony Price to win three first-grade premierships in 1997-99. 
6.3 Masters Rebirth
Ten years after his retirement from competitive running Stan reformed his partnership with my father to train for the 1989 World Veterans Championships in Eugene Oregon. The Barwicks and the Beistys travelled to the USA together on a combined racing and holiday tour, culminating in a fine outcome in Eugene. Prior to the 'Worlds' Stan competed in the USA National Masters Championships in San Diego running 2:00.52 in the semi and 2:00.57 for eighth in the final. Fellow Aussie, Tony Murray finished fourth in 1:58.81.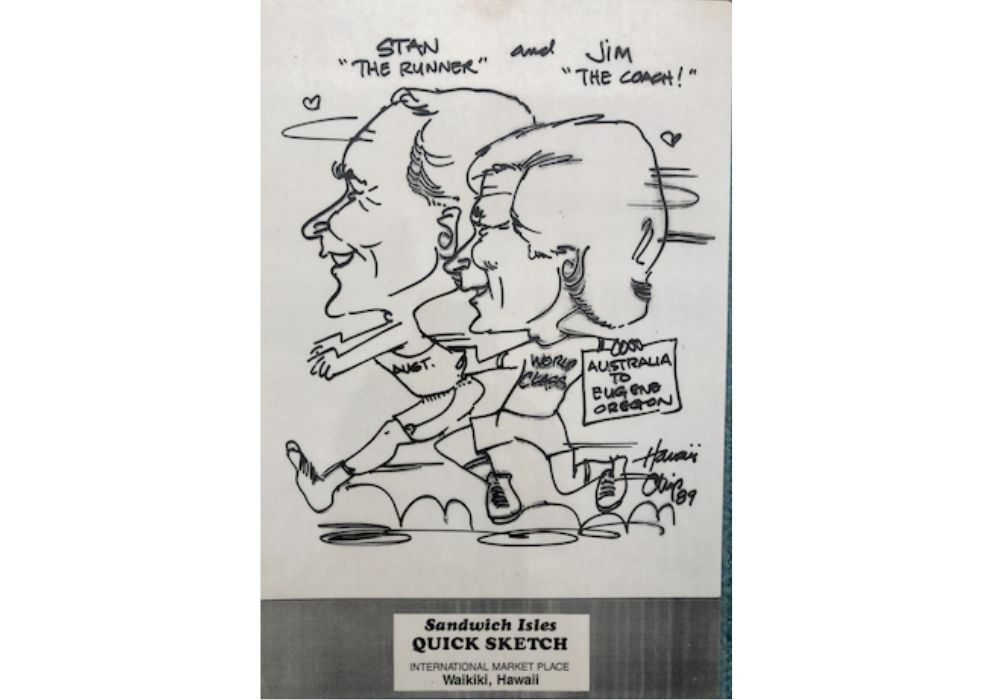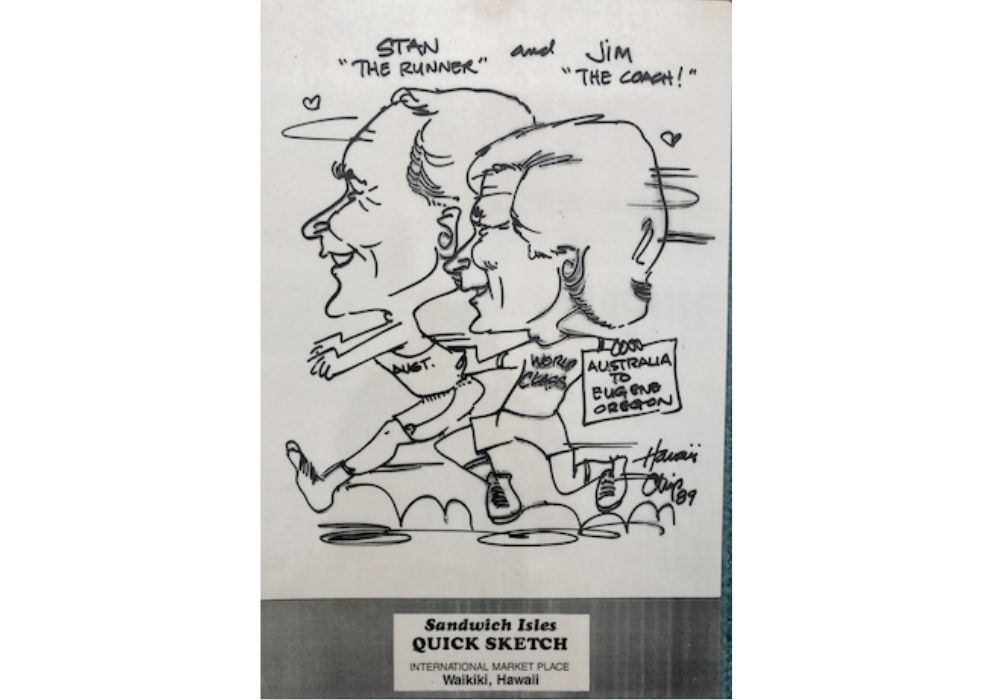 In Eugene, after racing heats and semis in 2:01.45 and 1:58.22 Stan finished eighth in a high powered M40 final, 1:59.26, behind Britain's ex-international Pete Browne, 1:55.74. He was the only Australian in the final consisting of three British and four American runners. Stan also recalls with amazement his membership of an Australian Veterans 4×400 relay team that surprised a USA Team of ex-Olympians with a win, a huge highlight of the tour. 
The next year, aged 41, Stan ran a Newcastle Veterans M40 Championship best of 2:01 dead, a local record that still stands.   
Epilogue
In a unique mix of athletics, rugby league and family relationships, Stan's son, Michael, an ex-Rosellas first-grade winger and premiership winner, finished second in the 2004 Australian 800m metre Championship to Nick Bromley (son of Peter, 1976 NSW 1500 metre champion and current CEO of Athletics Australia), 1:48.09 to 1:48.91. Coached by my father, this was achieved only three years after Michael took up running. He obviously has his old mans' genes! Stan makes the point that he didn't interfere in Michael's training and left the coaching to Jim, a sensible approach that many parents could learn from. Stan turned his own hands to the coaching of young local athletes, but ceased his involvement a few years ago, disillusioned with the insidious infiltration of performance enhancing drugs within our sport.
Though it still rankles, Stan has mellowed in his views about the 1976 Nationals and despite all the white noise has always said: "if I'd been good enough, l would have seen it through." An acceptance that you live and die by your performance, no matter what happens.
Examining his running career more closely, it is evident that he was hampered by a lack of coaching, going it alone in a highly competitive era, where a number of 800 metre specialists of similar ability were attempting to make their mark. Stan likes to quote my father's advice that self-taught runners often have a fool for a coach, demurring that this applied to his own circumstance. An honest appraisal, maybe. Stan achieved so much, in such a short time, with so little support and he could have done much better. 
In essence Stan was a nowhere man. He came from nowhere, after eight years of apathy and languishing with injury, to finish fourth in the 1974 Australian 800 metre Championships. He came from nowhere to nearly pull off a surprising win against the great John Walker in Christchurch 1975. He came from nowhere to beat John Higham in an absolute thriller at the MCG in 1976. And he fell at the last hurdle of his Olympic ambition due to a combination of circumstances that one could argue were beyond his control.
Stan describes his career as a lot of wasted years, characterised by injury and overtraining, and if he had his time again, he would do it all differently. But similar to his brother-in-law, Rick McCosker, who rails against those who define his test cricket career by a broken jaw, Stan would not want the events of the Melbourne Australian Championships of 1976 to negate all that he did achieve in his middle-distance running career, against all the odds. That's just not Stan.
End Note:
(1) Tony Ellerton's situation is of interest. At 17 years of age Tony ran a little known Australian Junior record of 15:12.6 behind Ron Clarke's first 5000 metres world record, 13:34.8, run at North Hobart Oval Tasmania on 16th January 1965. At this time Australian Juniors were Under 19 years of age. Ellerton is under the impression his record was never ratified, due to the fall of the land of this grass track ie unsuitability of the track for record purposes. Clarke actually mentions the slope of the track in The Unforgiving Minute, and the improbability of running a record on such a track. In any event, just two days later 18 year old Kerry O'Brien ran much faster than Ellerton in Sandringham with a time of 14:35, which was ratified as a National Junior Record. The Amateur Athletic Union of Australia Almanac of 1965 lists Ellerton's time and Clarke's world record under the category of "Australian Records Outstanding" meaning that "their performances as Australian Records had not been sought by the Responsible Constituent Association at 30th June 1965". It may be that the Tasmanian Athletics Association did not pursue Ellerton's Australian Junior record ratification given O'Brien's performance. Note that Ellerton also ranked 19th nationally in the Open 6 miles with a performance of 30: 41.2 run on 13th January 1965, three days prior to his 5000 metres performance. 
Sources: 
Australasian Athletics – February, 1975, May 1975, June 1975, February 1976, April 1976, May 1976, June 1976 
Australian Athletics Historical Results, found at
https://athletics.possumbility.com/index.htm
Beisty, J, Reflections of a Runner, 1986
Bowden, T, Davis, Neil Brian (1934 to 1985) article in the Australian Dictionary of Biography
Vol 17 2007, found at https://adb.anu.edu.au/biography/davis-neil-brian-12408
Burnett, A, Centenary Test special: Rick McCosker can see clearly now, 13 March 2018, Cricket.com.au, found at https://www.cricket.com.au/news/feature/rick-mccosker-broken-jaw-centenary-test-1977-mission-seafarers-chaplain-australia-cricketer/2018-03-13
[Documentation from/Recollections of] Stan Barwick during meetings with author on 5 December 2022 and 1 February 2023
Jameson, N, Chapter 3, The Fitness Man, Our Town Our Team, The Story of the Newcastle Knights, 1992
National Masters News, September 1989
NSW Amateur Athletic Association publication, 100 Years of the NSW AAA, The Official Centenary History of the NSW Amateur Athletic Association, 1987
Results of the VIII World Veterans' Championships July 27-August 6, 1989 
Runchive, Ernest Barwick, found at https://runchive.com/Athletes/RXJuZXN0IEJhcndpY2s=
Tasmanian Athletics Historical Results, found at https://history.tasathletics.org.au/resultsyear/tfu19m-1965-66.htm 
Tasmanian Amateur Athletic Association 1975-76 Season Annual Report, Statement of Accounts, found at https://history.tasathletics.org.au/annualreports/AT_Annual_Report_1975-76.pdf
Apart from Australasian Athletics, the following newspaper clippings, supplied by Stan Barwick assisted in providing background and race accounts:
Athlete With a Leg-Long Problem, Newcastle Sun, 1975
Craven, J, Tears as The Winner Loses, The Herald, Saturday 20 March 1976, p24
Farrell on Thursday (byline), West's Stan: A Scientific Approach to Pain, The Newcastle Herald, Thursday 4 June 1981, p16
Hurst, M, The Man Who Came Back, Sunday Mirror, Sunday 8 February 1976 
Jory, P, Athletes comeback from illness, Newcastle Herald and Miners' Advocate, 8 February 1975
Raelene pips rival in sprint at MCG, The Australian, 2 February 1976, journalist not credited