REMEMBERING "THE GREATEST MARATHON" – LONDON 2002
By Mark Butler (c) 2002 Race Results Weekly, all rights reserved
LONDON (14-Apr) — Has there ever been such a day of marathon running?  The 22nd Flora London Marathon saw the fastest ever run by a man and arguably the greatest ever by a woman.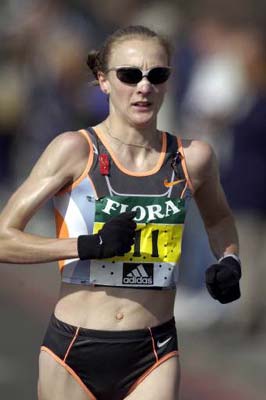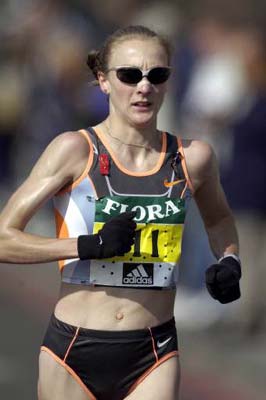 On a seasonably cool and still day, British débutante Paula Radcliffe could hardly have done more to demonstrate that she knew all about how to run a marathon. She didn't just win the race, with 2:18:56 she destroyed the field, ruptured the previous women's-only best, picked up $255,000 in prize and bonus money and came to the brink of Catherine Ndereba's absolute world mark from Chicago, 2001. All this on her first attempt at the distance. Such was the magnitude of Radcliffe's run in front of a home crowd that it was almost an anti-climax when Khalid Khannouchi clipped his own world best to 2:05:38, some 20 minutes later.
There were fears that Radcliffe, a natural front runner, might overcook the pace in this, her first marathon. She and race favourite Derartu Tulu had requested 70:30 at halfway from rabbits Iness Chenonge and Maria Guida.  Those two soon had a gap of about 70m from Radcliffe, Derartu Tulu, Reiko Tosa, Susan Chepkemei and Shitaye Gemechu. A third group, featuring Joyce Chepchumba and Svetlana Zakharova, followed a similar distance behind. The four-mile split (21:36) was exactly the same as when Chepchumba set the women's only course record of 2:23:22in 1999. Just before that point, a relaxed Radcliffe could be seen offering a drink to Tulu, an offer which was refused with a grin.
Chepchumba's group closed up as the pace slipped to 5:38 in mile six.  Approaching Greenwich, the first of the wheelchair racers began to pass the leading women. Radcliffe chose this time to pick up her pace so that she began to catch Guida, who had dropped back a little from Chenonge. Soon, only Tulu and Chepkemei were in contact.
All the Radcliffe accessories were in place, except the white high socks (she wore flesh-colored ones under ankle socks): the noseband, the red ribbon indicating her support of blood testing, and the same eight bib pins as she wore when winning the world cross country title. There was her trademark head-dip, but this time it did not signal any discomfort.  Instead, it seemed to emphasise her desire to further open up the pace. At 10 miles (Chenonge 54:26), Radcliffe was eight seconds ahead of Tulu and Chepkemei with the rest of the contenders out of sight.
That gap grew steadily, while Radcliffe reeled in Chenonge. Coming across Tower Bridge, she caught the Kenyan and took a very rare (for her) look back before flashing though halfway in 71:05.  She was now 1:23 up on her nearest rival.
With no sign of the opposition, strong crowd support and a downhill stretch ahead of her, Radcliffe moved up another gear and raced through the next three miles in 5:07, 5:08 and 5:11. By 16 miles, the gap on second place Tosa, who had moved into second place, was growing with Radcliffe now one minute inside Chepchumba's 1999 pace.  There were murmurs of concern that she might have done too much too soon. If anything, however, Radcliffe seemed to look ever better as her lead grew, and more seemed comfortable running by herself.
On the Isle of Dogs where there are few spectators, Radcliffe's miles had dropped to 5:16 but her lead was two minutes at 19 miles and her projected time was getting significantly faster. Any feeling that she might be out-kicked or tie up was evaporating, and the press began to speculate about her winning time. At 21 miles (1:52:06) she was three minutes quicker than Chepchumba had been three years ago. She stepped up to a 5:08 mile and 2:19 came within range.
Her 25th mile, along Victoria Embankment, was at 5:06, the fastest of the race. Her time at 25 miles was 2:12:42 compared with 2:12:21 by Ndereba in Chicago. Far back, Tosa held second from the Russian pair of Svetlana Zakharova and Lyudmila Petrova, the 2001 World Championships bronze medalist and 2000 New York City Marathon champion, respectively.
In the last mile there were two tiny problems for Radcliffe, but these were shrugged off. First, one of the television motorcycles got a little to close for comfort, then a large Ethiopian flag flapped into her face. As she turned with the finish line in sight, the clock clicked 2:18:22 which meant that Ndereba's record was safe. No-one else's were and Radcliffe won in 2:18:56, a whopping seven minutes faster than the old British record which had stood to Véronique Marot since 1989. She ran the second half of the race in 67:52, quicker than the current world leading mark for the half-marathon. Radcliffe looked remarkably composed after the finish as she was embraced by her husband Gary before waving to the crowd. The prize money will come nicely in time for their wedding anniversary on the following day.
"My legs are tired by the rest of me is really pleased," said the winner.  "I would have liked to have got the 2:18:47 but I gave it everything, I couldn't have gone any faster."
Regarding her mid-race surge, "I thought 'I've blown it'," revealed Radcliffe.  "I thought, well, I cannot blow it because I'm going to be slagged off, they would say 'what's that idiot doing in a marathon race … then I realised I had only had about 55 minutes to run, and I do that every day."
Zakharova out-kicked Petrova for second, with both comfortably inside the old Russian record. Tosa was an excellent fourth in 2:22:26 while Chepkemei also smashed her previous best, despite slowing to vomit in the last miles of the race. In sixth place, Chepchumba notched up her 13th successive sub-2:30. Tulu faded to ninth place.
UNEXPECTED WORLD RECORD FOR KHANNOUCHI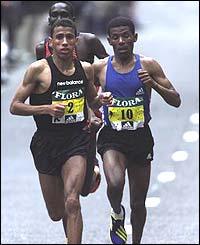 There was much pre-race talk about the requisite pace in the men's race to halfway. The Gebrselassie camp wanted 62:30, a mark which was regarded as "suicidal" by the other principals and their aides. In the event that point was reached in a fast 62:46 with a large leading group of 13, most of which –confusingly– were dressed in a similar shade of blue.
Of the designated pacemakers, it was Luis Jesús of Portugal who seemed to be working the hardest and he continued to lead until 16 miles or so in the shadow of Britain's tallest building on Canary Wharf. The pace was fast and constant, with six successive miles timed between 4:49 and 4:39.
After Jesús dropped out it was Gebrselassie who took over. He did not speed things up like Radcliffe, but the group began to shrink and by 17 miles it was down to seven – Geb, Khannouchi, Antonio Pinto, Abdelkader El Mouaziz, Paul Tergat, Tesfaye Jifar and one surprise: South Africa's Ian Syster.  Mouaziz took over temporarily and Jifar was the first to crack, followed by Pinto and Syster.
At 22 miles (1:45:12) the Moroccan himself was 100m back and the race was down to three, and what a three: Gebrselassie, Tergat and world record holder Khannouchi. Along the Thames Embankment, it was Gebrselassie and Khannouchi level with Tergat tucked in between them, one stride behind.
Into the last two miles Khannouchi made a break. Tergat responded and the unthinkable happened: Gebrselassie was dropped. Soon Tergat fell back and again everyone started to look at their watches. Except, that is, Khannouchi who was not wearing one. The Moroccan-born American had reached 40-K in 1:59:11. When he set his 1999 world best, the corresponding time at that point had been 1:59:20.
Yet Khannouchi did not let rip. He looked back frequently as he approached the finish and one wondered if he knew how near he was to his own world mark. He needed to run the last one mile 385 yards in 5:49 and he managed 5:45 for the fabulous time of 2:05:38. Like with Radcliffe, his spouse/manager was waiting with open arms just after the finish line. After that greeting from Sandra, Khalid knelt down to kiss the tarmac of The Mall.
Tergat placed second in a brilliant 2:05:48, the second fastest-ever.  Gebrselassie clocked 2:06:35, an Ethiopian record and the fastest ever senior debut, but almost unnoticed. In fourth place El Mouaziz set a Moroccan record, his fifth personal best in five London appearances. Syster cut more than six minutes from his best while Baldini, who never ran with the lead pack, broke his Italian record.
"We're quite happy with the race," said Khannouchi in what must be the understatement of the year. "Everything was perfect, the rabbits, the drinks and the course. We thank God because the weather was great."
Some 32,847 had finished the race before the timing equipment was turned off at 6pm, more than eight hours after the start.
Results (n = national record, p = personal best, w = world best)
MEN –
1, Khalid Khannouchi       USA  2:05:38w*  $255,000
($55,000 win + $50,000 for sub 2:22 + $25,000 course record + $125,000
world best)
2, Paul Tergat             KEN   2:05:48n   $80,000
3, Haile Gebrselassie      ETH   2:06:35n   $72,500
4, Abdelkader El Mouaziz   MAR   2:06:52    $65,000
5, Ian Syster              RSA   2:07:06p   $35,000
6, Stefano Baldini         ITA   2:07:29n   $32,500
7, António Pinto           POR   2:09:10    $10,000
8, Mark Steinle            GBR   2:09:17p    $9,000
9, Tesfaye Jifar           ETH   2:09:50     $8,000
10, Mohammed El Hattab      MAR   2:11:50p    $3,000
11, Michael Buchleitner     AUT   2:14:11     $1,500
12, Rachid El Ghanmouni     MAR   2:15:29     $1,000
13, William Kiplagat        KEN   2:15:59
14, Billy Burns             GBR   2:17:36
15, Daniel Robinson         GBR   2:17:51
16, Julius Kimtai           KEN   2:18:13p
17, Nick Wetheridge         GBR   2:19:41d
18, Runar Hoiom             SWE   2:20:36
19, Damon Harris            AUS   2:20:44
20, Christopher Cariss      GBR   2:20:46p
*Also course record; previous 2:06:36, Antonio Pinto, 2000
Intermediate Times (unofficial)
5K: Kariuki & Bikila       14:44
10K: Kariuki & Bikila      29:37 (14:53)
15K: Kariuki & Bikila      44:35 (14:58)
20K: Jesús & Bikila        59:33 (14:58)
25K: Jesús               1:14:10 (14:37)
30K: Gebrselassie        1:29:01 (14:51)
35K: Gebrselassie        1:43:58 (14:57)
40K: Khannouchi & Tergat 1:59:11 (15:13)
5M: Kariuki & Bikila       23:45
10M: Kariuki & Bikila      47:51
Halfway: Pack            1:02:46
15M: Jesús               1:21:39
20M: Gebrselassie        1:35:26
25M: Khannouchi          1:59:32
Halves:
Khannouchi 62:46/62:52
Tergat 62:46/63:02
Gebrselassie 62:46/63:49
El Mouaziz 62:46/64:06
Syster 62:46/64:20
Baldini 63:17/64:12
Pinto 62:46/66:24
Steinle 62:46/66:31
Jifar 62:46/67:04
El Hattab 62:47/69:03
WOMEN –
1, Paula Radcliffe         GBR   2:18:56n*  $255,000
($55,000 win + $50,000 for sub 2:22 + $25,000 course record + $125,000
women's only world best)
2, Svetlana Zakharova      RUS   2:22:31n    $55,000
3, Lyudmila Petrova        RUS   2:22:33p    $47,500
4, Reiko Tosa              JPN   2:22:46p    $35,000
5, Susan Chepkemei         KEN   2:23:19p    $32,500
6, Joyce Chepchumba        KEN   2:26:53     $15,000
7, Silvia Skvortsova       RUS   2:27:07     $13,500
8, Zinaida Semyonova       RUS   2:27:45      $7,500
9, Derartu Tulu            ETH   2:28:37      $6,500
10, Shitaye Gemechu         ETH   2:28:58      $6,000
11, Irina Safarova          RUS   2:29:20      $3,000
12, Jo Lodge                GBR   2:38:25p
13, Heléne Willix           SWE   2:40:24p
14, Bev Jenkins             GBR   2:44:32d
15, Alison Fletcher (V40)   GBR   2:44:42p     $1,000
16, Sharon Dixon            GBR   2:45:05p
17, Ruth Pickvance (V40)    GBR   2:45:34        $500
18, Annette Wolfrom         GER   2:46:58
19, Clare Pauzers (V35)     GBR   2:49:26        $250
20, Elizabeth Mycroft       GBR   2:49:38
Iness Chenonge          KEN   DNF (pace)
Maria Guida             ITA   DNF (pace)
*Also European record; previous 2:21:06, Ingrid Kristiansen, London, 1985; also debut record, previous 2:23:11, Yoko Shibui, Osaka, 28-Jan-2001; also women-only course record; previous 2:23:22, Joyce Chepchumba, 1999
Intermediate Times (unofficial)
5K: Chenonge & Guida         16:37
10K: Chenonge & Guida        33:56 (17:19)
15K: Chenonge                50:44 (16:48)
20K: Chenonge & Radcliffe  1:07:30 (16:46)
25K: Radcliffe             1:23:31 (16:01)
30K: Radcliffe             1:39:45 (16:14)
35K: Radcliffe             1:55:56 (16:11)
40K: Radcliffe             2:11:58 (16:02)
5M: Chenonge & Guida         27:05
10M: Chenonge                54:26
Halfway: Radcliffe         1:11:04
15M: Radcliffe             1:20:46
20M: Radcliffe             1:46:50
25M: Radcliffe             2:12:42
Halves:
Radcliffe 71:04/67:52
Zakharova 72:30/70:01
Petrova 72:29/70:04
Tosa 72:28/70:16
Chepkemei 71:54/71:25
Chepchumba 72:29/74:24
Skvortsova 72:29/74:38
Semyonova 72:29/75:16
Tulu 71:54/76:43
Gemechu 72:29/76:29