Australian Women's Team for Rio Close to Being Finalised – Target 60
Although we only have 20 Australian female athletes confirmed for Rio, another 8 athletes are on the cusp of also adding their names to the list. Overall we would be ideally looking at a final count to be just over 30 (see table below), plus additional athletes added as part of the women's 4x400m relay squad.
We take a look at some of the names that could be added by the final selection meeting on July 12.
Melissa Breen (100m) – will have another chance for a qualifier on home soil, when she lines up at the Canberra meeting on Saturday 16th April. There she is likely to line up against the likes of Ashleigh Whittaker, with fingers crossed for kind sprinting conditions (11.32s is the Olympic qualifying time required). If Breen can't manage the time this weekend then she will move onto meetings in Japan across both April and May in the quest for Olympic qualification.
Jess Thornton (200m/400m) – is a certain starter in the women's 4x400m in Rio, so now we wait and see if she also attacks an automatic qualifier in either the 200m or 400m. The interesting part of the equation is that she is also part of the Australian team (individual 400m) for the World U/20 Championships in July, although if she was to run a qualifier in the 400m in Poland she would have missed the Rio qualification deadline. Therefore will she chase the Rio qualifier in Australia or overseas over the coming months, or concentrate on winning a medal in Poland and taking her place in the relay in Rio – interesting to see what eventually unfolds.

Linden Hall, Jenny Blundell and Heidi See – all still chasing the all important Olympic qualifier of 4.07.00 for the women's 1500m

Selma Kajan / Brittany McGowan (800m) – both athletes are in a similar position, although McGowan holds a slight advantage after taking the win at the National Championships. You would expect both athletes top venture over to the United States in May to chase the required 2.01.50 time for Rio, a country where both athletes have had some success in the past. McGowan ran 2.02.17 last year in Eagle Rock, CA, while Kajan ran 2.02.68 at the same meeting in 2015 and also ran a 2.02.13 there in 2014. Can either athlete produce the required 2.01.50 OQ time – hard to see it happen purely based on their respective Australian domestic form lines, but both can certainly rise to the occasion.

Heidi See / Linden Hall / Jenny Blundell (1500m) – officially only Melissa Duncan has secured a spot to Rio, but expect Zoe Buckman to be added provided she runs some good solid races over the coming months. The third spot for Rio could really come down to how much more improvement both Hall and Blundell have left in them for 2016. If either of them still think that 4.07.00 is a realistic chance then expect them to chase hard in both the United States and Europe. Even if they did produce the required time the fact that See took out the National Championships leaves her with the upper hand – pending the fact that she also records the required time of 4.07.00. All three will have to produce PB's in order to qualify for Rio, with See having the closest current PB to the OQ of 4.08.55 – a time that saw her take her place in last year's World Championships. An intriguing battle with many more twists and turns still to take place.
Brianna Beahan (100mH) – this was one of the hardest results to stomach at the recent National Championships, a 13.03s PB from Beahan only to be an agonising 0.03s from being an Olympic qualifier. Overall this year Beahan has twice run 11.63s in the 100m (=PB), while also her three fastest time of her career – 13.03s, 13.11s and 13.17s. She is closing in on becoming only the 5th Australian female to break 13.00sec for the 100m hurdles – and if she does she will also know that she is Rio bound.
Jessica Penney (Long Jump) – could we actually have three Australian women in the long jump event in Rio? Well the 28 year-old ex-Kiwi is definitely putting her best foot forward, with an excellent 6.60m PB at the recent Australian Championships. You would say that another 10cm's is surely within grasp – but it will take something special to bridge the gap. Penney has only jumped over 6.50m on four occasions in her career, but if everything did come together there is every chance that the Olympic dream could become reality.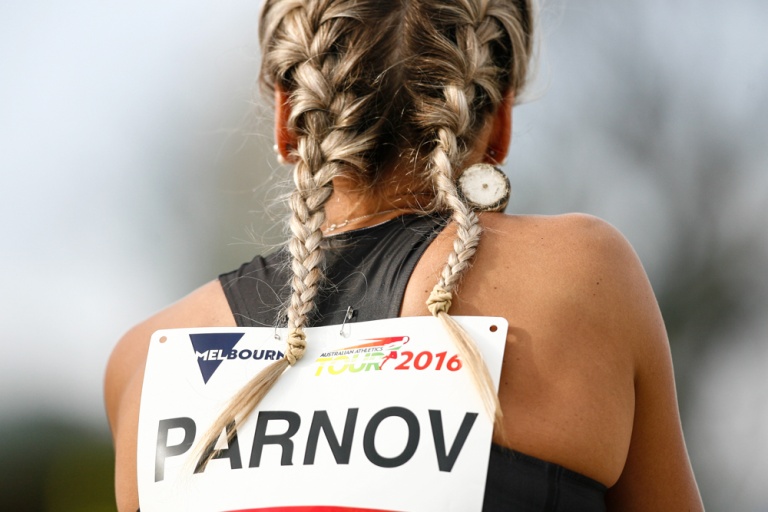 The other big meeting will be the women's 20km event at the World Team Walking Championships in Rome, Italy – 7th and 8th May. This will see the likes of Regan Lamble, Tany Holliday, Stephanie Stigwood and Beki Smith all fighting it out for one of only two spots left on the Australian team for Rio (with Rachel Tallent already being named). A very interesting tussle for Olympic spots to say the least.
The only other athlete that we would have added to the above list is Liz Parnov. We were in total shock to learn of her recent training accident in Perth, and can only wish her all the very best in what will hopefully be a speedy recovery back to health. Both the Parnov sisters, Vicky and Liz, have been an integral part of women's pole vaulting in Australia and we hope that we will one day see both athletes competing at a major world championships – either at a World or Olympic event.
[supsystic-tables id='9′]
*2015 National Champion at the recent Australian Championships in Sydney.
Can Mottram Force His Way onto Team for Rio?
This is probably on of the most intriguing marathon débuts ever seen. Craig Mottram will be running in the upcoming London Marathon on April 24th, hoping to force his way onto the Australian team for what would be his 5th Olympic Games – after making his début at Olympic level in Sydney in 2000 where he finished 8th in his heat of the men's 5000m.
Since that Olympic début he has twice won gold at the World Cup in Athletics (2002 and 2006 – both over 3000m), while also winning bronze in the 5000m at the World Championships in Helsinki in 2005. Since the London Olympics in 2012 (where he failed to make the final of the 5000m), Mottram has been running some road races but hasn't been seen in any major competitions.
Mottram, who will be 36 years of age by the time Rio comes around, recently ran a 29:37 over 10km in Hobart (Feb 14), the exact same time that he recorded at the event in 2015. Prior to this he also ran a 2:49:12 when placing 9th in the Great Ocean Road International event in May, 2013. All of these results indicate that a sub 2:19:00 marathon is well within reach for the star of Australian athletics, so watch out London in what will surely be one of the most interesting races of 2016 for our Australian marathon runners outside of the Rio Olympics.
Mottram believes he'll have to run 2:13 to ensure he makes it to Rio, with five Australians already under the OQ time of 2:19:00.
"The reason I have picked London, apart from the fact I lived there for a long time and it is very familiar to me, is that it's also the British trials and they will have pace around the required time. Normally, it's won in 2:05 or thereabouts. I'm not looking to do that, I'm looking to what is required for the qualifier."
He's realistic about how much the sport has changed since he was at his peak even though the competitive fire still burns.
"I'm currently not worried about medals in Rio," Mottram says. "I am just focused on the tough task of trying to qualify. The opportunity to run my backside off in a fifth Olympics is certainly worth trying for. And it's a good news story for our sport that is probably at a point where it definitely needs it."
Full Men's Elite Start Lists – click here
Note: Shawn Forrest will also be looking at qualifying for Rio in the London marathon. The 32 year-old has impressive PB's of 61:24 for the half marathon (2011) and 2:14:37 (2012) – which lead to him being selected for the 2013 World Championships in Moscow, where he went onto finish in 49th position.
Cassie Fien will attempt to break her own PB of 2:38.53 when takes her spot on the start list for the women's event in London. Fien ran her PB when running last November in the New York City Marathon.
Quick US Collegiate Update
In the lead up to the 2016 NCAA Championships in Eugene, Oregon (June 8-11) we will be providing you with as much information regarding our Australians over in the US Collegiate system as we can.
Last week Isobel Batt-Doyle (Washington State) lowered her PB in the 5000m with an excellent 16.04.79, and then over the weekend she ran an impressive 10.02.00 in the 3000m steeplechase – lowering her own SA State record. This performance moves her up to 9th on the Australian all-time ranking list – just behind Milly Clark (10.01.43). Batt-Doyle had previously placed 4th at the World Challenge in Melbourne (10.05.69).
Some other interesting results coming out of the United States:
1st April – Rory Hunter ran a PB in the 5000m at the Stanford Invitational – 13.50.09. He also recorded a PB of 3.44.20 in the 1500m back on March 26.
1st April – Hugh Nicklason ran a PB in the 1500m of 3.45.04 at the Stanford Invitational.
1st April – Jack Bruce ran a PB in the 5000m at the Stanford Invitational – 13.54.15.
2nd April – Mitch Cooper has been in great form in the men's discus throw – recently throwing 59.34m in Emporia