RT Interview with Josh Harris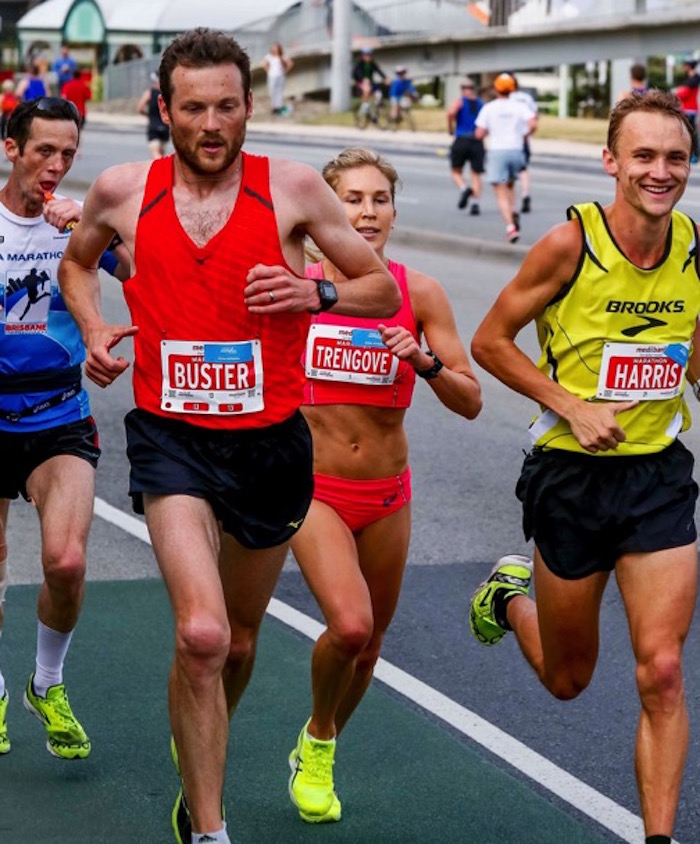 You recently paced Jess Trengove at the Melbourne Marathon to a history making time of 2:27.45. Can you talk us through your pacing plan and target times? 
So before I was aware of Jess's goal, I was planning to run the race as a tempo run in around 2:28-2:29. Anyway, as a slight progression from a comfortable 2:33, 6 weeks prior, my goal matched what Jess was after perfectly. Therefore I joined her pace crew, which included Craig Mottram and Matt Fenech. We were aiming to hit 3:30/km for as long as possible, and to Jess's credit we even put in some faster splits, in the middle, and back half of the run. It wasn't just positive for her, I had a great time and got some good exposure while I was out there.
Would you say this race was very controlled and smooth for you?
Yeah, definitely. I wore my heart rate monitor to get more of a gauge of my effort and all the signs were positive. I averaged 158bpm for the run, which is significantly lower than what I'd expect to be able to average for a marathon, when racing. I'd think that I would average over 165bpm. Obviously heart rate correlates to pace, so that means I have a lot of room for improvement on the 2:27. I've recovered really well again, another sign that what I'm doing is working.
You're 7 weeks out from your target marathon. Can you tell us why you chose this particular marathon to put it all on the line?
It was all to do with my planning this year. I had the World University Games in July, and I'd had an uninterrupted 7 months in the lead up to this. I like to give myself small breaks to mentally refresh and I decided that I would do that after World Uni's. This only gave me a 12 week turnaround to aim for an October marathon, which wasn't as long as I'd like, especially when you throw the Beer Mile World Classic (7 weeks ago) in that planning.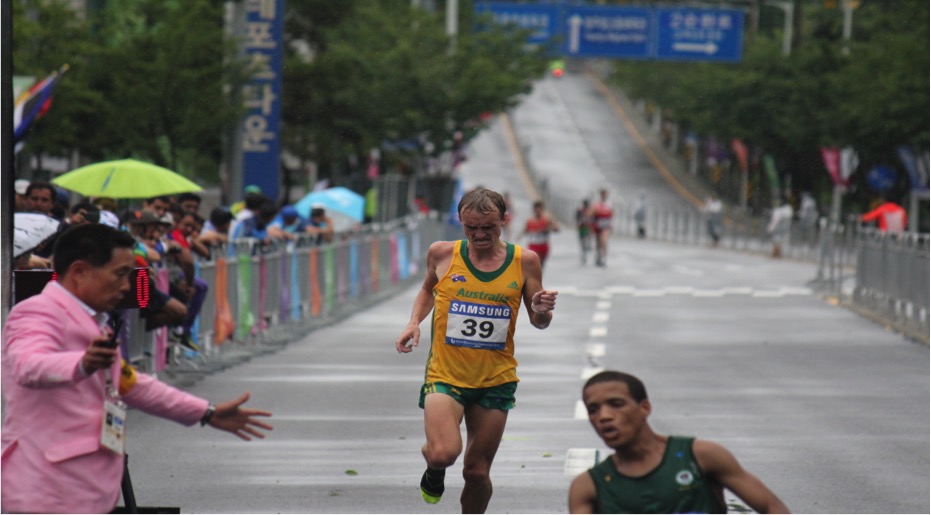 It made sense to look to a Marathon later in the year, and of those Fukuoka looks to be one of the quicker options. I'm looking to get a solid result on the board at Fukuoka, leading into a big one in Rotterdam (April).
How's training been going?
It's been fantastic. I've always been a good trainer, but some of the stuff that I've been able to do in this preparation is a step above any of the training I've done in the past. I had 19 weeks between the beginning of this program and my goal race, which was split into 3 phases. My aim was to start off with a greater emphasis on the less specific pace zones (e.g a fair bit of speed work, while building slow long runs), while gradually getting them to a maintenance level. Into phase 2 and 3, the aim has been to gradually increase the amount of specific work at marathon pace (MP) and those paces close to MP.
My training is quite similar to some of the principles discussed in the following article which I actually found today; http://www.runnersworld.com/race-training/canova-101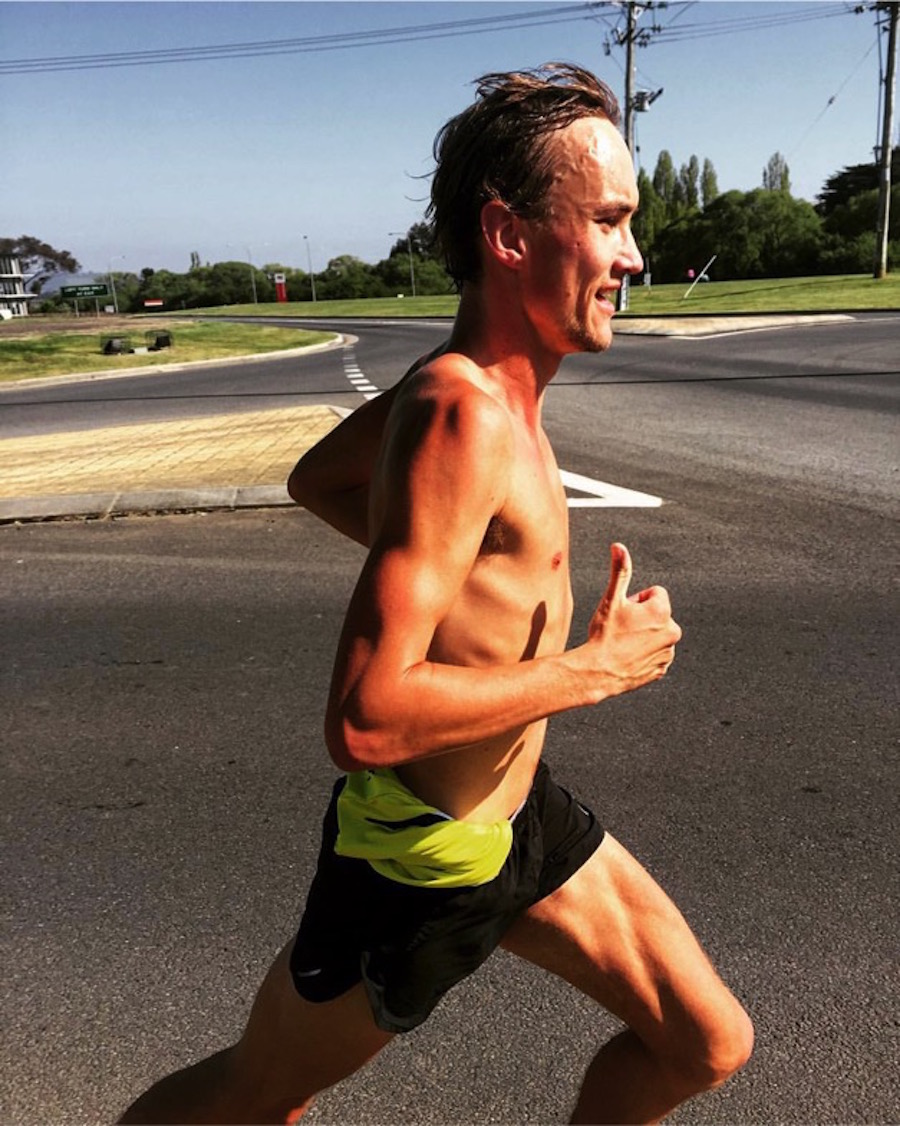 Can you talk us through a typical high mileage-training week for you?
It varies depending on what phase I'm in and what was done in the previous week. This is an example of what it can look like, but some weeks have a long run rather than the big tempo and I'm often at the track once a week. During the past 7 weeks my biggest week was 213km, smallest is 182km and the average is 195km. I post all my training to Strava:
https://www.strava.com/athletes/2911188
AM:
PM:
Mon
30mins

(6-7km)

80mins (last 20' at 3:30/km)

(19-20km)

Tue
40mins

(9km)

3×10 min (3:00/km) (2:30 jog b/w) + w/u & w/d   (20km)
Wed
30mins- recovery pace

(6km)

2 hours (incl. 6x1min surges, 3 min cycle) (27-29km)
Thu
40mins

(9km)

35-60 min fartlek (many variations) + w/u, w/d (18-24km)
Fri
30mins- recovery pace

(6km)

60mins + hill strides routine

(15km)

Sat
100min tempo (3:16/km) + w/u & w/d (38km)
30 mins

(7km)

Sun
60 mins (slow)

(13km)

Off
Total
200km
What steps have you implemented to ensure your body holds up and performs during your marathon training?
 The main one would be a very long term progression of my workload. I don't think my durability was formed overnight. Testing new boundaries each year has allowed me to cope with some of the training that I'm able to do now. It's all about adaptation. Also, ensuring I get adequate easy running in between some of those huge sessions and if I don't feel up to a planned workout, then sometimes switching days to get an extra 24 hours recovery. All my training is planned to ensure the key runs are spaced optimally.
Does Rio and the possibility that you really could run a qualifier, enter your mind often?
It is more and more every day. I think the training that I've been doing suggests that I am capable of at least getting very, very close. This is something I wouldn't have dreamed of even 12 months ago. People have said to me that my increased self-belief has really been evident recently. I'm fully aware that I may have to run quicker to get selected, but just to run the qualifier would really open up doors in terms of extra support. 2017 world champs is now a real possibility in my eyes.
What have you changed up in your approach to this marathon compared to your last effort at this distance?
There are heaps of things I'm doing differently. My debut wasn't a reflection of what I could do, but this time I'm 24 months stronger and quite a bit wiser. I would say I didn't do enough work between 90-102% MP last time. All my tempo runs were probably too short and therefore too fast. I just wasn't ready for the feeling from 30km onwards. Just doing long runs, 10 mile tempo runs and 5km specific sessions won't prepare me for that.
As I previously said I have been building specificity as the week's progress. I'm incorporating more running at 90-95% MP (3:25-3:45/km), a pace that I've almost entirely neglected in the past. I also incorporate some 'add-ons' to try and shock the body with additional stimuli. These include finishing general runs at 3:30/km once a week, a routine of hill strides and a number of 1 min surges often thrown into a medium-long run.
I'm currently at a point where I'm comfortable running marathon pace for 100mins and above 90% MP for the full journey, so hopefully with no setbacks and a successful freshening up phase I can put a strong result on the board. 
Do you have a strong focus on nutrition? 
In the past I haven't so much, but I've always said if I get close to a level that could make the difference between making teams then I would focus more on it. Right now I'm pretty balanced, I don't pay really close attention to the specifics while training but I make sure I limit the really bad stuff. In terms of nutrition leading up to and during the race that is something I'm learning and getting on top of. I was able to have a dress rehearsal while pacing Jess on the weekend and everything went well so I'll continue to practice that routine in my big sessions. I'm slowly getting better at drinking while running, which believe it or not has been really hard to get used to.
You've obviously found a good balance between heavy training and the rest of life. Can you talk us through a typical day for Josh Harris, if there is such a thing?
I'm currently in my first year of the real world after graduating from uni last year. It's been good in terms of having money, a set routine and good recovery time between runs but I struggle to get moving in the morning and the winter was a real test of the dedication. The switch from bludging, to work, has meant less time for the social life, but that has its pros and cons.
It really varies depending on if it's a weekend, weekday or school holidays or not.
A standard school day is as follows;
6:20am: Alarm
6:40am: Morning run (30-40mins)
7:50am: Leave home
8:10am: Arrive at work (Grade 10 Maths/Science/PE teacher)
3:20pm: Finish work (4:45pm Mon/Tue)
Straight afterwards: Main daily training
6pm-8pm: Arrive home, wash, eat
8pm-10pm: School planning or relaxing (depends on what has to be done)
10-11pm: Sleep (almost always instantly) 
Favourite motivational movie?
I'm not a huge movie man. I'm more into the PS4 and playing out dreams that can't be achieved in real life. Although it doesn't motivate me anymore my most watched movie would definitely be Forrest Gump. 
Are there any shout outs you'd like to give?
Definitely. I'd like to give a shout out to Brooks for the ongoing support and awesome gear. Finally to Laurel and mum. Without their help with all the little things like being able to live at home and not having to prepare meals, as it would be tough trying to fit it all in at the moment.
Thanks Josh