Runner's Tribe – At only 20-years of age, USA's Donavan Brazier has already achieved a mantle of highly impressive records. The NCAA and high school 800m record holder only just last week came tantalisingly close to breaking Johnny Gray's US indoor record (1:45.00), by running a 1:45.11 and winning the 2018 New Balance Indoor Grand Prix. Now, just overnight Brazier secured his second US National 800m title and improved further on his indoor PB with a 1:45.10.  Runner's Tribe was lucky enough to complete this Q&A with the rising middle distance global mega star whilst training at the University of Texas A&M just before US indoor nationals.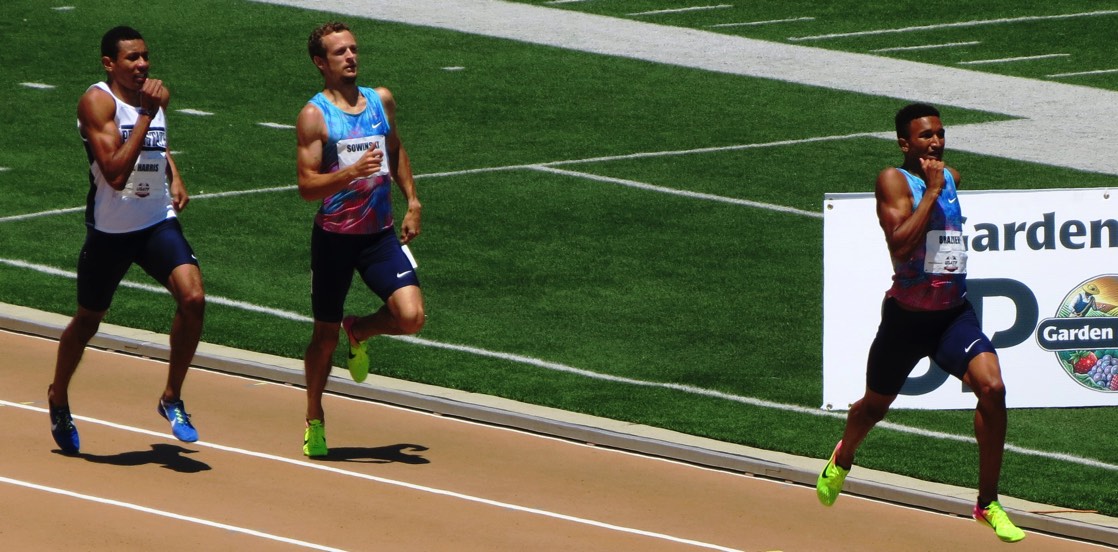 "I'm hoping if I'm in the race, it isn't ever tactical, and I'll change that if it is." – Donavan Brazier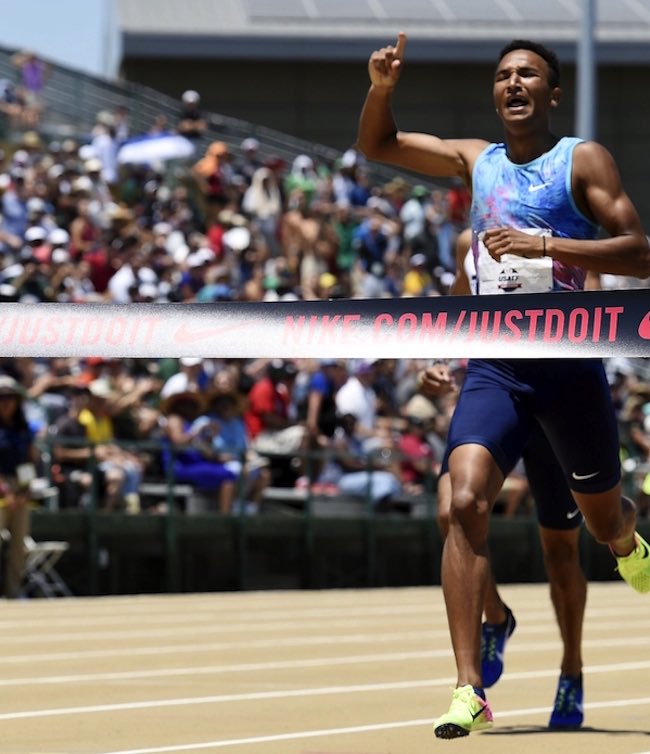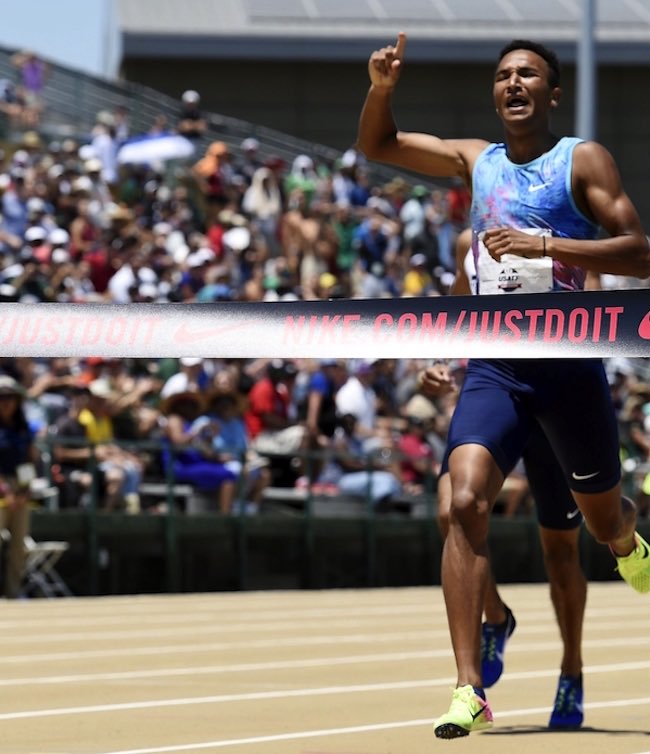 Where are you currently training at?
I am currently training at the University of Texas A&M which is where I ran track for a year before turning pro with Nike.
You hold the collegiate and American junior outdoor & indoor records in men's 800 meters and won the NCAA outdoor championship in 2016. How have you managed the weight of expectation throughout your record-breaking career?
I manage weighing off expectations by knowing that I'm the hardest one on myself. I know people except a lot out of me especially after turning professional but that doesn't out weigh the expectation I have for myself and how I see myself in the future of the sport.
You passed McBride with 150 meters to go and win in the 2016 NCCA champs in 1:43.55 evidently setting a new collegiate, American Junior and NACAC junior record and world junior (U20) leader. Did you know you had this moment in you and how special was this run to you?
When I ran the collegians record breaking time of 1:43.55, I was very surprised at how fast it was, because my main objective going into the race was just to score as many points as possible for my team. My previous PR before that was in the 1:45s so when I ran the 1:43 I was very surprised. But Coach Francique was not at all surprised and even said I should have gone faster.
The previous American junior outdoor record was Jim Ryun's 1:44.3/1:44.9y, set exactly fifty years earlier on June 10, 1966. That's a long-standing record you crushed held by one of the greatest ever. What drives you to succeed? Is it making history or something else?
What drives me to succeed is just to see how fast I can go. Which is partially the reason I like to go out at a faster pace opposed to other 800m guys.
You turned professional after your NCAA victory, signing an endorsement deal with Nike and forgoing three remaining years of collegiate eligibility. What inevitably led you to this decision?
What led me to my decision to turn professional with Nike was to just reach the next level of competition. I had done everything that I thought needed to be done on a college scale (School Records, Conference records and title, NCAA Title and NCAA record). I knew that a lot of people were questioning if I should have waited to turn pro but I talked it through with my family and we decided that it was the right time to do so.
After finishing 19th in 800 meters at 2016 United States Olympic Trials in 1:48.13 you reconnected with your coach from Texas A&M University (Grenada´s top 400m runner Alleyne Francique). How important and beneficial was this move for you?
After I finished my 2016 season I was coming off a disappointing placement at the US Olympic trials, I had decided to go out to Orlando and train with Johnny Grey the American record holder in the 800m and Duane Solomon. It seemed like the right move at the time but I inevitably decided to go back to A&M to be around my team and train with the coach who got me to run 1:43. It was huge to go back there because I was back in familiar territory and was able to continue on working towards my degree.
At the 2017 National Championships, you won your first open National Championship, thus qualifying for the World Championships. Despite some may see this being inevitable, it's a massive win and huge achievement. How satisfying was it win your first open US championships?
Winning the US title in 2017 was a solid achievement to me because It was my first big win as a professional and really put in a solid showing that I do deserve to be where I am at and to be running for Nike which has had so many great sponsored athletes.
You broke the 4-minute mile at College Station last year. It would seem though you could go very well at this distance and 1500m. Where did you sit with racing more of these distances? Is this something you and your coach will build into with time or is all pure focus on dominating the world over 800m?
Breaking the 4 minute mile barrier was nice because I never got too many opportunities to do so with that only being the 2nd time I ran it in 3 years. So breaking that I think showed that I might have potential in the event but for now I've been strictly focusing on the 800m. Although I do plan to race more 1500 outdoors. This would be my first season doing so..
What motivates you to train day in day out?
What motivates me to train hard every day is knowing that I've been blessed with an opportunity so little people get and to not try my hardest and push myself I feel would be a waste. I realize I'm in a position that is so limited and so hard to get so I want to make the most of it while I can.
If you could go pro at any other sport than running what would it be?
If I could go pro at any other sport It would be basketball. But based on my jumper (vertical leap) it would probably have to be football.
Brazier's PB's
OUTDOOR
| DISCIPLINE | PERFORMANCE | WIND | PLACE | DATE | RECORDS |
| --- | --- | --- | --- | --- | --- |
| 400 Metres | 47.02 | | Tempe (USA) | 09 APR 2016 | |
| 800 Metres | 1:43.55 | | Eugene (USA) | 10 JUN 2016 | |
| 4×400 Metres Relay | 3:02.96 | | Waco (USA) | 23 APR 2016 | |
| 4×800 Metres Relay | 7:18.95 | | Austin (USA) | 02 APR 2016 | |
INDOOR
DISCIPLINE
PERFORMANCE
WIND
PLACE
DATE
RECORDS
400 Metres
46.91
College Station (USA)
20 JAN 2018
600 Metres
1:16.02
Albuquerque (USA)
04 MAR 2017
800 Metres
1:45.10
Albuquerque (USA)
18 FEB 2018
1000 Metres
2:21.79
New York (USA)
11 FEB 2017
One Mile
3:59.30
College Station (USA)
09 DEC 2017
4×400 Metres Relay
3:07.80
College Station (USA)
09 DEC 2017
Top photo: Donavan Brazier (right) about 20 meters from winning his first USA 800m title at the 2017 USATF Outdoor Track & Field Championships in Sacramento, Calif., ahead of Erik Sowinski (center) and Isaiah Harris (photo by David Monti for Race Results Weekly)