(c) Runner's Tribe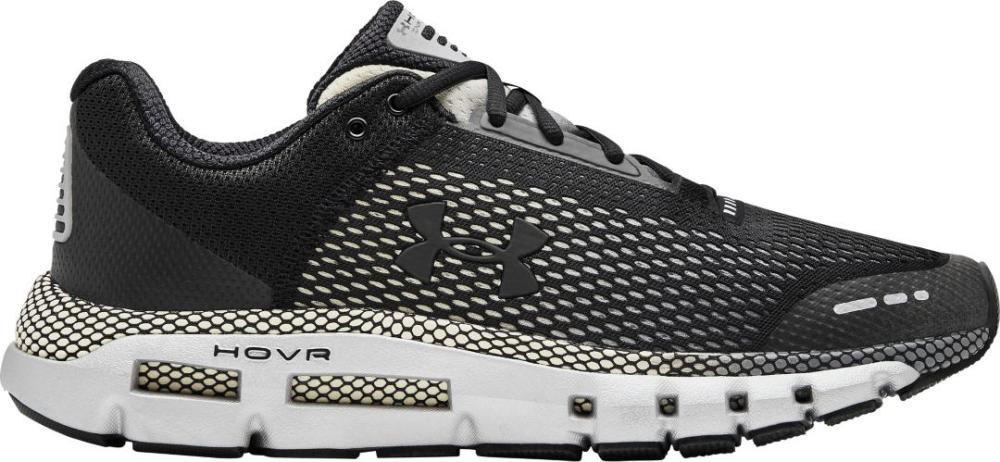 Disclaimer:  We were not paid a cent for this article.
Before being contacted by Under Armour I had never worn or touched an UA product. I knew they made shoes, but I figured they weren't any good. Then when Luke Mathews signed with the Baltimore-based brand, I figured ok, maybe they are worth a shot. Good on them at least for supporting one of our best middle-distance runners.
UA are in fact, legit and are out to make awesome running shoes their number 1 priority. Listed on the New York Stock Exchange with a market cap of approximately 10.5 billion dollars, they are twice the size of the company (Deckers Corp.) that owns the Hoka brand (market cap approx. 5 billion). However, they are still tiny when compared to Nike (market cap 129 billion).
Runner's Tribe took these shoes through 400km of mostly road and light trail running, and below is our unpaid for analysis.
Specs
Km's run during testing process: 400
Testers: One road/track runner.
Surface: Road or light to moderate trails.
Purpose:  Everyday high mileage trainer. Good for warm-ups and warm downs. Good for easy runs or long runs.  Not a speed shoe.
Pronation: Neutral.
Stack Height: 29mm heel. 21mm forefoot.
Heel-to-toe-drop/pitch: 8mm
Weight: See the below table for brand comparisons)

Men: 9 US:  295g (Nike Pegasus is 266 grams).
Men: 11 US: 327 grams (Nike Vomero is 312 grams)
Upper: Mesh.
Midsole: UA call it a full length HOVR midsole with a 'cage and core system'. More on it below.
Outsole: Hardly any exposed foam, all rubber.
Flexibility: Firm.
Toe Box:  Quite narrow.
Durability: Excellent.
Density of midsole: HOVR core is very soft, EVA cage is slightly less soft, but still soft.
Heel cushioning: Soft.
Forefoot cushioning: Soft.
Heel counter: Hard/rigid, doesn't collapse easily.
Fits: Runs true to size.
Marketing Hype:  Huge check this out
Price: $200.00 AUD at UA Australia.
Against some rivals
| | | | |
| --- | --- | --- | --- |
| Shoe (all size US 9 Men | Weight (grams) | Drop(MM) | Stack Heights (forefoot/heel cushioning) |
| UA Infinite | 295 grams | 8mm | 29mm/21mm |
| Hoka Clifton 6 | 255grams | 5mm | 29mm/24mm |
| Nike Vomero | 281grams | 10mm | 27mm/17mm |
| Nike Pegasus | 266grams | 10mm | 28mm/18mm |
| Adidas Solar Boost | 301grams | 10mm | 28mm/18mm |
| Asics Nimbus | 315grams | 10mm | 31mm/21mm |
| New Balance 1080 | 283 grams | 8mm | 30mm/22mm |
| Mizuno Wave Rider | 289 grams | 12mm | 32mm/20mm |
| Brooks Glycerin | 309 grams | 10mm | 32mm/22mm |
| Brooks Ghost | 286grams | 12mm | 29mm/17mm |
| Nike Epic React | 224grams | 10mm | 28mm/18mm |
As seen above, the Infinite is towards the heavier side of the scale, but still lighter than classic heavy shoes like the Asics Nimbus or pretty much any Adidas shoe.
Cool things about this shoe
HOVR Midsole: UA have created a new midsole technology with their HOVR midsole.  The midsole is a new proprietary foam compound, made in partnership with Dow Chemical. HOVR is infused with Olefin,  a wax-like synthetic material, which is incredibly strong and resilient. It is soft and feels like a pillow.  The soft HOVR midsole has a cage around it made of soft EVA foam, the cage brings some structure and support to the shoe.
The HOVR foam is very soft and it creates a soft ride. It is probably the softness foam on the market. However, it is enclosed in a cage (wall of harder EVA foam) so a lot of the softness gets lost.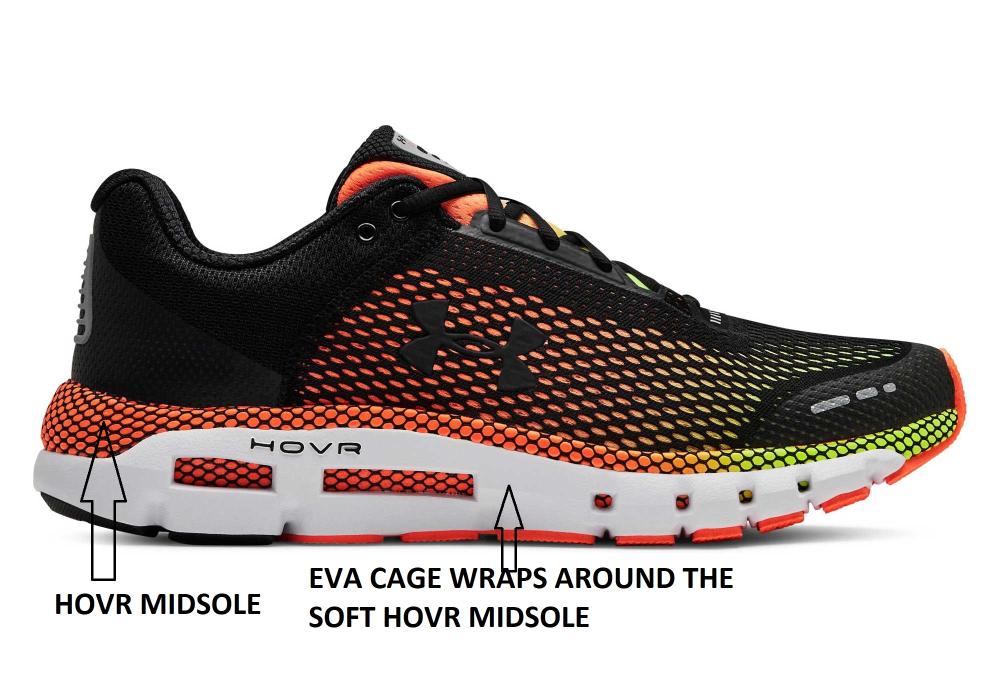 High-end upper: The engineered mesh upper feels high-end.
Durable: Our pair is looking unscathed after 400km. With the ample outsole rubber and the new, durable HOVR foam, this shoe is a true workhorse. Seems to be as durable as perhaps a Nike Vomero or Adidas Boost shoes. Much more durable than any brand that still uses out-dated EVA midsoles (such as Hoka, Altra, New Balance, Mizuno & Asics).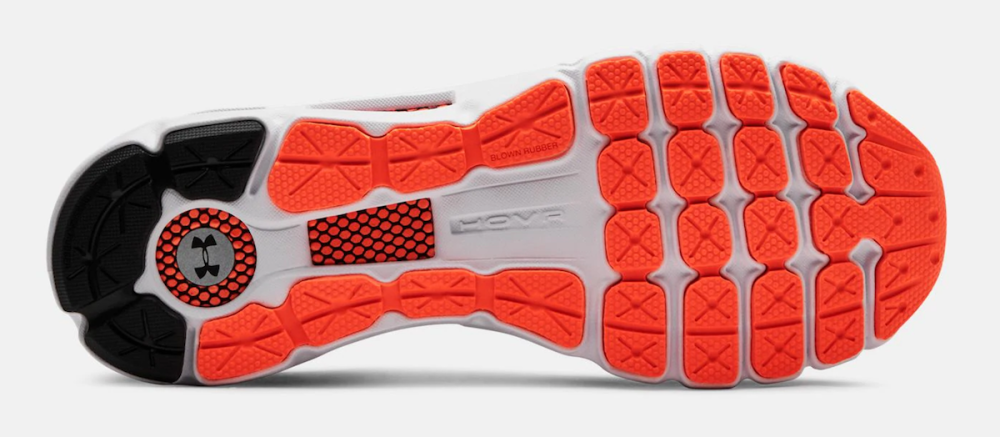 Perfect for long runs: The shoe isn't built for speed, but it is a soft cruisy ride that is easy on your legs and you can run all day in them For those casual warm-ups and warm-downs, or for easy runs or long runs, this shoe gets it done.
Suitable for trails: With heaps of rubber on the outsole the shoes have a lot of grip. Fine to take on pretty decent trails.
Digitally connected to mapmyrun: The UA HOVR Infinite has an embedded sensor in the midsole of the right-footed shoe that digitally connects seamlessly to the MapMyRun™ app via Bluetooth™ Low Energy (BLE). The digitally connected shoes can track, analyze, and store detailed running metrics to inform ways to improve performance. New in 2019 is the Gait Coaching feature, which can tell the runner fine-grain details about their stride and provide a holistic view with historical data to predict pace and plan for future runs. In addition to the virtual coaching, runners become a part of the world's largest digital health and fitness community of 245+ million people – all united by a mission to become better.  However, if you don't care about the digital connection, just ingnore it, the chip is not noticeable.
Uncool things about this shoe
Full length rubber outsole blunts the shoe's softness: One of the reasons Hoka shoes feel so soft, despite the midsole being made with cheap old-fashioned EVA foam, is that most Hoka shoes have very little outsole rubber. UA's outsole rubber is similar to what Nike do with their Vomero or Pegasus ranges.  The rubber means the shoe has great traction, but it also means the lovely softness of the HOVR foam is diluted.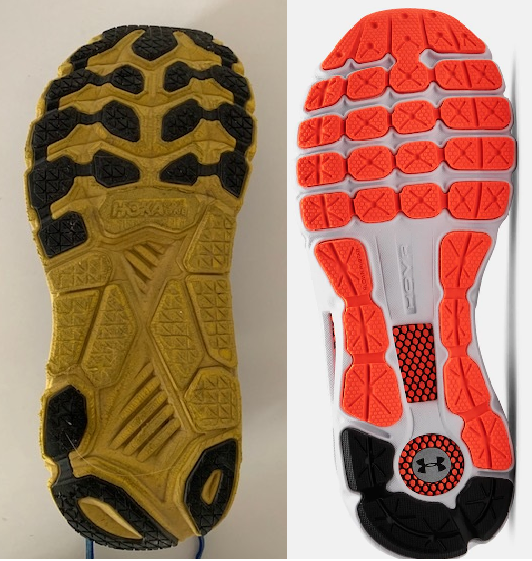 Heavy: With the ample outsole rubber the shoe is on the higher end of the scales. It has an old-school bulkiness to it and isn't suitable for runners that love super light shoes. Having said that there is only 30-40 grams difference between the UA Infinite and say the Nike Pegasus, most won't notice.
Toe Box: I have very skinny feet and my toes still get squeezed a little in these shoes. It isn't as narrow as most Nike shoes, but it is nowhere as nice as an Altra or Topo.
To buy or not to buy?
The HOVR midsole foam is novel and fun. It is like no other shoe on the market. The HOVR foam creates a soft ride – but not too soft,  as the outsole rubber keeps it responsive.  The combination of a high quality upper, new HOVR foam and ample outsole rubber, means the shoe is a workhorse with incredible durability if you don't mind a heavier type shoe.   It's a soft, fun ride and is so durable that it provides great bang for your buck.
Disclaimer:  We were not paid a cent for this article.
 Written by Sam Burke for Runner's Tribe
View this post on Instagram