Target 60 – Rio Only Just Around the Corner
There are 106 days until the opening ceremony of the Rio de Janeiro 2016 Summer Olympics in Brazil, and the excitement continues to build as our Australian Athletics team continues to take shape. We are hoping that the final numbers will total around 60 individual athletes, and there are signs that this number could be achieved as we approach the final cut off date of July 12 (note: Nominations by AA must be received by the AOC by 5pm AEST on Tuesday 12 July 2016).
In this regular (not necessarily weekly) international update we will have specific sections, that will be as follows:
Rio Flame Still Burning – a look at all of our Australian athletes still looking to make the final team for Rio, hoping to find those all important qualifying marks in the upcoming months.
Going for Gold in Rio – a close look at our already qualified athletes, as they work their way through their preparations in the lead up to the Olympic Games in August. Includes any interesting updates from international athletes in specific events that will be of great interest to Australian fans (such as the women's 100m hurdles).
US College Stars – in the lead up the NCAA Championships in the United States (Eugene, June 8–11), we will be updating you on results from all our major Australian College athletes competing at the NCAA Division 1 level.
So now on with our first update, with the first Diamond League meeting now just over 2 weeks away (which takes place in Doha, Qatar on May 6).
Rio Flame Still Burning
The most important event that took place recently was the High Noon meeting in Canberra on April 16. It was a great meeting for athletes still based in Australia, and saw some encouraging results from our athletes still chasing Olympic qualifiers.
Steve Solomon ran another solid 400m, this time in 45.98s, edging out a very impressive run from Ben Offereins (46.13s SB). Coming off a superb 45.50s win at the National Championships, Solomon is well on track in recording the all important OQ time of 45.40s.
Melissa Breen ran two quality 100m times of 11.37s SB (final) and 11.43s (heat), both important performances leading into her assault on the 11.32s OQ time when she ventures over to Japan – commencing with the Oda Memorial meeting on April 29 and concluding with the IAAF World Challenge meeting in Kawasaki in May 8.

Brittany McGowan, Selma Kajan and Lora Storey – all still hunting for Olympic selection

In a race won by Dylan Stenson (1.47.74), the men's 800m was another chance for Alex Rowe to push hard for the OQ time of 1.46.00. It didn't eventuate (finishing with a 1.48.88), so now we will likely have to wait for Rowe to venture over to Europe to see if he can bridge the gap and qualify for Rio.

Jessica Penney is clearly in career best form, and another 6.52m performance again proved that point. Still a difficult task to push up to the 6.70m required, but there is definitely still great hope that she can achieve the required distance prior to July 12.
Brittany McGowan recorded a 2.04.66 win in the women's 800m, not close to the OQ of 2.01.50 but nonetheless still a step in the right direction (with 2nd place well back in 2.10.20 – Georgia Wassall who is returning to the track after a lengthy lay off due to injury). McGowan will now follow Breen across to Japan to compete in the IAAF World Challenge meeting on May 8. We also understand that Lora Storey will continue to race over in the United States in May, coming off a breakthrough in the 800m over the domestic season of 2.02.68 (Perth, March 12). Another athlete looking at the OQ in the 800m is Selma Kajan, and she will be in Europe in late May looking for the required 2.01.50.
Jess Gulli-Nance – don't dismiss the chances of Gulli-Nance forcing her way onto the 4x400m squad for Rio, after a very tidy 53.41s SB in the 400m. Winning the event was another looking at being selected as part of the Australian women's 4x400m team, Caitlin Jones (52.95s)
Away from the local scene, Matt Denny has been throwing 'big' in the United States – recently improving his PB to 64.01m in Salinas, CA. Denny is now only 99cm's away from the all important OQ distance of 65.00m.
In upcoming events all eyes will be on the London marathon (Sunday April 24) where Craig Mottram, Shawn Forrest and Cassie Fien will take to the start line. If Mottram and/or Forrest could run under 2:15.00 then they could easily see themselves selected for Rio when selectors meet next week. Also in the running is Liam Adams, who will be competing in the Warsaw marathon in Poland, also on Sunday. He has already run a 2:16:29, but would need to better Scott Westcott's 2:15:30 to guarantee himself a spot on the plane to Rio.
Going for Gold in Rio
There was nothing better than seeing Sally Pearson back hurdling in training, and she is now on track to compete on the Gold Coast (most likely mid May). On the flip side of this great news was the terrible news that Melissa Duncan will be out for up to 6 weeks. On social media Duncan posted:
"Unfortunately, I've been told I have a fracture and torn ligament underneath my foot. Not the greatest news a few months out from the Olympics. Spending the next six weeks in the pool is a slightly different road to Rio than I imagined, but hopefully I can share some insights of this next chapter on my quest to be my best in Rio and help anyone else in the same boat!"
All we can hope for is that Duncan has a speedy recovery and still show us her very best in Rio. We wish her all the very best as she overcomes this untimely injury.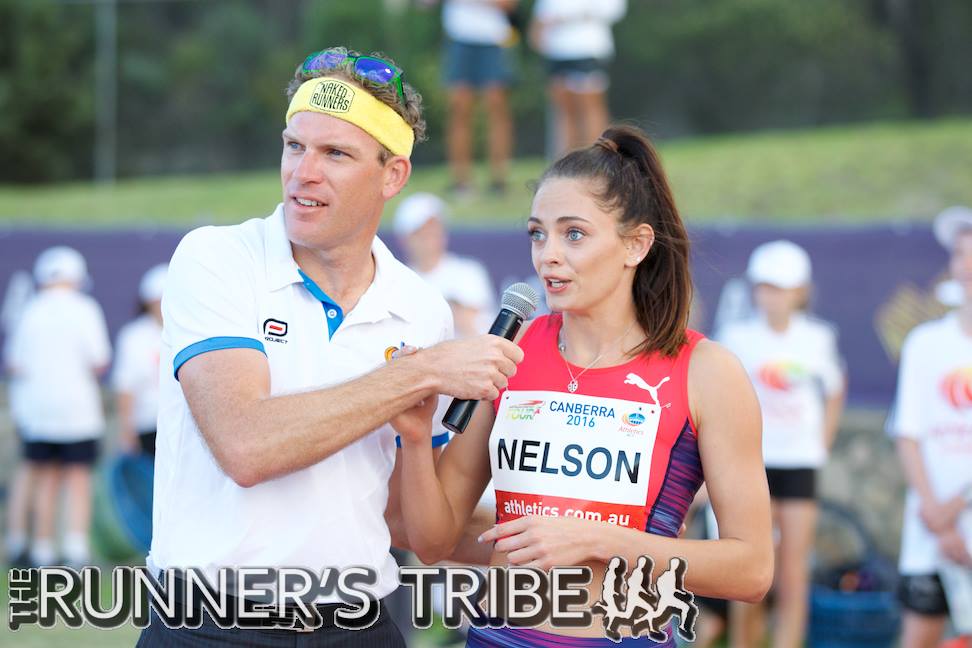 In great news from the United States, Ella Nelson has won her first top international race taking out her heat of the 200m (22.72s, +1.9) at the Mt. Sac Relays in Norwalk, CA. It's yet another confidence boost for the star sprinter ahead of the Olympic Games in August, especially considering that she beat home some quality opposition which included top British sprinter in Jodie Williams (PB of 22.46s).
In Diamond League news it will be great to have both Fabrice Lapierre (long jump) and Madeline Hills (3000m) on the starts list for the meeting in Doha, Qatar in May 6. Hills will be returning to Doha, after previously recording her second fastest time of her career in the 3000m steeplechase – when placing 6th in 9.28.41 at last years meeting. On the other hand Lapierre also has fond memories of Doha, winning the World Indoor title there back in 2010.
This Saturday also watch out for Jared Tallent, who takes his place at the IAAF Race Walking event in Taicang, China.
US College Stars
The most impressive performances have come from the men's 1500m and the women's 3000m steeple events.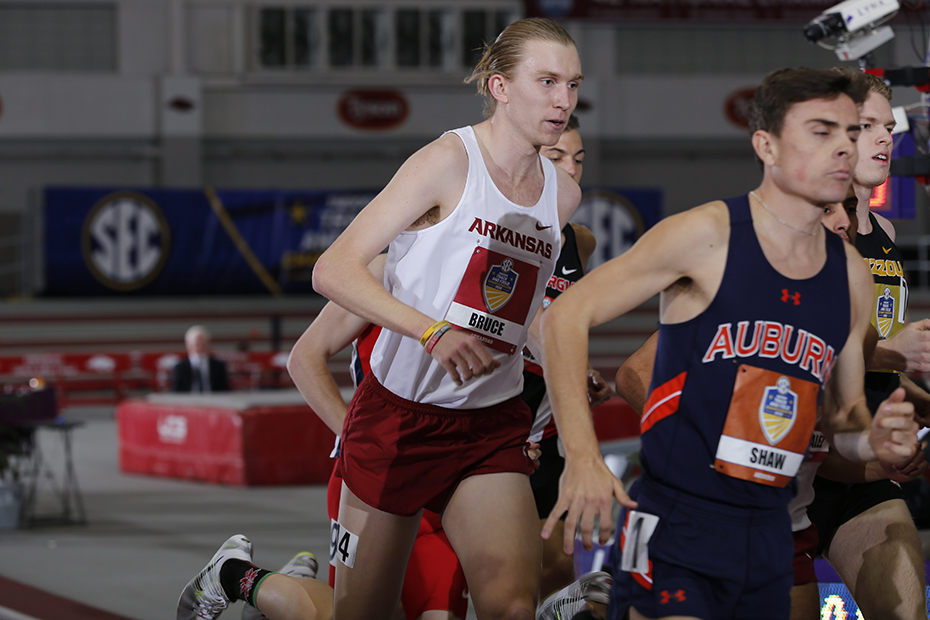 Bryan Clay Invitational (April 14)
2015 cross country All-American, Jack Bruce (pictured right), had the best performance of the day for Arkansas, running 3.41.67 to finish first in a very competitive field. Bruce had previously run a 13.54.15 PB in the 5000m (April 1), but nothing suggested that he would smash his PB in the 1500m by just under 10 seconds.
In the women's 3000m steeple we have seen some excellent results from both Brianna Illarda (Providence) (10.04.17 PB) and Laura Donegan (New Hampshire) (10.09.35 SB). Both would be expected to make it to the NCAA Championships in Eugene in June.
RT Results Portal
Don't forget to stay up to date with all the latest Aussie results by clicking here