What We Learned from 'Super Saturday' – Proud to be an Australian
If you have managed to catch any of the IAAF World Indoor Championships over the past 3 days you would have witnessed some tough competition, accompanied by some gutsy Australian results. It hasn't gone to plan for all our Australians over in Portland, Oregon, but when you see Fabrice Lapierre win silver in the men's long jump, Brooke Stratton place 5th in the women's long jump and Melissa Duncan place 6th in the women's 1500m final there is a sense of pride in being Australian.
The two performances from Stratton and Duncan didn't end with medals hanging around their necks, but what did happen was both athletes not being afraid to take it up to the very best in the world. Stratton produced her 4th best jump of her career (6.75m), while Duncan decided to push from the front in the 1500m final – and when many other athletes would have faltered over the final 400m, Duncan simply refused to give in and she should be extremely proud of her overall efforts (ed. finishing in 4.09.69 and finishing only 0.12 behind the talented American Brenda Martinez).
Melissa Duncan post race interview:
Stratton Top-5 in the World!
Stratton was part of one of the better long jump competitions ever seen at a World Indoors, with a great head to head clash between Brittany Reese (USA) (7.22m) and Ivana Spanovic (CRO) (7.07m) impressing all the fans in the stadium. Lorraine Ugen (GBR) also joined in on a quality final with a best of 6.93m, to take home the bronze. Stratton, the youngest in the final, at 22, gained the necessary experience that will one day also have her challenging for the medals at a major championships. In many respects the competition in Portland was a mini dress rehearsal for the Rio Olympics, and if you look at the table below you will see that experience will count for everything come August.
[supsystic-tables id='7′]
Lapierre – Retirement, No Way!!
[playwire_video video_post_id=8359]
In the men's long jump Lapierre (8.25m National Indoor Record) added yet another medal from a major championships to his already impressive collection, which now totals six at either a World Junior Championships, World Senior Championships or at a Commonwealth Games. His list of medals are as follows:
2006 World Junior Silver
2006 Commonwealth Games Bronze
2010 World Indoor Gold
2010 Commonwealth Gold
2015 World Outdoor Silver
2016 World Indoor Silver
The only major outdoor meeting that he hasn't one a medal at is the Olympic Games, where he finished 16th in qualifying at his only Olympic Games appearance back in 2008 in Beijing, China. This year in Rio he will be one of the favourites to win yet another major medal behind the likes of Greg Rutherford (GBR) and Marquis Dendy (USA) – who beat Lapierre in Portland with a 8.26m jump.
Lapierre (RT's Australian Male Athlete of the Year for 2015) has clearly shown the world that he can produce the 'big' jumps when it counts, and we can only hope that his biggest jump comes in the Rio final – and this time the medal around his neck will be gold!
Other Results from the World Indoor Championships:
Michelle Jenneke missed the final by 0.01s, recording a time of 8.10s for the 60m hurdles
Brett Robinson did make the final of the men's 3000m and placed 11th overall
Collis Birmingham just missed out on making the 3000m final by one placing
Chelsea Jaensch didn't have her best competition of the year in the women's long jump, but was pleased to gain the experience of a big international meeting – finishing with a best jump of 6.38m and ending up in 11th place overall
Alana Boyd had a terrible mishap in the warmup for the women's pole vault – but all reports are that the seriousness of her ankle strain is not as bad as first thought. Reports are that she could even take her place at the National Championships in two weeks time.
Sydney Track Classic plus Queensland Track Classic
So what was happening in Sydney and Brisbane, did we simply expect too much only two weeks out from an Olympic Trials/National Championships? On the face of it there was little to write home about, but then again there may have been legitimate reasons for the minimal highlights from one of our biggest Track Classics of the season in Sydney and from the Queensland Track Classic. Either way we try and answer some important questions leading into the Nationals.
Question: Are we Going to See an Olympic Qualifier in the 1500m? 
We may have hoped for one or two Olympic qualifiers from the Sydney Track Classic across both the men's and women's events, but essentially many athletes have already decided that the main aim of the season is to win the National title and then worry about the Olympic qualifier – either in the United States for Europe.
In the men's 1500m we saw the usual suspects in Ryan Gregson (1st in 3.39.69) and Luke Mathews (3.40.55) up front (with a brief push from Josh Wright down the back straight), but they were never going to latch onto the 'crazy' pace making over the first 3 laps of the event. There is no doubting that both Gregson and Mathews will find the right race in Europe to produce the required 3.36.20, but we won't see that time in Australia – as typically the National final is a tactical affair.
Some of the athlete comments post race (thanks to Sweat mobile):
"It was a well hyped race, and was excited to put it all out there and hopefully run the 1500m Olympic qualifier. The plan was to tuck in about 4th or 5th, take the lead with 800m to go and commit. And was hoping the pace was hot so that could dip under 3.36. Went through the bell in the lead in 2:45 and felt flat as a tack. Grego (Ryan Gregson) kicked past with 300m to go, and a few of the other boys in the race got on my shoulder. Had a second wind with 250m to go, and honestly thought that I might be able to pass Grego down the straight, but the man is too good. Bit of a reality check post Melbourne, but hey it happens." – Luke Mathews

"Pretty disappointing race tonight, 3.42.98 for 6th place. Was expecting a decent pace with what looked like a solid field on paper – unfortunately the pacers were some of the worst I've seen. Post race pulled up well, didn't feel like I really tested myself in the race which probably explains why the body felt good". – Sam McEntee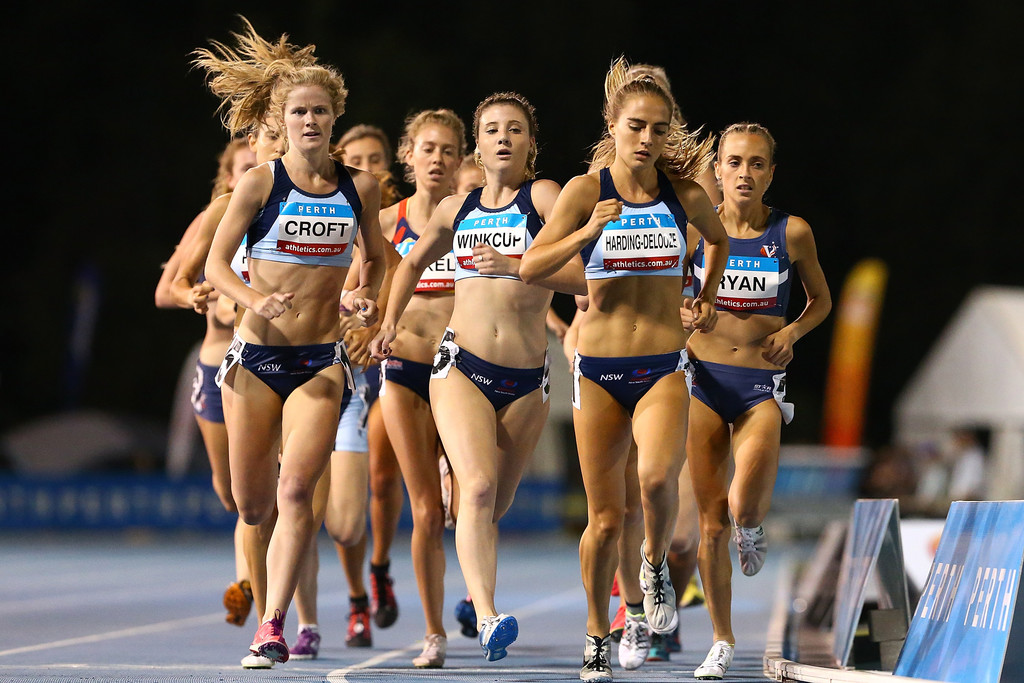 In the women's race we saw a different type of race that we saw down in Melbourne, largely due to the gutsy front running from Linden Hall (see her journal for RT by clicking here). It changed the whole complexion of the race, and it took a string finishing burst from Heidi See (4.10.37) to push Hall (4.10.74) back into second place. Genevieve LaCaze hung onto third (4.11.05), while Jenny Blundell was defeated for the first time this summer over the 1500m – finishing in 4th in 4.11.10.
So what did we take out from the women's 1500m?
Well we did see the continuous improvement of Rio qualified Zoe Buckman (4.13.82) – with all reports suggesting that training has been going really well after her injury plagued 2015.
Hall delivering her second fastest 1500m time of her career – behind a PB of 4.10.41 from 2015
See looking in great form heading into the Nationals, and more importantly pushing for that all important 4.07.00 Olympic qualifier later on in May/June (most likely in the United States)
17 year-old Amy Harding-DeLooze improving her PB to 4.16.18 and in the process moving past the likes of Blundell and Benita Willis on the Australian Junior All-Time ranking list – moving all the way up to no.12 on the list.
Question: Are We Going to See a Australian Women's 800m Representative in Rio?
It's really hard to say, and we could have to wait for a few more months to find out the answer. Selma Kajan is the most likely candidate (after her 2.02.26 from the Perth Track Classic). The you have the intriguing battle that could take place at the Nationals Championships, with Tamsyn Manou every chance of lining up in the event, and also having every chance of winning her 19th National title (especially when you can run a 2.02.4h at a Victorian Milers meeting on a windy night at Nunawading, albeit in a mixed race).
The only other athlete in calculation would be Lora Storey (2.02.68 PB this year), but we don't even know if she will be running the 400m hurdles or the 800m in Sydney. Then there is Georgia Wassell, but we haven't seen her compete in 2016 and would have to see as somewhat of a wildcard in terms of Olympic qualification goes. So in summary Kajan is simply happy to win the National title and move over to the United States to try an attack the qualifier – an equation that's certainly plausible.
Question: How Good is Alex Hartmann?
The simple answer – very good!! He was clearly the athlete of the meet at the Queensland Track Classic,demonstrating his pure speed in the 100m (10.29s PB) and his excellent turn of speed coming off the bend in the 200m (20.87s into a -1.5m/s headwind). The two performances should excite everybody as he heads into the National Championships – with Hartmann himself suggesting that something special is on the cards, weather permitting, in Sydney in a fortnight's time. Something in the 20.3x second range over the 200m – now that would be special.
Hartmann's top-5 performances in the 200m over the past 2 years:
20.45s in Canberra (2016)
20.59s in Canberra (2015)
20.60s in Brisbane (2016)
20.67s in Brisbane (2015)
20.74s in Canberra (2016)
Question: Is Caitlin Jones Moving Closer to Securing a Berth on the 4x400m Team for Rio?
The women's 4x400m team make up is intriguing to say the least. We have the top-2 400m runners in Australia, Morgan Mitchell (51.81s) and Anneliese Rubie (51.69s), both securing individual spots on the plane to Rio, but the rest of the relay squad is up for grabs. Performances this year suggest both Jess Thornton (53.04s) and Monica Brennan (53.14s) will take up the 3rd and 4th places on the squad, but then it becomes interesting.
On Saturday night Jones ran by far her best race of 2016, placing third behind Mitchell and Rubie in a SB of 53.48s. Last year she ran a SB of 53.01s when winning bronze at the National Championships – a time and place that would ensure a spot on Australian 4x400m team for Rio. The National Championships should answer a few questions surrounding the relay positions, although we wont see the likes of Lauren Wells (400m hurdles) and Lyndsay Pekin (400m hurdles) line up over the flat 400m – which could make the final selection process even harder.
Additional Notes from Sydney/Brisbane
Robert Lister, on the comeback trail, again lowered his PB in the men's 800m – this time running a 1.48.42 (previous best of 1.49.29)
Annabel McDermott, who placed 3rd in the women's 5000m at the Sydney Track Classic, jumped to no.4 on the Australian Junior all-time list with her impressive 15.57.57 performance.
Gemma Maini, also competing in the women's 5000m in Sydney, slashed her PB by over 15 seconds, recording a time of 15.56.51 for 2nd place.
Lauren Wells continues to show improvement on the National tour, this time recording a SB of 56.07s in the women's 400m hurdles. Her average time from her top-10 performances of her career stands at 55.42s – a time that she is working towards in the lead up to the Rio Olympics and a time that would surely see her make at least the semi final stage.
Coming Up on the Athletics Calander
26th March – IAAF World Half Marathon Championships, Cardiff, GBR (featuring Michael Shelley, Eloise Wellings, Milly Clark, Jess Trengove and Cassie Fien. Australia chasing a team podium finish in the women's event).
28th March – Finals of the Easter Stawell Gift – watch out for the likes of Jack Hale, Melissa Breen and Lauren Wells just to name a few.
31st March to 3rd April – 94th Australian Championships (Incorporating Nomination trials for the Rio Olympic Games)