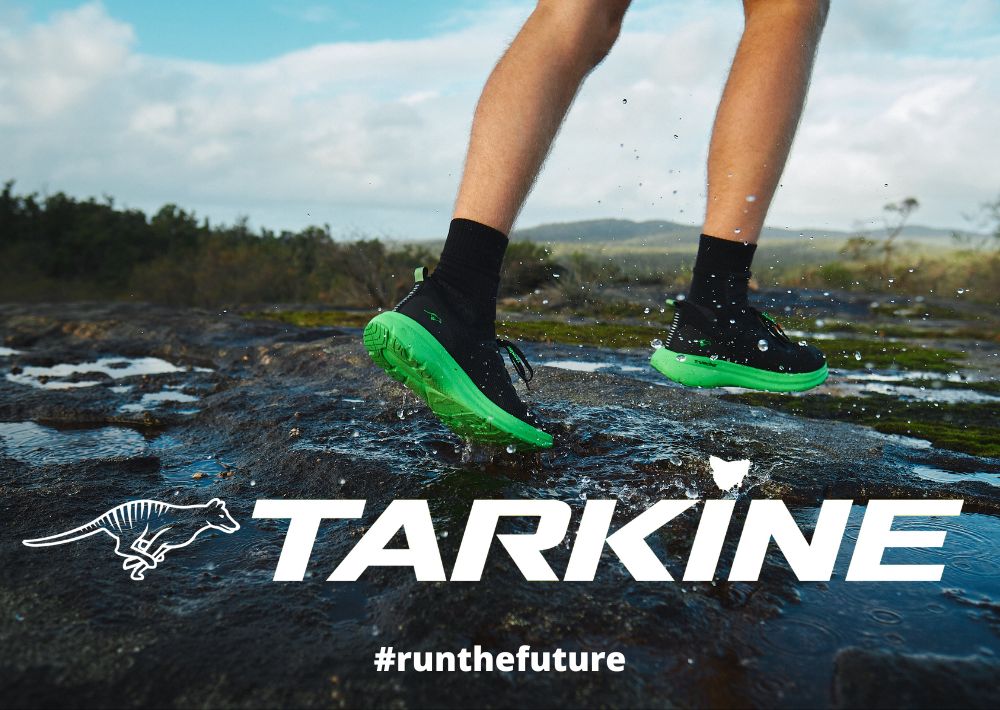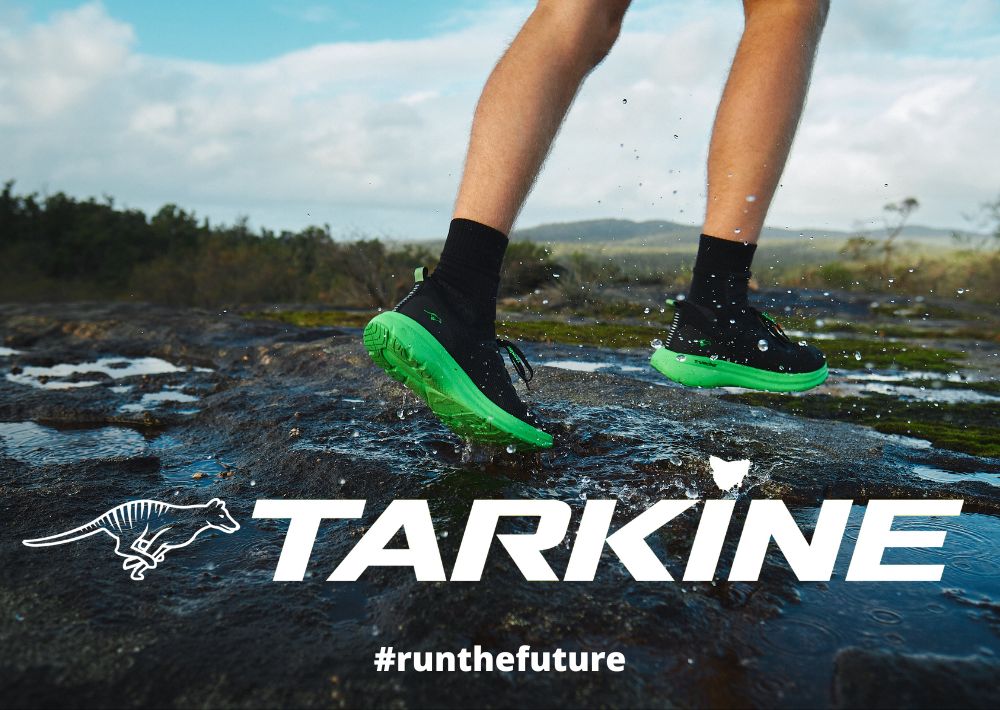 By Brett Davies
On the 26th of September, Steve Moneghetti, one of our greatest ever distance runners, turns 60 and in honour of his milestone birthday, we celebrate this most special career in a 3-part special in Runners' Tribe. Part 1 will begin with a brief background of his early days, then performances 1-5 of his best 10 races. Part 2 looks at performances 6-10 of his top 10, then Part 3 looks at his 5 best races on Australian soil as well as Moneghetti's extraordinary legacy and his continued contribution to the sport.
It's been a year of important milestones for the Moneghetti family. His parents Wilma and Henry celebrated 70 years together and Steve and wife Tanya recently welcomed their first grandchild. Moneghetti is still a hero to Australia's distance running community two decades after his official retirement. Let's look at how It all began.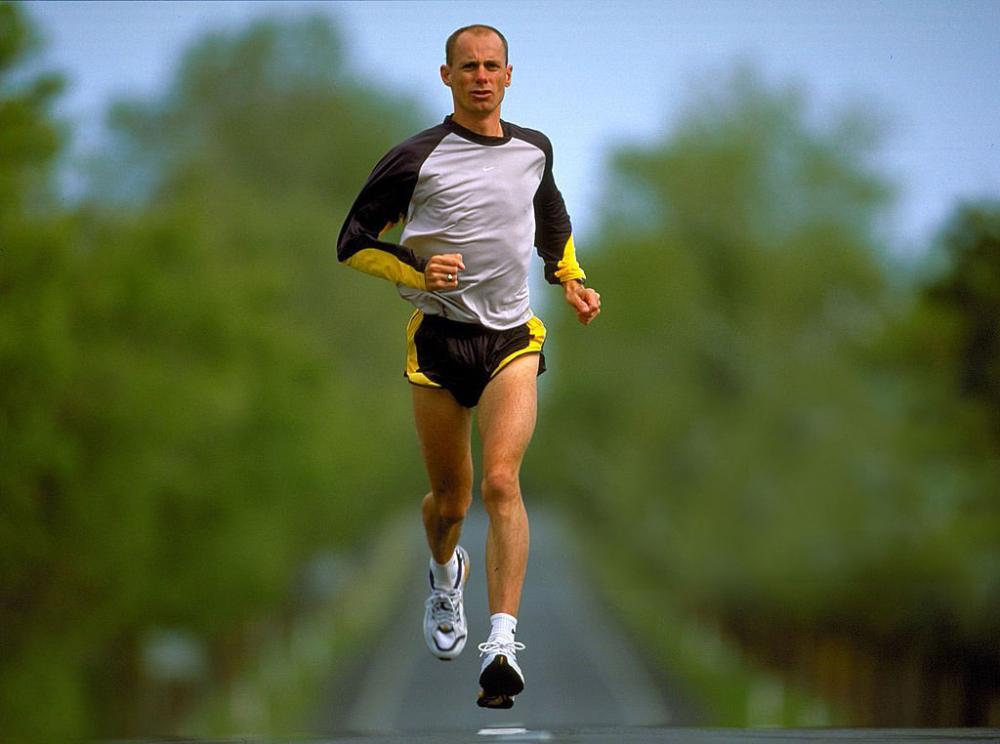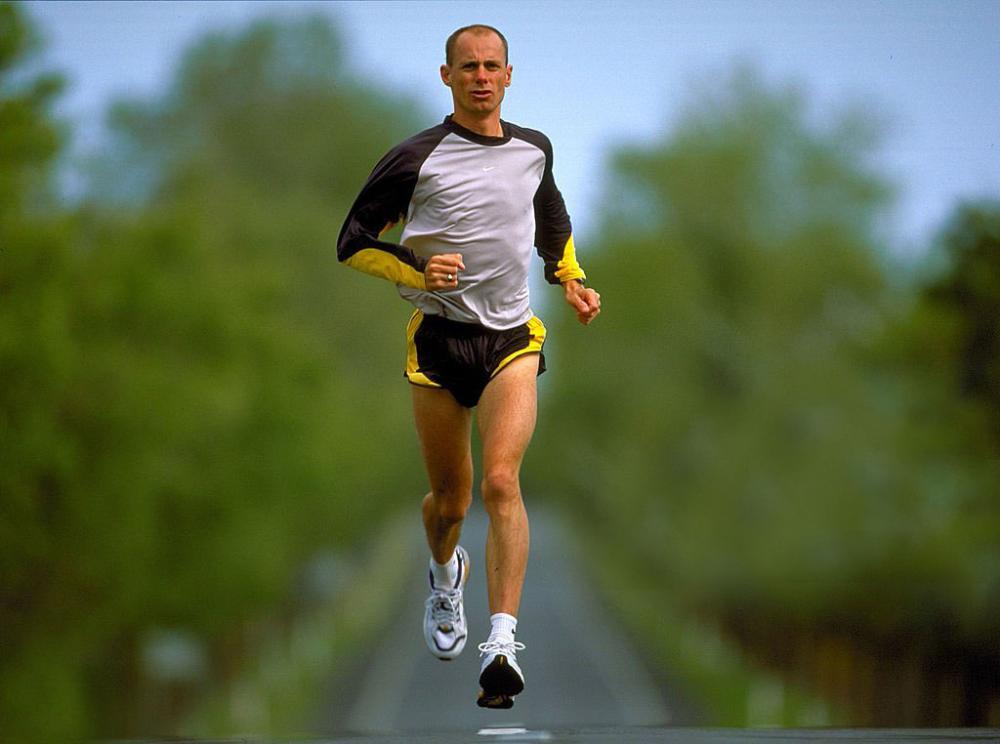 Moneghetti was born in Ballarat in 1962 and lives there to this day, just a stone's throw from his childhood home and he is an iconic figure of this historic Victorian country town. He began to take a keen interest in the sport at about 14, though he was not an immediate success. He did, however, possess the crucial attributes required to make it to the top. He is incredibly disciplined, goal-oriented, organized and has – still to this day – and unwavering passion for the sport. Having watched Waldemar Cierpinski's triumph over Frank Shorter in the 1976 Montreal Olympic Marathon, he was hooked.
 A keen participant in a few sports, he joined the local athletics club and began to focus on his running. It was local distance champion and teacher at Moneghetti's school (St Patrick's College), Tony Benson, who offered Moneghetti advice and eventually began coaching the youngster and set him on his path to success, by his enthusiasm and encouragement. He instilled in Moneghetti a belief that he could become a champion.
Moneghetti (or 'Mona', as he became known) eventually hooked up with Olympian Chris 'Rab' Wardlaw who began to coach Mona and they eventually developed a very close and incredibly successful coach-athlete relationship. Though was not the most dominant of juniors, occasionally struggling against the likes of Danny Boltz (who, like Moneghetti, is of Swiss-Australian heritage), Adam Hoyle and Quentin Morley, but he did have a huge win in the 1982 National Junior Cross Country Championships.
In 1984, a trampolining mishap led to Moneghetti being confined to a neck brace for several weeks, having fractured a C6 vertebra. This was a major turning point for the 21-year-old and as he recovered, he resolved to never again put his running in jeopardy, as he realized he had real potential in the sport. 
Moneghetti made the senior team for the 1985 World Cross Country Championships, but it was an inauspicious debut, as he finished outside the top 100, though it was a great experience for the 22 year-old.
The following year was a breakthrough year. Moneghetti ran an impressive 22nd in the World Cross Country event and was selected for the 1986 Commonwealth Games in Edinburgh in the 10,000m. After a creditable 5th behind Jon Solly (ENG), a great opportunity presented itself. Australia had only two representatives entered in the marathon: Grenville Wood and reigning World and Commonwealth Champion, Rob de Castella. Mona was offered the third spot. Mona and Rab had discussed running a marathon eventually and his training volume was geared to an eventual move to the longer events.
The 23 year-old jumped at the chance and, with a bronze medal and a 2.11.18 debut performance, the dye was cast. Here he had found his niche, and he would, over the next 15 years, focus on being the best marathoner in the world.
At the Games, Moneghetti roomed with de Castella – with whom he also shared a common Swiss-Australian heritage – and was able to learn from one of the world's great athletes. He observed 'Deek' and took notice of the way he prepared for the race, noticed his level of composure, the way he dealt with the media and his general attitude and Moneghetti absorbed these lessons and would follow Deek's example over the course of his career.
Edinburgh was the beginning of a run of incredibly consistent international performances over the next decade and a half. Here a five of Moneghetti's  ten greatest runs in one of the nation's great sporting careers.
World Championships Marathon Athens, August 1997:
Moneghetti had an incredible run in appallingly tough, hot, humid conditions, conditions he had struggled with in recent years in championship marathons. The race was run over what was, more-or-less, the original route taken by Pheidippides from Marathon to Athens to give the news of the Athenian victory over Persia, so there was a real historical significance to the race.
As he was approaching 35, Mona was seen by some as being past his best, though he had turned back the clock recently. He ran a 2.08.45 for 6th in London in April and he had put together – as documented in his diary of the year 1997 (available here on Runners Tribe) – an impressive few months of high volume, quality training. He had on one week, run an incredible 224km and a near PB time trial over 3km (8.04) indicated he was ready for a big run. Mona was disturbed by a phone call the night before the race. Lee Troop, who Moneghetti had begun advising, had just won the City to Surf race in Sydney and called Moneghetti immediately, forgetting the time difference between Sydney and Athens. An excited Troop recounted the details of his race to a groggy Moneghetti, before Moneghetti interjected with "That's fantastic mate, but I've got a World Championship in a few hours. I need to get some sleep".
Lawrence Peu (RSA) took the pace out at a relatively conservative 31.39 over the first 10km and Luketz Swartboi (NAM) made a move before 15km, stretching the pack. By about 19km, the chasing pack had whittled down to 6, with the Spaniards Fabian Roncero and World Champion compatriot Martin Fiz leading the chase. Roncero reeled in the leaders and led at halfway (1.07.08). Vanderlei de Lima made a brief surge to the front at 25km (1.20.01) before being chased down by Fiz and another Spaniard Abel Anton. Moneghetti decided he couldn't go with the Spaniards and let them go. Fiz and Anton extended their lead and by 30km (1.36.04), they were really rolling. Mona focused on chasing down Luiz dos Santos, another Brazilian who had gone with Anton and Fiz. 
By 35km (1.51.40), Fiz and Anton had a 38 second lead over Mona, who had worked his way past dos Santos, though the young Italian Danilo Goffi was running well, chasing hard and attempting to get to the Aussie. Fiz, wary of his countryman Anton's superior track speed, attempted to get rid of Anton and ran a 15.06 split between 35km and 40km. Anton was still full of running however, and kicked away with 300m to go and entered the stadium a clear winner, beating the brave Fiz by 5 seconds (2.13.16 to 2.13.21). Moneghetti was overjoyed as he came into the stadium, fulfilling a life-long dream of winning a medal in a major global championship. He ran 2.14.16 for the bronze This was very special for Mona, as he always prided himself on doing well in the green and gold. He had had a series of disappointing runs in recent years in major marathons, especially the 1991 World Championships and 1992 Barcelona Olympics. He was emotional in TV interviews as he expressed his gratitude for all those family and friends who had supported him over the years. This, for Moneghetti, represented the pinnacle of his career.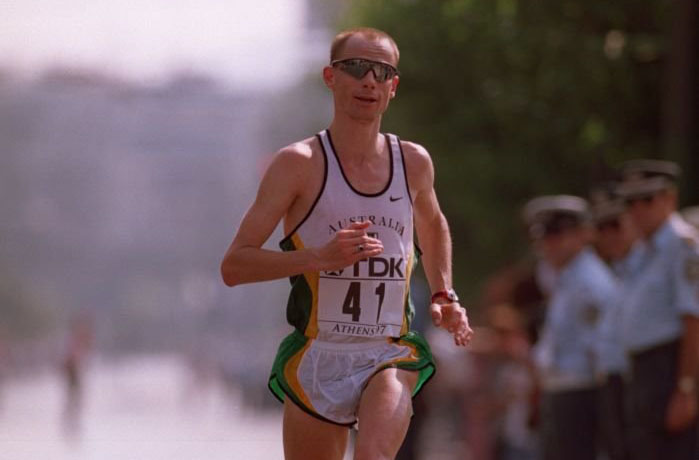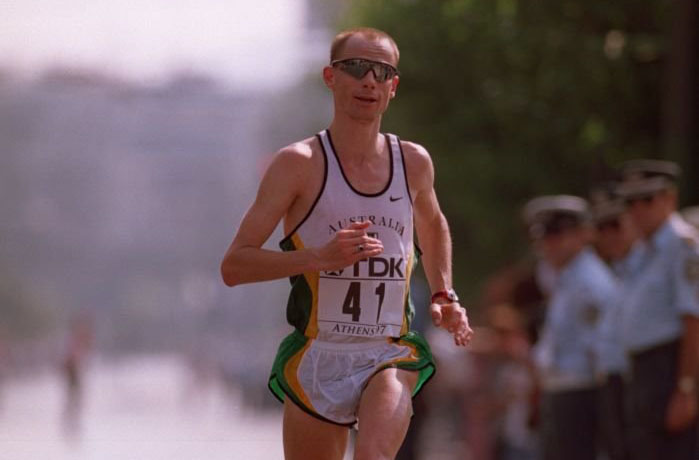 Berlin Marathon, September 1990:
This was a very special race for Moneghetti. It was his first big city marathon win. In fact, it was his first ever win in a marathon. Mona was primed for a big race, as he had broken the world half marathon record in Newcastle (UK) in the Great North Run just 2 weeks earlier. 
This was also an historic race for the city of Berlin. One year earlier, Die Mauer (The Wall dividing East and West Berlin) had been dismantled and the German reunification treaty – which would reunite the Bundesrepublik (West Germany) and Die Deutscher Demokratische Republik (East Germany) into one country once again – would be signed in just a few days.
The course would now follow a route which would go through western and eastern parts of the once divided city. There was a huge buzz about the event – both locally and internationally – and the event saw its entries almost double from the previous year.
The field was a solid one, with two East German talents, Jorg Peter and future Olympic medallist Stephan Franke, as well as veteran Gidamis Shahanga (TAN) – the former Commonwealth champion – lining up against clear favourite Moneghetti. A tough half marathon so close to this race might not have been considered ideal preparation, but Mona had recovered well and was supremely confident.
Moneghetti bided his time in the group and was at the front as the group passed halfway in 64.04. Moneghetti said later that it was the easiest 64 minute half marathon he'd ever run. The pace lagged slightly over the next 12km, by which time Moneghetti made the decision to step it up. He attempted to build a lead by steadily grinding out some 3-minute kilometre splits and gradually increasing the pressure. He eventually pulled away in the later stages, winning by about 90 metres over Shahanga in a world-leading 2.08.16, the fastest time in the world for 1990. Shahanga ran a superb 2.08.32 and Peter was third in 2.09.23. Moneghetti ran about 30 minutes flat for the last 10km and had established himself as a major global star of the sport.
It was a huge payday for the Victorian, who also won a brand-new model Mercedes sedan as part of his prize package. He held onto the car for over two decades before it became daughter Emma's first car. His 2.08.16 is still second on Australian all-time list behind Rob de Castella and it is the fastest by and Australian on an out-and-back or loop course.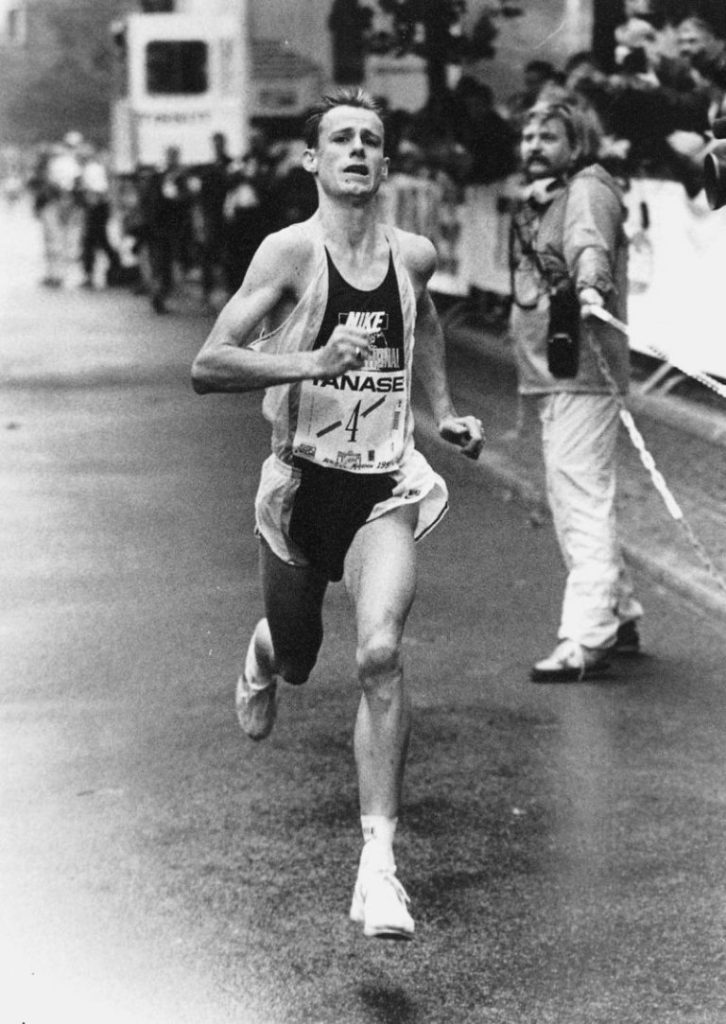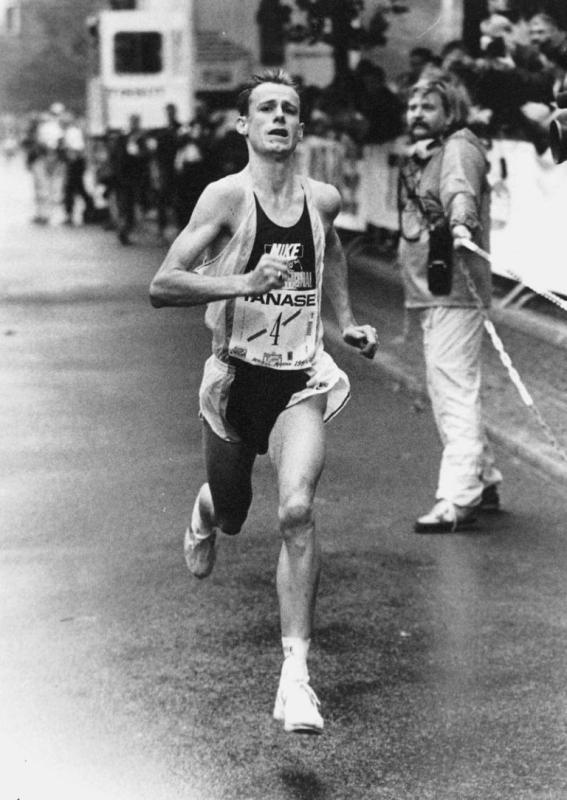 Tokyo Half Marathon, January 1993:
This was another superb front-running performance by Moneghetti, and it was his third world record performance at the distance which, in some experts' opinions, may have been his best event. 1993 was a year in which Moneghetti focused on the half marathon and skipped the marathon at that year's World Championships. He won Tokyo in January, the Sydney SMH half in May, he was equal first in the Gold Coast half in July and narrowly missed gold at the World Half Marathon in October.
Here on a bitterly cold winter day in the Japanese capital, Moneghetti battled freezing rainy conditions and an elite field to take out an impressive victory, finishing just seconds from breaking the 1 hour barrier in this increasingly popular event. He had won the previous year in a record-breaking performance and he was, he felt, in the sort of form to challenge his course record. He had lost the record to Kenyan Benson Masya in Newcastle the previous year, though here he was mostly focused on winning the race. He faced one of his big rivals in previous races, Mexican Dionisio Ceron, plus up-and-coming American Todd Williams.
Mona went out at a hard yet controlled tempo, keeping the pressure on, but leaving a bit in the tank for the last few km. He stepped up the pressure in the last 5km, surging and attempting to drop a tenacious Todd Williams, who just would not let go. Moneghetti eventually prised open a gap of about 20 metres and held it. He felt the first sub 1hour was within his grasp as he saw the finish line clock with 59 minutes something, but just saw the 1 hour tick over as he was approaching the finish. He won in a world record of 1.00.06 to Williams' 1.00.10 and Ceron's 1.00.16. 
Tokyo Half Marathon, January 1992:
It was an Olympic year and Moneghetti was keen to start the year well. He celebrated Australia Day with a brilliant win over one of the era's superstars in another world record performance. Moneghetti would be facing the world record-holder for the 10,000m and the 1-hour track run, Mexican Arturo Barrios. Mona would also face future Boston marathon winner, Kenyan Cosmas Ndeti, another Kenyan Boston winner, Ibrahim Hussein and a talented young Korean – a future Olympic medallist – Lee Bong-Ju. 
In Tokyo, Moneghetti was also being pursued by a huge fan from New South Wales, a slender, athletic young blonde. Paul Arthur, the sandy-haired, 58kg 24-year-old from the Central Coast, had come to Tokyo in great form, having run a 10,000m personal best of 28.30 in the Zatopek race in December and he ran a brave race here, clinging to the lead pack of well-credentialled stars for well over half the race.
Moneghetti pushed on and Barrios was right there with him, and Lee and Ndeti were barely hanging on. The pace pushed on relentlessly, yet neither Barrios nor Moneghetti had made a decisive move. There was – I'm not sure of the term to use – a kind of standoff between the Mexican and the Australian. Moneghetti sustained a hard surge and eventually got away from Barrios, gaining 80 metres on the Mexican superstar. Moneghetti took 7 seconds off his own record with a time of 1.00.27 to Barrios' 1.00.42. Though it wasn't official, there's some conjecture over whether Barrios deserves credit for being the first athlete under 1 hour, as he ran 21,101metres in his 1 hour run record (The distance for a half marathon is exactly 21.0975km). In any case, it was another career high for Mona. Ndeti just edged out Lee, both athletes finishing in 1.01.04. Lee's time was a national record. 
In what was a major career breakthrough, Arthur finished 7th in 1.02.16, which was the then third-fastest time by an Australian, behind Moneghetti and de Castella. He went on to win a number of national and state titles, as well as a City to Surf win and three 6 Foot Track wins, among many other great performances throughout his career.
Moneghetti continued to have a great year, though had a disastrous Olympic campaign after misjudging his depletion diet and overdoing his hot weather acclimatization, he became tired and drained of energy, eventually struggling to a 48th place finish.
The women's race in Tokyo was just as gripping. Liz McColgan handing a big defeat to great rival Aussie Lisa Ondieki, 1.07.11 to 1.08.33. McColgan's time was also a world record.
Great North Run, September 1990:
As previously mentioned, this was the last big race of Mona's preparation for the Berlin Marathon. Yet another dominant win a few weeks earlier in Sydney's City to Surf race gave him the confidence he could do something special in Newcastle. The Great North Run is one of the world's premier mass participation events and has been arguably the world's top half marathon for decades.
Moneghetti faced one of his great rivals, Kenyan Douglas Wakiihuri, who had become something of a bete noir for the Aussie, having defeated him in marathons in Rome, Seoul, London and Auckland and Moneghetti was obviously keen to finally get one back on the Kenyan. 
Yobes Ondieki, husband of Aussie marathoner Lisa, was a 5000m track specialist, who would go on to win the next year's world title and become the first man to break 27 minutes for 10,000m. Ondieki was recruited as a pacemaker for the event. Unaccustomed to racing over longer than 10,000m, Ondieki went out a little too hard, so hard that Wakiihuri and Moneghetti struggled to keep up early on. As they crossed the Tyne and headed east to South Shields, Ondieki was flying. Moneghetti and Ondieki eventually dropped Wakiihuri and continued with an incredible tempo. Ondieki dropped back and Mona was on his own. Passing 10 miles in an incredible 45.59, Moneghetti was well on his way to a phenomenal time.
Moneghetti powered to the finish, over a minute in front of Wakiihuri, finishing in 1.00.34. It was believed to be a world record, though there was some conjecture as to whether it was or not. Matthews Temane had run 1.00.10 a few years earlier in South Africa, though it was never ratified.
Arriving in South Shields about 7 minutes after Moneghetti was a journalist from the Herald-Sun, named Nic Bideau. Upon hearing the news of Mona's run, he almost immediately took Moneghetti to a pub across the road from the finish. Bideau announced loudly "This bloke (gesturing to Moneghetti) has just broken the world record. I need to use your phone to file the story with my paper back in Melbourne". The pub owner obliged, and this was huge news for athletics fans all over the world. Moneghetti would toe the line in two weeks time in Berlin, convinced could perform better than ever.
Part 2 of this article – out soon – will look at another 5 of Moneghetti's greatest races.
Cover photo: 1990: Steve Moneghetti of Australia runs through the finishing tape to win the Great North Run in Newcastle, England. Moneghetti set a new World Record. \ Mandatory Credit: Allsport UK /Allsport