Australia's first medallist at the world championships in Budapest this year will also be our 40th world championships medallist.
A neat bit of symmetry as the championships mark their 40th anniversary. Budapest will be the 19th edition. The first three championships in Helsinki, Rome and Tokyo were staged at four-year intervals. Beginning with Stuttgart in 1993 it has been a two-year cycle varied only by the Covid postponement of the Eugene edition from 2021 to 2022.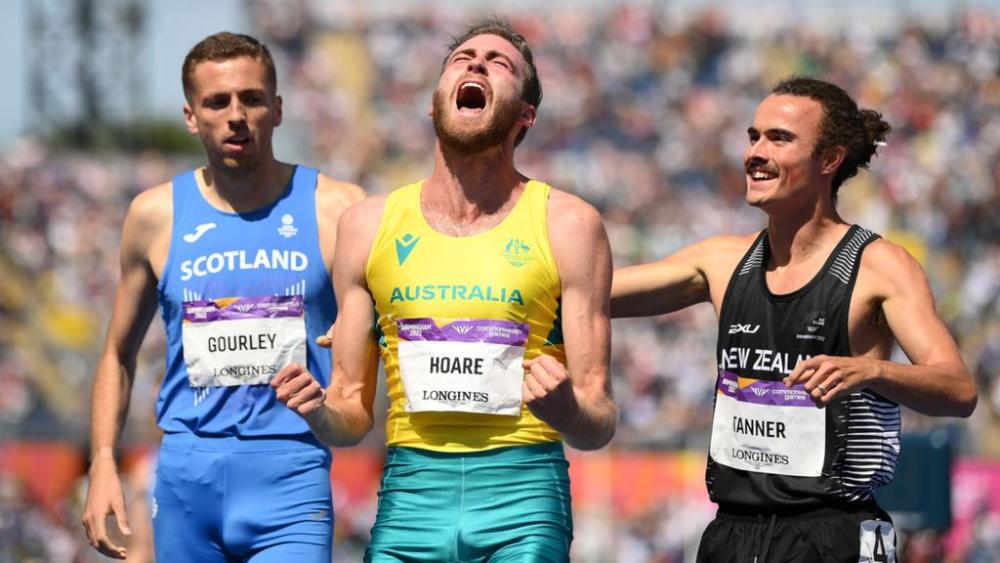 Robert de Castella won Australia's first gold medal with victory in the men's marathon at the inaugural championships in Helsinki. Australians have won 13 more gold medals since, along with 14 silver and 11 bronze, claiming at least one medal every edition except Tokyo 1991 (the championships return to Tokyo in 2025, so let's hope that is not an omen).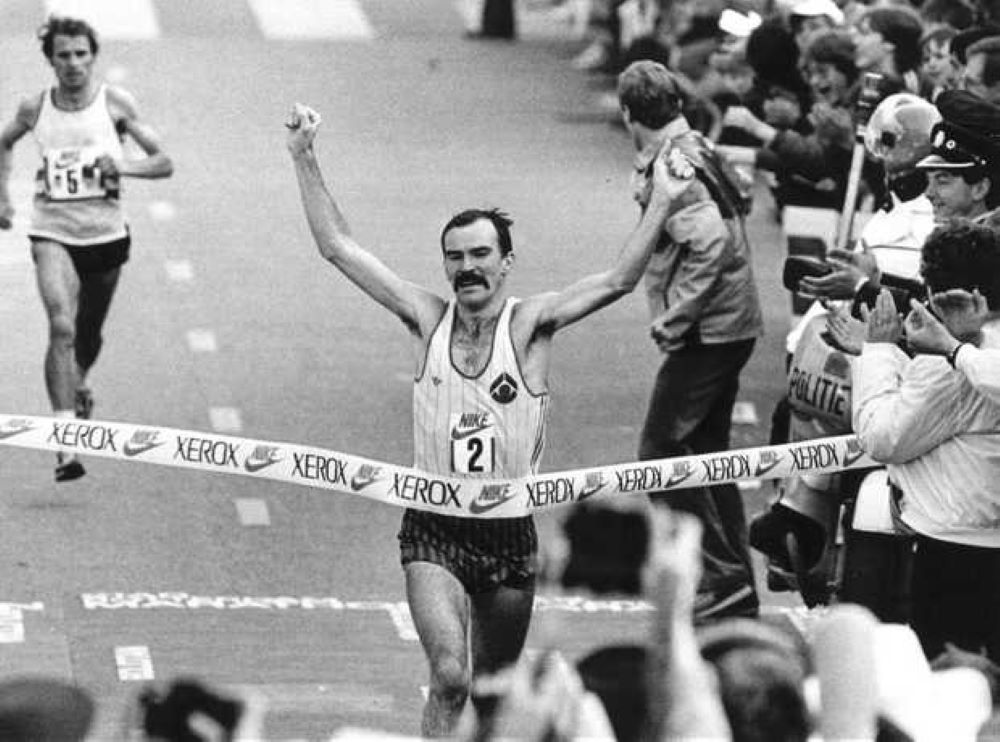 As I wrote recently, World Athletics is conducting a poll to determine the 40 greatest moments in the championships' history. You can vote on the World Athletics website for 10 events from a long list of both men's and women's nominations up until 8am on Wednesday morning (Australian Eastern Standard Time, that is, if I'm doing the sums right).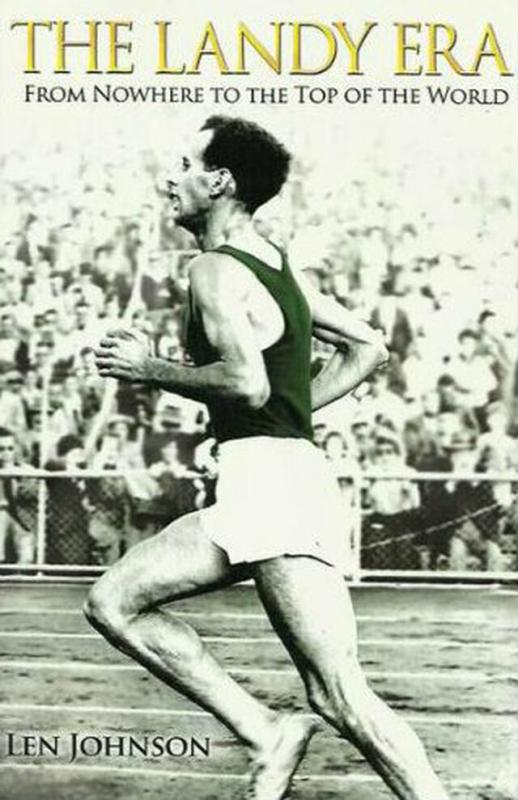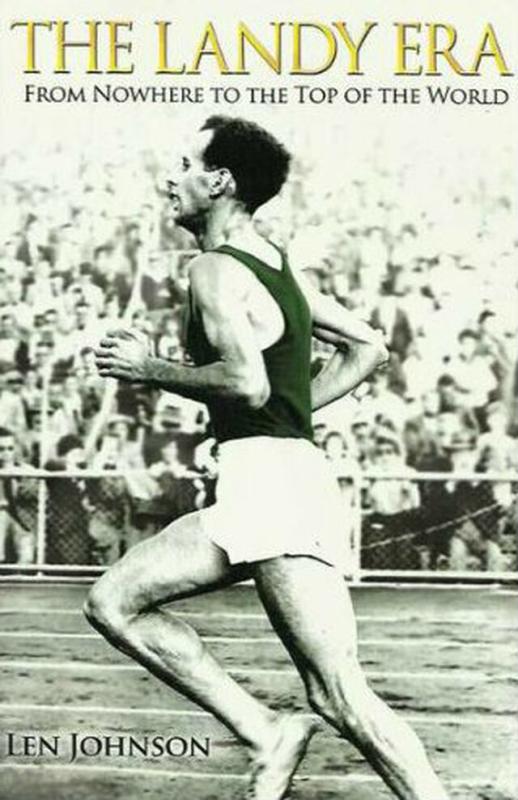 Only three Australian performances – all women – make the lists and there's no provision for write-ins, worse luck (nor can you 'vote early, vote often'). Cathy Freeman's second world gold medal at 400 metres in Seville in 1999, Jana Rawlinson's second gold in the 400 hurdles in Osaka in 2007 is also nominated as is Sally Pearson's first of two 100 hurdles gold medals in Daegu in 2011.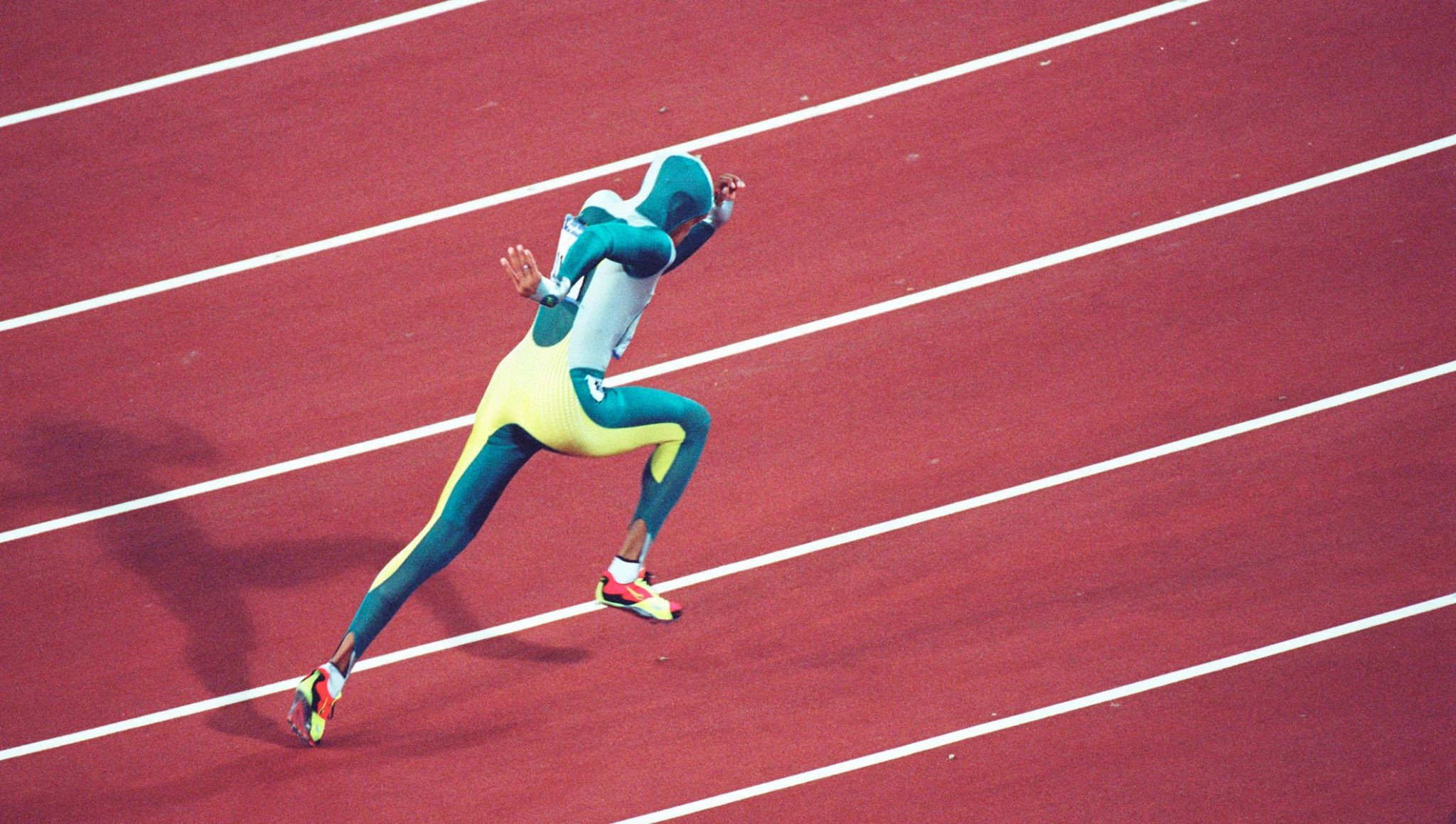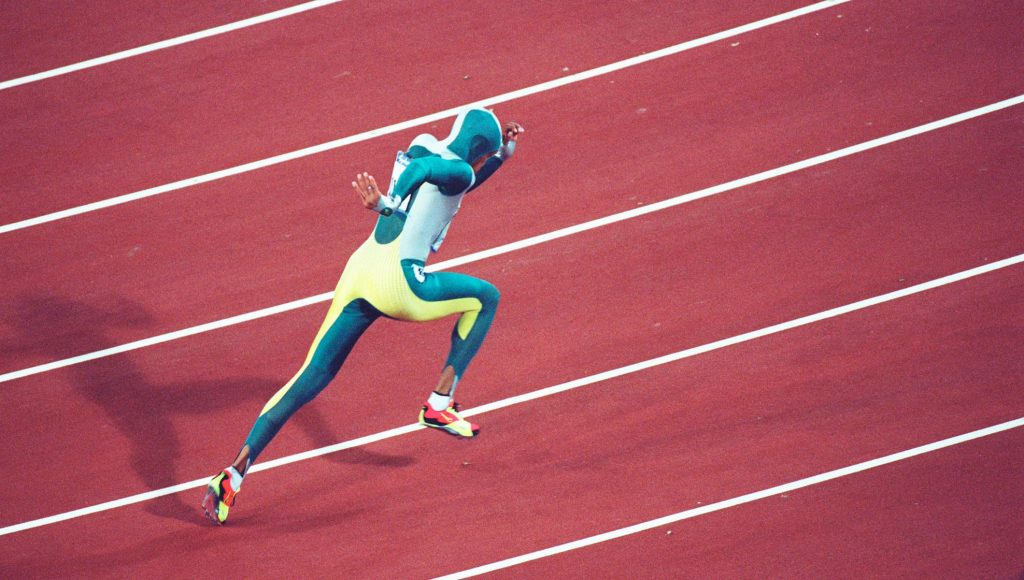 I would add a few more nominations to the list. So, too, to be fair, would home fans from all over the world. Rather than do that, however, it would be better to recall the feats of all our gold medallists from Helsinki 1983 to Eugene 2022.
Let's go in chronological order from 'Deek' in 1983 through to Kelsey-Lee Barber and Eleanor Patterson last year.
Helsinki 1983: Deek's triumph in the marathon, dropping his last rival in the hilly closing stages, was and remains my favourite. For all sorts of reasons: the historic significance (recognised by the inclusion of women's winner Grete Waitz) of the first world championships marathons and the personal. I trained with Deek – as did quite a few others – in the Melbourne pack. And I was an Australian journalist at the first world championships. What a moment.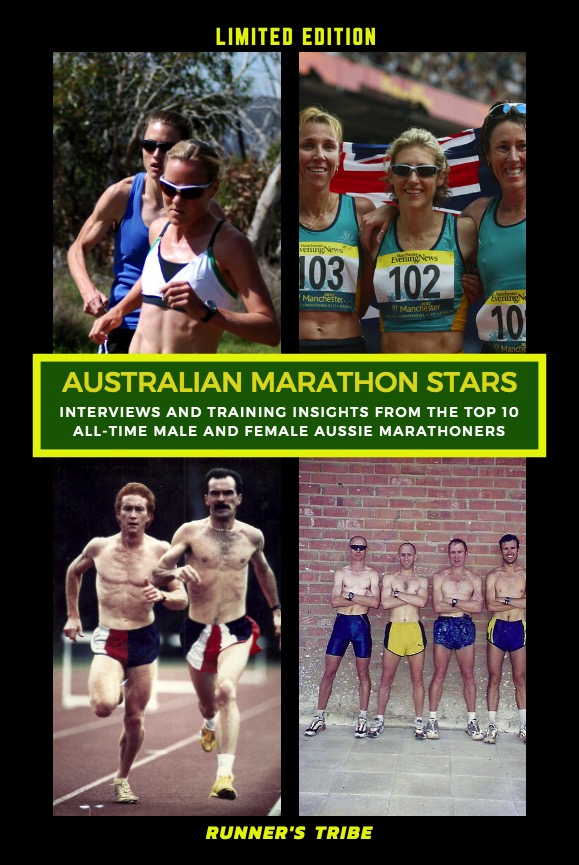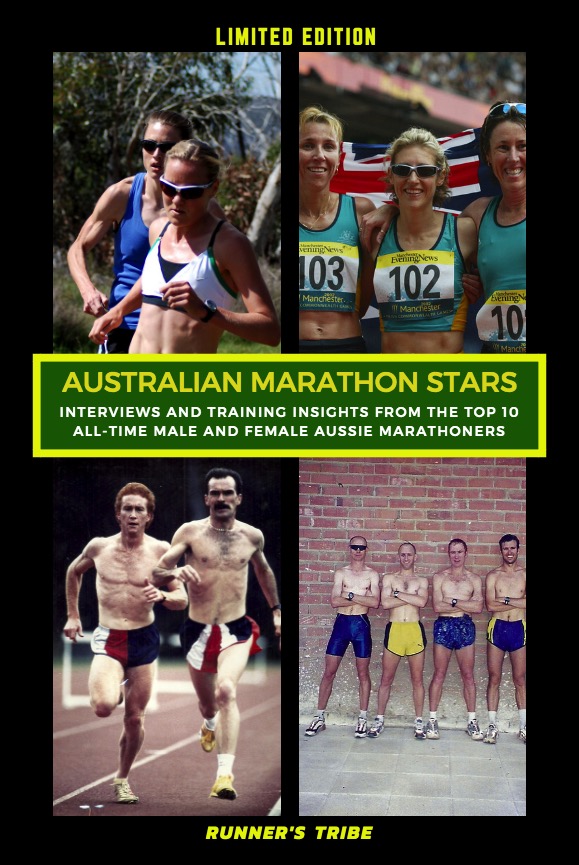 Athens 1997: It was 14 years, four silver medals and one bronze before Cathy Freeman won our second gold medal. Running in the tight inside lane in the 400 final, Freeman saw off all her opposition except training partner Sandie Richards of Jamaica who put Australian hearts in Australian mouths as she stormed home in the middle of the straight and lunged at the line. By 0.02 seconds Freeman got home first. At that moment, nothing else mattered.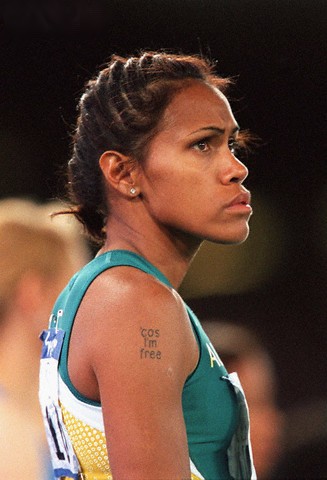 Seville 1999: Freeman again. Continuing her disturbing habit of doing just enough to reach the final, Freeman found herself running blind in lane eight though she had a slightly more comfortable 0.07 seconds to spare over German's Anja Rucker. In Sydney a year later, Freeman was switched on from round one to the final in taking her historic Olympic gold.
Edmonton 2001: Dmitri Markov painfully stubbed his toe on a chair the night before the pole vault final but that didn't stop him winning the gold medal with a championship record 6.05 metres. Only the great Sergey Bubka had ever gone higher than that and no-one in an Olympic or world final.
Paris 2003: Jana Pittman couldn't emulate Debbie Flintoff-King as an Olympic gold medallist, injury cruelling her chances in Athens in 2004. But she went one better than DFK in the world championships with victory over world record holder Yuliya Pechonkina in Paris's Stade de France.
Osaka 2007: Every endurance gold medal was hard won in the brutal heat of Osaka. None more so than Nathan Deakes in the 50km road walk. Coming in as world record holder, Deakes broke clear between 30 and 35k and won by 29 seconds. Slowest winning time since 1999, but who cares? Pittman won her second title just nine months after the birth of her first child, joining Freeman as an Australian two-time winner.
Berlin 2009: Another Australian pole vault gold, another wounded winner. Hooker's problems were even more severe than Markov's in 2001. A quad muscle injury restricted him to one jump in qualifying and two in the final, a miss at 5.85 and a clearance at 5.90. Could easily have been on the men's list. As could Dani Stevens (then Samuels) who won the women's discus becoming the youngest champion in the event.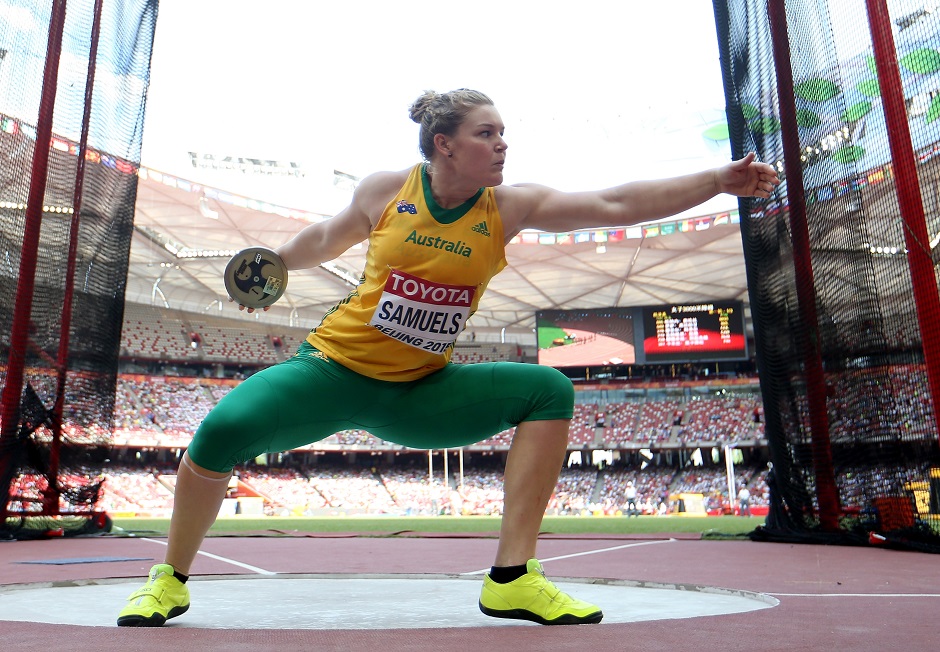 Daegu 2011: Women's sprint hurdles had been in the doldrums for some time before Sally Pearson blasted out a 12.28 win in the final, the fastest time in almost 20 years. It re-set the benchmark for championship winning performances after a long period of stagnation.
London 2017: Pearson won the next Australian gold medal, too, after Moscow and Beijing had produced five minor medals but no gold. Having missed Beijing and the Rio Olympics through injury, Pearson returned to the stadium where she had won at the London 2012 Olympics and beat the same woman who had won the silver medal then, Dawn Harper Nelson of the US to become our third dual world championships gold medallist.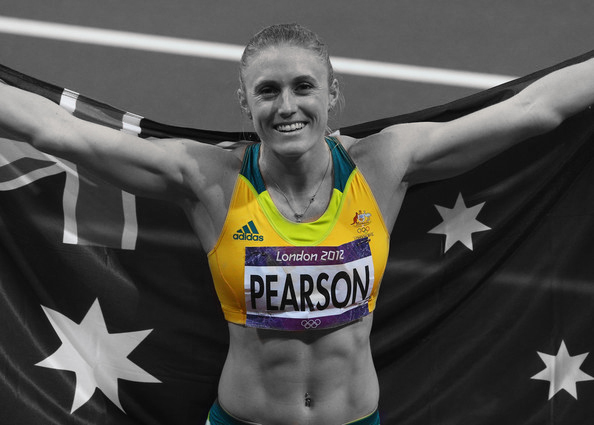 Doha 2019: With one throw to go, three athletes were ahead of Kelsey-Lee Barber in the javelin. Repeating the mantra – trust the feel, trust the rhythm – Barber slowed her run-up and launched her final throw 66.56 metres to snatch the gold medal.
Eugene 2022: Kelsey-Lee Barber retained her javelin title. No final-round heroics this time; instead, a third round 66.91 was almost three metres further than the silver medallist. She became the first woman to retain the title and joined Freeman, Pittman and Pearson as a dual world champion. Eleanor Patterson cleared 2.02 first time to equal Nicola Olyslager's national record and become the first Australian woman to win an Olympic or world championship high jump.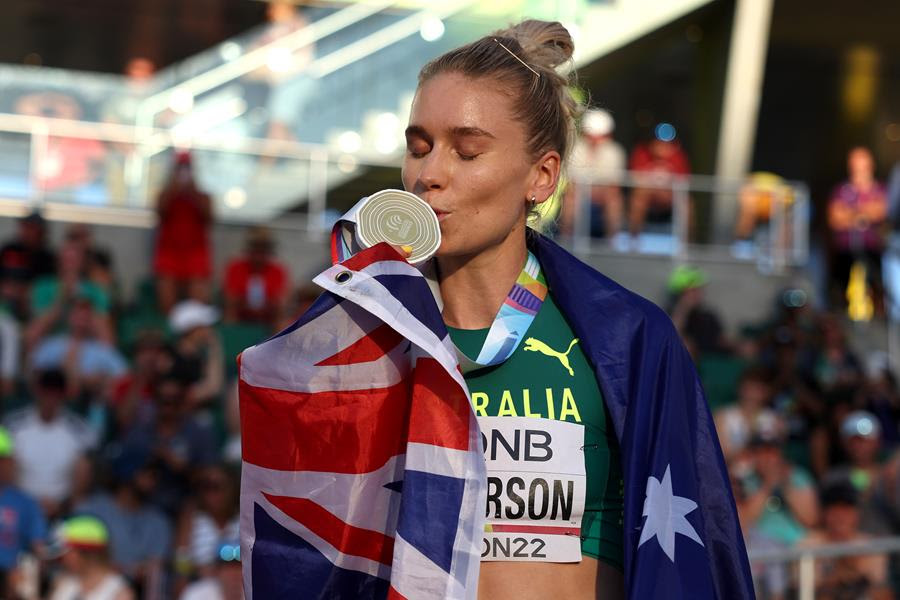 For the first time since 2009, Australia won two gold medals at a world championships.
Who will round out the top 40 (hopefully 41 and 42 follow) at Budapest23.