Catriona Bisset made her intentions plain in the final of the 800 metres at the Australian championships. Competing in her first national final, she grabbed the lead early and front-ran her way to her first national title.
Bisset's recent runs have mostly been like that. She ran from the front to win the Victorian title in a then personal best 2:03.03; ran in similar fashion 11 days later to another PB, 2:01.27, in Victorian Milers Club competition.
So, it wasn't such a surprise to see Bisset run 2:00.48 to win the national championship. The shock element came from seeing Georgia Griffith, Morgan Mitchell and Carley Thomas stretched out behind her, Griffith in a season's best 2:01.26, Mitchell in a personal best 2:01.60 and Thomas in 2:02.74.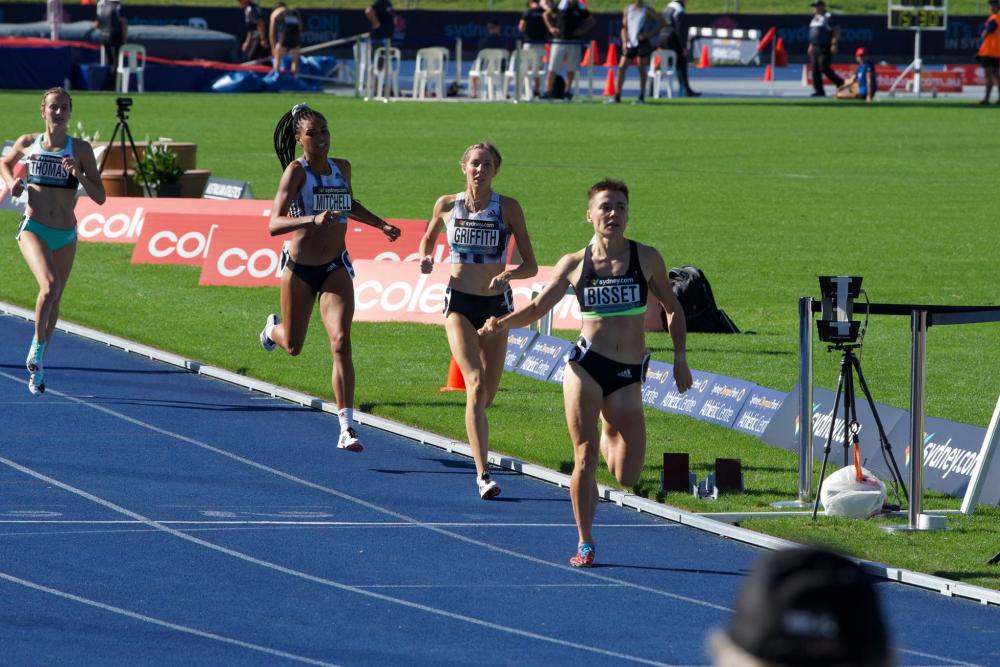 That's Griffith, Commonwealth Games representative who, last year, ran 2:00.13, fastest by an Australian in a decade; Mitchell, Rio Olympic semi-finalist at 400 metres making a successful transition to 800; and, Thomas, silver medallist at the world U20 championships last year.
Also shocking was that Bisset's time was a world championships qualifier and, as Australian champion, she became an automatic selection for Doha.
Most shocking of all, however, was that this front-runner had come from the clouds. Close followers of the event would have had Bisset figuring as a strong chance to make the national final, maybe even an outside chance at a medal. But a winner, in world championships qualifying time: now that was something else again.
Last December, I wrote in this space about the Victorian Milers Club, noting that it had grown like Topsy, largely without control or intention. I even picked out the women's 800 as the stand-out, high-lighting the fact that the likes of Griffith, Anneliese Rubie, Kelly Hetherington, Tamsyn Manou and Abbey de la Motte had all competed at VMC events. I could have added Bisset (and Mitchell), but didn't.
Several weeks later, Bisset nominated her aim for the domestic season as a qualifying time for the World University Games. That is 2:02.46, so she has since gone almost two seconds quicker than that.
It has been a rapid rise following Bisset's move to Melbourne to join Peter Fortune's strong women's 800 squad. At the start of the 2017-18 season, she was a 2:09 runner still looking to find her feet at the two-lap event. She came down to 2:06 and then a personal best 2:03.48 in March, 2018.
Even Bisset's break-out 2018-19 season began on a muted note. In her first race of 2019, she lowered her colours to Abbey de la Motte over 800, 2:04.81 to 2:05.28. At the Canberra Track Classic she was fifth in a slow race behind New Zealand's Katherine Camp, Thomas, Keely Small and Mitchell. In Sydney, her 2:03.35 put her fifth behind Griffith (2:02.67), Thomas, Camp and Angela Petty.
Then – BOOM!!! Victorian champs – PB; Vic Milers – PB; national titles – world champs qualifier. All these races saw Bisset in control gun to tape, ahead of Madeline Murray and Katrina Anderson in the Victorian titles, Griffith and Mitchell at the VMC and Griffith, Mitchell and Thomas in the national final.
Peter Fortune, 'Fort' to pretty well one and all, likes his athletes to race. The national final was Bisset's ninth 800 between 17 January and 7 April (including heats at both the Victorian and national titles). The personal best to end her 2018-18 season came in her seventh race. It seems to work pretty well.
We have indeed been fortunate at the VMC that so many of our top female middle-distance runners have competed so regularly. Particularly pleasing is the number whose career progress can virtually be tracked via their VMC performances.
At 800, Madeline Pape, Kelly Hetherington, Griffith, Mitchell and now Bisset have all raced at crucial stages of their progression. Anneliese Rubie, Brittany McGowan, Thomas and Small have made the trip down from Sydney or Canberra to compete. Linden Hall has raced mainly at 1500, but made occasional appearances in the two-lapper.
The Milers Club's main fare is the 800 and 1500/mile, and we've been fortunate to have some of Victoria and Australia's best involved in all distances. I've already mentioned Hall, but we have seen Luke Mathews, Alex Rowe, Jeff Riseley, Peter Bol, Joe Deng, Jordan Gusman, Brett Robinson and Matthew Ramsden among the men's fields and Melissa Duncan and Genevieve Lacaze among the women's. As well, there has been the occasional international (and Olympic champion Matt Centrowitz was a spectator at one meeting last season).
But it has arguably been the women's 800 which has seen the closest correlation between VMC races and national success. Already, Georgia Griffith is the only athlete, male or female, to win our athlete of the year award twice. Bisset was the 2017-18 female winner and you wouldn't have to be Einstein to figure she might be a chance again this year.