When my wife and I started going out back in 1983, one of our first dates was to attend an ALP campaign rally at Melbourne's Box Hill town hall. In reality, it was more an acclamation than a rally for Australian Labor Party leader Bob Hawke who, two days later, led his party out of the political wilderness and back into government.
It was the first of my two encounters with Hawke that year. I'll get to the second, which was more up-close-and-personal, but I recalled both occasions with news of the passing on Thursday (16 May) of Australia's twenty-third prime minister.
It was a milestone sort of week. Athletics lost one of its great measurers, historians and chroniclers with the death in Florence of Roberto Luigi Quercetani at the age of 97. One of the seminal statisticians of track and field, 'RLQ', as he was commonly known, was one of the creators of what is now a world-wide network for the recording of our sport, access to which is now second nature to those of us who write and comment on it.
While Roberto Quercetani's lifelong association with the sport of athletics began with the time he saw, as a 10-year-old out walking with his father, a tickertape news-screen atop a nearby building reporting that Italy's Luigi Beccali had won the 1500 metres at the Los Angeles 1932 Olympic Games, Bob Hawke's connection was as notable for what he missed as for anything he saw.
Cricket was one of Hawke's great sporting passions (along with horse racing: close friends and colleagues have already recalled how, even as prime minister, he would sit down in his garden with cabinet submissions in one pile and the form guide alongside, alternately sorting out the nation's affairs and his thoughts for Flemington or Randwick with equal attention to detail).
But it was while not playing cricket at Oxford in May, 1954, that Hawke missed one of the landmark athletics' performances of all-time. As he sat with his teammates in the pavilion of an Oxford cricket ground, a significant event was happening a few minutes' drive away.
In Hawke's own words: "Oxford was playing one of the counties and I was twelfth man. It was a typical English day – pouring rain and miserable. We were drinking quite a few beers in the pavilion. I had this van and said to the boys: 'Let's drive down and see the attempt on the four-minute mile.' They said: 'Let's have a few more beers.'
"We decided that our time was much better spent drinking than going down to Iffley Road."
The day, 6 May, 1954, was the day on which Roger Bannister became the first man to better four minutes for the mile.
"It's always been a matter of great regret that I didn't show better judgement," Hawke commented. It was one of the few times Bob Hawke's sense of occasion deserted him.
Though he was tee-total throughout his time as a politician, Hawke, beer and cricket had a long and enjoyable partnership. He once held the Guinness world record for drinking a yard-glass of beer and many younger Australians know of him for his willingness to indulge the television audience by downing a beer while spectating at Sydney's annual New Year Test match.
Hawke has told the four-minute mile story on many occasions: I heard it in person at the launch of Brian Lenton's book of interviews, Through The Tape, in Canberra in 1983.
The book featured an interview with Rob de Castella, whose previous four marathons had run – world record, Fukuoka 1981; Commonwealth Games gold medal, Brisbane 1982; victory over Carlos Lopes and Alberto Salazar, Rotterdam 1983; and, world championships gold medal, Helsinki 1983.
Through a series of remarkable events, Bob Hawke launched Through The Tape. In no particular order of importance: Deek and his coach, Pat Clohessy, were both based at the Australian Institute of Sport; Geoff Walsh, a key member of Hawke's staff, lived across the road from Clohessy; Deek was the world champion, the Commonwealth champion and the world record-holder; being seen with him was good politics; Hawke loved sport and excelled at politics.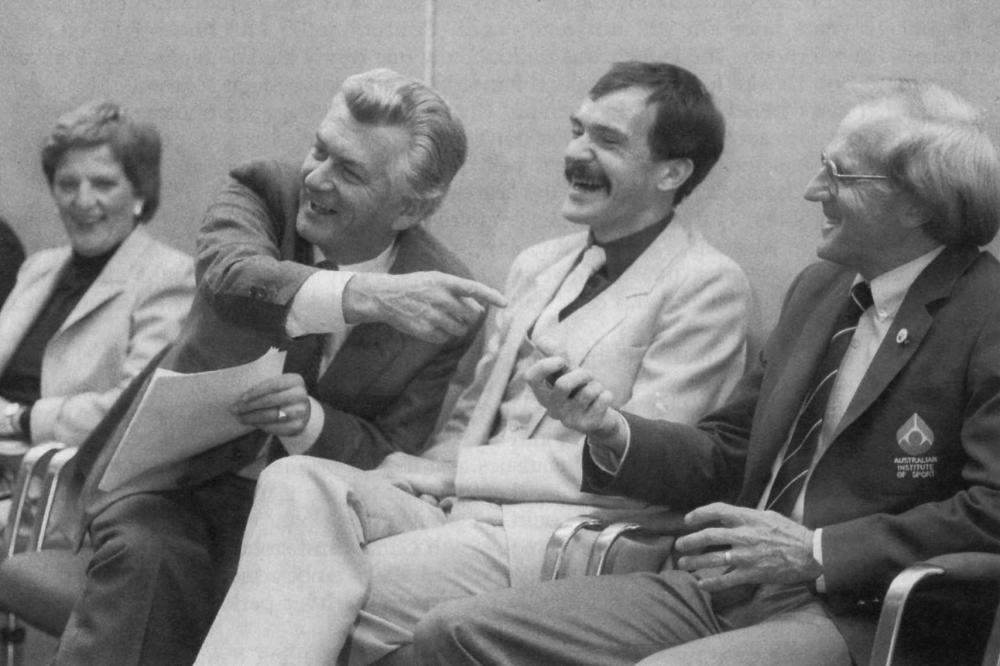 Simple: what wasn't simple was somehow cajoling Hawke, 'Clo', 'Deek' and Brian (all right, he didn't need much convincing) into donning Through The Tape t-shirts which had been screen-printed for the launch by, Glenda Jones, an artist friend of ours. From there, it was an inevitable leap of logic, really, to get the four to 'race' towards a banner emblazoned "The Tape".
My encounter with Roberto Quercetani was, by comparison, much more straight-forward. It was no coincidence that he and I both attended the world championships in Tokyo in 1991 and I grabbed the chance to meet him in person for the first time.
Quercetani was a founder member of the Association of Track & Field Statisticians, and the body's president from 1950 until 1968. He was editor of the ATFS Annual until 1969, an invaluable tool that is not only an almanac of records and performances, but also offers feature articles and analysis. He has also written extensive history of the sport – Athletics: A History of Modern Track and Field Athletics (1860-1990) and The Milers (with Track & Field News co-founder Cordner Nelson, a history of middle-distance up until the 1980s) two in my library.
I also enjoyed Quercetani's The European View column which appeared regularly in Track & Field News when I started subscribing.
Perhaps unsurprisingly given the breadth of his contacts, Quercetani had heard of me before I met him. He was, he told me in Tokyo, familiar with my work which was passed on to him in clippings form by the brother of Joe Galli. Joe, for many years, was athletics correspondent for The Sporting Globe, Melbourne's twice-a-week sporting newspaper from 1922 to 1996.
I was thrilled at the recognition. Bob Hawke and Roberto Quercetani may not have had that much in common, but each excelled at attention to detail.
And each will be fondly remembered and sorely missed.