A column by Len Johnson – Runner's Tribe
Australia's most famous open-water yacht contest is the annual Sydney to Hobart race.
Most years in these modern times, line honours are taken out by a sleek Maxi (length greater than 21m) boat crammed full of the latest technology. The fastest of these usually gets to Hobart, over 1100km south, not long after the slowest in the field have cleared the start at Sydney Harbour.
Every few years, however, stormy weather appears which, like the rain from heaven, batters the just and the unjust alike. Sails are ripped, masts snapped, smooth hulls pounded and smashed. The race becomes a matter of survival.
So it was with marathons on opposite sides of the world last week, when we were reminded once again what a decisive factor weather can be in the 42.195km event.
On the Gold Coast at the Commonwealth Games it was too much of a good thing; in Boston, on the US east coast the following day, too much of a bad thing. In both cases, performers and performances took a pounding.
Even well into a southern hemisphere autumn, heat and humidity were always a threat on the Gold Coast. With the able-bodied events commencing at 7:20am (women) and 8:15 (men), it was hoped the impact would be mitigated as much as possible. But the weather gods, as they so often do, saved the clearest and warmest early morning weather for the longest race on the program (second clearest and warmest was for the 20km walks the previous Sunday).
No clouds, hot sun, limited shade, the usual slow-to-fast pace of a championship – all converged onto Callum Hawkins in the final kilometres. Hawkins, the favourite following his fourth place at last year's world championships, was well over two minutes ahead when he got the staggers approaching 40km. He fell once, got up again, staggered along at a surprisingly good pace for another 400-500 metres, then fell again.
Coincidentally, Hawkins fell across the line marking 40km where his final completed 5km split was recorded. His lead at that point was 2:03. Despite his problems, he had run 35 to 40km faster than anyone else in the race.
Michael Shelley, a Gold Coast local, was the beneficiary, coming from a distant second to retain his Commonwealth title in 2:16:46, over five-and-a-half minutes slower than he had run in cool and damp Glasgow four years earlier.
Like most other finishers, Shelley was almost out on his feet at the line. It had been a matter of holding on for him, he said. Even the sense of approaching the finish had not helped the runners: first (Hawkins), third (Lesotho's Tsepo Mathibelle) and sixth (Tanzania's Saidi Juma Makula) at 35km had all failed to finish.
Loss of motor control and power in a marathoner is often the result of over-ambitious race tactics. To suggest medically unqualified runners stop to pay lipservice to a sidelined and accompanied competitor and risk inducing their own power supply failure is uninformed folly.

— Dick Telford (@DickTelford) April 18, 2018
The women's race was little different, though there was less shuffling around in the closing stages and no dramatic collapse. All three medallists finished looking like they could scarcely run another step.
Boston was the other extreme. Dark clouds, heavy rain pelting down, cold winds, freezing temperatures. Pretty well every elite runner wore multiple layers; many ran in rain slicks.
Tough conditions suit tough runners, and marathoners don't come much tougher than Yuki Kawauchi. He fairly sprinted down the hills from the start in Hopkinton before allowing the pack to catch him. He surged again near 20km, but by 30km it seemed that last year's world champion (and defending Boston champion) Geoffrey Kirui had the race in hand. But Kirui faltered badly in the closing stages, allowing Kawauchi to turn a 20 second deficit at 40km into a win in 2:15:58. Kirui jogged in over two minutes behind.
Similarly, the women's race went to Desi Linden of the US in 2:39:53, way slower than what you would expect to be required to win Boston.
6th time's a charm. Keep showing up! pic.twitter.com/TCJrG4Ee7A

— des_linden (@des_linden) April 16, 2018
Neither winner would have started favourite. Kawauchi's gruelling racing schedule sees him among the top finishers in any marathon he runs, but he would not be expected to beat the like of Kirui, Simon Biwott and Galen Rupp, all of whom were behind him in Boston.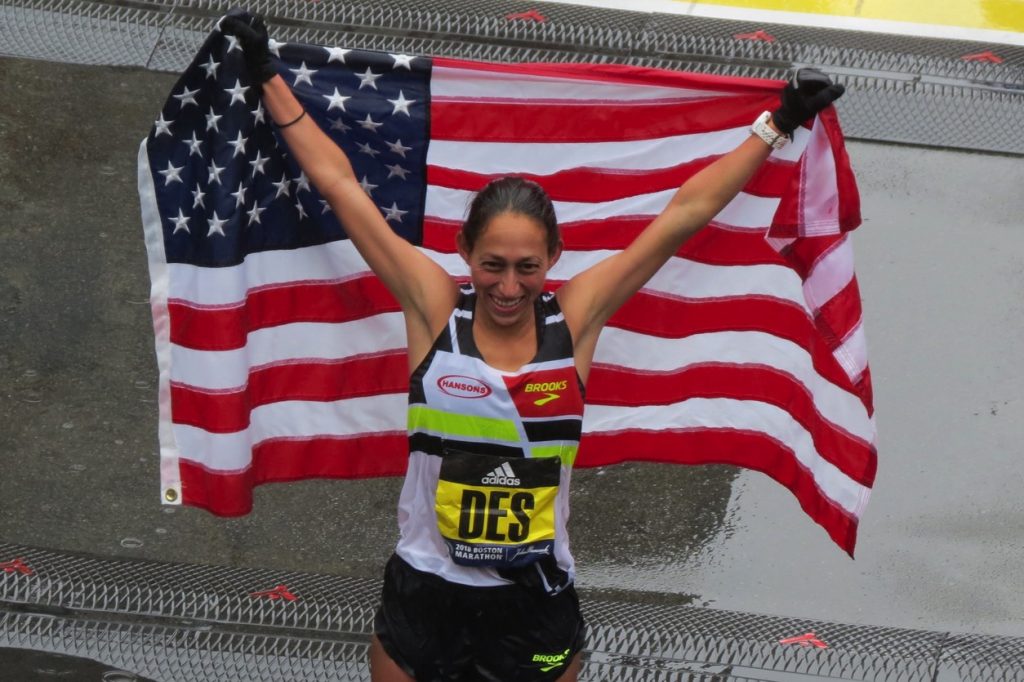 Linden is likewise a strong performer and multiple US representative, but not ranked ahead of Shalane Flanagan, Molly Huddle and defending champion Edna Kiplagat.
Two days in a row, on opposite sides of the world and in conditions at the opposite ends of the weather spectrum, race conditions had turned expectation on its head.
Bring back the mile at Commonwealth Games: what problem would that be solving
Could someone please tell me what issue facing the Commonwealth Games would be solved by the proposal to bring back the mile.
Almost on the eve of the Gold Coast Games, a proposal floated up to restore the mile to the program. What appeared to be an obvious thought bubble was given a decent paddle-along by none less than Sebastian Coe.
Well, yes, the mile does have a great heritage in Commonwealth history. The mile of the 20th century at Vancouver in 1954 when Bannister defeated Landy, Commonwealth world record milers such as Elliott, Snell, Bayi, Walker, Ovett, Coe and Cram, and all that.
But, really? What issue are we trying to solve here. Would replacing the 1500 with the mile have allowed Durban's 2022 Games to have remained viable? Would it help more Commonwealth countries to get a sustainable bid going? Should it be countenanced while more pressing sporting and social issues such as gender equality and LGBT rights continue to lag in so many Commonwealth members.
Does the mile mean anything to that half of the Commonwealth who are female. There's no magic four laps in four minutes formula that applies to women as it does men (and applying it to a 3:59 performance, in any case, adds a false veneer of class to what is now a mediocre performance).
Does it mean anything to the many Commonwealth nations who wouldn't have staged a significant mile in the past 50 years.
The last time the mile was on the Commonwealth Games program was in Kingston in 1966. I'd much sooner see the Games go back to Jamaica than the mile come back to the Games.
End
About the author: Len Johnson has been the long-time lead columnist on RT and is one of the world's most respected athletic writers.
He is also a former national class distance runner (2.19.32 marathon) and trained with Chris Wardlaw and Robert de Castella among other running legends. He is the author of The Landy Era.