Hassan closes with deadly speed
After Herb Elliott had destroyed Ron Delany and the rest of the field to smash the world mile record in Dublin in 1958, a priest asked Delany how would you beat the great Australian.
"I don't know, father," replied Delany. "Maybe tie his legs together."
Sifan Hassan was in that sort of form in the Kahlifa International Stadium on day two of the world championships when she destroyed Hellen Obiri and the rest of her opponents over the final laps to win the gold medal in the 10,000 metres.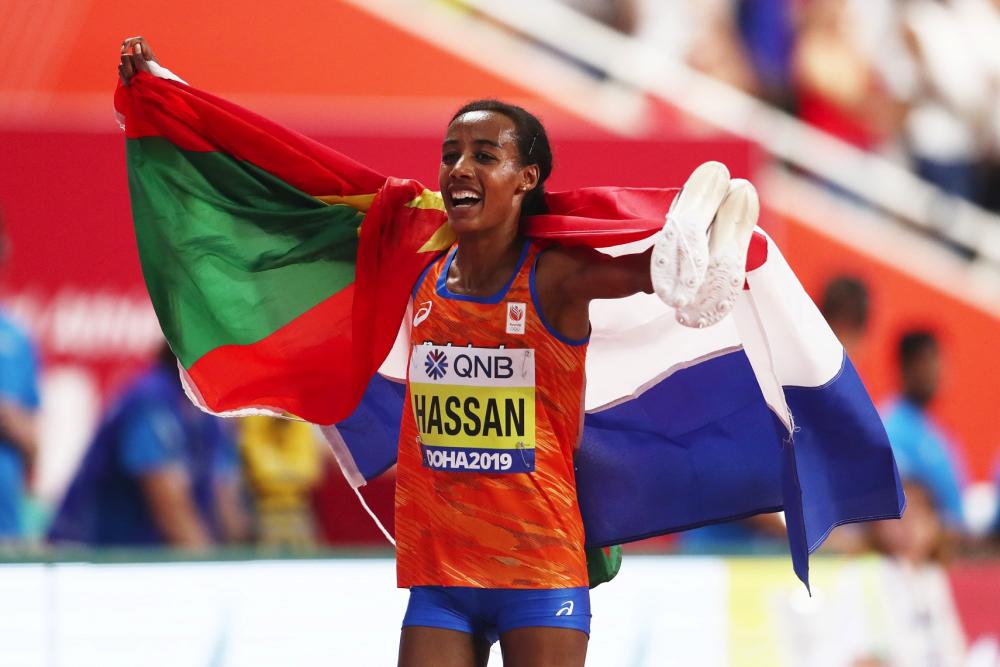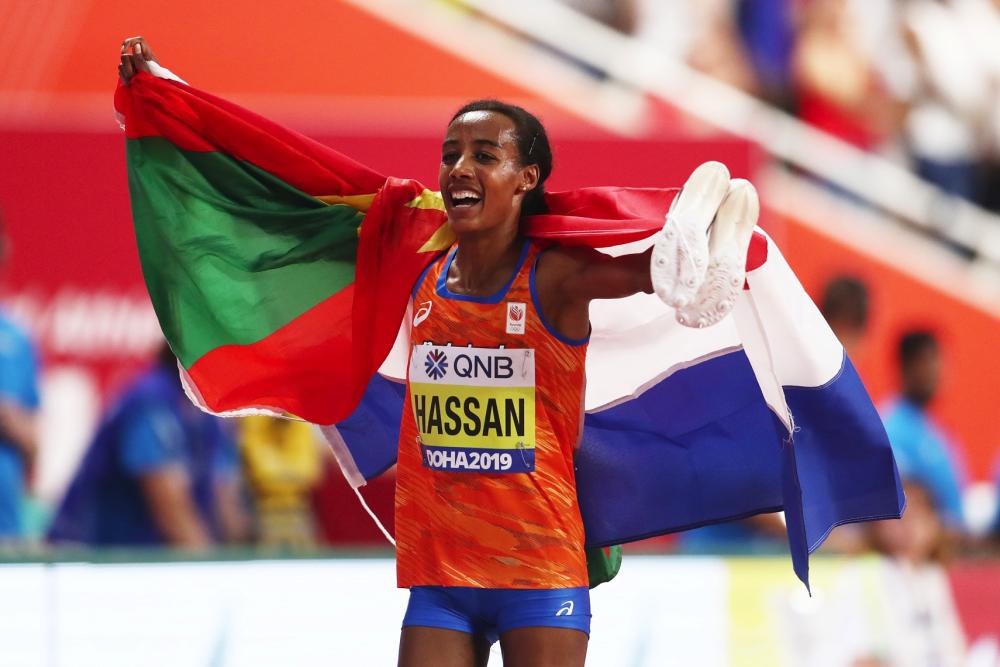 Hassan had just closed with a 61-second final lap and a sub-2:40 final kilometre. She hadn't initiated that move – Letesenbet Gidey had injected the race-deciding change of pace when she took the lead soon after four laps to go – but she completed it with deadly speed.
Think about that for a moment: a 2:39.43 final kilometre after 9000 metres of running on a hot and humid night (regardless of the marvellous quality of the stadium air conditioning, it is still hot and humid in Doha right now). That's 64 seconds per lap pace. When Ron Clarke and Kip Keino were fighting over the men's 5000 metres world record some 50 years ago like two dogs over a bone, that  tough was the sort of 13:20-pace they were running.
When Clarke ran his fabulous 27:39 world record 10,000 metres in Oslo in 1965, he was operating at 2:45 per kilometre. Albeit she did so off a much slower first 5000, first 9000 metres, this was sensational running from Hassan.
As noted, she owed a debt of gratitude to Gidey who ran consecutive 65-second circuits on laps 22 and 23. Gidey's move dislodged Obiri and her Kenyan teammates Agnes Tirop and Rosemary Wanjiru just as they might have been deciding to launch their own race closure plan.
This race was previewed as a match-up between Hassan and Obiri, neither of whom, despite their obvious brilliance, was experienced at the longer track distance. Obiri had run two 10,000s, Hassan just one, and all three of that aggregate had been run this year. Gidey had no more experience, her debut came in winning the Ethiopian trial, conducted in the Netherlands, in July.
Nonetheless, it was Gidey who played the role of the seasoned tough determined not to let these two 'newbies' take over. She put it down to both of them and looked, for a few moments, as if she might cling to Hassan's heels in the final lap. Fittingly, she took the silver medal ahead of Tirop, Wanjiru and a fast-sinking Obiri.
The first 5000 went by in 15:32.70, the second in 14:44.92. Hassan's winning time was 30:17.62 to Gidey's 30:21.23 and 30:25.20 for Tirop.
There were plenty of good runs all the way down, including by Australian duo Ellie Pashley and Sinead Diver in thirteenth and fourteenth places respectively. Both ran substantial PBs: Pashley's 31:18.89 took her to fourth on the all-time list behind Benita Willis, Lisa Ondieki and Eloise Wellings, Diver's 31:25.49 took her to fifth. Pashley got the qualifying standard for Tokyo 2020, Diver missed by just 0.49.
The race quickly developed into a duel between the Ethiopian and Kenyan trios with Ethiopian born Hassan holding off the pace a little in the manner of Mo Farah. After three muddling kilometres, the Kenyans upped the tempo with a 3:01.9 fourth 1000 metres. At that point, Obiri, seeing Hassan making up ground, surged to the front to prevent her from doing it easy.
By half-way, however, Hassan was on Obiri's heels and the race was only ever heading one way from that point onwards. Hassan ignored the surges, sometimes dropping 10-15 metres back, and closed the gap once the tempo dropped. Gidey's more took her by surprise as much as the others, but once she had regained the lost ground, the result looked, and proved to be, inevitable.
The favourite, Christian Coleman, took out the 100 metres from Justin Gatlin and Andre De Grasse, running an impressive 9.76 seconds. It was hard to see him losing after the semis, where his 9.88 was the only sub-10 clocking.
Gatlin (9.89) and De Grasse (9.90) pretty well got down to that level in the final, but Coleman had another metre up his sleeve.
There was something of a boilover in the long jump, too, where Jamaica's Tajay Gayle added 37 centimetres to his PB coming in to win the gold with a leap of 8.69 ahead of Jeff Henderson, 8.39, and the favourite, Juan Miguel Echevarria, 8.34.
Echevarria had won the Diamond League final with 8.65 and looked the likely winner after he did 8.40 in qualifying, need just one jump to go through to the final. At 21, he was competing in his first senior world championship final, though the same applied to Gayle, who was fourth in last year's Commonwealth Games.
A better day for Australia, too, with Matt Denny going through to the final of the men's discus and the performances of Pashley and Diver.