A Column By Len Johnson – Runner's Tribe
The cover of Track & Field News's December 2017 edition depicts Mutaz Essa Barshim standing on the high jump mat at Zurich's Weltklasse (and Diamond League final) meeting pointing triumphantly over the bar and out at the reader.
On a cover headed, "Our World-Famous Annual Edition", Barshim was named 2017 Man of the Year. It's a dual cover edition: Anita Wlodarczyk, Olympic and world champion, and world record holder in the hammer throw, was Woman of the Year.
Can't speak for anyone else, but the Barshim shot reminded me of the famous US Army recruiting poster: Uncle Sam Wants You!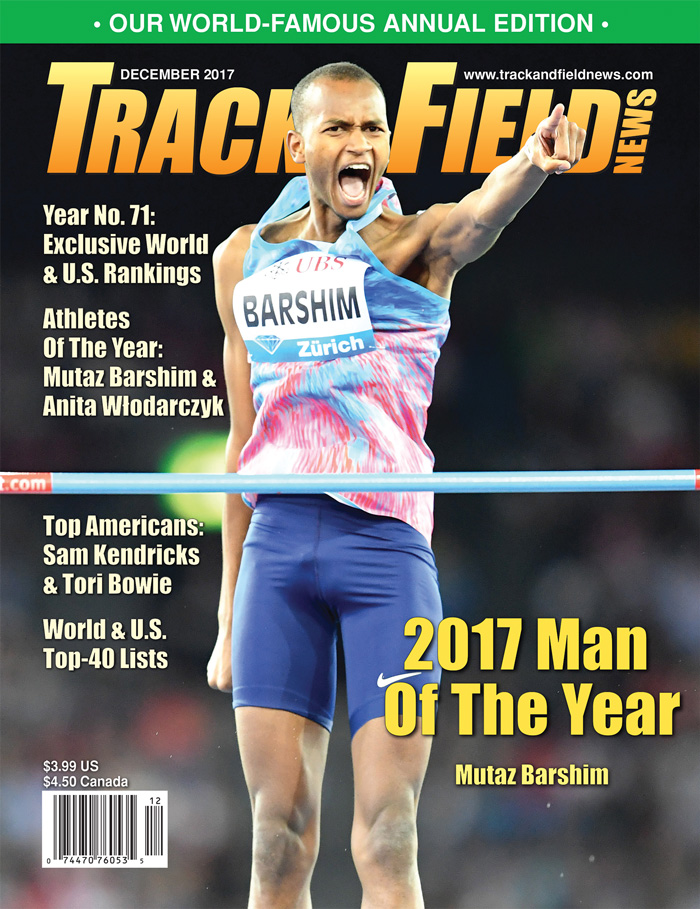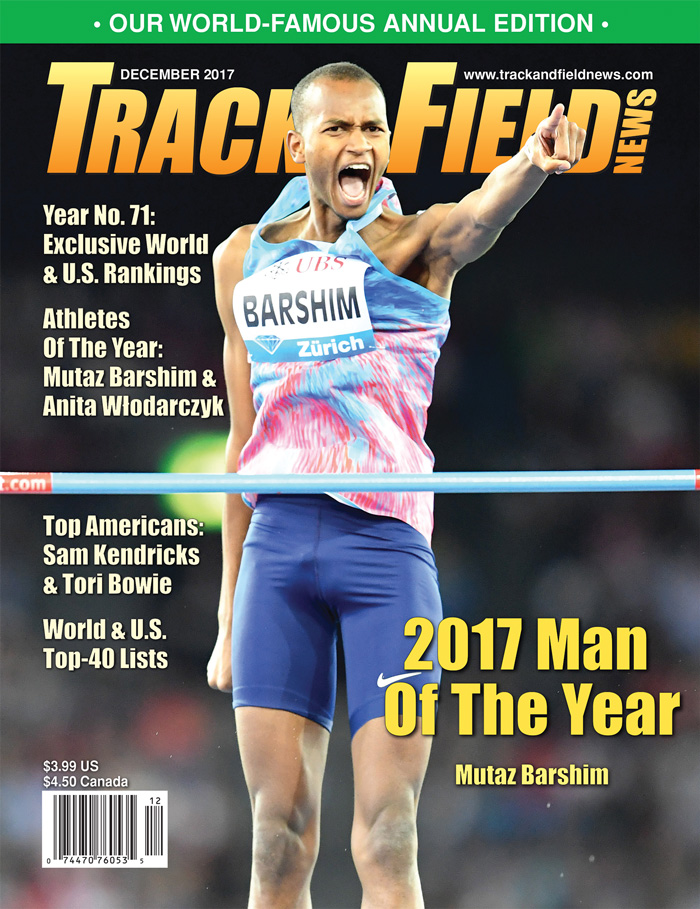 Mutaz Essa Barshim clearly wants you to join him in acclaiming the 2.36m clearance which brought him victory in the DL final, to go with victory in the world championships, an undefeated season and a fifth consecutive year in which he has gone 2.40, or higher.
The magazine wants you, too – just not in its traditional print format. The "world-famous annual edition" for 2017 was the last edition to appear in print. A couple of weeks later came the announcement that from here forward it would all be online.
"The December 2017 edition was the last one you'll ever find in your snail-mail box, or on a newsstand. From now on, it's all-electronics-all-the-time."
It's a wrench for those of us who have been long-time subscribers, I must say. Just as quickly, I must add that I forgot any a-version or sentimentality and switched over to the e-version immediately. I'm not so silly as to cut off my virtual nose to spite my virtual face.
But it now means that I will be consuming all my international athletics news in electronic format. Athletics International, the newsletter published by British statisticians Peter Mathews and Mel Watman, has been published by email for some years and, now, Track & Field News.
There is now, literally, nothing to hold on to!
A couple of years back I did a column on the Australians who had made a T&FN cover. To get an insight into how the magazine developed over the 70-Plus years since the brothers Nelson, Bert and Cordner, first published in 1947, I'd suggest you head straight across to www.trackandfieldnews.com, click on the Archive link and dip into it every few years or so.
And, of course, I'd thoroughly recommend an e-sub to both T&FN and Athletics International.
As a kind of crazy tribute (I'm kind of crazy, the tribute is not), I compiled a list of Australians to get a T&FN top-10 rank (men 1947-2017, women 1956-2017, less for the more-recently adopted events).
It's my own – hence highly fallible – work, so I'd be grateful if anyone wants to check and correct.
The other impetus for the stats work was the fact that Dani Stevens has now ranked 10 straight years in the discus, and Sally Pearson has ranked nine times in the hurdles as has Jared Tallent in the 50k walk. How does this compare with past Aussie greats – Cuthbert, Clarke, Strickland and Freeman.
Pride of place on Australia's all-time T&FN world rankers does, in fact, go to a hurdler. But it's not Pearson – one Olympic, two world championship gold medals; nor is it Strickland (two Olympic gold), the bulk of whose career pre-dates the women's rankings.
It is Pam Ryan, who ranked 11 times in the 80 or 100 hurdles. Although Olympic gold eluded her, Ryan won a silver medal (1968), a bronze (1964), and got a fourth (1972) in Olympic competition. Ryan compiled 95 rankings points on the 10-down-to-1 basis and shares the highest number of ranking points in the event with Gail Devers of the US. She is the only Australian to sit top of the all-time rankings points in any event.
Tallent's 67 points in the 50km walk makes him the highest male scorer in a single event, just ahead of Ron Clarke's 64 in the 10,000 metres. Clarke also comes in third with 59 in the 5000 while Rob de Castella has 48 in the marathon and Steve Hooker 45 in the pole vault.
Pearson's tally of 66 points puts her equal-second behind Ryan on the women's side. Sharing the rung with Pearson is walker Kerry Saxby Junna, who also amassed 66 points. High jumper Michelle Mason Brown tallied 63, just ahead of Freeman's 61 in the 400.
Stevens has 53 points in the discus, putting her alongside Cuthbert's 53 in the 200. Raelene Boyle has 52 points in the 200.
Looking at tallies across more than one event, Cuthbert top everyone with 133 (44 in the 100, 53 and 46 in the 400). Clarke is next with 123 (64/59), Ryan has 98 (she also got three in the long jump), Boyle 93 (with the addition of 41 in the 100), Tallent 85 (18 in the 20km along with his 50km points) and Freeman 76 (15 in the 200 to add to her 400).
Marlene Matthews, Cuthbert's great contemporary, has 64 points (37/100, 27/200), though that ranks just behind the 66 for Pearson and Saxby Junna in a single event.
Turning to events with most rankers, there are a few surprises. Australia has had 13 men ranked in the triple jump, with the 5000 – in which we have never won an Olympic medal and only Craig Mottram's bronze at a world championships – and the long jump next at 11. The 1500/mile, marathon and 400 hurdles each have seven.
On the women's side, the 100 and 200 are top with 19 each; the sprint hurdles has nine. This reflects the facts that for a long time (1928 till 1956) these were the only track events contested for women and Australia was very strong in them. There have been eight women rankers in each of the 400, the high jump, the long jump and the javelin.
You can find it all online.
END
About the Author-
Len Johnson wrote for The Melbourne Age as an athletics writer for over 20 years, covering five Olympics, 10 world championships and five Commonwealth Games.
He has been the long-time lead columnist on RT and is one of the world's most respected athletic writers.
He is also a former national class distance runner (2.19.32 marathon) and trained with Chris Wardlaw and Robert de Castella among other running legends. He is the author of The Landy Era.