A Column By Len Johnson
When David McNeill ran 27:45.01 in the Payton Jordan meeting in Stanford this May, his performance had a certain Dickensian element.
To cite the opening line from A Tale of Two Cities , it was the best of times, it was the worst of times. The worst of times because McNeill was one-hundredth of a second outside the world championships qualifying time. To run 10,000 metres and miss the chance of going to Beijing by the equivalent of six centimetres makes for a shattering disappointment.
But the best of times, too, because it was an Olympic qualifier. The Rio standard had been set at twenty-eight minutes, and McNeill was comfortably under that.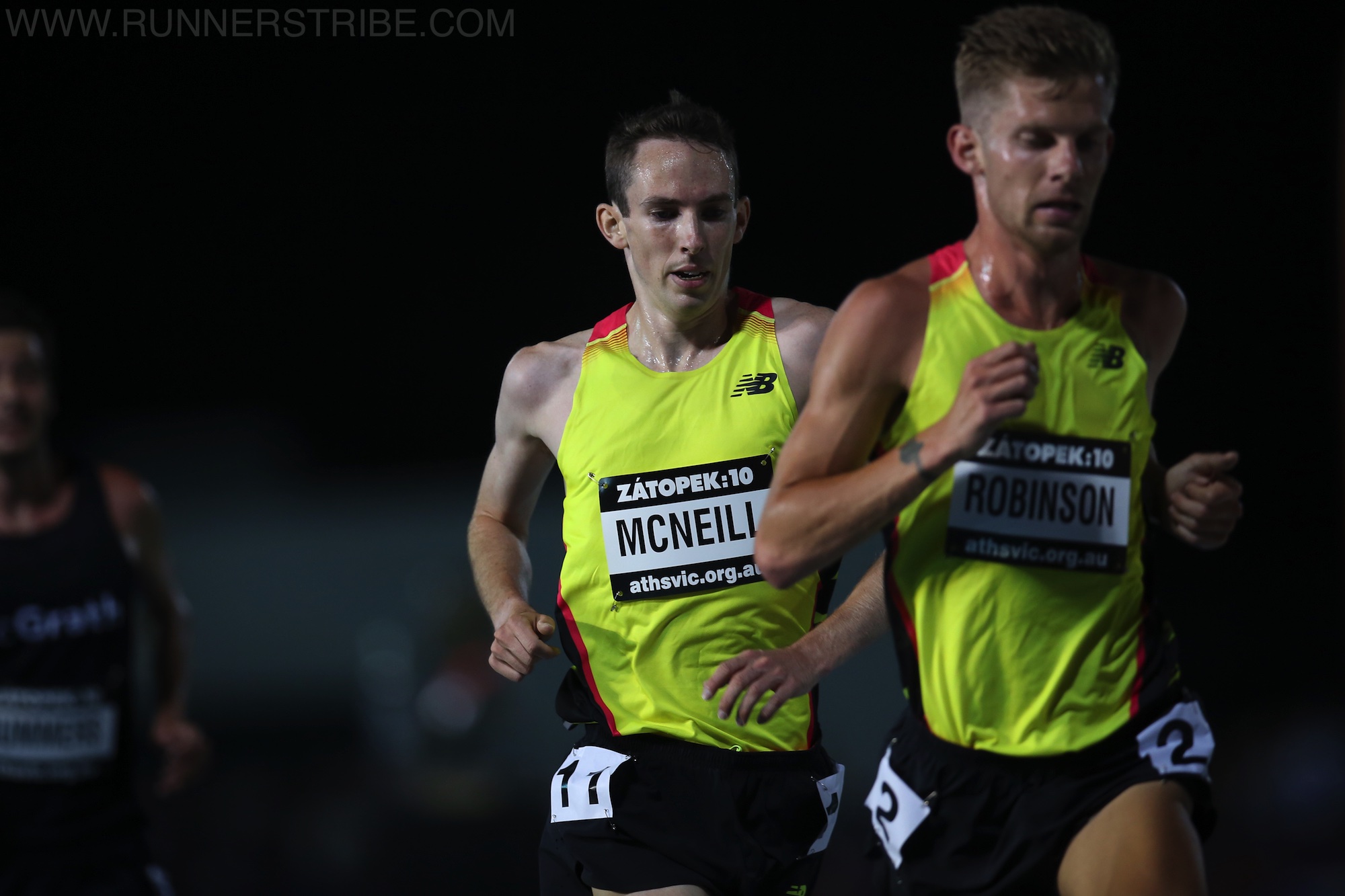 To paraphrase another Dickensian observation, this one voiced by Mr Micawber in David Copperfield, "Time 27 minutes 45.01 seconds, qualifier 27 minutes 45 seconds, result misery. Time 27 minutes 45.01 seconds, qualifier 28 minutes, result happiness."
Possible happiness, actually, but by winning last weekend's Zatopek: Ten, McNeill converted potential into reality. As winner of the selection trial, already possessed of a qualifying performance, he had booked a place in the Olympic team.
The Payton Jordan performance was invaluable in another way. As the pace of the Zatopek men's race drifted from marginally sub-28 to 28-something over the last few laps, McNeill became the only one who could claim an automatic Olympic sport.
Last year's winner, Brett Robinson, who was sharing the lead with McNeill after American Brian Shrader dropped back, needed a win and qualifying time. So as the likelihood of a sub-28 receded, McNeill became the only one of the two possible winners who could benefit directly. When he threw in a third-last lap of around 61 seconds to which Robinson was unable to respond, McNeill ensured he would be that winner.
It is a sad reality that as the number of track 10,000s run around the world continues to diminish, so the remaining ones become increasingly about achieving the qualifying standard for championship selection. In Australia, that is true in each of the four years of the Olympic cycle as the Commonwealth Games occupy the middle year.
Consequently, we tend to judge the success of each Zatopek by whether or not anyone qualifies for the upcoming championship. This year McNeill did, so everyone went home happy. But it doesn't necessarily indicate a satisfying state of men's track distance running.
Just two Australians – McNeill and Robinson – were under 28:30. There were only three Australians (Harry Summers the third) among the five who went under 29 minutes.
Contrast this with the 1986 race (see below) when no fewer than nine Australians were under 28:30, and another four went under 29 minutes. Andrew Lloyd's winning time was less than four seconds slower than McNeill's and the next six all ran faster than Robinson ran this year. Of course, that's cherry picking statistics as outrageously as the most rabid climate change denier and these things do come in cycles, but clearly the depth of our distance track running is not there at the moment.
18 Dec 86 Men
1   28:07.51 Andrew Lloyd
2   28:11.25 Peter Brett
3   28:15.00 Daniel Boltz
4   28:16.19 James Harrison
5   28:19.15 Gerard Barrett
6   28:21.26 Adam Hoyle
7   28:23.50 Lawrie Whitty
8   28:25.29 Steve Moneghetti
9   28:29.97 Andrew Garnham
There wasn't any depth to the women's race either, but Eloise Wellings confirmed her status as the best Australian track distance runner – male or female – currently going around when she won in an Olympic qualifying time of 32:02.61.
It was Wellings' third win in the Zatopek and fourth national title (she was second to Kenya's Veronica Wanjiru in last year's race).
Like McNeill and Robinson, Wellings was well set up, in her case by pacemakers Genevieve LaCaze, who went to half-way, and Melissa Duncan, who took her to 6000 metres. Unlike the men, though, Wellings was able to keep the pace going on her own, reeling off a series of 76-77 second laps. The strain was showing over the last couple, but she held it all the way to the finish line to register the fastest of her three Zatopek wins.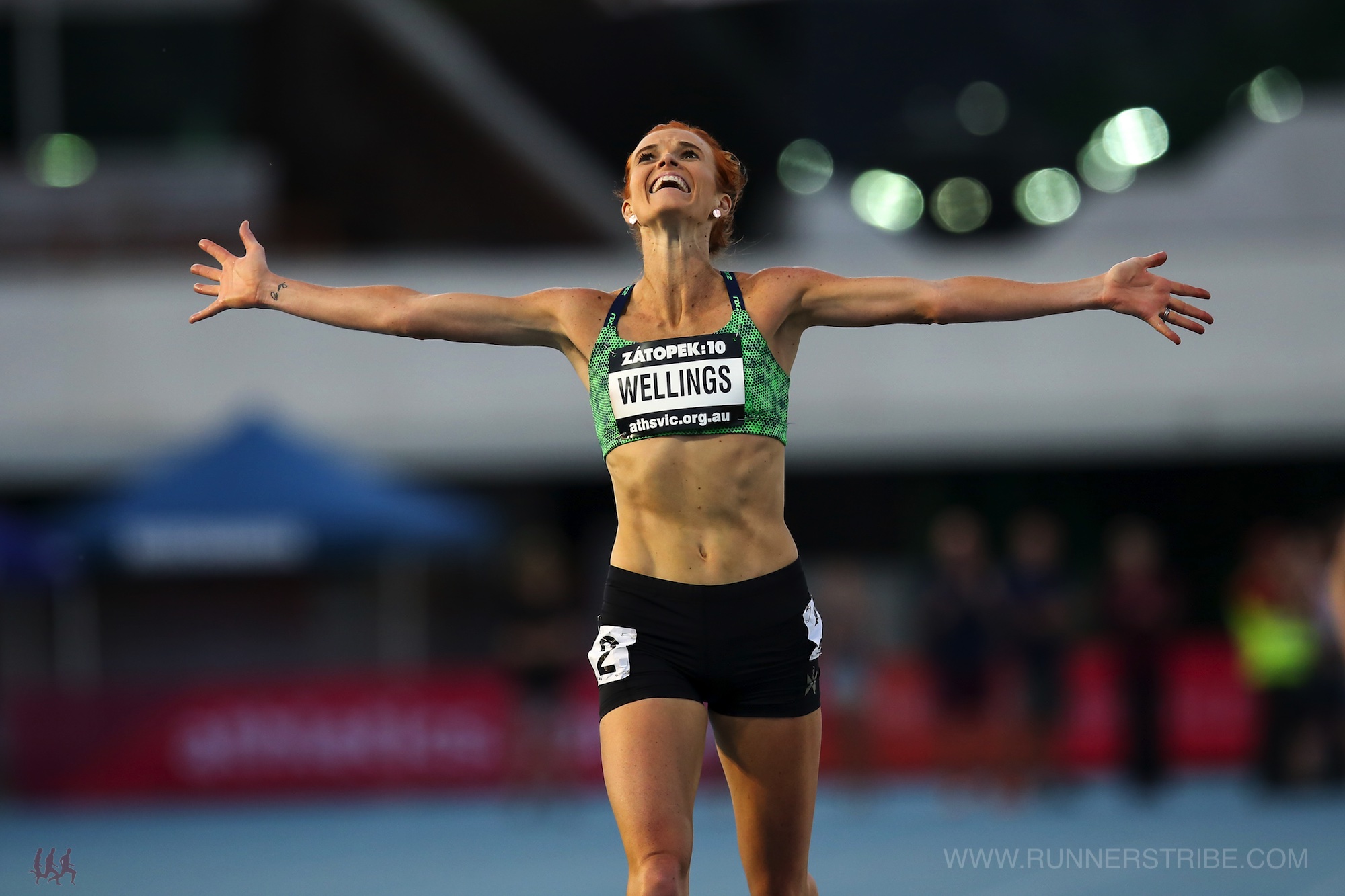 Through a career often interrupted by injury, Wellings has shown remarkable resilience. Her best of 31:41.31 ranks fourth all-time behind Benita Willis, Lisa Ondieki and Susie Power, while she is second at 5000 (14:54.11) and 3000 (8:41.78) behind Willis only. She has clinched a spot in the Olympic team at 10,000 and has already achieved the qualifying time for 5000, in which she placed 10th at the world championships this year in Beijing.
The national championship will be selection race for Rio, but it seems Wellings will have her choice of events at the Olympic Games next year. It will probably be academic, however, as Wellings said post-Zatopek she would double if she gets the chance. The longer race is on first, as it was in Beijing, and Wellings said she did not like the feeling of sitting in the stands watching the 10,000 and waiting for the 5000.