A Column By Len Johnson – Runner's Tribe
It's customary to include a disclaimer as a footnote, but let's declare this one upfront. I love the Fukuoka marathon and, despite many changes in the marathon over the years, still rate it up with the very best of non-championship races.
Times may suggest otherwise – Tsegay Kebede's race record is a 'mere' 2:05:18 – but year-in, year-out, the race in the biggest city on Japan's southernmost island, Kyushu, produces great racing from world-class performers.
In pre-world championship days, Fukuoka was regarded as the unofficial world championship. It's end-of-year timing and tradition of inviting the best international and domestic field available made Fukuoka ideally placed to attract the winners of the major northern hemisphere spring marathons and the Commonwealth, European and – once every four years – Olympic champions.
The continued growth of big-city marathons, and the attraction of the World Marathon Majors, has dimmed Fukuoka's lustre a little, but it still manages to produce exciting racing and fresh talent. Toshihiko Seko, Rob de Castella and Sammy Wanjiru are just a few of many to introduce themselves to the world at Fukuoka.
This year's race, on Sunday, 3 December, should be no exception. Three runners with just a handful of marathons between them, loom as possible break-through contenders. Bedan Karoki needs little introduction at 10,000 metres (fourth in this year's world champs) through to half-marathon; his marathon debut earlier this year saw him third in London in 2:07:41 behind Daniel Wanjiru and Kenenisa Bekele.
Norway's Sondre Moen is the most experienced of the trio, with all of three marathons, including a 19th in the Rio Olympics and a 2:10:07 earlier this year. But he broke through with a 59:48 half-marathon in Valencia in October, so looks primed for improvement.
With Japan embarked on a national quest to hot-house an Olympic medallist in Tokyo in three years' time, local eyes will be focused on Suguru Osako. Third on debut in Boston in 2:10:28 behind world champion Geoffrey Kirui and Galen Rupp, what can he produce in his second attempt at the marathon.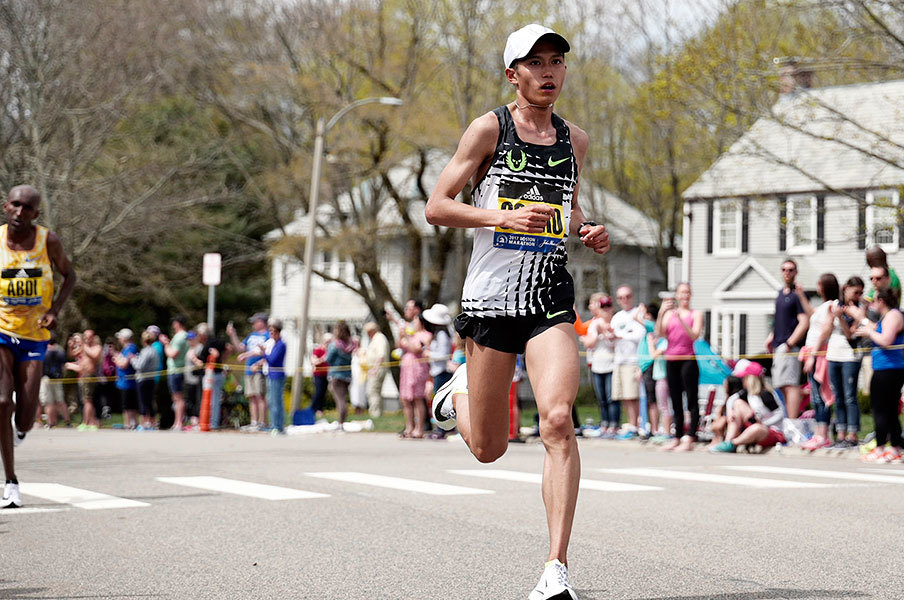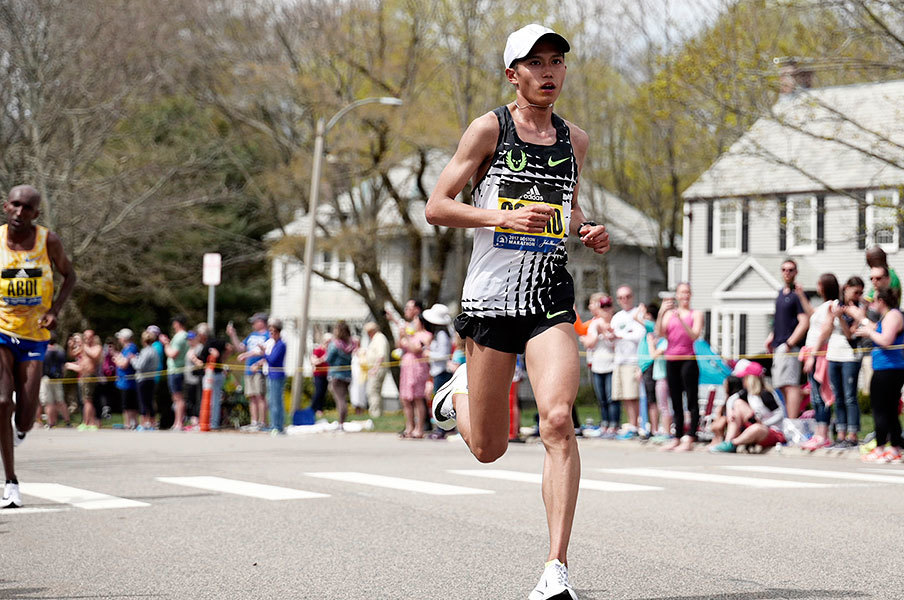 Fukuoka is traditionally on the first Sunday in December. It is also traditionally in Fukuoka, but the race is more properly named for its major sponsor, the Asahi media company and its Asahi Shimbun newspaper. Established in 1947, the race did not finally settle on its Fukuoka home until 1959. Even then, the 1963 race was moved to Tokyo, as a test event on the 1964 Olympic course.
International involvement started in 1954 when Reinaldo Gordo of Argentina, the Olympic silver medallist behind Emil Zatopek two years earlier in Helsinki, won. Finland's Veikko Karvonen won the following year before the race reverted, briefly, to domestic status. From 1959 onwards, Fukuoka has maintained a standing as one of the top – most often the top – non-championship international marathons.
This year is Fukuoka's (or the Asahi International Marathon's) 70th birthday, and 71st race. The date – 3 December – brings at least two further milestones. It will be 50 years to the day since Derek Clayton set a world best 2:09:36.4 in the 1967 race. On a personal note, it will be 39 years to the day since I ran my personal best there.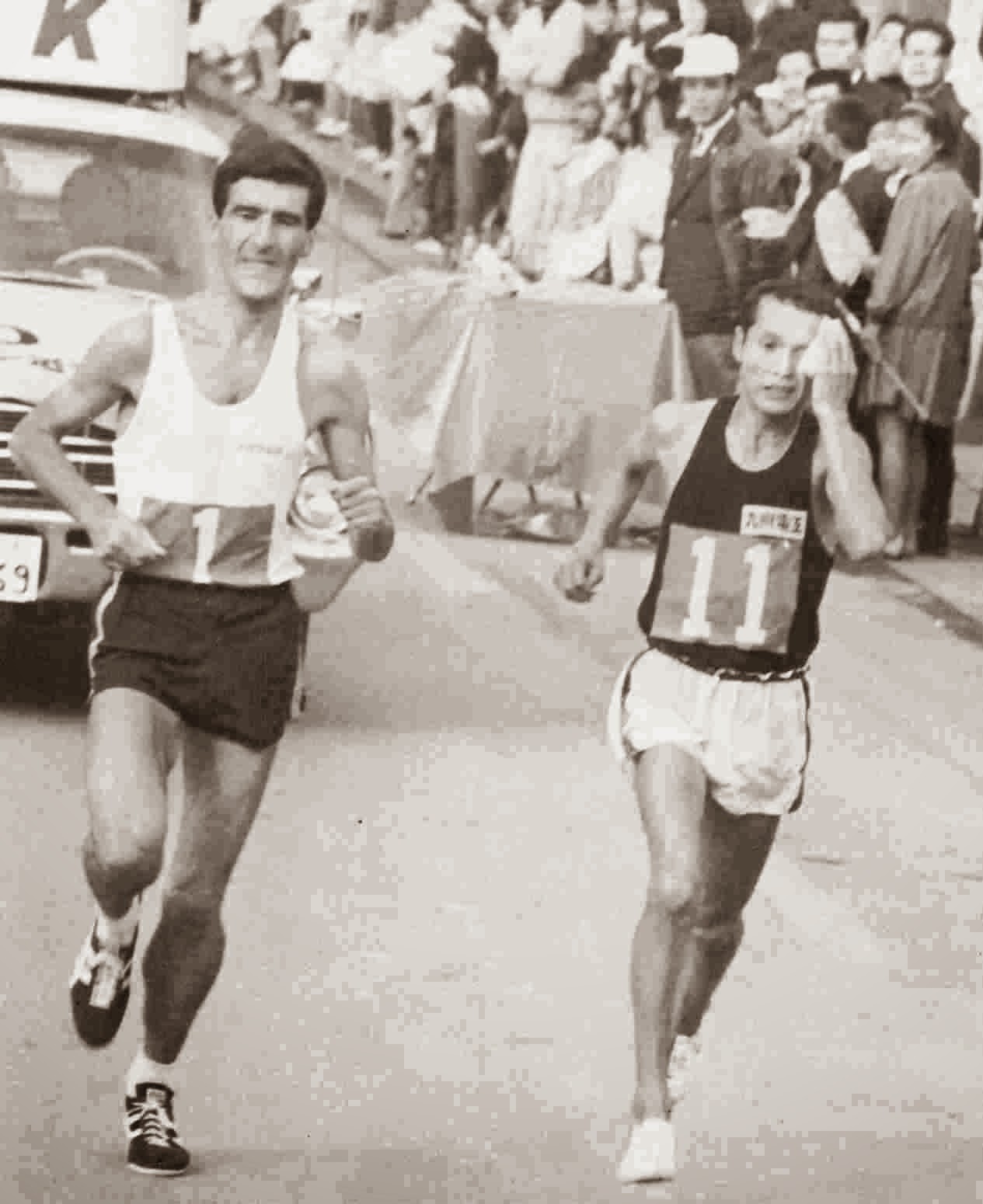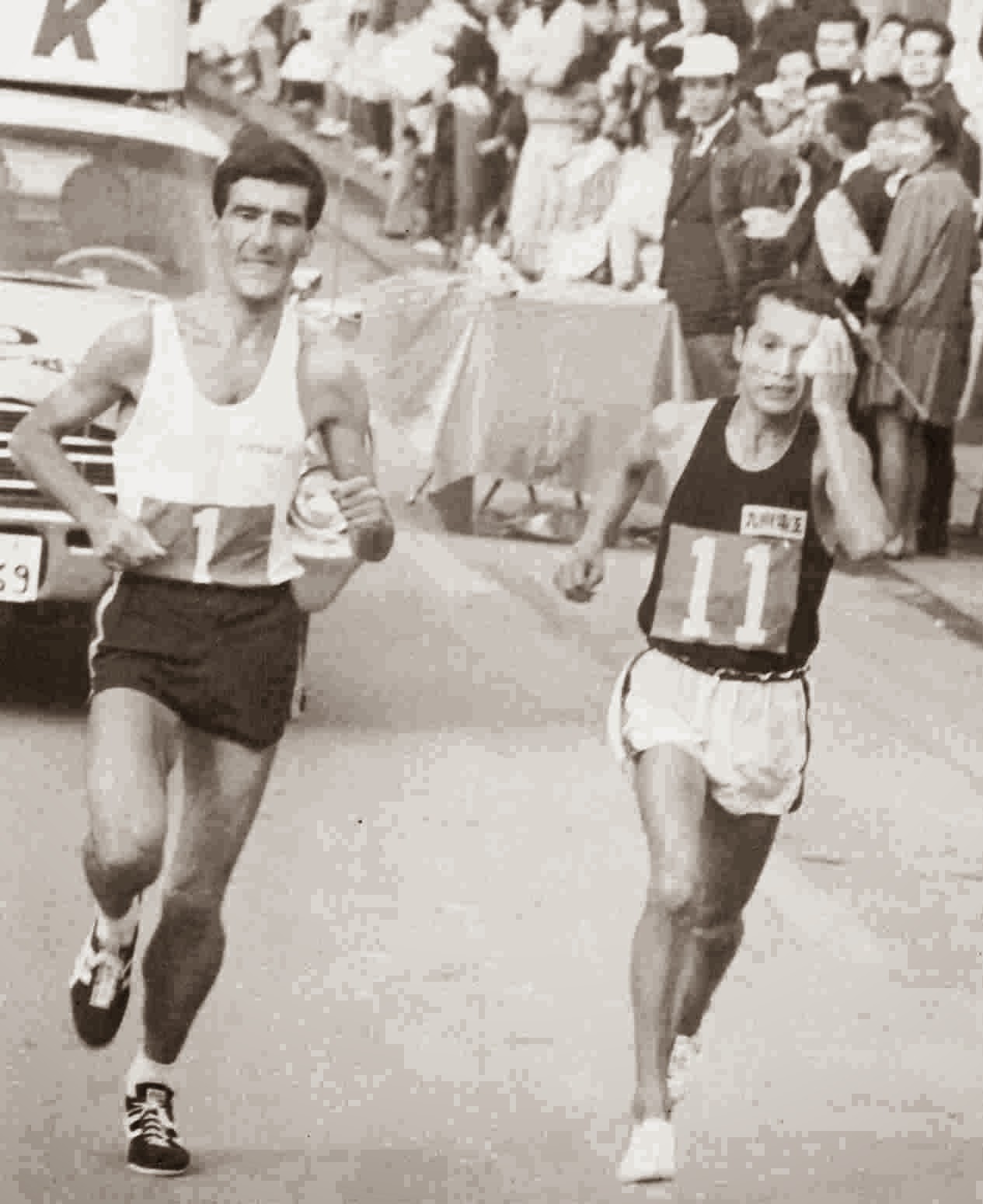 Clayton's world record came on the same day as another international milestone. In Cape Town, South Africa, a surgeon named Christian Barnard performed the world's first successful heart transplant. It was also the 113th anniversary of the Eureka Stockade, doubly appropriate seeing both the leader of the miners' rebellion – Peter Lalor – and Clayton shared Irish heritage.
At the risk of labouring the point, Clayton's win was likewise revolutionary, both for him and the Fukuoka marathon. It was a personal best by almost nine minutes, a race record by almost five, and truly ushered in the era of Fukuoka's international pre-eminence.
Before Clayton, the race record stood at 2:14:05 by Mike Ryan the previous year. Though Clayton's race record stood for 13 years, his performance initiated a trend of rapid improvement. The next few races were won in 2:10:48 (Bill Adcocks of Great Britain), 2:11:13 (Jerome Drayton, Canada), 2:10:38 (Akio Usami, Japan), 2:12:51 (Frank Shorter) and 2:10:30 (Shorter again).
Clayton improved the world best again two years later, when he ran 2:08:34 in Antwerp, but not until 1980 did anyone else break 2:10 on the course and not until the following year did someone run faster.
Toshiko Seko won his third Fukuoka in a row in 2:09:45 in 1980, with Takeshi Soh, in second place, becoming the first man to run a losing sub-2:10.
Rob de Castella set a world record 2:08:18 in winning the 1981 race, so the only two world records set in one of the world's most prestigious marathons have been set by Australians.
Fukuoka, indeed, has been the setting for many of the best marathons run by Australians and New Zealanders. One of Arthur Lydiard's boys, the 1960 Olympic bronze medallist Barry Magee, won in 1960 and another Lydiard-trained athlete in Jeff Julian, won the Olympic test race in Tokyo in 1963.
Mike Ryan won the 1966 Fukuoka race in between his bronze medals in the 1966 Commonwealth Games and 1968 Mexico City Olympic marathons. Finally, Paul Ballinger followed Deek as a Fukuoka winner in 1982. Good omens for Jake Robertson this year, you would think.
Nor is Australia's history confined just to Clayton and de Castella. Among many fine Australian performances in the famous race, Rod MacKinney became the first Australian to run under 2:20 in Mike Ryan's year of 1966, Dave Chettle ran 2:10:20 for second behind Jerome Drayton in 1975, Chris Wardlaw was seventh in 1978 and then tied with Bill Scott for sixth a year later, while Garry Henry was fourth in 1980 in 2:10:09, four places ahead of de Castella.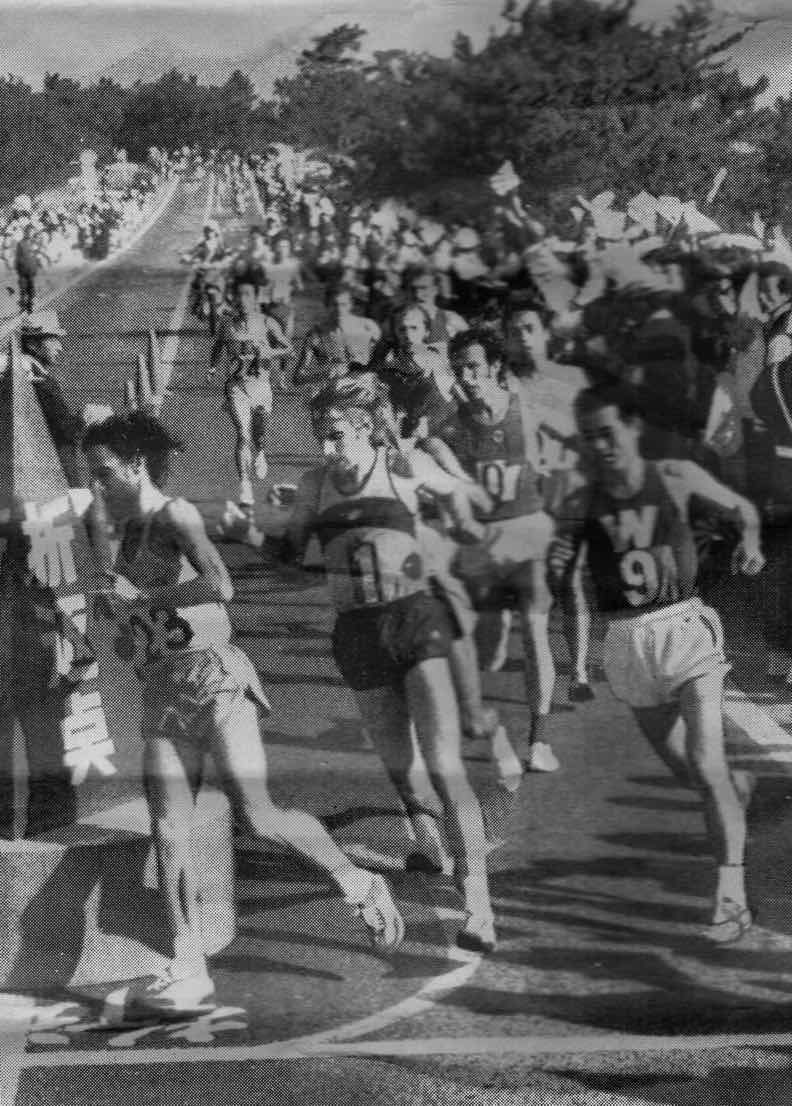 Henry showed definitive marathon spirit when asked whether he was disappointed he had not broken 2:10. "No," he replied. "I couldn't have run a step faster."
If you can honestly say that at the end of a marathon, you've run a good one, regardless of time.
End
ABOUT THE AUTHOR
Len Johnson has been the Melbourne Age athletics writer for over 20 years, covering six Olympics, eleven world championships and six Commonwealth Games. He is also a former national-class distance runner. For over a decade Len has bee Runner's Tribe's lead columnist. Len also writes for IAAF. He has recently been named an Athletics Australia Lifetime Member. He is also the author of 'The Landy Era'.