Len Johnson – Runner's Tribe
You know the feeling. Many Australians will be familiar with it.
You go away for a Gold Coast holiday, lie on the beach, soak up the sun, feel good about yourself and life in general; then, it's back to grey skies and wintry weather. Sometime it seems it would have been better never to have left home in the first place, especially when home is at the southern end of the continent.
One group of visitors seem to have escaped the post-Gold Coast holiday blues this year, however: Australian athletes. Judging by results from around the world in the past few months, a goodly number of Commonwealth Games athletes have carried their form over into northern hemisphere competition.
In one way, this is hardly surprising. Athletes of all nations enjoy the boost of competing in a home Games, Australian athletes certainly enjoy competing in the Commonwealth Games, a rare occasion when their performances tend to yield not just personal or season bests, but also medals. You feel much better enjoying the reward of a medal than the consolation of a PB, or out-performing your ranking coming in.
Whatever the reason, a healthy number of Australian athletes have carried the form which they took into Carrara Stadium at the beginning of April on to the US and Europe.
It seems to me – and I don't want to dive too deep into the statistics lest I dispel that impression – that Australians are competing more successfully in the northern hemisphere this year than for some years. And I'm happy to put that down to the positive after-effects of a home Commonwealth Games.
A comparison with 2006 strengthens the case. Gold Coast 2018 was the fifth time Australian has hosted a Commonwealth Games, but Melbourne 2006 was the only other occasion on which athletes moved more-or-less straight from the Games to the international circuit. Sydney in 1938 was another era, while Perth 1962 and Brisbane 1982 were both staged late in the calendar year, leading into an Australian domestic season rather than overseas competition.
In 2006 I was fortunate enough to cover two international events later in the year. The IAAF World Cup was held in Athens, just a week after the World Athletics Final in Stuttgart.
At the World Cup, I had the rare pleasure of watching the Oceania team – of which Australia and New Zealand were the overwhelming majority – win three events, virtually doubling the total from all previous editions combined. Craig Mottram beat Kenenisa Bekele to win the 3000 metres; Steve Hooker won the pole vault; and Valerie Vili took out the shot put.
Among other results, Bronwyn Thompson was fourth in the long jump and Sarah Jamieson third in the 1500.
All five of these athletes had excelled in the Commonwealth Games on the MCG six months earlier. Hooker, Adams and Thompson were all gold medallist, Mottram and Jamieson took silver medals,
The World Athletics Final saw an even stronger representation of Australian Commonwealth Games stand-outs. With athletes qualifying for the final by points accumulated through the series, the final reflected a strong season more than a one-off peak.
Paul Burgess in the pole vault, was the only Australian winner in Stuttgart. Thompson was second in the long jump, Jamieson fourth in the 1500, Tatiana Grigorieva fourth (and Kym Howe seventh) in the pole vault, Scott Martin fifth in the shot put and Eloise Wellings – yes, she has been competing at a high level for a long time – eighth in the 3000.
For Burgess, his WAF win was consolation for a no-height in the Commonwealths, Martin was the discus winner and shot put bronze medallist, Wellings was fourth in the 5000.
So perhaps it's no surprise that Gold Coast medallists Kurtis Marschall, Brandon Starc, Brooke Stratton and Henry Frayne are among those competing well in Europe at the moment. So, too, are many of their teammates including Joseph Deng, Linden Hall, Brittany McGowan and Georgia Griffith.
Deng broke the national 800 metres record in Monaco just over two weeks ago, while Peter Bol, who missed the Gold Coast team largely due to an injury-interrupted preparation, has been up there alongside him challenging the national 800 record set way back almost 50 years ago in Mexico City by Olympic gold medallist Ralph Doubell and equalled by Alex Rowe four years ago.
Some of these athletes will be competing right through to the Diamond League finals held in Zurich and Brussels in a few weeks.
Let's hope that all of them can sustain their form through to the conclusion of their northern hemisphere seasons. In 2006, 11 Australians – all of them Commonwealth Games representatives – did well enough through the rest of the year to earn a top-10 event ranking from Track & Field News.
It was one of Australia's strongest ranking results. Can the Gold Coast carry-over see us match it 12 years later.
End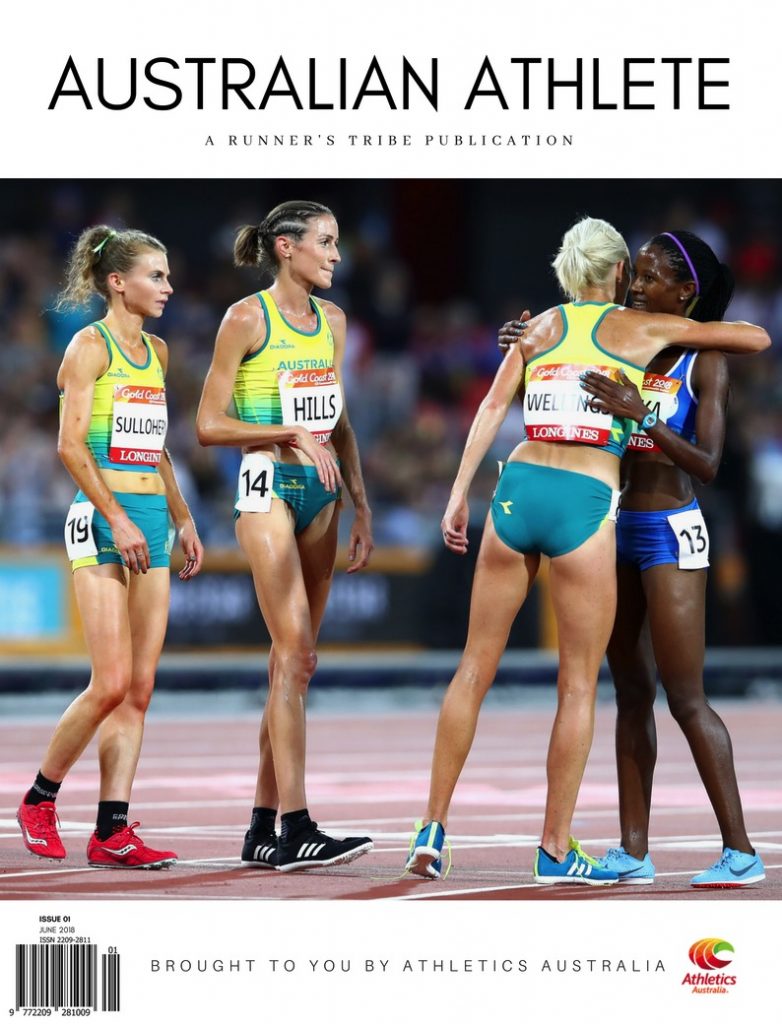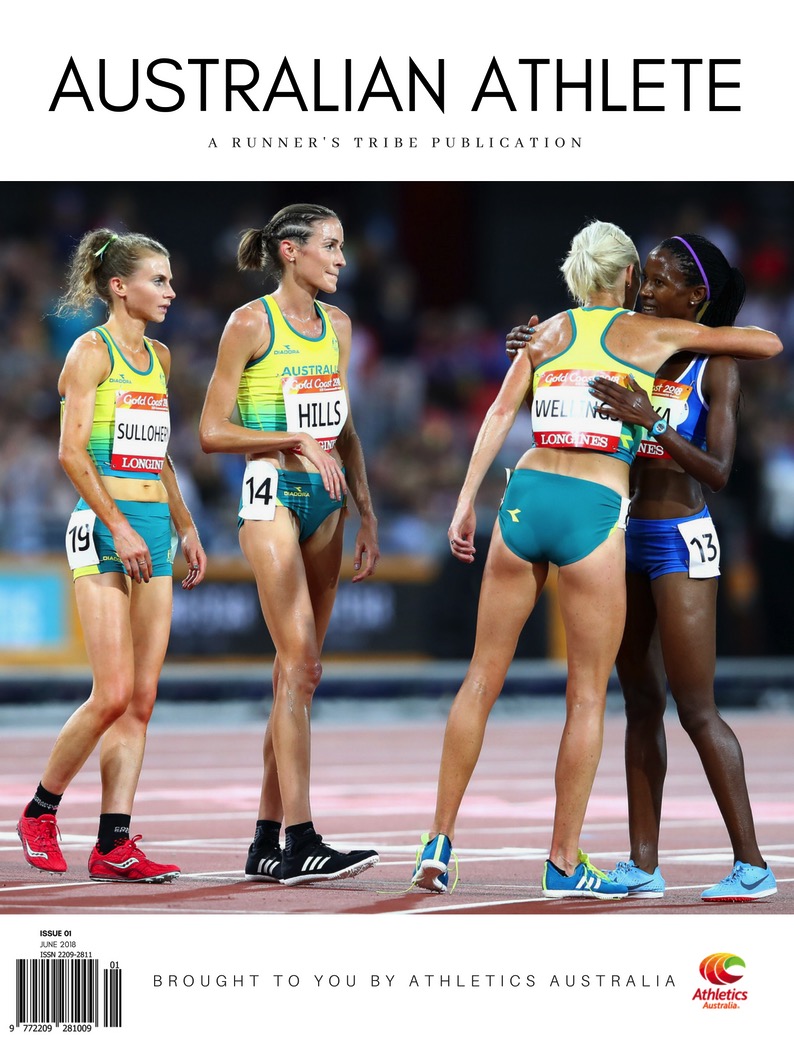 Australian Athlete is brought to you by Athletics Australia and Runner's Tribe. This exceptional quality, 180 page, Australian made biannual bookazine, is jam-packed with exclusive content and insights into the lives and training of Australia's most impressive athletes. A first for Australian athletics, Australian Athlete includes top-10 rankings for U14, U16, U18, U20 and open age groups. Printed using high quality, environmentally responsible materials, a true special edition masterpiece for athletes, families, and fans to hold onto forever.
Inside:
180 pages of jam-packed action mailed to your door.
Exclusive athlete diaries with some of Australia's biggest Track and Field names, including stars from the Commonwealth Games.
Unique athlete features highlighting the 2017-2018 Australian Athletics season and the athletes that made it special.
Expert analysis from leading coaches and Track and Field writers.
Insights into the lives, backgrounds and training of our biggest stars.
A look at the future, the most comprehensive journalism centred on Australian juniors, ever published.
The biggest rankings lists ever published in a bookazine or magazine format.
Something to hold onto and cherish.
A first ever 'All Australian Team' announced for junior athletes.