A column by Len Johnson reporting from the Gold Coast
Championship marathons seem to attract more than their fair share of brutal weather.
Put on any championship, pick any day for the marathons and it's a better than even-money bet that the day will dawn warm and sunny. Indeed, that it will be the hottest day of the championships.
Tokyo 1991, and a city that had spent the previous 10 days clouded over miraculously presented clear, sunny skies despite an early morning start. Barcelona a year later went for an evening start finishing in the cooler and darker weather. An overnight storm and cool change cleared all too quickly into a hot late afternoon-evening with the humidity exacerbated by the evaporation of the roadside puddles.
Fast forward to Gold Coast 2018 and marathon morning dawns clear, bright, warm and sunny, with shade temperature rising from 23C at the 7:20am start of the women's race to 27 at the end of the men's race some three hours later. Shade temperature, that is: thought there was precious little of that cool shade.
After a relatively long period of (relatively) moderate conditions for championship marathons, Gold Coast 2018 was, frankly, a bit of a stinker. Not much youu can do about that, I guess, but the weather, and how the competitors handled it, turned out to be a very significant factor as a dramatic late-race collapse by Callum Hawkins handed a repeat victory to defending champion Michael Shelley.
Over two minutes ahead at 39km, Hawkins first got the staggers as he ran around a bend taking the runners from Main Beach to the finish at Southport. He fell once, but got up and continued running until collapsing again right at the 40km point. Despite several attempts, he was unable to regain his feet.
Hawkins had surged from the southern end of the course at 25km, building a lead which ultimately grew to just over two minutes at 40km, where he dropped out of the race. A 15:20 from 25 to 30km took him 41 seconds clear of Shelley; 15:32 for 30-35km built the lead to 1:42. Even with his troubles, he still gained another 20 seconds from 35 to 40km to push the lead to 2:03.
It was brave running in the conditions, but ultimately Hawkins could not continue running until the end, much less maintain the pace.
Until he came within sight on the bridge crossing the Southport Broadwater, Shelley was not fully aware of the drama ahead. The Gold Coast local had been urged on by supporters telling him, "the Scot is struggling," but until he drew near had no idea that the long-time leader was out of the race.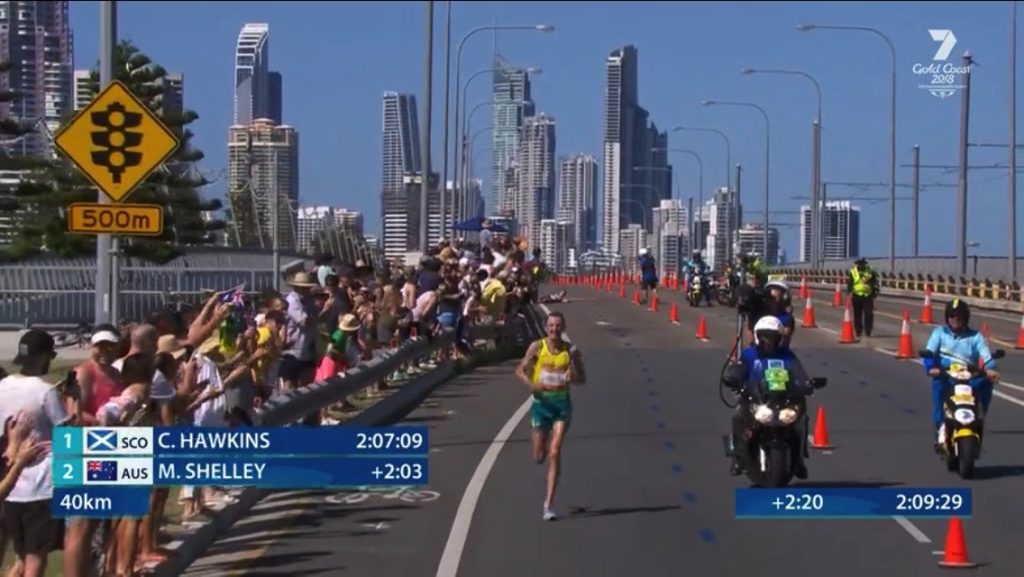 The Australian was struggling, too. "I was starting to go myself," he said after the race. "I felt some tingly cramps in my hands and fingers. My legs were starting to wobble."
He was not Robinson Crusoe: few finished either marathon looking all that flash.
Shelley went by to win in 2:16:46, over five minutes slower than his winning time in Glasgow four years earlier and the slowest winning time since Thabiso Moqhali won for Lesotho in 2:19:15 at the 1998 Kuala Lumpur Games.
Uganda's Munyo Solomon Mutai, the bronze medallist at the Beijing 2015 world championships, took the silver medal in 2:19:02 and Robbie Simpson partially compensated the Scots for Hawkins' demise by taking the bronze medal in 2:19:36. Only the first four broke 2:20; Liam Adams in fifth place ran 2:21:08.
The women started 55 minutes before the men, but heat was just as much a factor.
Kenya's Sheila Jerotich, Lisa Weightman, Jess Trengove, and Johannes were together just beyond 35km when Jerotich surged clear. Within a few hundred metres of seemingly seizing control she slowed just as dramatically, eventually finishing fourth.
At much the same point Trengove started to lose contact and Johannes pulled clear of Weightman. Johannes went on to win in 2:32:40, from Weightman, 2:33:23, and Trengove, 2:34:09.
The 37-year-old Johannes was twelfth in the 2012 London Olympic marathon in her personal best time of 2:26:09 and nineteenth in last year's world championships in London. She is just the second gold medallist for Namibia in Commonwealth Games athletics, the other being sprinter Frankie Fredericks, winner of the 200m in Victoria in 1994.
The toll of the race was obvious on Weightman and Trengove as they did their media interviews. "It was hot, but we had prepared for that," said Weightman.
"I had to dig deep," said Trengove, who had been out on her feet at the finish, but recovered quickly. Both were on hand to celebrate with Shelley as he crossed the line.
Australian team chef de mission Steve Moneghetti commented on the conditions, telling the Games News Service: "When you start a marathon, your first challenge is to overcome the event. The event can come back to bite you on the bum. Marathons are tough and today I knew the conditions were hot and it was going to be brutal.
"You never want to see anything like (Hawkins' collapse). I'm sure he's up and about. Hopefully he will be bouncing back and running good marathons soon."
Shelley knows joins Moneghetti as a medallist in three consecutive Commonewalth Games marathons. He has gone silver (Delhi), gold (Glasgow) and gold (Gold Coast) compared to Moneghetti's bronze (Edinburgh), silver (Auckland) and gold (Victoria), thought the chief does have the little matter of a bronze in the 10,000 in Kuala Lumpur 1998 to add in.
Hawkins was taken to hospital for recovery. A Team Scotland statement early on Sunday afternoon said that he was still undergoing precautionary tests but was sitting up in bed talking to his father and Team Scotland medical staff.