Len Johnson Reporting from the World Champs, London – Runner's Tribe
Luke Mathews could scarcely have had a worse Rio Olympic experience last year than if he had decided to go out partying with the US swimmers.
Selected for the 800 metres after he had run David Rudisha close in Melbourne and then won the national title, he was added for the 1500 metres after qualifying in Europe. But then form ebbed away from him like a life buoy from a drowning man. He was eliminated in the heats of both events at the Games. 'Out the back door,' would be the kindest way of describing it.
Come forward to London 2017 and here is Mathews controlling and then winning the third heat of the 1500 metres at the world championships, one of two Australians to qualify for the semi-finals. The other was Jordan Williamsz, who we'll come back to in a minute.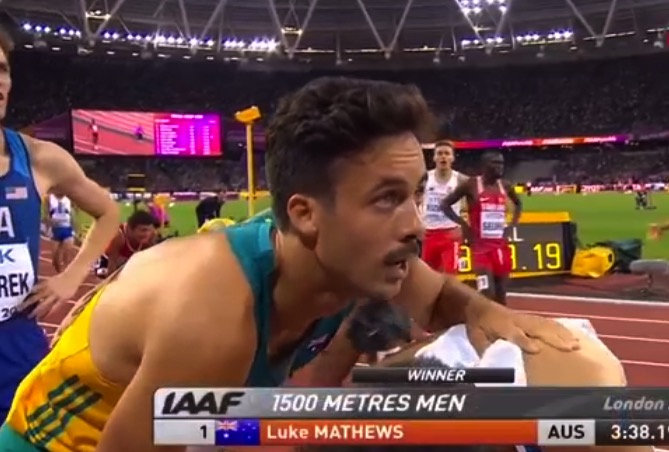 Whatever happens from here, Mathews has put that Rio experience behind him. One swallow does not make a summer, and all that sort of thing, but his run in the London Stadium on Thursday night indicated an athlete at peace with himself.
Mathews race near the front of the pack in the third and final heat. The heat had the advantage of knowing what times were required to progress, but Mathews put all that out of the equation anyway by winning. The first six were guaranteed to progress and he was never out of the first six.
Jordan Williamsz, by contrast, found himself in a first heat of pedestrian pace. Once the first two laps went by in over 2:10, there was only ever going to be one way of getting to the semis – finish in the first six. Trouble was, everybody had the same idea, making it ever more difficult.
Williamsz, fortunately, is built for heavy traffic. Coming up the final straight, as close to a dozen men fought for the vital six places, he found a way through the traffic and thrust his chest across the line in sixth place, hundredths of a second ahead of seventh, eighth and ninth.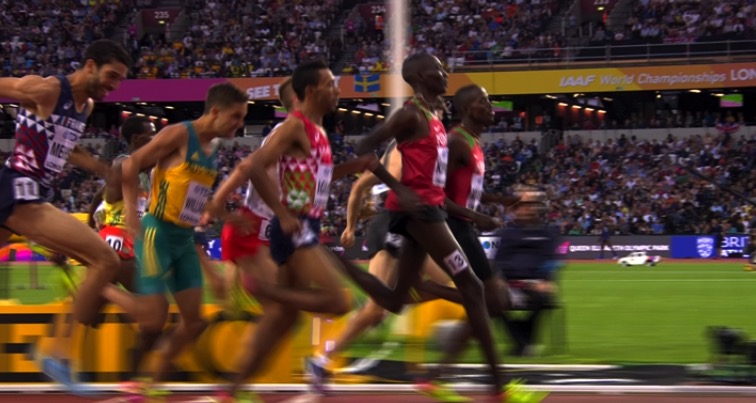 Less fortunate was Olympic champion Matt Centrowitz who, as in Rio, ran two laps at interclub pace, but this time was not in the lead bunch and could not find a 1:50 finish over the final 800. He finished last and was eliminated.
Also going out in the second of the three heats was Australia's Rio finalist, Ryan Gregson. Caught at the back, Gregson was inconvenienced by being caught up in the aftermath of a final straight fall, but he had work to do to qualify anyway. It is a pleasing sign of the depth developing in this event that we can lose our best performer of recent years and still get two through.
There weren't too many other bright notes in the three middle-distance events contested on the night. Lora Storey, Brittany McGowan and Georgia Griffith all faced tough assignments in the 800 metres: none of them passed. In the 5000, Eloise Wellings, Madeline Hills and Heidi See did not run disastrously; nor, unfortunately, did they run well enough.
It was that kind of night, really. Things started well everywhere only to fizzle out.
The men's triple jump battle between Christian Taylor and Will Clayed lived up to its hype, at least for the first three jumps. Claye led with 17.54 in the first round; Taylor topped that with 17.57 in the second; Claye regained the lead at 17.63 in the third round only for Taylor, jumping next in the order, to respond with a 17.68.
Then nothing happened in the last three jumps, leaving Taylor the gold medallist in something of an anti-climax – if, that is, 17.68 and 17.63 can ever be regarded as an anti-climax.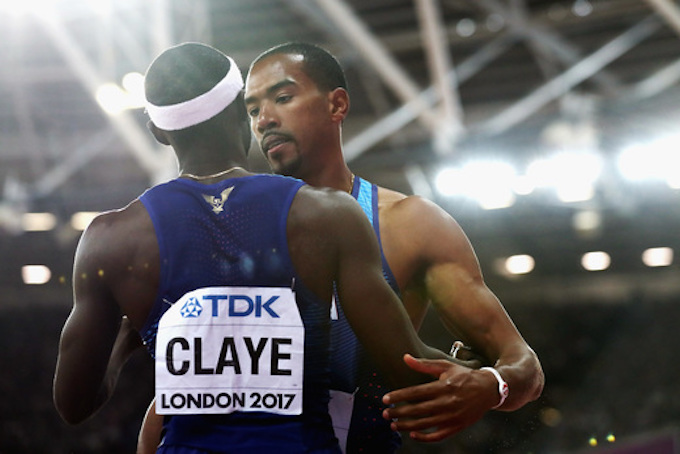 The men's 200 has created more drama in England than anything since Shakespeare's day, what with the tweaking of the program to allow Wayde Van NIekerk to double; then Isaac Makwala deciding he, too, wanted to do like Michael Johnson. That was before we got here: then there was Makwala's withdrawal from the 200 heats and 400 final because he might have something contagious, followed by his reinstatement and advancement to the semi-finals after running a solo 20.20.
After all that, neither Van Niekerk, nor Makwala won. Instead, the gold medal went to Ramil Guliyev, a former Azerbaijani (he still holds the national records for 100 and 200), now running for Turkey.
Guliyev looked one of the chances after the semis and he edged ahead of Van Niekerk in a thrilling battle over the final 50 metres to win in 20.09. Van Niekerk, in turn, edged out Jereem Richards by some thousandths of a second as both ran 20.11.
Makwala finished sixth.
It was the slowest winning time in the 200 since John Capel won in Paris in 2003. Even in wet and freezing Helsinki two years later a young man won in 20.04. His name was Justin Gatlin.
End
Luke Mathews qualifies fastest for World Champs semi-final after leaving coach two weeks ago