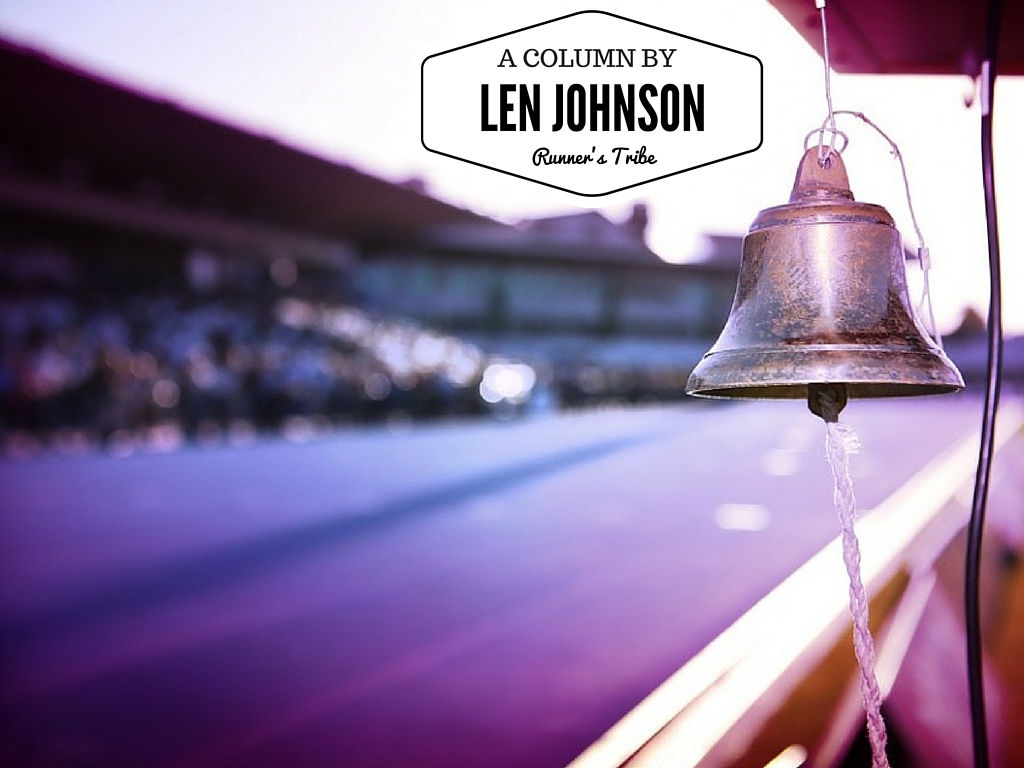 Meb just keeps bobbing up | A Column By Len Johnson
I suppose I had seen him earlier, but I first became aware of Mebrahtom Keflezighi when he bobbed up for the silver medal in the Athens 2004 Olympic marathon.
Keflezighi, who is the subject of a Runner's Tribe video interview this week, is one of the few athletes who is actually known widely by the nick-name displayed on his race bib – as distinct from those for whom it is a race director's affectation. It's simply Meb, just as it's Mo or Mona (of whom, more later).
Bobbing up was what people tended to do on the classic Marathon to Athens course in its 2004 Olympic configuration. Given the heat of the day, both marathon races were run into the evening, offering late-race respite from the sun's direct rays.
The nature of the course, with a mid-race climb finishing at around the 35km mark, also dictated caution. Runners got to the point where the climbing finished and the gradual ascent to the finish in the marble Panathenaic Stadium began at the same time as the sun disappeared and they entered the darkness. When the late moves came, then, it was as if someone had bobbed up out of the darkness.
Which is exactly what Meb did that day. He had been unobtrusive in the huge, lead pack early. Then, like everyone else, he was left behind by Vanderlei de Lima's surge into the hills at around half-way. As the world focused on de Lima, and the lunatic Irish protester who attempted to bundle him off the course between 35-36km, Meb and Italy's Stefano Baldini steadily closed the gap.
The Italian got away in the last three kilometres to win by 35 seconds. De Lima gallantly hung on to take third. Meb took the silver, to the surprise of most, but no shock to him.
"Was it a surprise," he mused in a post-race interview. "Maybe. But I don't think it was to me. My plan was to be in the top three."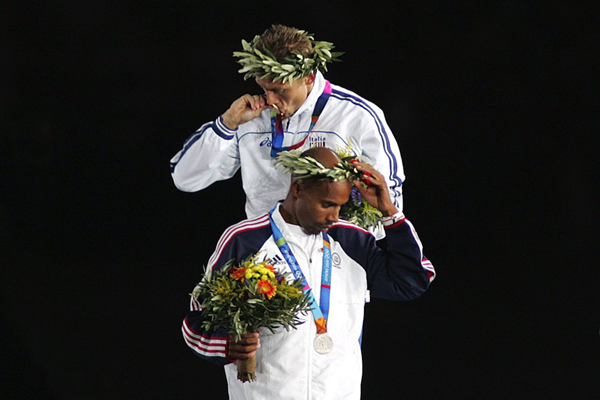 Quite so, but Olympics results don't always realise Olympic plans.
Meb's career since then has been no surprise. He missed the Beijing Olympic team after injuring himself in the Trials, but came back to take fourth place in London four years ago. He has won both Boston and New York, and amassed no fewer than 12 top-8 finishes in America's three biggest races – seven New York, four Boston, one Chicago.
Before that, Meb made the Sydney 2000 team as a 10,000 metres runner (running a personal best in the final. Now why doesn't that surprise!) and likewise ran the longest track distance at the 2001 (23rd), 2003 (16th) and 2005 world championships (a rare 'dnf'). He ran the long race at four world cross-country championships, with a best of eleventh in 2003.
Now, he has made a fourth Olympic team at the age of 40 (turns 41 on 5 May). It is an outstanding record of championship achievement and is matched by a commitment to competing in US road championships.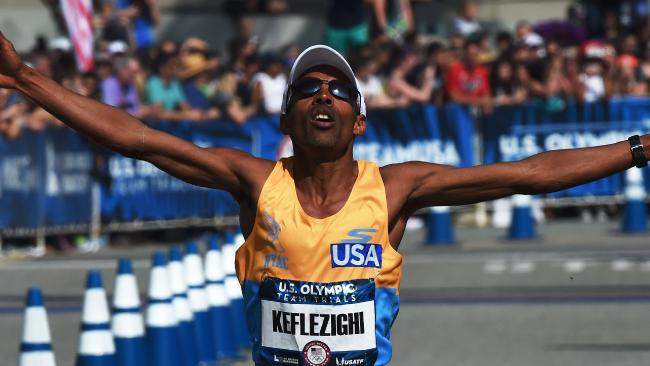 I referenced Steve Moneghetti earlier and I want to come back to that comparison now. You could argue that Meb is America's Mona. They share many traits – brilliance, competitiveness, longevity, even loyalty to their favourite races. Where Moneghetti has his Zatopek 10,000s, his City to Surfs, his club relays, Keflezeghi's c.v. reveals multiple appearances at the same competitions.
Each has been acknowledged as one of the best marathoners of their era not so much by winning races – though they did that – but by constantly being a factor in almost every race they ran. Perhaps it is not coincidental that each man's best championship performance – Meb's silver, Mona's bronze in the 1997 world championships – came on the tough, traditional Marathon to Athens course.
Mona went to the marathon right from his first championship. Selected for the 10,000 at the 1986 Commonwealth Games, he came fifth in that race before filling a vacant spot in the marathon and grabbing the bronze medal. He twice ran in the 27:40-range.
Meb is a little quicker – pbs of 27:13.98 and 13:11.77 versus Moneghetti's 27:47.69 and 13:25.77. Moneghetti has a better record at cross-country – a high of fourth among three long race finishes equal to or better than Meb's 11th. The last of Moneghetti's 10 appearances was in 2004, when he finished 30th at age 41, helping Australia to a fifth place men's team finish.
Meb's best two championship marathon results – second and fourth in Athens and London, respectively, just edge Mona's third in the Athens world championships and fourth in the Rome world championships. Moneghetti adds a fifth from the Seoul 1988 Olympics, too.
In summary, Meb definitely has the edge on track performances and Mona at cross-country. And there's hardly a tissue paper's difference between them at the championship marathon, which in the writer's view still rate more highly than the big-city races.
All the more reason to keep an eye out for Meb in Rio later this year. We truly don't see the likes of him too often.