A Column By Len Johnson – Runner's Tribe
One fan's race is another fan's procession
Lots of people characterised the Rio men's Olympic 1500 metres final as "boring". All I can say is that for a boring race it continues to generate plenty of passionate discussion.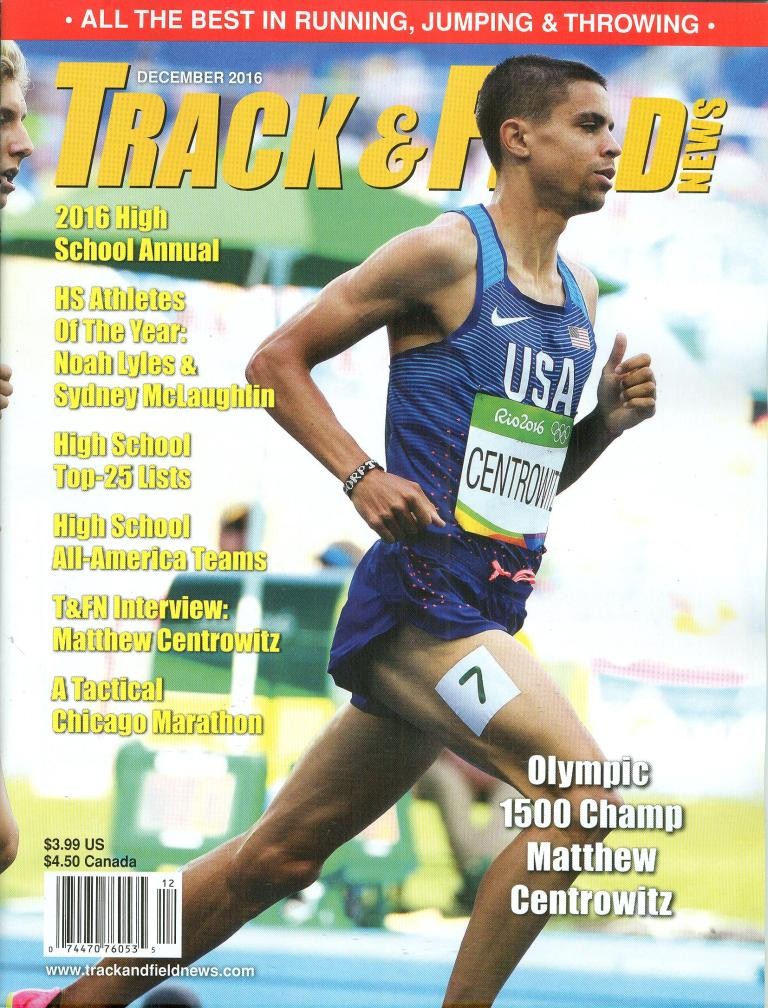 The latest to-and-fro I've seen on it is in the current edition of Track & Field News which, in turn, follows an edition which had a Matt Centrowitz cover and interview. (It's 'old' news, I know, but I still get my copy snail-mail. I can get the results any which way, but I enjoy the reading.)
T&FN editor E.Garry Hill pretty well nails it in an excellent editorial which asks the question: "When did 'tactical' become a dirty word." Hill was referring directly to the reaction in the letters page of the two editions in question. One reader suggested minimum standard times for middle-distance events – if no-one reaches the standard, then no medals. Yeah, that'd really work!
Another had his own say, then referred approvingly to a description used by a letter-writer to the previous edition of the Olympic final as "disgraceful, absolutely disgraceful."
For those of you just returned from Mars, Centrowitz won the Rio race with a 50.5 second final lap (1:49.8 last 800) after a crawl-along 2:16 first 800. The final 800 would have been even quicker, as the pace did not really pick up until the final 600.
As Hill acknowledges, many of us may prefer a faster race, but that doesn't justify heaping trenchant criticism on one running such a superb tactical race.
Indeed, in looking for an athlete dominating the last 700 metres of a 1500 final in the same manner Centrowitz did in Rio I would nominate Herb Elliott in Rome in 1960. In one sense, there seems to be no comparison: Elliott won by 2.8 seconds in a world record, Centrowitz by 0.11 seconds in a time that you would see run in good club competition.
The striking similarity, though, is that both men were prepared to seize the initiative – and the lead – a long way from home, commit whole-heartedly, and defy the efforts of anyone else to get past. Both ran their opponents off their feet in the second half of the race and you can't get much better championship running than that.
We all have our druthers over how we would prefer to see races run. I am in the camp with those who like to see faster times, but, if I'm honest, I have seen just as many boring 3:32-36 1500s run in bog-standard Diamond League races as I have boring ones run in much slower times.
The other thought prompted by the Centrowitz-Rio discussion is how much of an exception it was at this level. Many, maybe even most, championship 1500s are run on the kick-down template. This one might have been right at the end of the slow-to-fast spectrum, but one thinks immediately of the two fantastic races Genzebe Dibaba and Faith Kipyegon have produced at the 2015 world championships (won in 'pedestrian' times of 4:08.09 and 4:08.92, respectively).
Jurgen Straub's long run for home in Moscow in 1980 (2:04.9 at 800, 55 for the third lap) enabled the unheralded East German (yes – I know, I know!) to split Seb Coe and Steve Ovett to claim a silver medal. Even the epic battle as Hicham El Guerrouj overcame Bernard Lagat in 3:34.16 in Athens 2004 came after a 2:03 first 800.
Other men's Olympic medals have been one in muddling races with big kicks. John Walker produced a sub-38 final 300 to take the gold in Montreal in 1976 for a 3:39.17 winning time. Fermin Cacho did likewise in winning in Barcelona 1992 in 3:40.12.
Yet the drama of Walker's race was whether the red-hot favourite could prevail in a kickers' race. Likewise Cacho, who had the pressure of hometown expectations.
How would those two races fare if the minimum standards approach were adopted. I watched both and didn't hear any complaints. Racers come in all shapes and sizes; best to accept that variety is a good thing in the way races are run, too.
One thing for sure. I don't reckon anyone will be hanging around off a slow pace in London 2017 if Centrowitz is in the final. They have been warned.
The edition of Track & Field News which carried the Hill editorial featured Patrick Tiernan on the cover. It was the photo of Tiernan crossing the line to win the NCAA cross-country.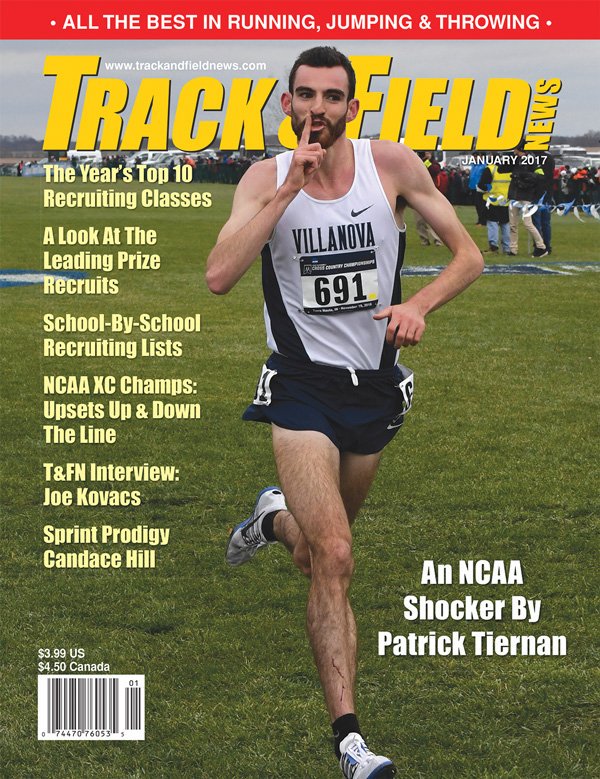 Australians on the cover of T&FN are something of a rarity. Which got me to thinking who was the last one pre-Tiernan. Helpfully, the magazine archives its covers on its website; allowing for some eyes glazed over mistakes, the most recent Aussie cover I could find was Rob de Castella in 1983 – featuring an interview in between his 1982 Commonwealth Games and 1983 world championship marathon victories.
For almost 40 years from its inception T&FN had a newspaper-style format with multiple stories on its front page. John Landy – many times – Dave Stephens, Hec Hogan, Jim Bailey, Herb Elliott, Merv Lincoln, Al Lawrence and Pat Clohessy were among the Australians to feature in front-page lead stories.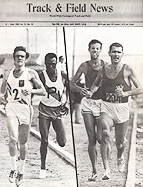 Around 1960, the first cover appeared for the Athlete of the Year edition. Ron Clarke, who had already been in many front-page stories, was the first (and only) Australian to get an AOY, and therefore a cover. He and Ralph Doubell shared a cover in 1969, steeplechase world record setter Kerry O'Brien made it in 1970 and Kerry Pearce, a world record setter in the indoor two miles, made it in February, 1971.
No women – despite Marjorie Jackson, Shirley Strickland, Betty Cuthbert, Cathy Freeman – but they would have featured in the detail of some of the front page stories in the old format.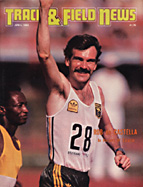 Since 1971, just Deek and, now, Tiernan. In fact, again assuming I've not missed one, the most-featured Australian cover belongs to a city and event, not an athlete. Both the 1985 IAAF World Cup in Canberra and the Sydney 2000 Olympics feature on two contemporary covers – the US men's 4×400 and 400 world record setter Marita Koch in late 1985 and Michael Johnson and Virgiljus Alekna in early 2001.
In fact, there's three Sydney covers as Marion Jones is also on one. But as subsequent doping revelations saw her disqualified, we'll ignore her, too.
So there, something nice about Canberra to finish on. It must indeed be the season of good will to all!
END
About the Author-
Len Johnson wrote for The Melbourne Age as an athletics writer for over 20 years, covering five Olympics, 10 world championships and five Commonwealth Games.
He has been the long-time lead columnist on RT and is one of the world's most respected athletic writers.
He is also a former national class distance runner (2.19.32 marathon) and trained with Chris Wardlaw and Robert de Castella among other running legends. He is the author of The Landy Era.